2010 CARS Solodex 1
Written by Kevin Singh | Photography: Lyden Thomas
Published in Autocross
Article Index
Page 1 of 2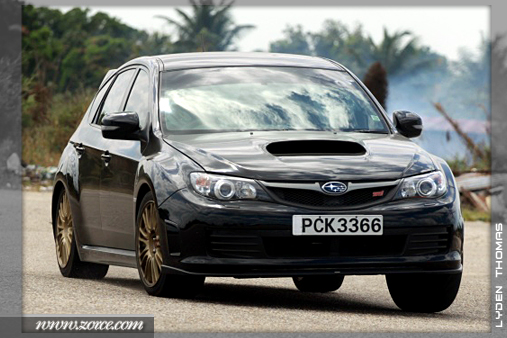 You would be forgiven if you thought you had accidentally stumbled into a scene from a Best Motoring DVD on Sunday February 21.  The place was the Arima Race Club car park.  The event was CARS' first Solodex event for 2010.  

For once there seemed to be more hype on the pits, than on the track!  Among the assembled ranks of Evolution Lancers and Subaru WRX STIs was a pair of stunning Nissan GTRs.  This hot on the heels of the Ferrari F430 that blasted around the track at CARS BYCC event in January.  Hopefully the GTR owners will take a page from the Ferrari owner's playbook and leave the tent and terrorise the track at the next event!

There was an impressive turnout at SD1, with 31 competitors assembling to face the tarmac.  In true Solodex style, the seemingly slowest cars did not necessarily post the slowest times.

That said, a moment of silence had to he held for the GS class.  Alan Rajkumar's championship wining Lancer has been undergoing major angioplasty since 2009, and Kevin Singh's MGB is reportedly being sold off piece by piece on eBay.  Past champ Sanjay Singh has mysteriously vanished, leaving Kirk Pyke and Curtis Dindial to duke it out.  However not to be undone, Kirk's car decided to throw a tantrum, leaving Curtis in his B11 Sunny to voluntarily bump himself into the HS class.

Curtis' voluntary bump might have been the end of his racing hopes, except nobody remembered to tell Curtis.  He won the class comfortably in a time of 47.436, which would have actually put him in 3rd place in the higher ES class!  Speaking of ES, Geneveive Singh wowed everyone with her final run, going from last to first in one stunning drive.  Rudi Singh won a hard earned second in class.

Up to the ESP class, and a pair of Suzukis took top honours.  Christopher Ramnath, driving his Suzuki Ignis Sport, asserted his presence with a solid 43.553 wining time over veteran Devi Nath.  Devi himself opted to bump himself and his Suzuki Swift 'Oxymoron', for a bigger challenge, much to the relief of the ES competitors.

The very fast EP class saw a very unique mix of cars, raging from an Evolution 8 to the home build Locost Lotus Super Seven replica.Dr. Mark Williams took top honours with his Evolution V over the ever popular Suzuki Ignis Sport of Amir Hosein, who managed to put down Evolution times in a car with less than half the horsepower of his AWD rivals.  

In the Novice classes NE1 and NE2, Reeza Abrahim and Dave Ramlogan took respective class wins.  Reeza put down an impressive 48.681 in his Nissan Sentra B14, and Dave posted a 46.404 in his Primera.

In the SS class, yet another Suzuki took top honours, this time in the hands of Larry Rampersad.  Larry posted a 43.66 in his screaming yellow Ignis Sport, in front of Reyos Seebaran's 44.307 in his Nissan Sentra B14.

Finally, the big guns came out to do battle with two Evolution Lancers squaring off against two Subaru STIs.  Legendary rally driver John 'Pentti' Powell brought out his menacingly black Subaru Impreza STi to do battle against veteran dexer Ryan 'not the President' Pinheiro, himself a recent convert of the Mitsubishi camp.  In only his second run, Powell dropped the hammer and blasted to a time of 39.459, setting the standard for all to follow.  Not only was his time the one to beat, but his perfectly executed Scandanavian flick set the bar for everyone hoping to get it sideways.  Both Ryan and long time competitor Barry Mykoo dug deep and pulled every trick to beat Powell.  Both drivers wowed the crowd with some sideways action, but in the end, Ryan's impressive best was still half a second shy of Powell's time.  Rounding up the top three was Damien Mahabir, in his Evolution VIII.  Damien pushed hard and drove well all day, to remain hot on the heels of Ryan, posting an impressive time of 40.212

With the standard set now for the rest of the year, everyone is now watching everyone else to see who's gonna do what at Solodex II.  Watch this space!