Solodex 4 plus Head 2 Head-ARC Arima
Article Index
Page 1 of 2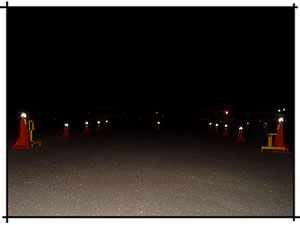 Photography by Devi Nath and Kevin Singh

Solodex IV was probably the most anticipated Solodex event thus far. Regular competitors and newbies alike were still pumped up, following CARS' first ever "Head to head" BYCC (Bring Yuh Cooler and Come) event a few weeks earlier. Twenty-eight competitors came out of the darkness for the first Night-dex of 2005, plus seven fun-runners, eager to put their cars and skills to the test. Just like at the BYCC, there were two identical side-by-side courses, setting the stage for a drag race of sorts.

With the 2005 season well under way, the competition at this event was closer than ever. The hardest fought classes were the ES and HS classes. Ryan Ramsaran and Amir Hosein found themselves in uncharacteristic fourth and fifth respectively being displaced by Christian Cozier and Peter Arrindell. Christian made it look easy as he cruised his 2003 Mini Cooper to a comfortable first place, leaving second place finisher Wayne Hutchinson wishing he had one more run in his Suzuki Baleno. Wayne managed to best Christian's winning time, but also managed to incur a cone penalty. Rounding off the top three was Peter Arrindell in another Suzuki, a Swift, this time, and also Peter's first Solodex in this car.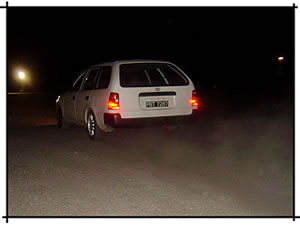 The HS class saw the usual quartet of Kirk Ho Hing, Shaun Pollard, Gerry Dial and Kevin Singh. Missing from the class was the ever popular Scott Dopson in his Mazda 323 station wagon. Scott did manage to make it, and cheered Shaun on to a well deserved second place. Gerry Dial seemed to have second place tied up until Shaun put in his final run and clipped him by 0.037 seconds! This class is definitely the one to watch for tight competition. In the midst of all this, Kirk took .phper the friendly Corolla Wagon to another comfortable victory.

The EP supercars had a fine showing as well, with Christian Bourne and Edmund Farnandes sharing Edmund's monster Mitusbishi Galant VR4, and Sean Shairsingh in his Evo VII. Right behind were Bary Mykoo and Robert Bates in their tunercars, in the form of a Golf GTi and a Nissan Primera, both in the ESP class. The other fast class was SS, with the ever popular Tim Kimpton in his Caterham 7, and Devi Nath in his Mitsu Cyborg rally special.

After some early sideways action, Christian went to work and easily too control of the EP class in only his second run. His time of 59.687 would stand up as the fastest time of the day. Devi and Barry also triumphed in their respective classes, while Tim entertained the crowd with some fine sideways action, for which he is fast becoming famous.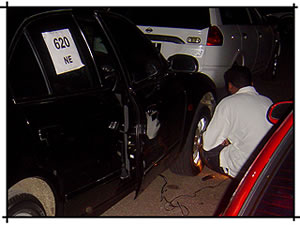 The largest class of the day was the Novice class, which had a total of eleven competitors, two more than at SD IV. With Nadine Eversley sidelined and Karen Pinheiro absent, the regular novice guys breathed a sigh of relief. Maybe too much of a sigh, because newcomers Mikhail Ramadhar and Jason Ross took first and second places respectively. Novice regular Rayard Hosein managed to hold off Ronnie Ishmael, and finished third. There was a private battle between Karl Winchester and Kerwyn Charles in their Nissan Wingroads, both trading better times right up to the last run, where Karl edged Kerwyn out by 0.012 seconds. They may be grocery getters, but those wingroads are developing a popular follwing at Solodex. Plans are underway for a race to HiLo to see who can finish their weekend shopping first J

While all this racing was going on, the fun-runners were creating their own thrills on the second course, some of them racing against registered competitors, and some of them playing 'Taxi'. Kevin Singh left permanent grins on his passengers' faces as he kept his MGB GT sideways and sometimes 360-ways on the fun-run side. TriniTuner's ever popular Duane Boodasingh also did some demo runs, showing exactly what a 1 wheel drive EVO VII can do! (kidding) Not to be outdone, Sean Shairsingh and Rawle Mahabir also offered their EVO VIIs as high speed Solodex taxis too.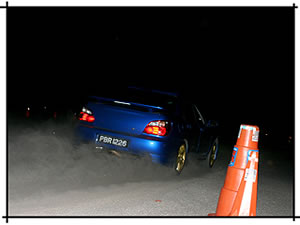 Christial Bourne joined in with his "Subablu" WRX, showing how to drift a rallycar in a confined space. There was also a nice Nissan RWD 200SX coupe drift machine on show, but its driver elected for a more conservative approach, using the opportunity to get a feel for his mean machine. This car will certainly be one to watch at the next event!

With the night's events drawing to a close, the buzz was already out about Solodex V, on August 28. Watch this space!!!!!