The Trinidad Rocket sets Drag Racing Records!
Written by Narend Sooknarine
Published in Drags
Sheldon Bissessar the Trinidad Rocket sets 2 more Drag Racing Records!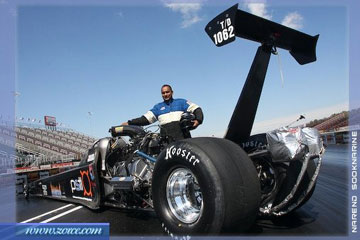 Sheldon took part in the 36th Halloween Classic at Summit Motorsports Park , Norwalk Ohio, qualifying with the top speed , a blistering 192MPH. He made it through eliminations and to the finals, setting a new... Summit Motorsports Park Track Record - 3.77 sec. ET @ 193 MPH which also gave him the record for the fastest Pro Extreme Dragster ever in the history of NHRA Racing. So the Trinidad Rocket once again dominates in the USA in an event that is known as the Biggest Sportsman Drag Race in the World boasting 1500 cars and drivers making us proud by bringing home 2 more records for Trinidad and Tobago !! 
Sheldon says that who knows , 2010 may see the Trinidad and Tobago Team running a Top Fuel Dragster- The ultimate professional drag racing class that is above all others. We have been made an offer to go with an 8000 Horsepower dragster that goes over 300MPH in the 1/4 mile in 4 seconds . We are weighing our options and considering it. It should be noted that Sheldon now has the following records:

Official Track and Class Records:

Bradenton Motorsports Park Florida 1/4 mile - 5.77 sec ET @ 241 MPH Pro Open Dragster Record

Maryland International Raceway 1/8mile - 3.72 sec ET @ 193 MPH Top Dragster Record

Summit Motorsports Park Norwalk Ohio - 1/8 mile -3.77 sec ET @ 193 MPH -Pro Extreme Dragster Record

London Dragway Kentucky - 1/8mile - 3.77 sec ET @ 194 MPH Pro Top Dragster Record

Puerto Rico International Raceway - 1/4mile - 7.1 sec ET @ 189MPH Top Dragster

Curacao International Raceway 1/4mile - 7.0sec ET @ 200MPH Top Dragster

Wallerfield Raceway T&T - 1/4mile - 7.3 sec ET @ 186MPH Top Dragster

Camden Raceway T&T - 1/4mile - 6.8 sec ET @ 200MPH Top Dragster