Drift World Order (DWO) 2010 - Event #1
Written by Narend @ Zorce
Published in Drifting
Article Index
Page 1 of 2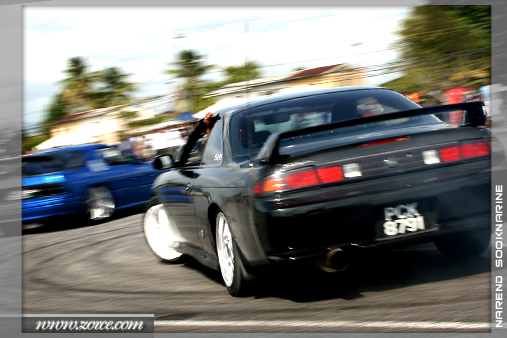 Drift World Order (DWO) held their first drift event for 2010 at the carpark of the Larry Gomes Stadium in Malabar– the sport has finally found a venue which they can use consistently.
Despite an initial setback involving a very random police impounding (pending inspection) of one of DWO's star cars– the amazing Toyota Chaser, normally driven by Kerry Phillip, the team put on a remarkably good meet. The ambulance and safety precautions were in place and the crowd was kept in check on both ends of the staging area. Flags were used to control traffic flow through the staging area and proper discipline was exercised by drivers who promptly exited the course if their drift was broken.
Spectators were treated to two and three-car tandems and a few lucky people were selected from the crowd for a ride-along. Other highlights included a guest appearance by Drag champ Aaron Dowridge who put down some proper rubber with his R32 Skyline, an MR-S on chromes and the naturally-aspirated 240SX. There was even time for some newcomer drift training where the guys learned how to do a basic drifting donut around a cone. We're certainly looking forward to regular events from DWO and other drift clubs this year and who knows, maybe Zorce might give drifting a try if we get the RX7 up and running again.