Trini Kart Racers take podium at Homestead, Miami.
Written by TTKA - Photography by Gary Hunt
Published in Karting
Gary Hunt, President of the Trinidad & Tobago Karting Association (TTKA) was at Opaloka and Homestead, Miami, FL over the Carnival weekend testing and racing a Birel 05 kart chassis. These karts are built and tuned at RYSA Racing. The Managing Director of this company is Rudy Ramsaroop, a trini now living in FL.
RYSA has a very successful kart racing supply and racing outfit and will be tuning karts for competition here in T&T for 2005....
Over the Carnival weekend the President of the TTKA, Gary Hunt competed at Homestead in Miami Florida in the 125cc Shifter Class. The shifter class is the top class of the day's proceeding and is also the fastest class in Kart Racing. The day's event featured one heat and one final race. Hunt finished third overall in the heat race but went on the win the final race, placing first overall. He suffered a minor mechanical set back in the heat race with his carburetor on his machine being a bit off tune. His mechanic tried a new setting but it did not workout for the heat race. However, for the final race minor adjustments were made and Hunt's machine was in full song. He powered to victory even beating two powerful ICC spec engine karts that was is in has race. "The overall experience was very uplifting," Hunt, commented, "a big learning experience for him."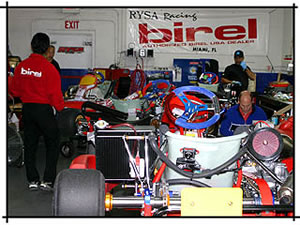 Hunt expressed gratitude to RYSA Racing, the racing outfit based in Florida and owned by a Trinidadian, Mr. Rudy Ramsaroop.

The knowledge learnt form this experience will certainly enhance the quality of Kart Racing locally as new ideas were gained and will be passed on to our local competitors.

Of interest was the very young age that drivers get involved in the sport. There were classes that begin from 4 years old right up to adults. The very young drivers displayed exceptional talent and discipline. There was one girl that competed in the Rotax class and finished first!!! Beating all her male competitors by out driving and out powering them!!!

At present another member of the TTKA, Mr. Ryan Garcia, a world record holder in Drag Racing (SKF Lancer) who is now a Kart Racing Competitor is competing at the Winter Tour of Super Kart United States of America (SKUSA). This is a three race series. Ryan has already competed in the first leg and placed sixth overall in the first run off. The second leg is due to be run off this weekend. The TTKA's best wishes and support is behind Ryan as he flies our National Flag at SKUSA.