Rally Tobago 2010 gets started
Written by Kavita
Published in Rally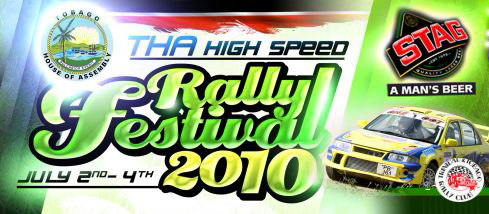 Rally Tobago 2010 has started. And ZORCE will be there. After staging the first one last year the THA and TTRC are ready for 2010 to be faster with more dust and action. There is talk of 25 cars running this year. Will One Oot win again? Can Robbie come back?? Will Ansel stay on top? Can Roger beat Ricky Bobby?
Zorce will be there to get the answers.

Opening ceremony and car show on Friday 2nd July, 2010
High speed stage on Saturday 3rd July
After party lime Sunday 4th July
Turtle beach is offering a day pass for Sunday to anyone not staying there and wishing to use the facilities.
Rally Tobago 2010, list of events
Fri 02nd July, Motorcade from Turtle Beach 3:30pm
Fri 02nd July, Car show Opening ceremony and Dynamic Display 5pm- 8pm: Gulf City mall Tobago.
Sat 03rd July, Rally starts 10am
Sun 04th July beach lime/party

Press/media safety meeting Fri 02nd July @ Gulf city mall