TTRC Rally Basta Hall
Written by Kevin Mohammed
Published in Rally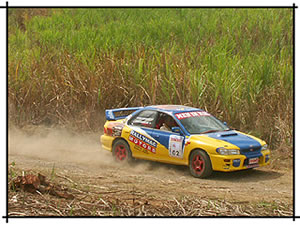 The Trinidad & Tobago Rally Club launched their 2004 season with a bang, hosting the first event of what promises to be a highly competitive all stages championship on Saturday 24th January. The organizers of this event have capitalized on the problems facing the sugar industry in the country, making good use of old Caroni roads to stage the event.
The stage consisted of a fine gravel surface with occasional patches of coarser gravel and in some cases mud. On the forward run (SS1 to SS4) the stage started off with a long straight, culminating to a 90 left. Drivers then had to negotiate a small crest and a long sweeping left. Another long straight followed, with a sharp left and immediate uphill 90 right to the finish. Total stage distance – just short of 3.0 miles. Special Stages 5 to 8 followed this same course, but in the reverse direction.
The competitor turnout was not as high as expected with only eight competitors entering the event as many of the usual competitors were still finishing the preparation on their cars after the 2003 championship. The list if participants for this event included, Jamaican-Trini John Powell in his Lancer Evolution VII Grp N, Barry McKenzie in the Grp A Subaru Impreza STI, and newcomer Ainsley Lochan in the Mitsubishi Lancer Evolution VI. Completing the AWD class were Dave Rampersad and Roger McKenzie, both in Lancer Evolution I variants. The 2WD class included Shelford Robinson, Micheal Dinoo and Franklin Seegobin who returned to competition after a year absence.
The day proved to be quite eventful, with the terrain getting the better of a number of competitors. Dave Rampersad went off on the first stage resulting in damage to the right front of the car. This was not enough to defer him though and he eventually finished second overall. Ainsley Lochan suffered some mechanical problems that left him out of six of the seven stages eventually run.
Roger McKenzie had some problems on SS4 and eventually came to the finish line a little banged up and lacking a rear bumper. Barry McKenzie had the worst luck of all on the day, which started out with a faulty accelerator cable in the forward direction, and resulted in what can best be described as a few spectacular, WRC class somersaults. Driver and Co-Driver suffering from minor cuts and bruised egos laughed it off at the end, but the car told the true story at the end. Barry as usual promised to have the car ready for the next event.
On 15th Feb, the TTRC moves onto a tarmac stage at Wallerfield. Look out for the battle continuing between John and Barry, with Peter, Ainsley on the sidelines. The AWD categories are rumored to be steadily increasing with another Scooby and at least three Evos in the works. Be there, as 2WD competition heats up also with some newcomers and some old school machines vying for top honors on the day.