The Carib Great Race 2004
Written by Editor-in-chief
Published in Regatta
Article Index
Page 1 of 3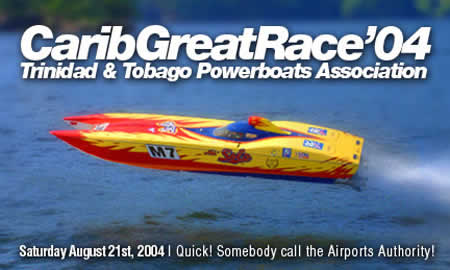 The real thing. The longest running powerboat race in the world. 95 miles of pure exhilaration that you can never truly experience unless you run it yourself. It's either that or get yourself on a helicopter and go see it up close. For many people Great Race is a 'big lime' as we say in Trinidad. The biggest of this kind for the year as far as anyone is concerned. Until you can see the highlights on television and the pictures you can only imagine. We teamed up with Extreme Motorsports to get you in on the action. So... what are you waiting for?
 Thanks to Extreme Motorsports the local television programme that was awarded primary coverage of the Carib Great Race 2004 we managed to muscle our way into one of the three helicopters available from National Helicopter Services Ltd. Little did we know they stuck us (and Barry from RallyMac) in a chopper with no doors (so we could shoot) with Joey "Johnny Bravo" De Freitas, their 'Top Gun' pilot! Can you say barrel roll?
A bit of the sights on the way to the race. By the time we get there, Sports I & II and Pirogues have left the milling area and are about to start. Sports I, Sports II and Pirogue class boats gather pace as the starter boat takes a right. The boats normally mill around a starter bouy until the race gets underway at which point they keep pace, with the starter boat until it turns. After that the race is on! A, B, C and M racing class boats break the mill (cruising around the pre-starter bouy waiting on the start boat's signal) and come out side by side. They remain holding formation behind the start boat until they pass the start marker where the starter boat exits the course.