The Nissan 370Z: Bringing the Best of the Past to the Present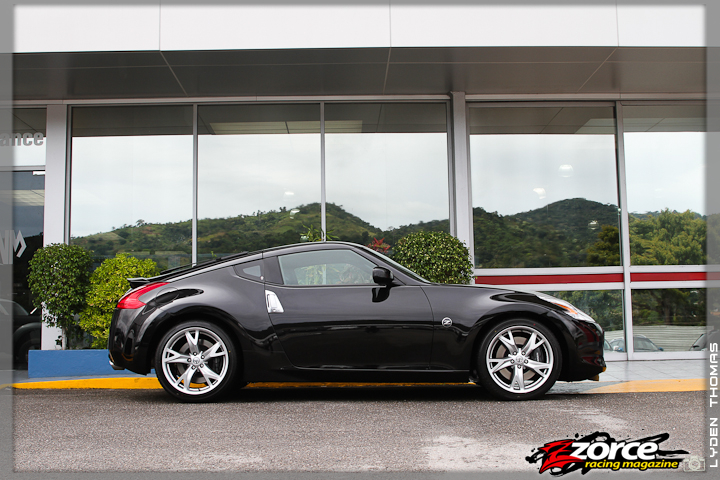 The 370Z comes from a long line of distinguished sports cars beginning with the 240Z, a car that was revered for its lively handling and excellent power-to-weight ratio. The 240Z was also very affordable and reliable and thus spelt the beginning of the end for British sports cars of the 70s, which were not. At that time, the brand was known internationally as Datsun until a rebranding was effected in the early 1980s. The 240Z grew in size with larger engines and longer bodies for the 260Z and 280Z models. They eventually became a 2+2, known as the 280ZX with all models powered by an inline 6-cylinder engine. With the first 300ZX, the move was made to three-litre V6 engines in naturally aspirated and turbo configurations. In the following version, the CAD-modelled 300ZX became a rolling showcase for Nissan sports technology with either a 222hp naturally aspirated V6 or a 300hp twin-turbo version with variable valve timing, direct ignition and Super HICAS four-wheel steering. After passing the technology showcase mantle to the Nissan Skyline GT-R, now known simply as the GT-R, a move to simplify and return to the original 240Z's roots brought about the 350Z, powered by a naturally aspirated 3.5-litre V6 engine. Performance was comparable but slower than the old twin turbo 300ZX. Finally the new generation of this carefully refined sports car icon, the lighter, faster and slightly smaller Nissan 370Z has arrived.
At long last we had the opportunity to get our hands on one, despite the car being on the international market for a few years well. Reading about it in the international press only made us want to experience it directly. Our test car was a sleek, black two-seater with the 7-speed automatic. Although most automatics are significantly slower, a quick look at the spec sheet revealed that it was only 0.1s behind the 6-speed manual version from 0-60mph. While many sport-oriented cars are shifting towards the dual-clutch gearboxes, Nissan has maintained a traditional automatic gearbox with developmental improvements, paddle shifters and Nissan's downshift rev matching– a highly entertaining feature that greatly improves smoothness. Needless to say, we were eager to try it. After a double-check of seating position, mirrors, seatbelts and essential controls, we pressed the red start button and the engine came to life.
With everyone looking on at the dealership we rolled out conservatively and headed out to the highways. The Z car grew from a pure sports car into a grand tourer in the 80s, so we figured we would try it out in this environment first. An abundance of torque from the big naturally aspirated 3.7-litre V6 and the seven available gear ratios made us soar past 230km/h easily. The Z felt comfortable at speed and was capable of stable lane changes and trouble-free braking. With such capabilities it will require attention from the driver to remain alert, remember the laws of physics and correctly judge the speed of other vehicles. In our case, we were right at home with [email protected] and [email protected] on tap. We will state however, that these specifications are well above average and anyone unfamiliar or inexperienced with driving a vehicle producing this much power in a rear-wheel drive configuration should take the necessary time to become gradually acquainted.
Whereas the 350Z's VQ35HR engine was sometimes criticised for high rpm harshness and strained sound, the new 3.7-litre's revised VVEL variable valve timing system flattens out the torque curve and smoothes out high rpm performance for a flatter torque curve and more refined power delivery. This is achieved despite the increase in engine compression to 11:1. In the NISMO version, peak power is up to [email protected] rpm, along with a maximum torque figure of [email protected] rpm with the redline set at 7500 for both engines. While torque delivery is not like the STi or Evolution's on-boost turbocharged wave from almost any rpm, once the 370's engine reaches the middle and upper rev ranges the surge and the sound is mesmerising. Thanks to the engine's large displacement, low rpm performance is not bad either making it easy to cruise around in fifth, sixth and seventh. With a 0-60 time of 5.1s or less (some international magazines tested at 4.6s) and an estimated quarter-mile time of around 13.1-13.3s it certainly is comparable in a straight line. The 370Z requires at least 95-RON unleaded fuel to perform at its best although it is capable of temporarily running on 91-RON when premium grade fuel is not available (making it more versatile than its turbocharged counterparts in tough situations). The Z's acceleration is just as addictive and the V6's throaty snarl is a welcome change from the turbocharged four-cylinder sound. Our test car was not electronically limited to 190km/h as most Japanese domestic market (foreign-used) cars are, but is fitted instead with the international-spec 156mph/250km/h limiter.
The low factory ride height warranted careful negotiation over the taller speed bumps, even though we were rolling on the optional 19-inch lightweight RAYS Engineering wheels. Extra precaution in very tight parking spaces and even a spotter will help to avoid nicks and bumps. A fateful lunch stop at Adam's Bagels taught us that the Z, albeit light and strong, is not curb-proof. Our solution: straddle two parking spaces. At TT$700K a pop, we were just fine with making sure that no one could possibly put any scratches on our test car. The Z is also equipped with speed-sensitive power steering, which offers more assistance when parking but increased precision with less assistance at highway speeds. We soon finished our wraps and burgers and having enjoyed the Z's sporting prowess on the open roads, it was time to take it through the corners and make a welcome return to driving it the way its designers intended.
Through the tight snaking uphill corners of one of our favourite test roads, the 370Z displayed a distinct lack of understeer and a welcome eagerness to turn in. Despite our restraint, (leaving a safety margin for unexpected cars or pedestrians) it was easily the fastest we had ever made it to the top of our uphill route. The Z's front suspension is a two-link double-wishbone aluminium-alloy suspension design with aluminium subframe, while the rear relies on an independent four-link design, also made of aluminium-alloy. On the way down we decided to take the traction control system off but the Z remained firmly planted and rear end was kept fully in check, also in part by the viscous LSD with revised ratios for better acceleration. With such a high level of mechanical grip and neutral, well-balanced handling, we almost wondered if the switch had any effect. Nissan also saw it fit to factory install three-point front and two-point rear strut tower braces along with a rear underbody V-brace to improve rigidity and prevent chassis distortion. The braces came in handy when we returned to the highway to try a few high-speed sweepers where the Z again performed admirably with minimal body roll and lots of grip.</p>
<p>Braking was excellent for our 60-0km tests and naturally we tried it at 100km (62mph) with brilliant results. The Z also comes with ABS and EBD as standard. Excessive brake pad wear on the racetrack was also a complaint of some international press on the early model 350Z. Our car, however, was fitted with the optional sport package, which upgrades the brakes from the standard 12.6" x 1.10" vented front discs and 12.6" x 0.63" vented rear discs to the Sport's four-piston opposed front aluminium calipers with 14.0" x 1.30" vented discs and two-piston opposed rear aluminium calipers with 13.8" x 0.80" vented discs. Throughout our drive we did not notice any brake fade or drop in performance and we dare say that this was one of the best stopping dealership vehicles we've driven to date. According to <em>Car and Driver</em> magazine, the Z will stop from 70mph-0 in just 161ft.  The 19-inch Rays Engineering wheels are large enough to clear the sport package brakes and are wrapped in 245/40-19 tyres up front and massive 275/35-19 tyres in the rear. It's no wonder we enjoyed braking and corner entry/exit so much.
Before we knew it, we had been driving for nearly a day. The fact that the Z never wore out its welcome is a testament to driver and passenger comfort and how well it performed in each area of our evaluation. In fact, you still get luxurious touches like leather seats and wrapped steering, custom stitching, suede-like trim, an 8-speaker Bose stereo system and cool, self-levelling projector beam headlights. The Z also boasts driver and passenger front, side and curtain airbags. The bigger brakes, body braces and gorgeous lightweight wheels give a nod to hardcore enthusiasts, while the engine, transmission, magnesium paddle shifters and well-tuned suspension deliver excitingly usable performance. It is a car that simply begs to be driven and attracts fanfare anywhere you go, even dressed in black.
Beyond all this, the car still has tremendous tuning potential that can allow it to approach entry-level supercars and compete with more expensive machinery like the Porsche Boxster and Cayman. While it is no GT-R, the Nissan 370Z is the definitive Japanese GT sports car and rewards the driver who appreciates the traditional formula for pure driving exhilaration. Having thoroughly enjoyed our time with the Z, we can only imagine what it must be like to experience the NISMO version!
In Trinidad & Tobago you can contact any branch of Neal and Massy Motors to arrange your test drive. The Nissan 370Z, nicely equipped with the 7-speed paddle shift automatic and optional sport package starts at around TT700K.

View this photo set on Flickr