AVENTURA MEXICANA: NEW PORSCHE 911
Page 1 of 5
For most Trinbagonians who are young and young at heart, the Carnival season is a must in terms of participation. As per the last decade or so, I would normally be raring to go with my fellow photographers who enjoy seeing all the masquerader bands and Kings and Queens over Carnival Monday and Tuesday. Customarily, we would be up in the wee hours of the morning making sure our equipment was in order. I prepped the same way this Carnival Tuesday, except this time I was up at 3.00 a.m. because I was on my way to Mexico for a bucket-list test drive– the new Porsche 911.
CHAPTER 1:
Learning about the new
Porsche 911 in Mexico City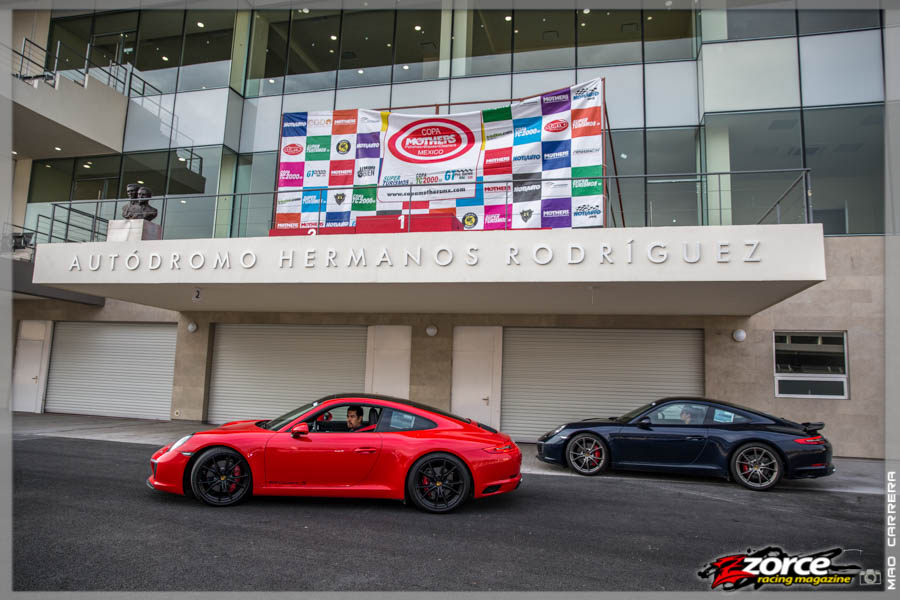 We would be driving the 911 Carrera and Carrera S on this occasion, a good place to start since the Turbo, Turbo S and other special models like the GT2 and GT3 are a considerably faster. Porsche's PASM active suspension control system is now standard on all models (making them 10mm lower) and we were going to unleash them on the Autódromo Hermanos Rodríguez, which is the same facility that now hosts the F1 Mexican Grand Prix. With F1 top speeds easily surpassing 200mph, it is touted as the fastest circuit after Monza. Needless to say, I was hugely excited. That was the dealmaker for me, since this was the perfect environment in which to experience the 911's considerable capabilities in relative safety. The Porsche 911 has a long history of motorsport successes in various genres, mixed with some notoriety for being difficult to drive quickly but keenly rewarding when you get everything right. Would this new version be challenging? There was only one way to find out.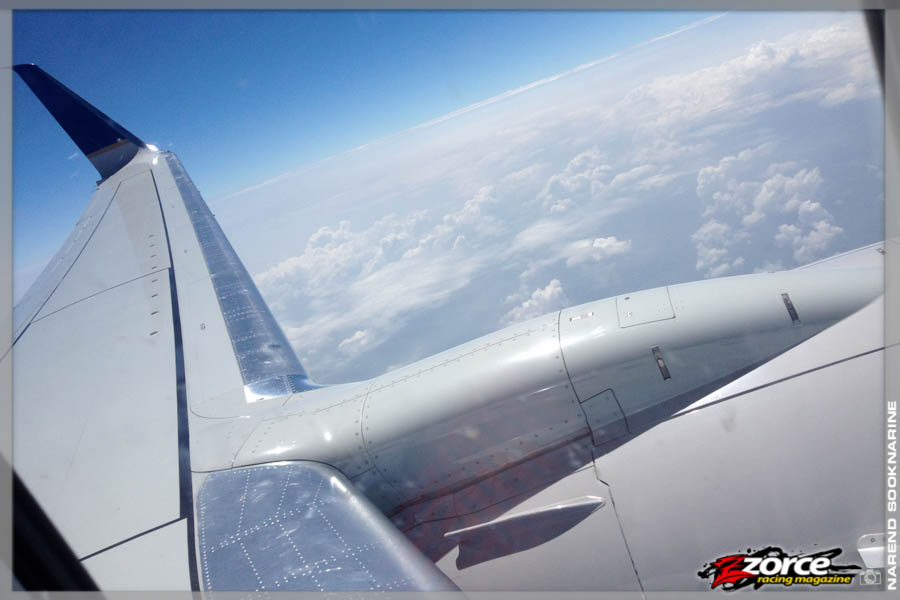 After a comfortable flight via Copa Airlines through Panama, we freshened up, got some lunch, and then had our first media session to learn about the updates on this seventh-generation Porsche 911– known internally as the 991 II. The biggest news for this iteration is the new turbocharged engines. In both the Carrera and Carrera S models, they have been reduced to a 3.0-litre displacement and given twin variable geometry turbochargers. While both versions feature a 45mm turbine, the compressor on the Carrera S is slightly larger at 51mm versus the Carrera's 49mm sizing with a maximum boost pressure setting of 16psi and 13psi, respectively, along with differences in fuel mapping and delivery. The intercoolers also have their own exhaust vents at the rear of the car that aid aerodynamics, and of course, cooling. Just in case you were wondering (as I was), the 911 Turbo and Turbo S will continue on with the same names despite the fact that the 911 GT3 and GT3 RS are now the only non-turbo 991s left.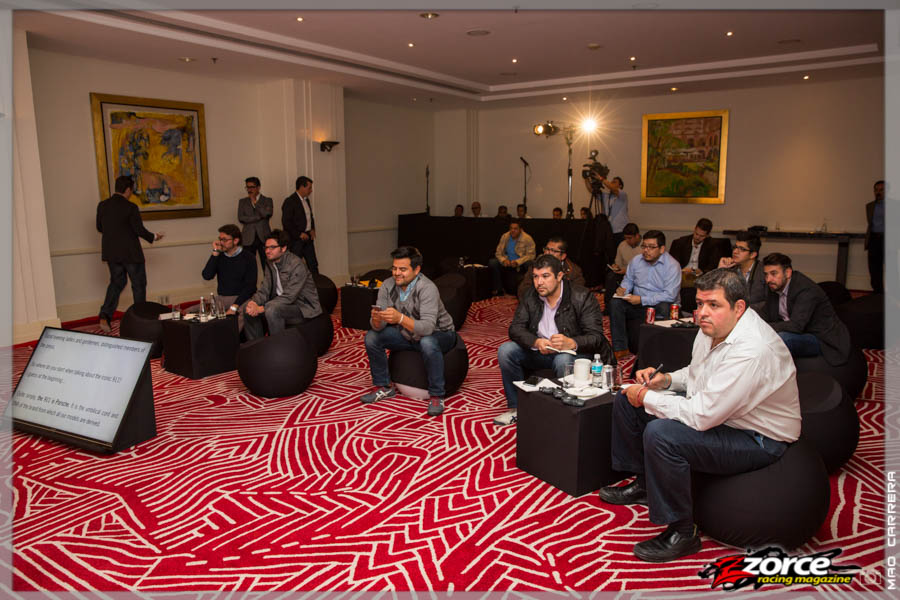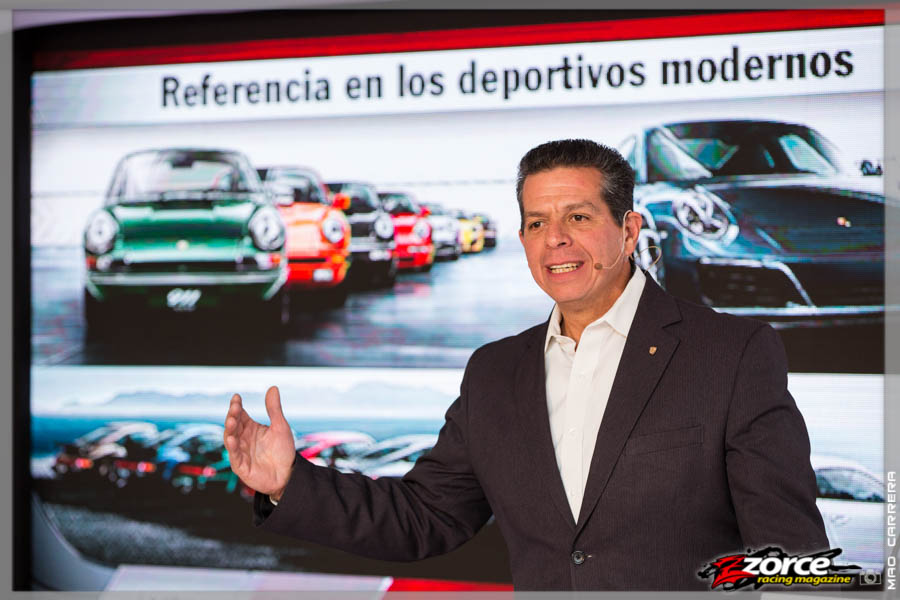 Peak torque in the Carrera S version is a healthy 369ft-lb (500Nm) generously spread from just 1750 all the way up to 5000rpm. The Carrera isn't far behind, peaking at 450Nm or 332ft-lb in similar fashion. The horsepower specifications don't disappoint either with the S version coming in at [email protected], while the Carrera delivers a very respectable 370hp. Engine redlines are set at 7500rpm on both cars. In either version, that's not far from the specifications of the 911 Turbos of recent vintage. Zero-100km/h (62mph) times are conservatively estimated at 3.9s and 4.2s, respectively, while giving you an average of 30mpg and 32mpg apiece. The last 1.5-litre five-FWD Ford Laser econobox I drove didn't have 370-420 horses to play with while getting that kind of mileage. This is some seriously evolved engineering.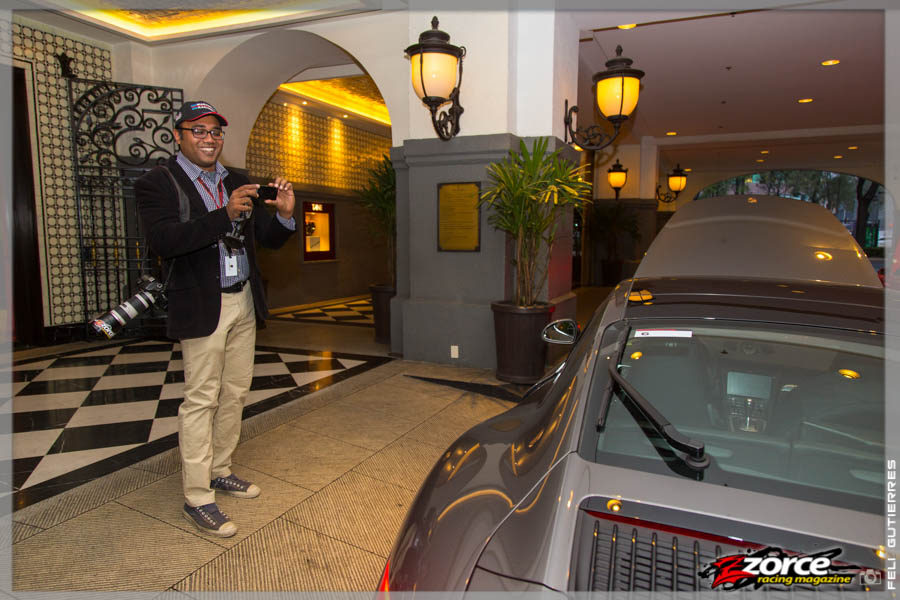 The next day, I was up at 6.00 a.m. and had found some F1 Mexico track videos on YouTube, which I spent 30 minutes or so memorising before breakfast. Unfortunately, I ran out of time for a proper meal, so I just gobbled down a platter of fruit and took my coffee to go. A 7.30 a.m. start was planned in anticipation of the famous Mexico City traffic. There was an array of 911s to choose from (even one with roof racks), and my fellow journalist test driver from Guadeloupe, Eric Gruszka and I settled on a bright red Porsche 911 Carrera. We figured it would be a good idea to get acquainted with the 370hp version with the standard brakes before jumping into the more frenetic Carrera S. One of the cars in the lineup even sported roof rails, giving it a purposeful practical look to complement the inherent sportiness. All of the 911s in our group featured Porsche's PDK dual-clutch gearbox. I took the first stint.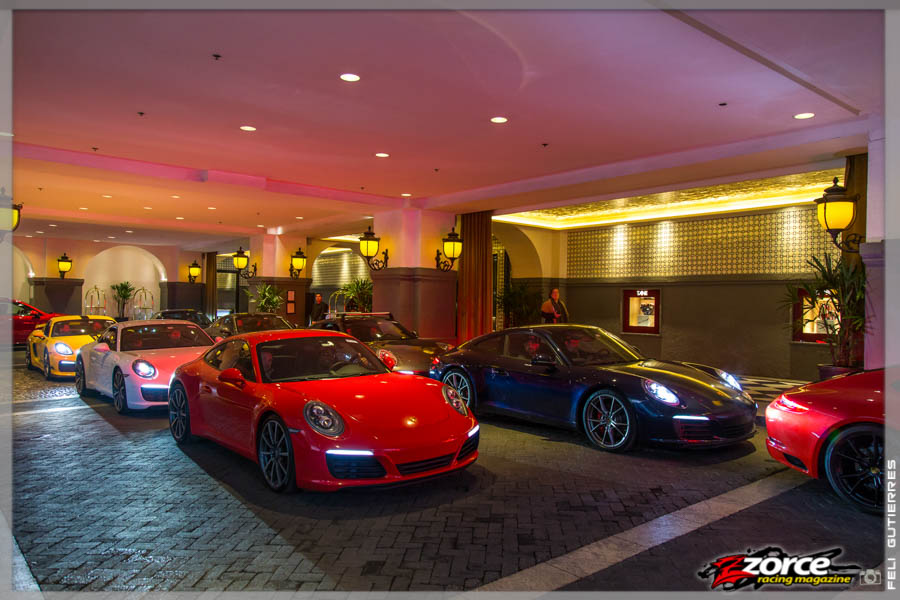 As we drove out of the Four Seasons Hotel México, it was easy to appreciate that the 911 is one of world's most iconic cars– with each new update and generation there is no mistaking it for anything else. Updates have been made, however. Larger active vents on the front present a more aggressive look while retaining the function of opening when cooling is required and closing to improve aerodynamics. The headlights and taillights now feature the Porsche's quad lamp signature treatment on all versions. The rear engine cover has been updated with vertical fins for the main engine vent and a long LED auxiliary brake light that spans its width. When the built-in spoiler lifts (either manually via switch, or automatically at speed or for cooling), it also has a built-in supplemental LED brake lamp. The Porsche Carrera model has standard dual exhaust tips, while the S version gets quad pipes. Optional on both models is Porsche's new Sport Exhaust system, with centrally-mounted dual exhaust pipes for improved sound and increased performance– controlled via a sport exhaust button that allows a heavier idle tone and louder, raspier wail at full throttle.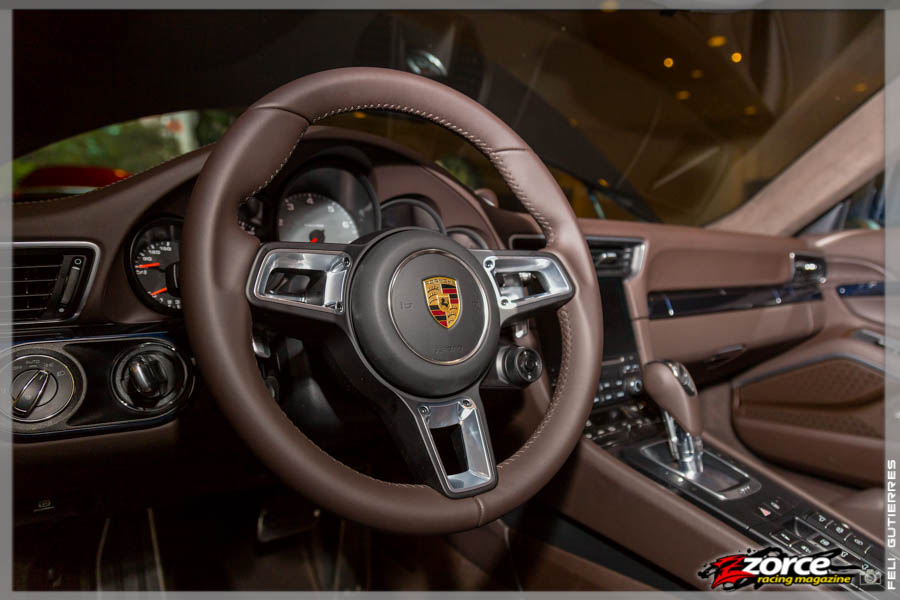 The interior is typical Porsche: lots of high-quality materials, including fine leathers, high-quality plastics, soft-touch surfaces, aluminium, veneer and Alcantara. Everything feels quite solid and built to last. As with other models, dual cupholders slide out from a hidden compartment, while the glove box features USB connectivity and auxiliary sound input. The steering wheel feels meaty and communicative, at least in terms of feedback. Most would argue that steering feel is also much better than previous electric power steering-equipped cars. I was able to detect the road's various imperfections as small vibrations on the wheel itself. A smaller diameter GT sport steering wheel (360mm versus 375mm) is also optional. All the cars in our test group also featured Porsche's new mode switch (comes with Sport Chrono Package), a steering-mounted rotary dial that starts out in normal mode but allows you to select the Sport, Sport Plus and Individual modes à la Porsche 918 Spyder.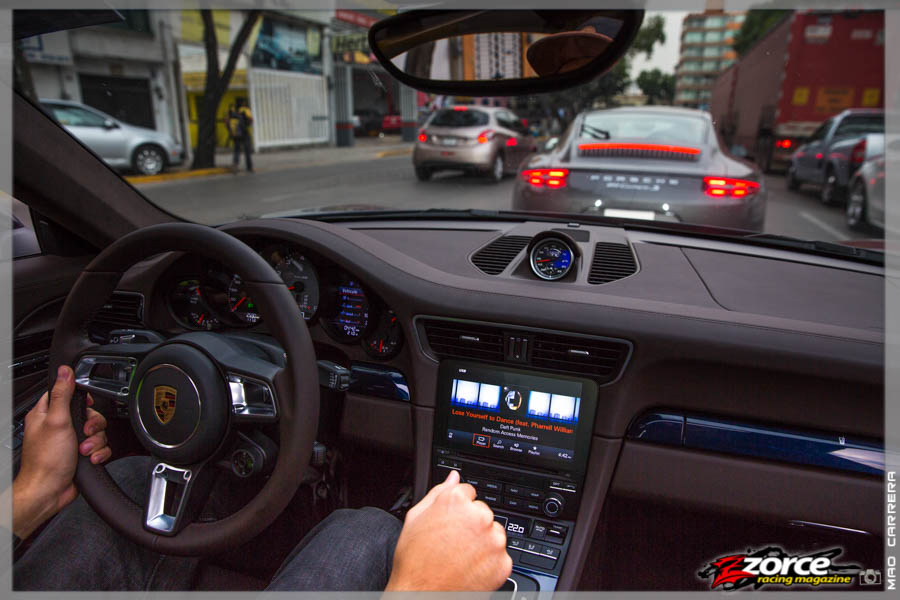 Driving through Mexico City's narrow, crowded lanes and streets was a challenge given the 911's considerable width. Some time after, I became acclimatised to the vehicle's dimensions and initial control responses. Gingerly, we made our way through the city, especially anxious when buses and trucks with protruding steps and rails were nearby. Luckily for us, Porsche arranged a police motorcycle escort, which allowed the dozen or so vehicles in our convoy to remain together. Soon we were out on the highways and roads that led away from the city to the racetrack where driving was easier, except for certain sections that were stripped for repaving and/or under repair. It almost felt planned as this provided us with a real-world appreciation of just how compliant the 911's newly updated shock absorbers were.
View this photo set on Flickr

CONTINUE TO CHAPTER 2  >>