Article Index
Page 1 of 3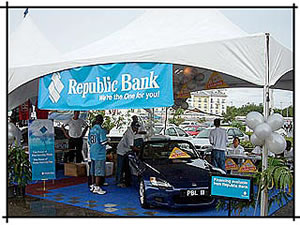 CarCrazy 7 Car Show and Car Give-Away- Jean Pierre Complex - 3rd July 2005
Photography by Gerrard Wilson, Cristian Cozier and Narend Sooknarine
Yes folks they gave away a second pimped out Honda Civic as the door prize! Republic Bank was present to show tuners how affordable their sport can be. And despite the rains the crowds still ventured out to see what the 7th installment of the CC series had to offer!.

Round 7 of the Car Crazy series kept on paddling as showers drenched the Hasely Crawford Stadium.

This however did not stop the masses from attending as the night progressed. Car Crazy 7 was a major success for Republic Bank as they broke through the downpours and into the modifier market with their latest "Make it Happen" loan series.

While subject to normal lending criteria, tuners can now have the facility of quick and easy car modification loans. Talk about saving it all for a rainy day!