Toyota Presents New Generation 2016 Hilux
Written by Kerlana Katasha Stewart
Published in Launches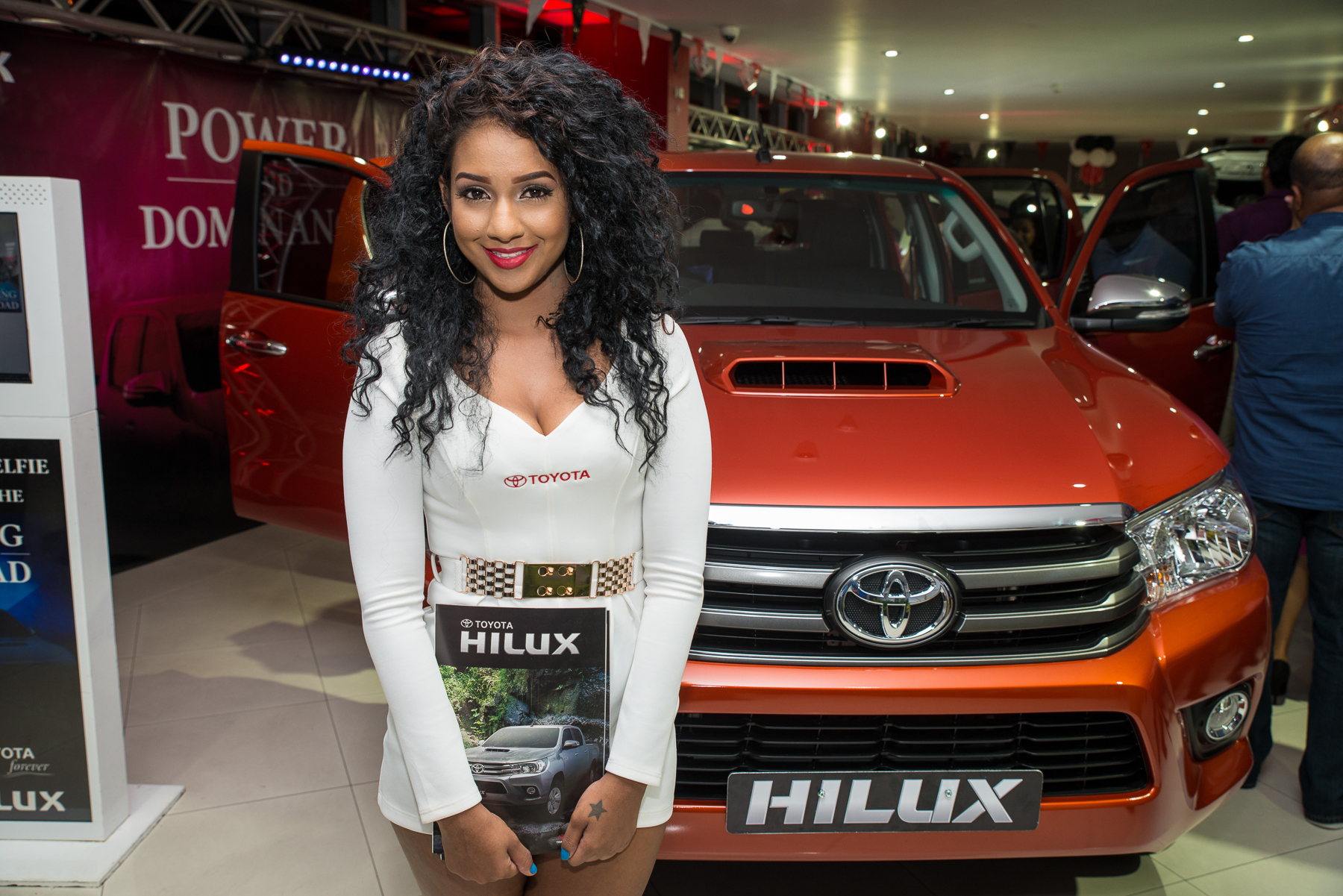 Article: Kerlana Katasha Stewart • Photos: Jason Khan


The new generation 2016 Hilux is finally among us. Toyota held the launch of this superb pickup on September 16, 2015 and let me just say, it's impressive. Some of the attendees included Hilux owners potentially considering an upgrade, future Hilux owners and some persons who just wanted to be in the presence of this magnificent creation. Hilux lovers have awaited this moment like the Second Coming, and if you are a Hilux lover but simply couldn't make it to the event, here's a quick rundown.
The event started with presentations by Toyota personnel including Managing Director Andre E. Baptiste, Sales Manager Bari Khan, General Manager Nicholas Mc Donald, and Financial Controller Katherine Ramatali. They all gave informative and entertaining speeches with some outlining the superiority of the pickup. However, the true highlight of the show came after the speeches when guests, including myself, were invited to approach the vehicle and experience it first-hand.

As I walked towards a Hilux on display, I felt like at any moment it could transform into Optimus Prime. To me, it is out of this world! I managed to snap out of my awestruck state and proceeded to explore this powerful steel machine. During my exploration, many features stood out, first, the rear seats. Now Hilux's rear seats have always been retractable to accommodate larger items that you would prefer not to have in the tray, like a large floral arrangement for example. In this version, however, the rear seating base is split 60:40, so, if you choose to retract, you don't lose all your seating at the back. So for example, you can comfortably transport your cargo on one side and your brethren on the other side– now that's innovation.

Another feature worth mentioning is the cool box. This is a convenient storage compartment where a beverage or two can be stored and kept cool or warm through integrated air conditioning vents. I immediately thought of how useful this would be when driving long distances with friends and family– you can just pop it open. Soda, anyone? The A/C vents aren't only used to keep drinks at a particular temperature; they are also used to add to overall passenger comfort. We have some hot days here in T&T, so A/C efficiency is a priority, and in the 2016 Hilux, even the back seat passengers can benefit from the independent vents located in the rear seats. So, there is no need to fight for shotgun on those hot days– even in the rear seats you're cool, literally.

The Smart Entry and Start System was another standout feature. This allows you to lock and unlock the doors or start and stop the engine without having to hold the key in hand. This is a great feature for those days that you did a little too much shopping or are balancing a baby and don't have a free hand. I thought to myself, the female Hilux drivers would really benefit from this feature.


Many other little features make this vehicle into the big success it is. From the front cup holder that can also store small items, to the wide and highly functional dashboard that gave me an autogasm as I ran my hand across it. I was also impressed by the positioning of the grip handles. Sometimes the placement of these assist grips is so messed up, that only a double-jointed person could use them. In the new Hilux, the assist grips are sensibly placed for easy access. Now, something like assist grips may seem trivial but in a vehicle as high off the ground as the Hilux, they will be used quite often.

I also viewed the Hilux in a different light after exploring it. I viewed it as a vehicle that could suit any lifestyle– married, single, parents, young, old, farmer, lawyer– it has something for everyone and can take on every situation. I must also note that I'd never thought of the Hilux as a family vehicle before now but it can actually work, especially with safety features like the airbags and the three-point ELR seatbelts. Additionally, the use of noise-absorbing, noise-insulating and vibration-damping materials in this vehicle's construction cancel out noises thus limiting disturbances, so if you have a little one asleep in her or his car seat, you can ride with ease. The suspension design has also been upgraded with longer leaf springs and larger shocks, something that the guys at the Zorce office are looking forward to evaluating, particularly off-road.

Now let's talk money. Prices on mid-spec versions are in the TT$250-300K range with options including either a five-speed automatic (with tiptronic) or six-speed manual transmission, 2.5-litre or 3.0-litre turbodiesel engines and trim level with fabric seats. Basic-level single cab models and double-cab high-spec versions with leather seats are expected to arrive shortly. Pricing on those will be announced on arrival. The ones at the launch were moving quickly, and some customers even purchased their vehicles on the spot.

In a word, the event was awesome and the 2016 Hilux is overall brilliant. One guest did express that the interior space was just not enough for him, but you know, you can't please everyone. However, there is no denying this is a premium vehicle built to withstand, well, everything. With its anti-corrosion, high-tensile steel sheeting, its turbo diesel engine and its more-than-spacious tray, this is a top-of-the-line automobile. Durable, functional and even beautiful, the 2016 Hilux knows what's up.

View this photo set on Flickr