Volvo launches new XC40 premium compact SUV in Panama!
Written by Narend Sooknarine
Published in Launches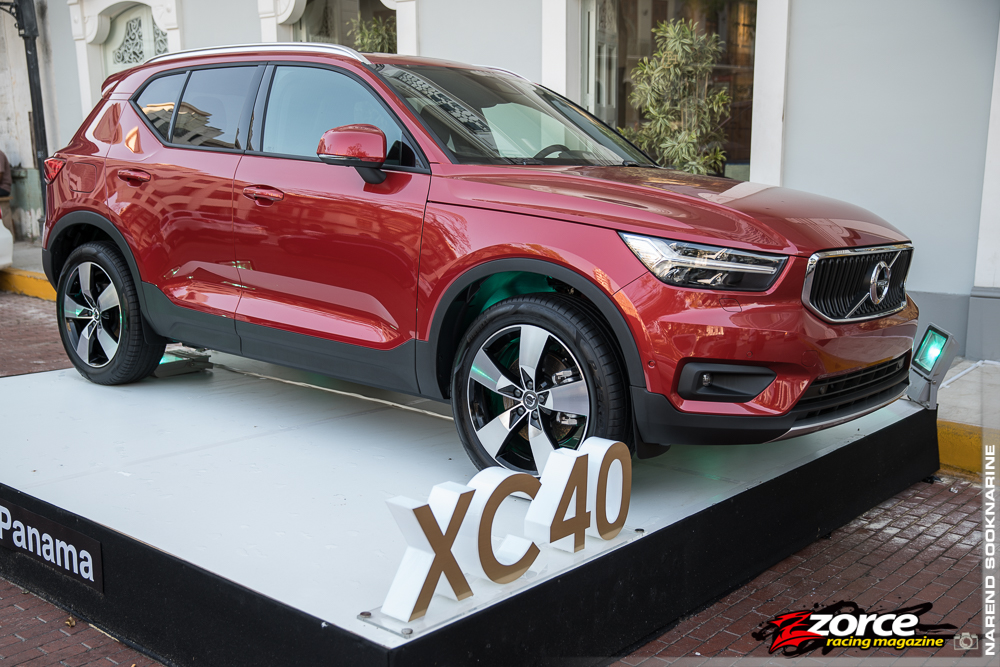 My gut tells me that Volvo's brand new XC40 is going to be a disruptor. It's a game-changing kind of vehicle that is set to shake up the industry in new ways. If you are in the market for a premium compact SUV, welcome– or as the Swedes say, 'välkommen', to one of your top options. At the invitation of T&T's local Volvo dealer, Massy Motors, we had the pleasure of experiencing the new XC40 in Panama City for the Latin American and Caribbean regional media launch.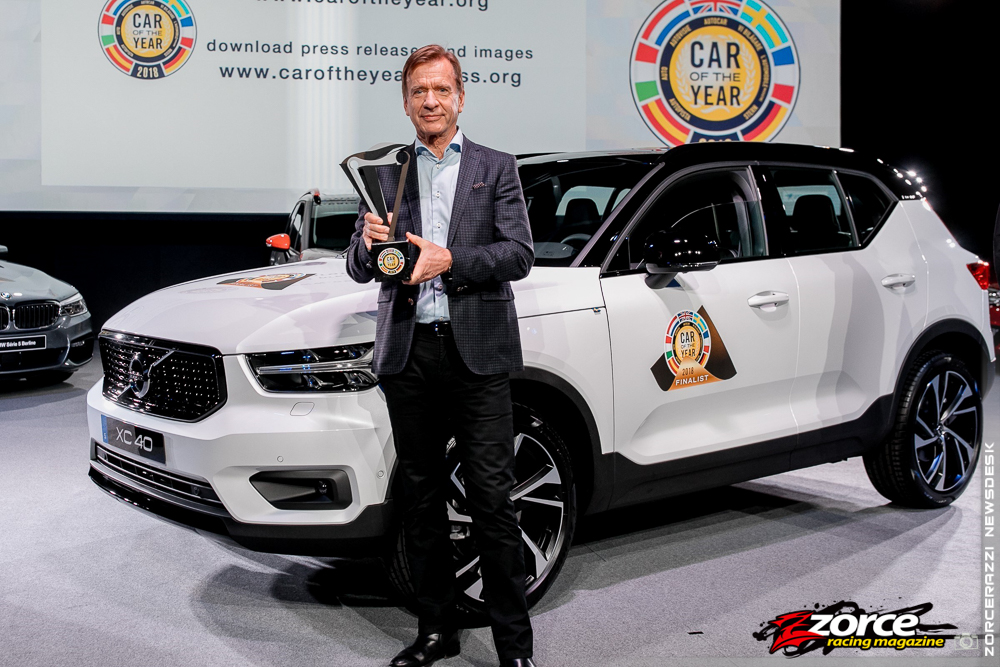 Poised for some market action, Volvo has had their best sales years ever in regional markets such as Chile, Peru, Ecuador and the Dominican Republic, thanks to the introduction of their XC-series SUVs roughly three years ago alongside its updated V-series cars. The XC40 was just named the 2018 European Car of the Year, while its older cousin, the XC60, was just named World Car of the Year. The small premium SUV segment of the market has also been experiencing exponential growth globally.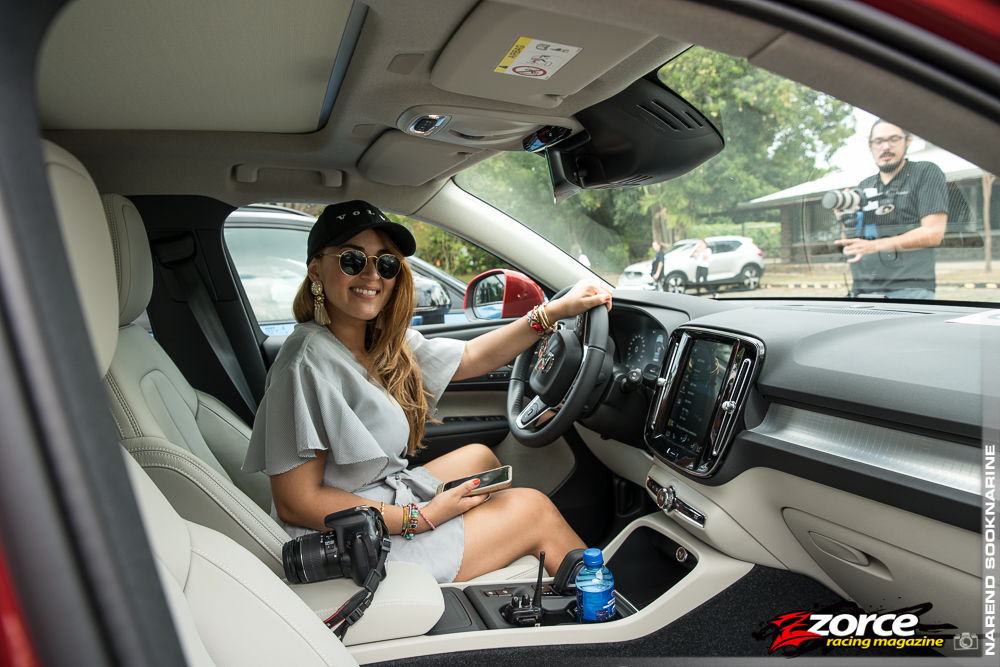 For a company that is known for its conservative nature and pioneering safety, the Swedes have been doing extra homework in terms of re-engineering, innovation and holistic customer satisfaction. The company's long-term vision is to protect anyone who travels aboard a Volvo. They are also innovating ways to reduce emissions, lower fuel consumption, reduce traffic congestion and eliminate accidents through partial and total automation of the driving experience.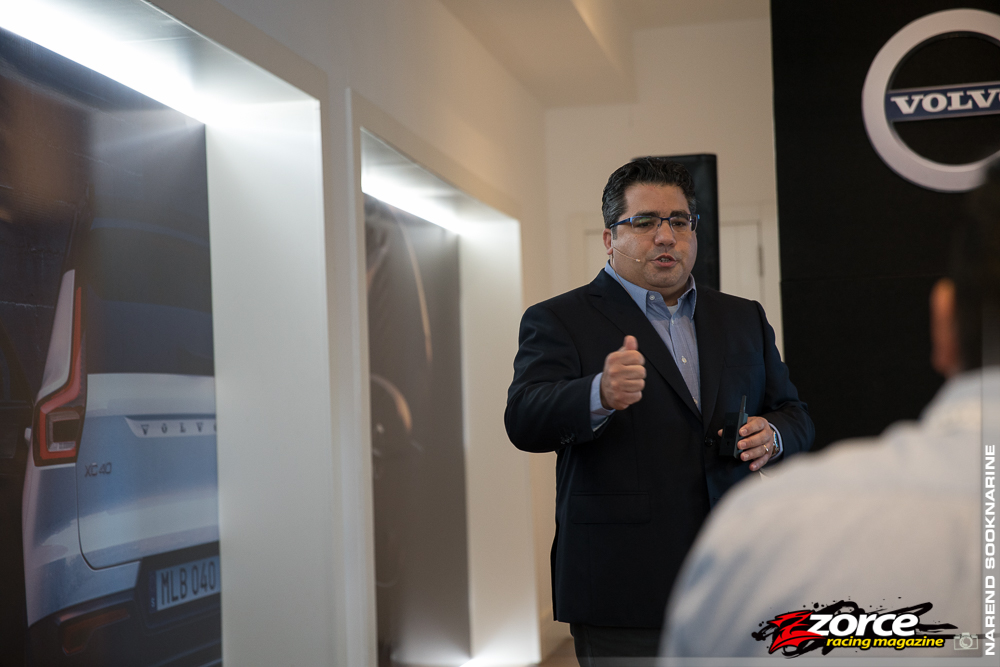 The XC40 has its own manufacturing platform, known as CMA– compact modular architecture. This new smaller vehicle platform can be tailored for different vehicle heights and wheelbases, which means that we're going to see more exciting new models in the future. It's not just a scaled-down XC90 or XC60, but according to Frank Vacca, Volvo's Senior Commercial Project Manager for the XC40, it's more like a cousin than a sibling. He also identified the main pillars which let this new compact SUV stand out: Expressive Design, Ingenious Storage, and Intelligent Technology.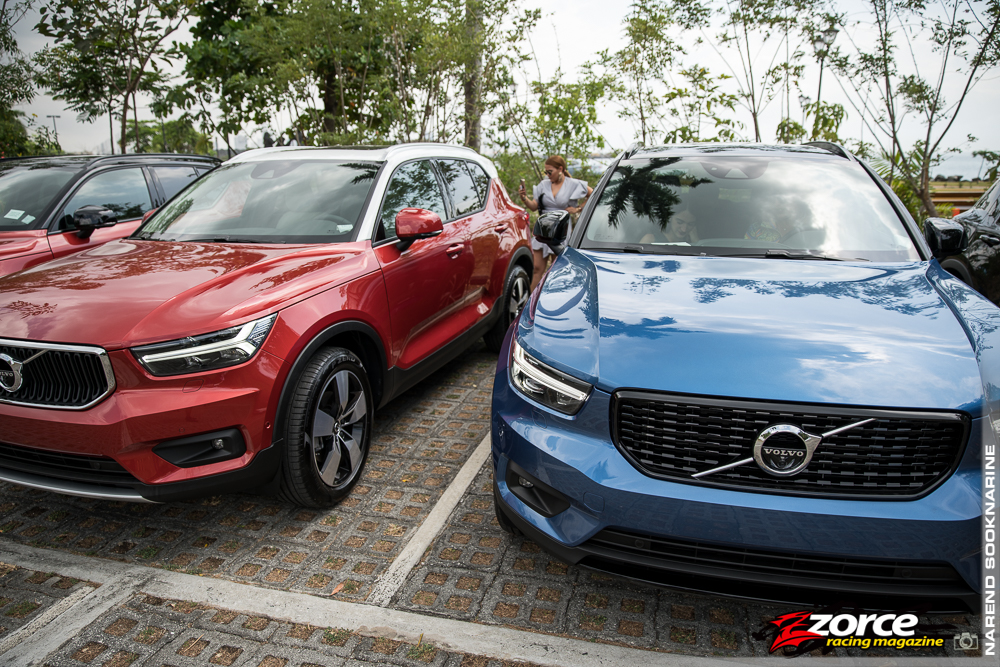 The XC40 is considered Volvo's first compact premium SUV. Feedback for the XC40's development was gathered on three continents. This included interviewing SUV owners and doing a surprise "as is" inspection of their vehicle, which prompted many respondents to point out flaws or desires for improvement. Thanks to these invaluable insights, the XC40 is set to deliver exactly what the market appreciates in any premium SUV– a highest-in-segment body, taller seating position, a wide stance, better ground clearance and large, attractively designed wheels for an expressive overall look.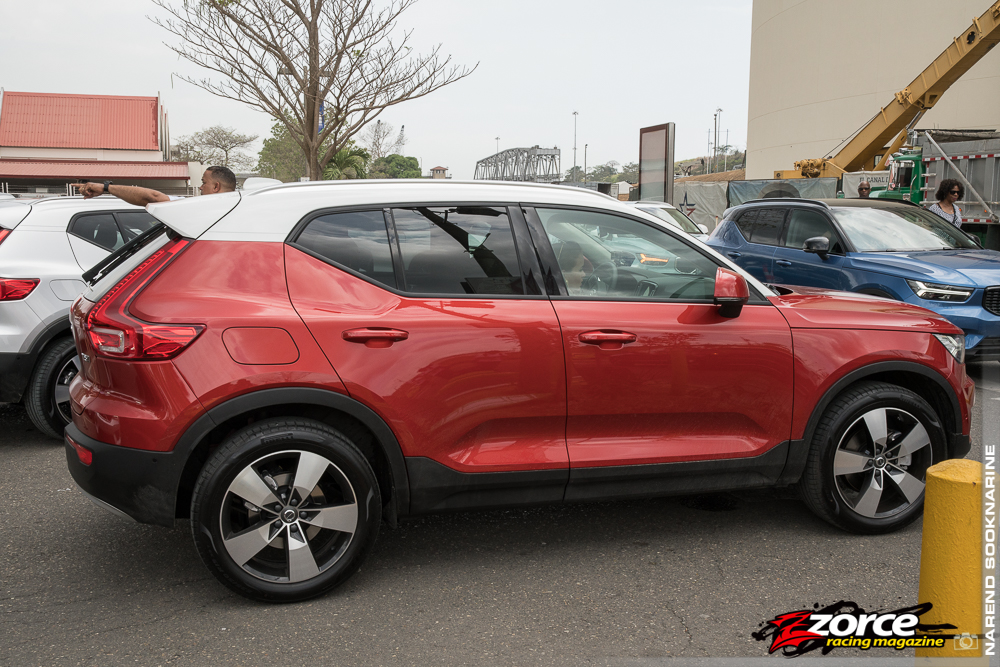 Ian Kettle, who was responsible for the XC40's stunning overall design, says the theme of the design brief called for something that looked compact and tough. Highlights include a pointed shark-like nose, the use of negative surfacing on the grille, door panels and bonnet, bulging wheel arches and a strong kick upward near the rear door which accents the side profile. The rear of the vehicle is also 25mm wider to add muscularity to the overall look. Interestingly, the designs were approved from the sketches rather than from full clay models.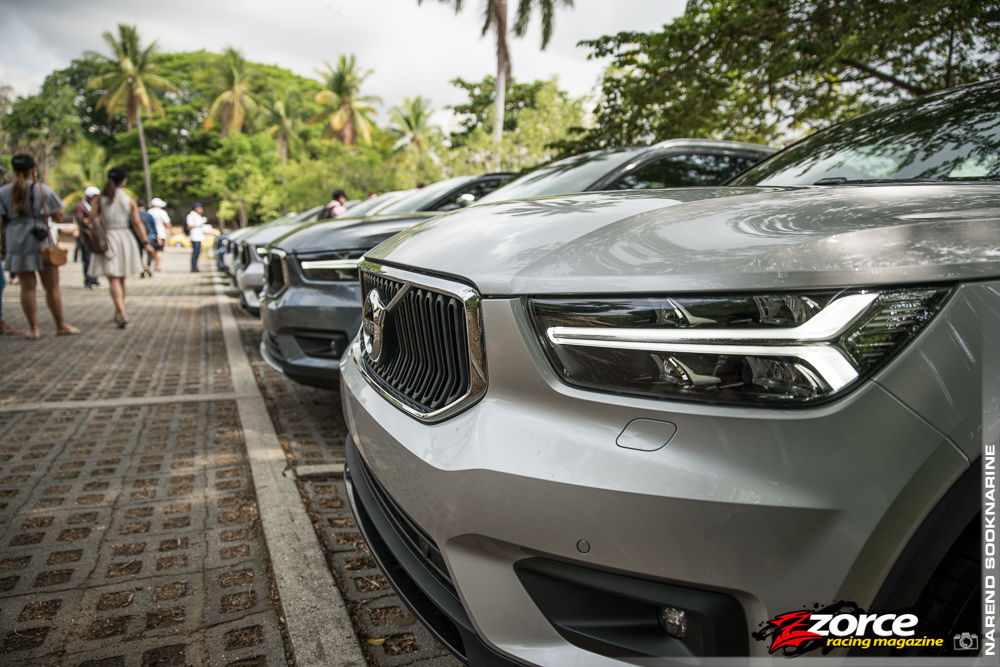 Personalisation is one of the XC40's strongest suits and three themed trim levels are available– Momentum, R-Design and Inscription. Inspiration from the highly fashion-oriented Momentum package came from street fashion, city architecture, high-end designer goods and popular culture, emphasising the Volvo XC40's fresh, creative and distinctive image, and enabling it to match the target market's personalities. The XC40 is currently the most expressive model in the Volvo lineup with a broader and more playful colour palette than any other current model, with solids, monochromatic, two-toned (white or black roof) and vivid colour combinations abound.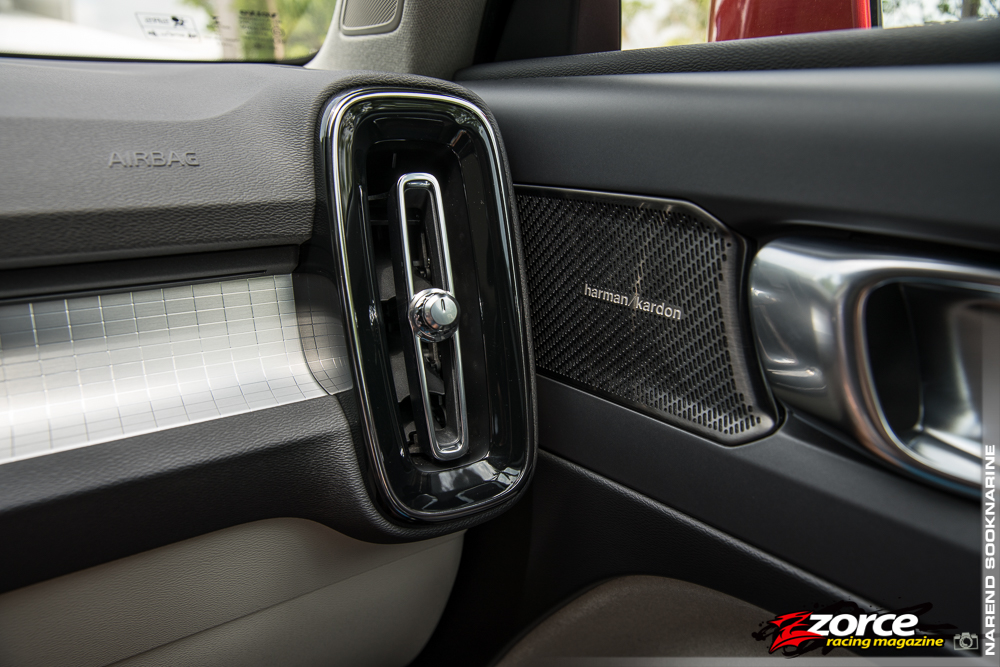 The interior also has a wide range of distinctive trims and materials inspired by architecture and cartography. The R-Design models offer a sportier image with details such as an exposed double exhaust, high-gloss black trim, black roof and all-black treatment, while the Inscription trim level aims for a more dynamic and premium look and feel.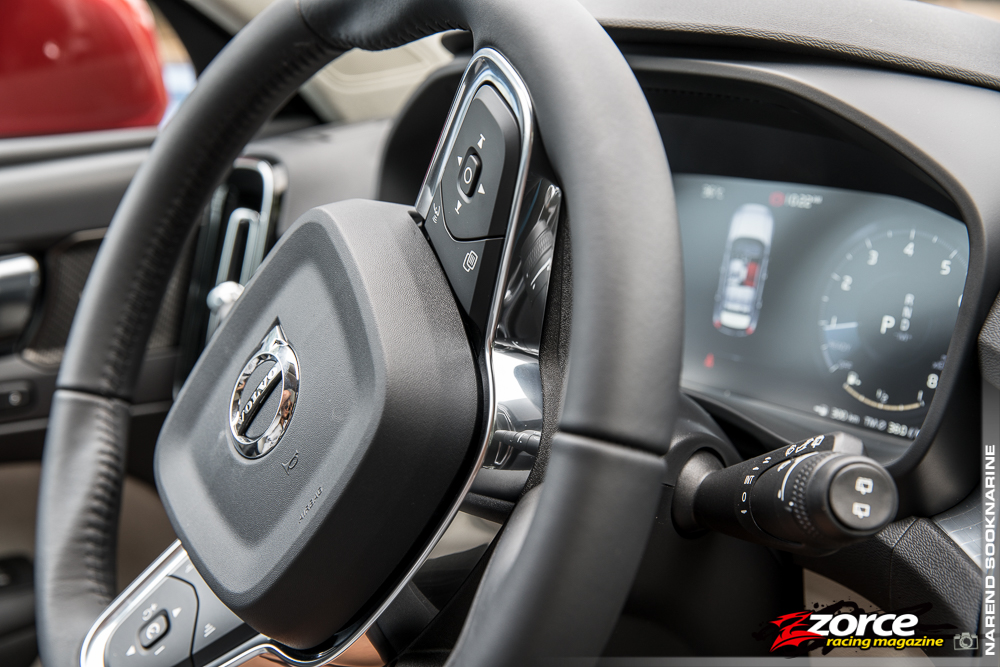 Our Momentum-grade test vehicle was fitted with a lovely panoramic glass sunroof, which, along with all the use of high-quality materials and engaging tactile surfaces, made the Volvo XC40 seem more upscale. The partial leather upholstery, the concave panels in Urban Grid aluminum and the sophisticated lighting all conferred an ambience of exclusivity to the interior.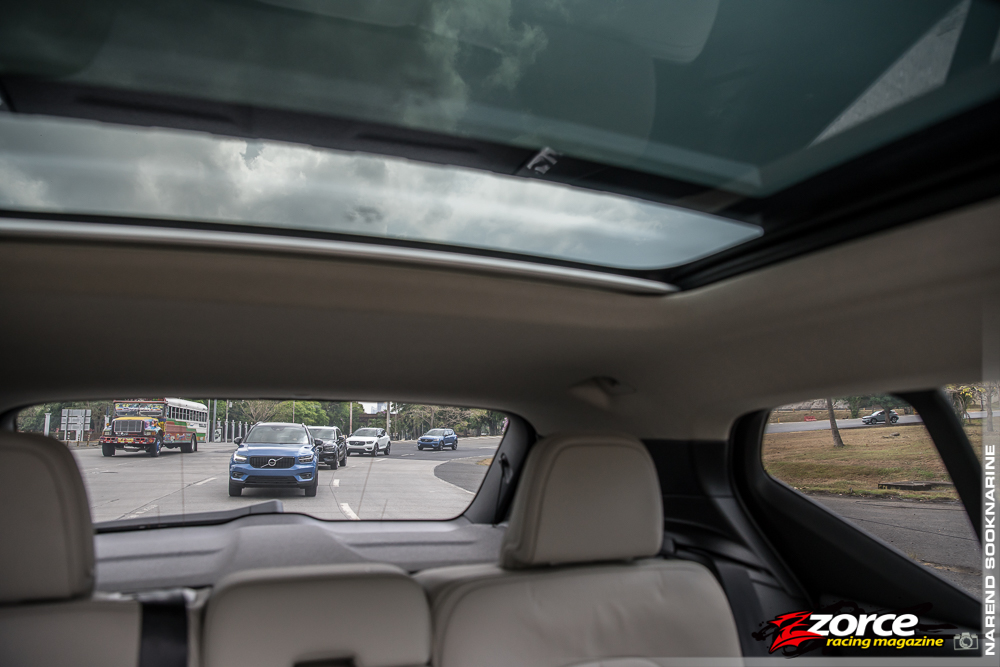 Innovation is another key area, especially when it comes to ingenious storage spaces. With the insight gained from SUV-owner research, a number of ideas have been refined and introduced in the XC40.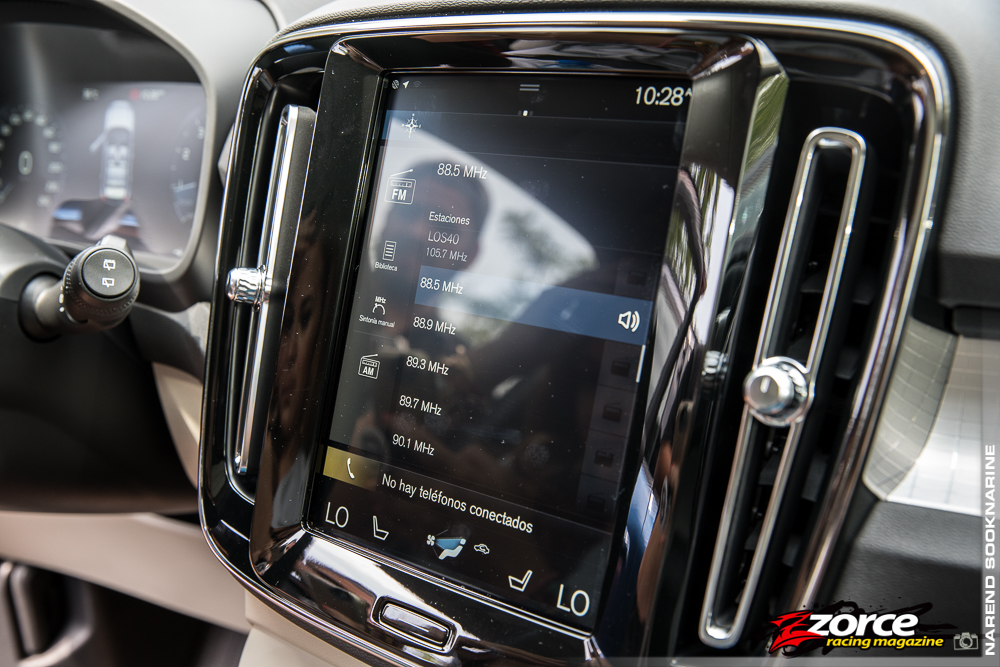 One of my favourites is the removal of the door speakers from the lower kick panels in the front doors. These would normally provide a lot of the bass frequencies in the audio system. Removing them frees up enough space to accommodate a 17" laptop in each door pocket. An integrated subwoofer located inside the central console area now handles musical bass, and the air-conditioning vents are used to guide the sound waves out. And thanks to a proper ten minutes of Trini music we can certify that it works beautifully– you get better sound and more space!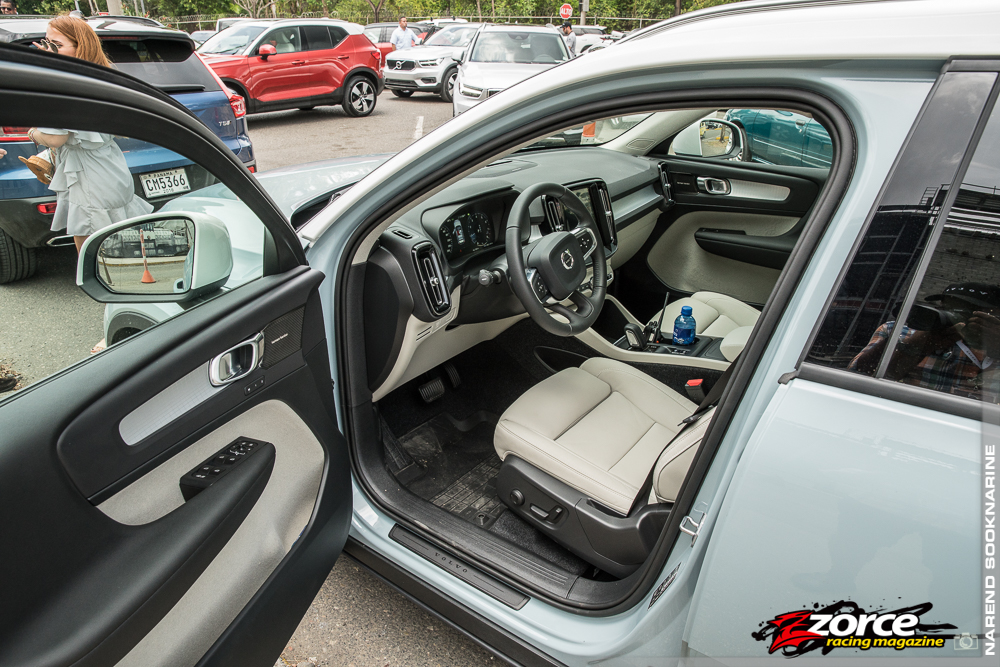 There is an under-seat cargo area, a garbage space, flexible cargo floor, a hat shelf and an induction charging area for your phone! Naturally, the rear seats can be folded (60/40 split) for additional cargo room (460L upright versus 1,336L flat).
Technology is another strong area for the XC40. The 13-speaker audio system pumps out a combined 650W of power and the subwoofer itself is also a modern wonder. Weighing just 1.5kg (up to ten times lighter than conventional in-car subs), and requiring just 2W to match a normal 200W sub, this new Air Woofer technology can deliver over 120dB inside the cabin of the car, without shaking up the neighbourhood around you.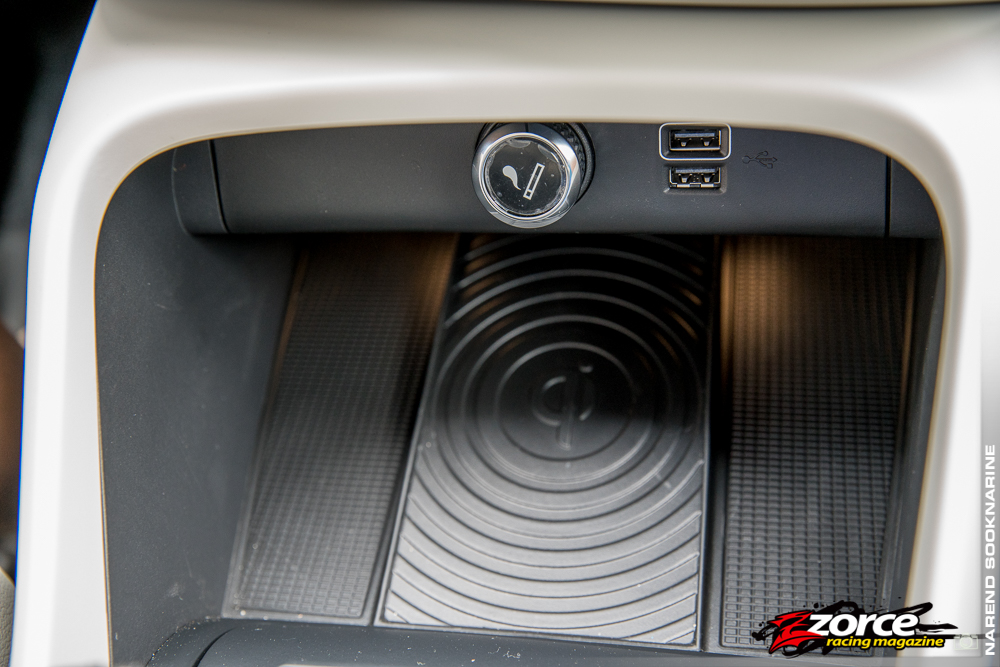 The induction charging system works with the iPhone 8 or above or any capable android phone, plus USB ports and Bluetooth connectivity. Apple Car Play and Android Auto are also available. There are tons of additional features that are all accessible via the lovely large touch screen, which also allows you to swipe, smart device style– up, down and sideways to access the various menus. In many ways, this car is practically built for millennials, while preserving the features every generation has come to appreciate.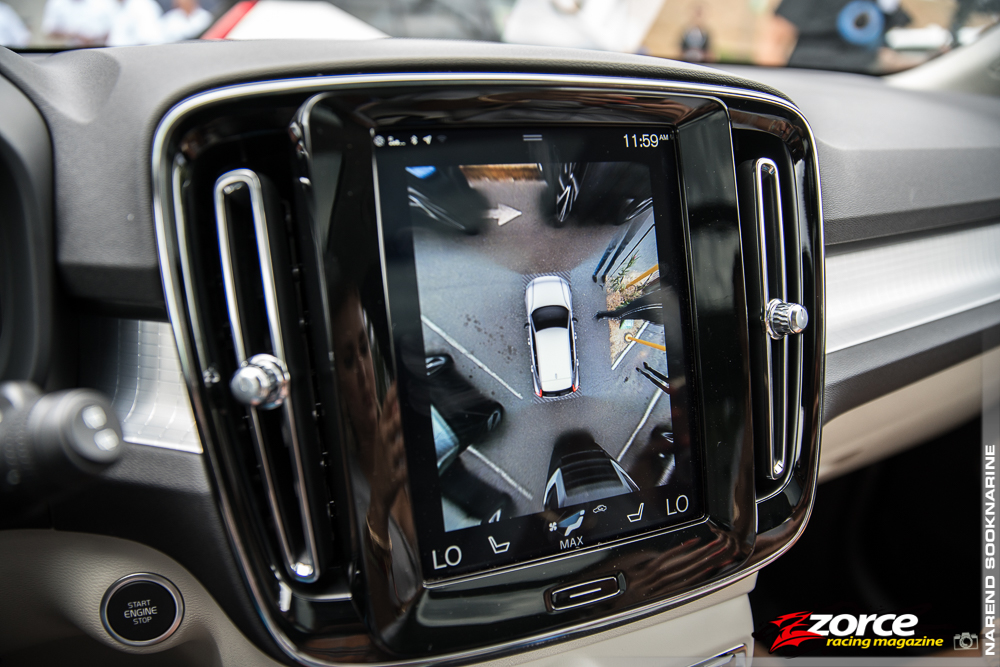 A 360˚ camera system allows you to see exactly where you are placing your wheels and how close each side of the car is to any given object. This is particularly handy in car parks and when negotiating tighter spaces where obstacles can't always be directly seen from the driver's seat. The Volvo City Safety system is also constantly active, scanning for pedestrians, cyclists, larger animals, vehicles and obstacles. It is always ready to brake, engaging ABS in case of an emergency. Volvo's Parking Assistance System can be used to help parallel park the XC40 in spaces as small as 1.2 times the car's length, while the Cross Traffic Alert with Brake Assist helps you avoid any collisions when reversing out of a parking space.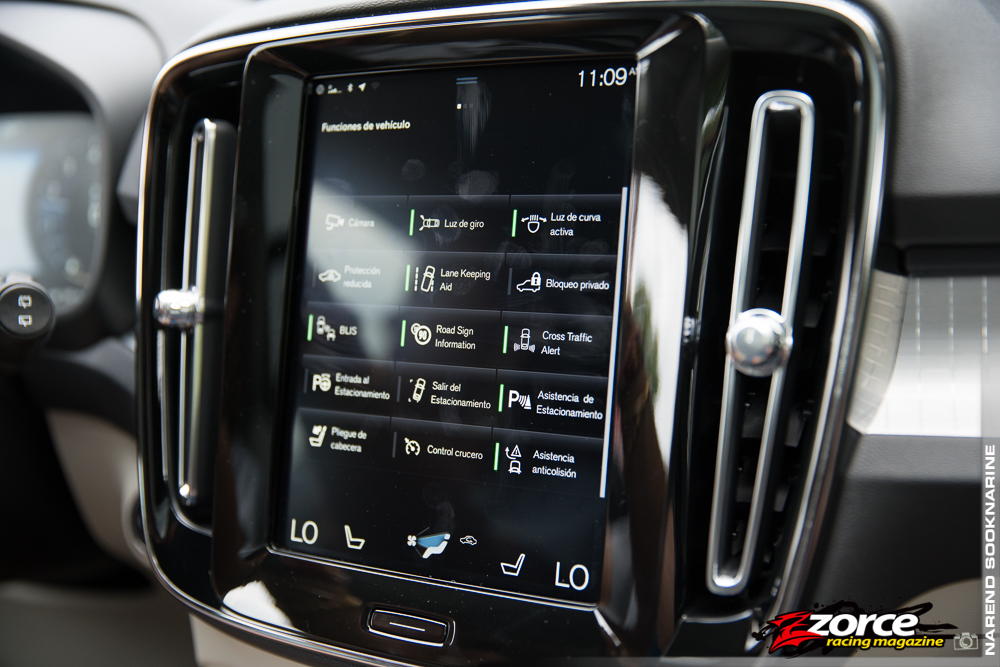 Volvo Pilot Assist allows semi-autonomous assistance and can follow road markings to stay in lane at speeds of up to 130km/h. It can also maintain specific distances away from the car ahead, speeding up and slowing down accordingly, thanks to the use of radar, along with the intelligent camera systems.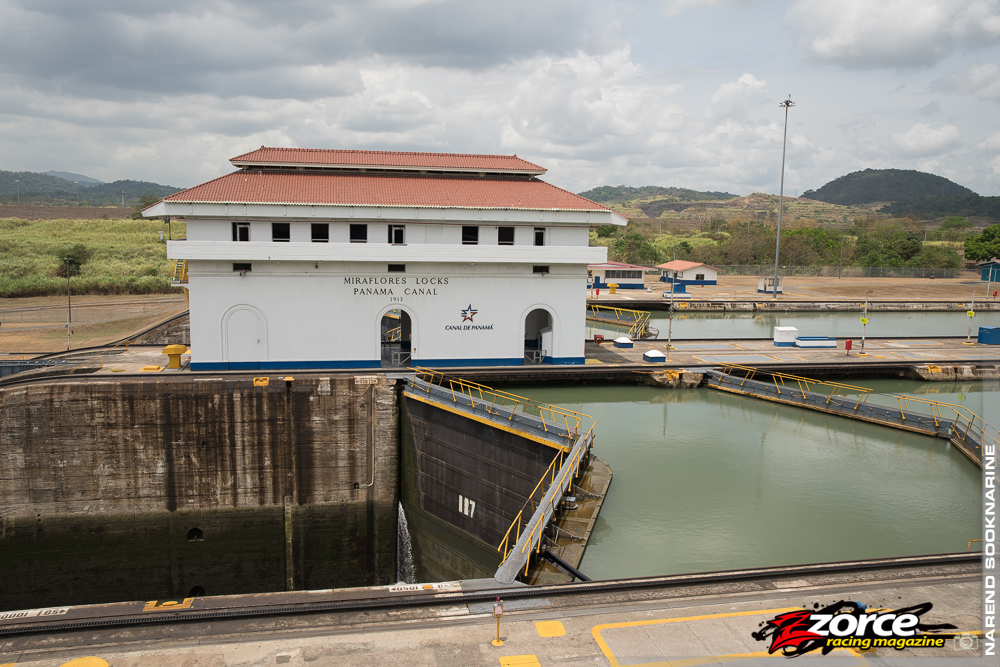 The driver is expected to have at least one hand on the wheel as a failsafe when this mode is engaged. On our drive to the Panama Canal locks at Mira Flores, we were able to experience this mode in action as the wheel did its own corrections to remain centred between lane markings! However, once it senses you taking control (via driver-generated torque on the steering wheel) and resisting system movements, it will release control until you reactivate the Pilot Assist mode.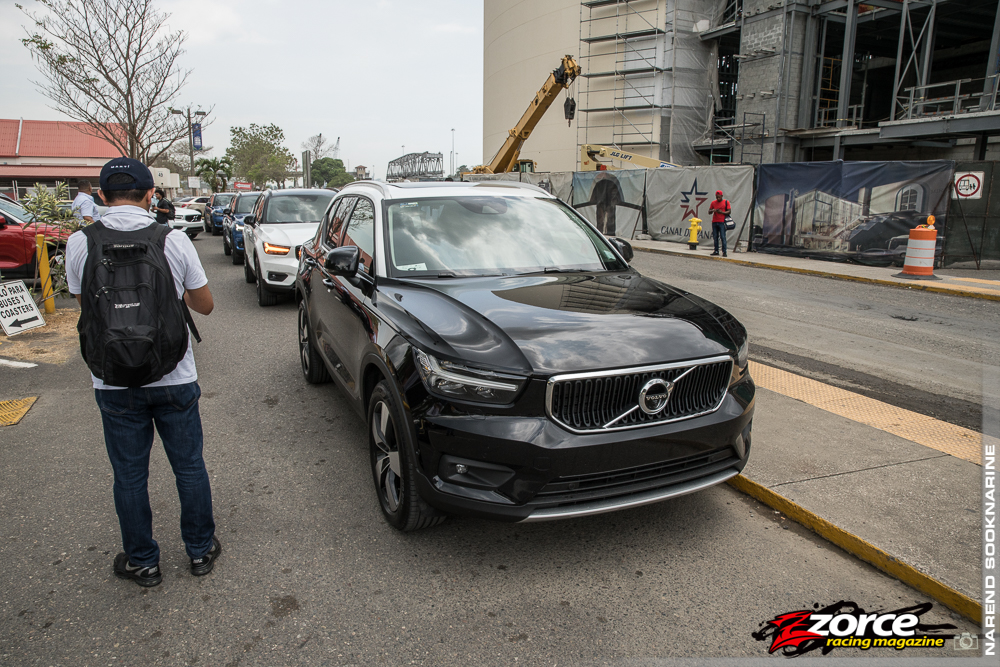 We felt the need to intervene only in specific situations, for example when we were turning out of the car park and crossed other lane markings in the process, or when there were missing lane markings on the roadway. There were a few instances when the City Safety emergency braking system was triggered as well, including when we approached vehicles too quickly while braking and when we approached any very steep inclines, which momentarily registered as obstacles until we began climbing.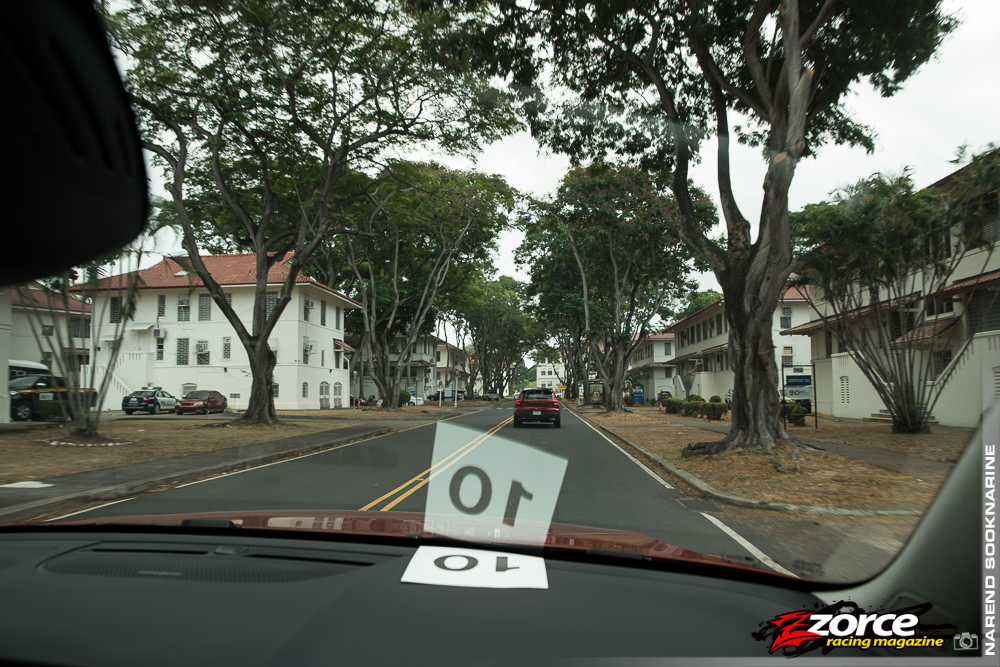 So yes, the driver is still required, but as a driving aid these systems are highly advanced and can take the stresses away from long highway driving and can be very useful in many potential driving scenarios. Apart from these newer systems and traditional airbags, the front seats incorporate Volvo's whiplash protection system to minimize the risk of neck or spinal injury if the vehicle is hit from behind. A high percentage of ultra-strong boron steel is used to create a safety cell around everyone on board.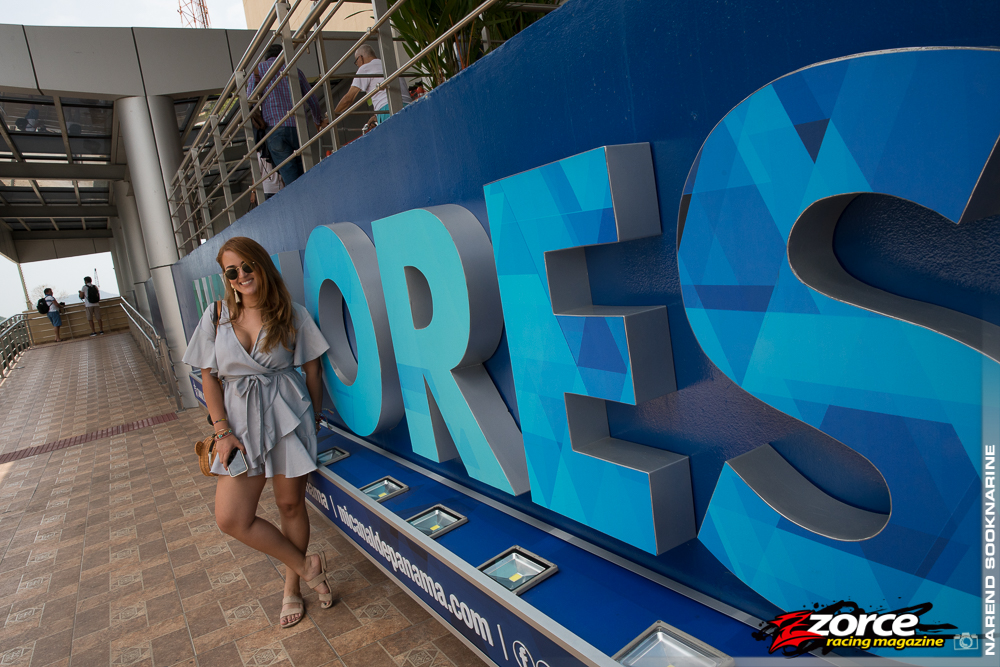 After we left Mira Flores, we did get a little stint of spirited highway exploration. The available driving modes allowed me to adjust the XC40's responsiveness in terms of the engine parameters, automatic gearbox, electronic stability control, address and Start & Stop function to my liking. I'm happy to confirm the XC40's excellent handling and driving dynamics and that Volvo's Four-C electronic chassis and suspension control is also available to tailor handling preferences across comfort, sport and advanced modes.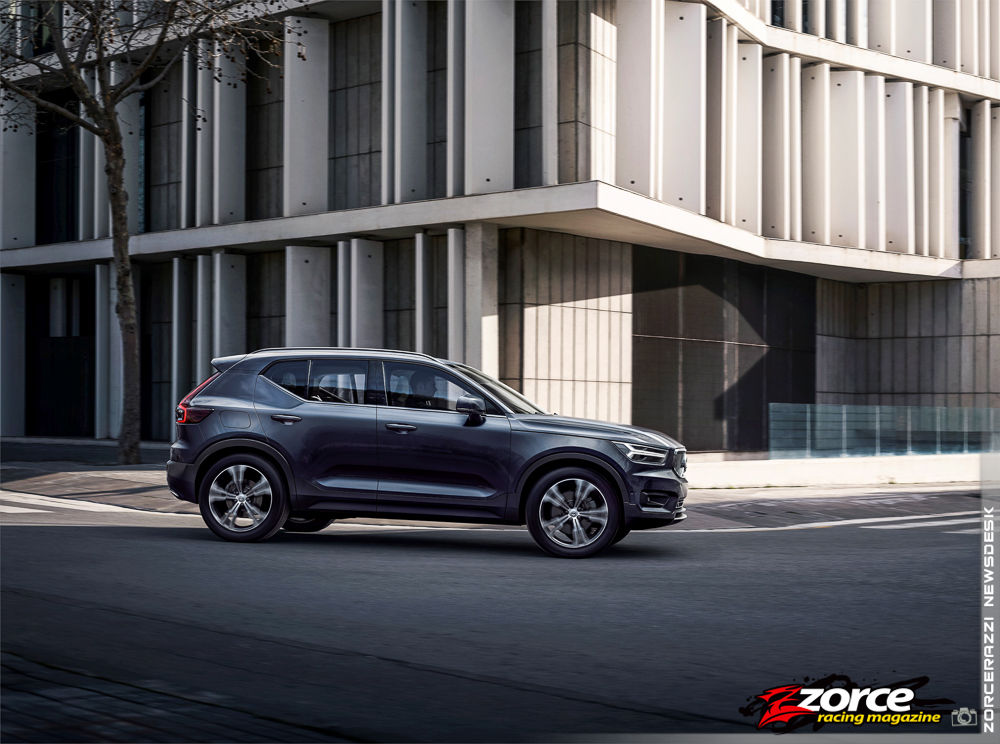 The T5 model's 247hp petrol engine is ready to accelerate you to 62mph (100km/h) in as little as 6.5s thanks to a generous torque curve that peaks at 258ft-lb between 1800-4800rpm. Peak power is made at 6000rpm and all that potential is delivered to a crisp-shifting eight-speed automatic transmission, which can be actuated by paddles mounted on the steering wheel. According to Volvo, the XC40 will top out at 230km/h. R-Design models get 250hp and a slightly lower 236ft-lb. The engine needs to feed on 95- to 98-octane fuel, so this one's for premium customers only– super-grade fuel users, look elsewhere.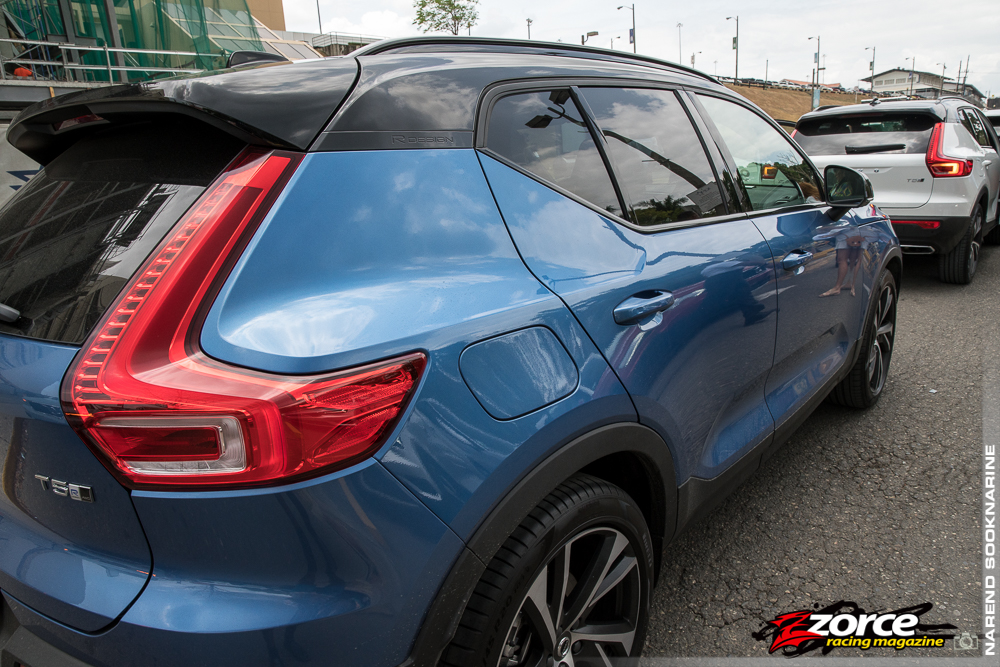 Most markets will also have the option of a diesel power plant. Also measuring 2.0-litres in displacement, the Volvo XC40 D4 version makes [email protected] and a burly [email protected] How quick is it? Zero to 62mph comes up in just 7.9 seconds flat and it will romp onward to 210km/h if shown a racetrack or the Autobahn. Four-wheel drive models are also available. A 190hp T4 gasoline variant is also planned for a 2019 release. As mentioned earlier, hybrid and full electric versions are also on the coming-soon-to-dominate list. Interestingly, all of these engines utilise an aluminium head and block for weight savings and better economy.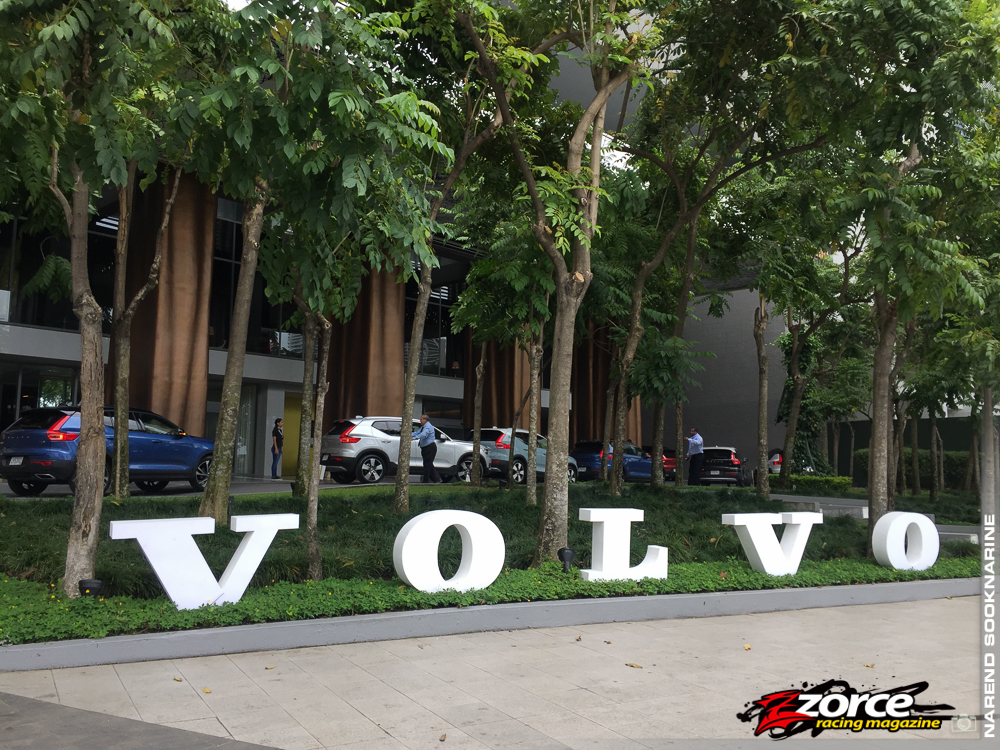 For its more mature markets, as is typically found in the developed world where leasing and certified pre-owned cars are in healthy rotation, Volvo also plans to release the Care by Volvo digital concierge system. This subscription service seeks to make car purchase, maintenance, insurance, and even sharing, as easy as using the popular Netflix video feed platform, where all deliverables are made available for a simple monthly fee. You would be able to spec your new car, or choose a pre-owned car, and even enjoy temporary upgrades for those extra-special date nights. Can you say Volvo XC90? Convenience features such as wash on demand or in-car delivery for purchases could be made available in countries that are able to facilitate such services. Sadly, this type of service is not going to be available in T&T.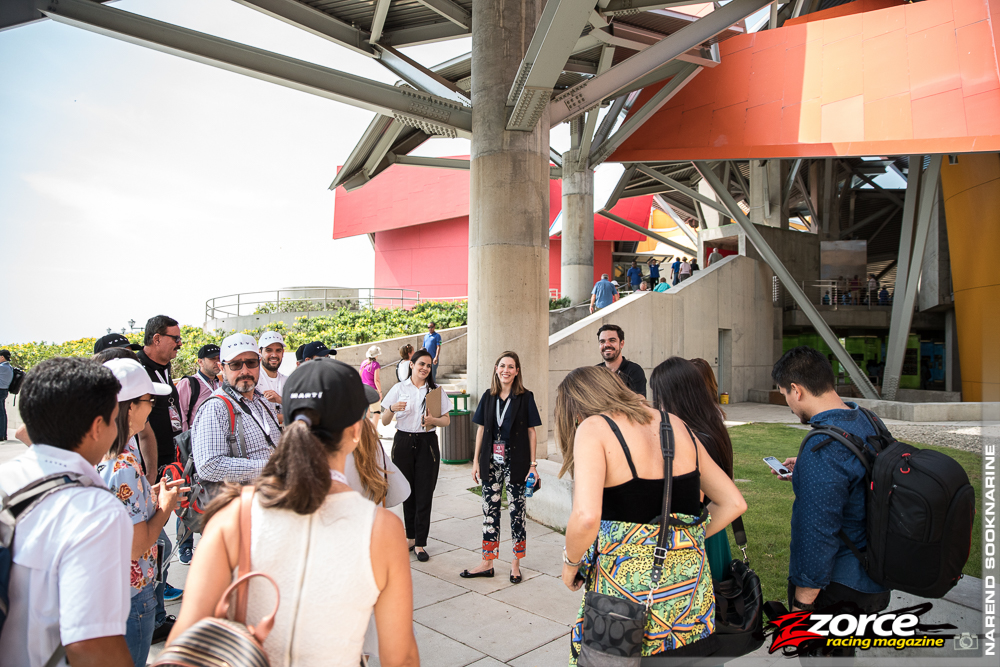 At the end of the presentation segment and with test drives completed, we did get to enjoy some time at Panama's Bio Museum, a facility dedicated to showcasing the evolutionary process of the region and its valuable biodiversity. This, along with the tremendous emphasis on safety, hinted that Volvo was a brand that placed the value of human life and importance of preserving our planet above the usual focus on how great their vehicle is. And incidentally the XC40 is a superb execution of a complicated design brief. Also, by 2025, Volvo is aiming to have electric and hybrid vehicles represent more than 50 per cent of their sales.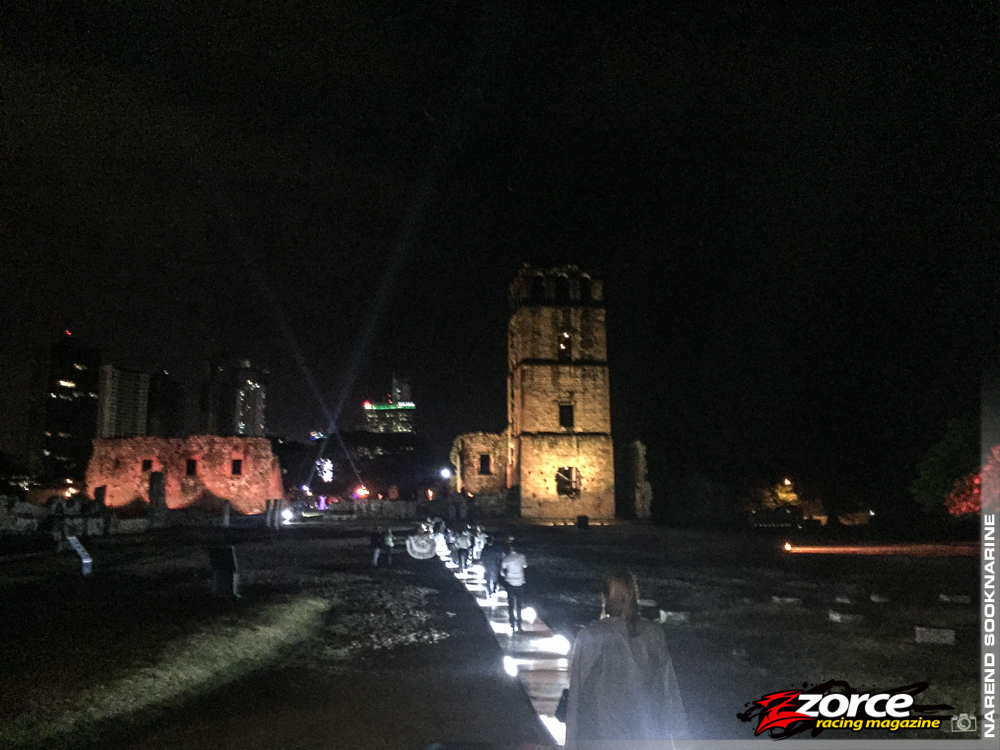 Later in the evening, there was a big surprise as we were whisked over to the Panamanian customer launch gala at the iconic ruins of the old Panama City. Here, we were fascinated by the work of an urban artist who was constantly drawing glowing designs on the surface of an XC40, and practically blown away by a 3D hologram introduction which was combined with a live modern dancer as part of the presentation. John Stech: Executive Vice President of Latin America and Canada, Horacio Oliveira: Director of Operations of Importers of Latin America were also present throughout the launch days.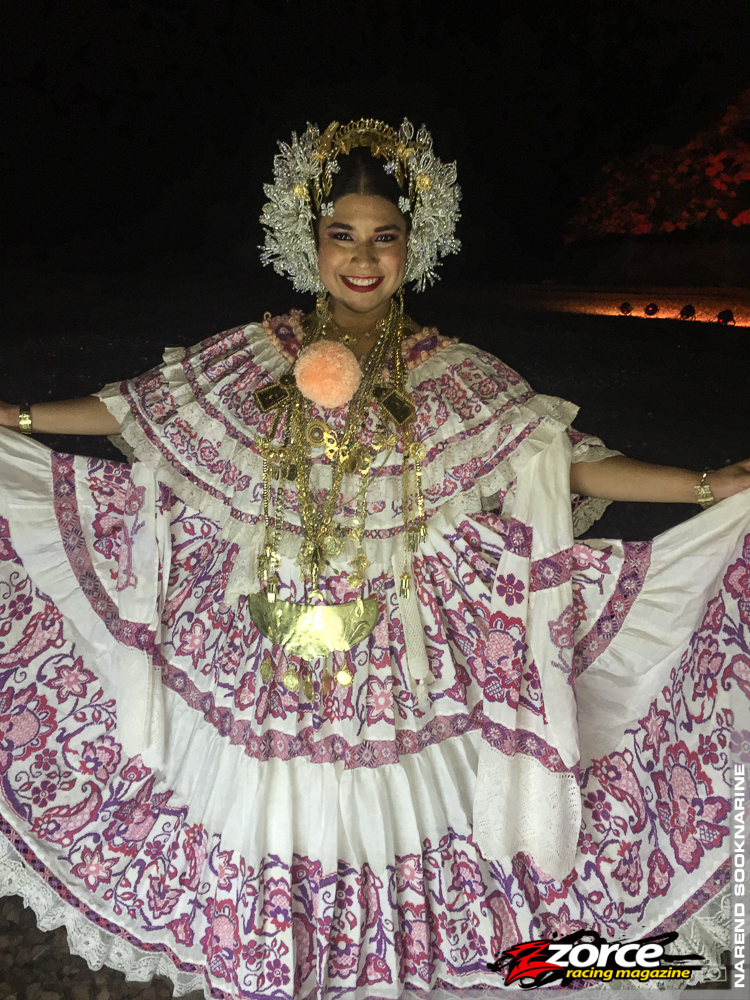 As a matter of strategy, this again demonstrated Volvo's forward-thinking nature. We were able to experience a seemingly rewarding premium event in a relaxed but exciting atmosphere, while customers had the benefit of interacting with around 40 enthusiastic and informed journalists, all of whom had just experienced all the new ideas that the XC40 brings to the market.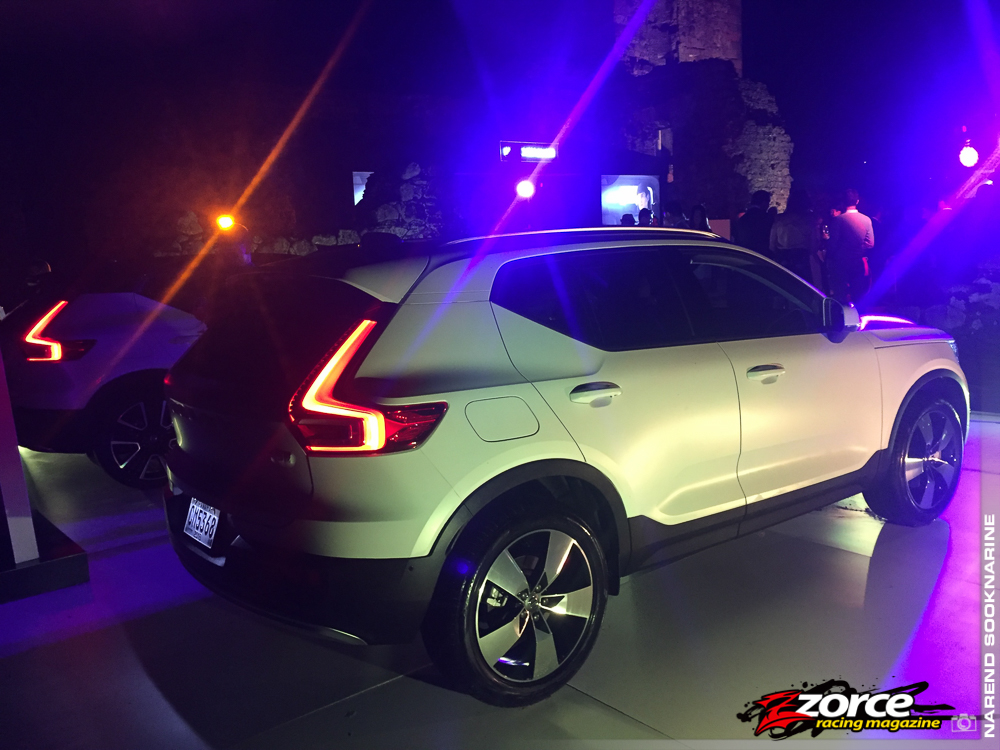 Local introductory prices are expected to drop into the early-mid TT$500K range. Nothing else comparable looks like it, drives like it or keeps you as safe as it currently can. When it arrives sometime in the coming months, take the opportunity to drive it because if you have the money, it should be a keeper. Contact Kerri Seerattan at Volvo/Massy Motors for more information.