Solodex 6 and Championship Shooutout
Written by Kevin Singh
Published in Autocross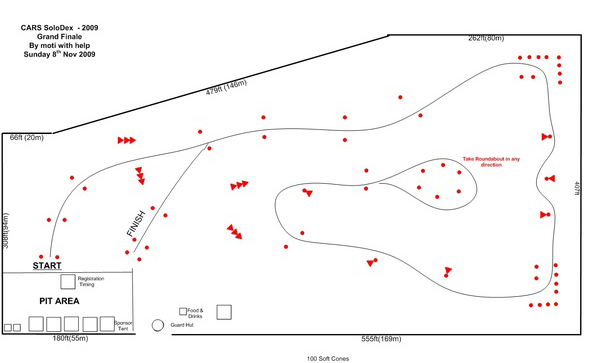 Sunday November 8 is now in the history books.  When the dust settled, the final points-paying Solodex event was completed, and a new overall championship was crowned.  With thirty competitors on the day, the action never stopped.

Many of the novices who sampled Solodex last year returned, this time turning pro, in their respective classes.  This left a tight group of four novices, in two classes.  Jairam Nannan took command of the NE2 novice class, and never looked back, posting an impressive time of 61.606 in his B14 Sentra.  In NE1, newcomer Luis Monroy won in a time of 64.974, behind the wheel of Zak Waddell's home-engineered, motorcycle powered Locost Super Seven Replica.

The very fast EPR class saw veteran competitor Barry Mykoo going up against Joel Jagessar in his Evolution VII.  Barry's second run time of 54.782 was enough to keep him in front, to win the class.  In the SS class, another veteran and past champion, Amir Hosein continued his winning ways, with a time of 56.84, edging out Vishnu Charran in his Mazda MX3.

The EP class held the most exotic machinery on the day, brimming full of Evolution Lancers and STi Subarus, plus Zak Waddel's nimble, wailing Locost7.  Devi Nath seemed on course to win the class, until Ryan Ramsaran pulled a coup on his final run, to win the class in an impressive time of 52.943, the fastest time of the day.

In the ES class, Rudi Palackdharrysingh and Genevieve Singh-Nath continued their season long rivalry.  Gen looked set for a comfortable victory in her Suzuki 'Oxymoron' Swift, fresh from some time at the door factory.  Rudy pulled a page from Ryan Ramsaran's playbook, and stole the thunder on his final run, winning in a time of 59.847.

In the ESP class, Christopher Ramnauth made it a battle of the Suzukis, taking the fight to Karting star Ryan Peyrau.  Chris put down some impressive drives in his Swift Sport, but Ryan's impressive driving in his manual Swift would take him to victory in a time of 57.185.

Rounding out the day was the GS class, where Curtis Dindial once again took a comfortable victory in his Nissan Sunny B11 over Kurt Pyke in his Vauxhall Viva / Ford / Datsun / Star Wars Thingamabob.  Kurt generously let Alan Rajkumar Maharah run his Thingamabob as well, assuring Alan of his place in the Championship shootout.

2009 Overall Championship Shootout
CARS always finish its season with the champion of each class having a battle in the two cars, to determine an overall champion.  Each driver got a single run in each of two sponsored cars.  The winner would be the driver with the best combined time.

 This time around, the drivers were given a pair of Suzuki Swifts for their battle.  One was Devi Nath's manual 'Oxymoron' and Lifestyle Motors generously provided an angry red manual Swift Sport.

With straws drawn to determine the running order, the battle began.  When the dust (and the cones) settled, Amir Hosein once again reasserted himself as The One.  Chris Ackee and Devi Nath fought hard to beat him, but had to settle for second and third respectively.

With talk of 2010 already flying, competitors are hoping CARS will string together a Christmas BYCC before year's end!