Where can I get a copy of Zorce Magazine in Trinidad & Tobago?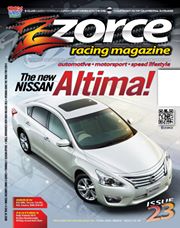 Any Superpharm, major supermarkets, pharmacies and most bookstores where Periodicals magazines are sold.
This network offers over 70 locations in T&T. 
Occasionally they may run out before being restocked by the distributor or the staff at that particular location. So if you don't see it on their magazine rack, make a point to ask them or the manager about it - they may actually just have it on site, in stock, but not on the shelves. 
These tuning/accessory/wheel stores also carry the magazine:
TEKNET (POS) 625-8638 https://www.facebook.com/teknetperformance
Street Concepts (Arima)  https://www.facebook.com/street.concepts.35
Tyre Planet (Cunupia) 360-TYRE  https://www.facebook.com/tyre.planet.ltd
Mahadeo's / 555 Subaru 645-9555 (Bamboo) https://www.facebook.com/mahadeosauto
Tuner Imports (Central) 665-6803  https://www.facebook.com/TunerImportsTT
Wheel Wizard (Chaguanas) 672-9064  https://www.facebook.com/groups/wheelwizardltd/
Quickbits (Curepe) https://www.facebook.com/quickbits
Miniciti (Valpark) 662-1668  https://www.facebook.com/Miniciti
Auto Image Accessories (Valpark) https://www.facebook.com/pages/Auto-Image/189053884476251
Garvin's Performance (St. James)  https://www.facebook.com/pages/Garvins-Performance-Shop/190355861164898
D's Car Boutique (St. James) https://www.facebook.com/groups/319104688124341/
RaceTrac Wheels (Arouca)  https://www.facebook.com/GFRacing
Paint Masters Ltd. (Arouca) 642-9511  https://www.facebook.com/pages/Paint-Masters-Ltd/168001723375563
Abraham's Auto Zone (Mausica) 642-5411  https://www.facebook.com/AbrahamsAutozone
N.Gopie - The Art of Auto Care 663-2922 https://www.facebook.com/ngopietheartofcarcare 
TOBAGO: Hakim Automotive Limited, Old Grange Tobago 6608682

Or you can contact one of our personal distributors and arrange to get current and back issues:
Richard "Raptor" Kalpee - will deliver nearly anywhere in T&T - 680-3752
Nigel Sambrano - 784-6224 
Herman Motieram (Trincity Industrial Estate and Arima areas) - 495-2558
Starr Chaitoo - 786-4099 
You can also contact our office directly (wholesale packs of 10):
This email address is being protected from spambots. You need JavaScript enabled to view it. , This email address is being protected from spambots. You need JavaScript enabled to view it.
669-4589, 678-3962

To advertise in Zorce call:
Sarah at 749-3922 or email This email address is being protected from spambots. You need JavaScript enabled to view it.
Nigel Sambrano - 784-6224