Victories for Porsche at Mexico's first FIA WEC Race, as seen by a Trini.
Written by Narend Sooknarine
Published in Circuit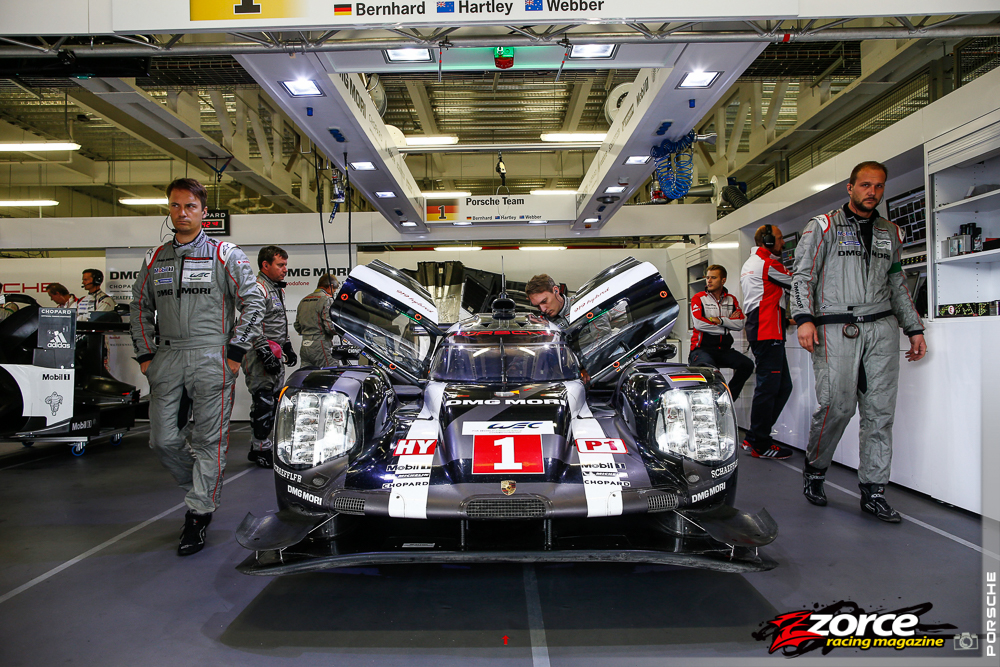 In Trinidad and Tobago, when the average person thinks of racing, they think of (the legal sport of) Drag Racing at Wallerfield and up until a few years ago, the Camden airstrip. But we've got news for you newbies, there's a whole other world of racing out there, with many different genres. Lifestyle Motors and Porsche was able to expose us to world-class circuit endurance racing at a brand new venue on our side of the world - the Hermanos Rodriguez Racetrack in Mexico!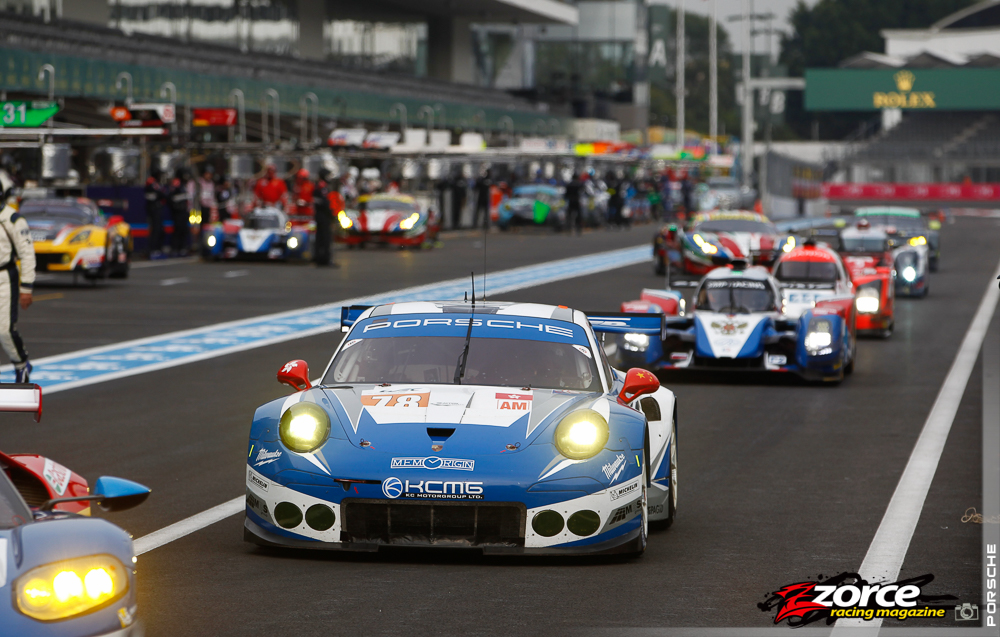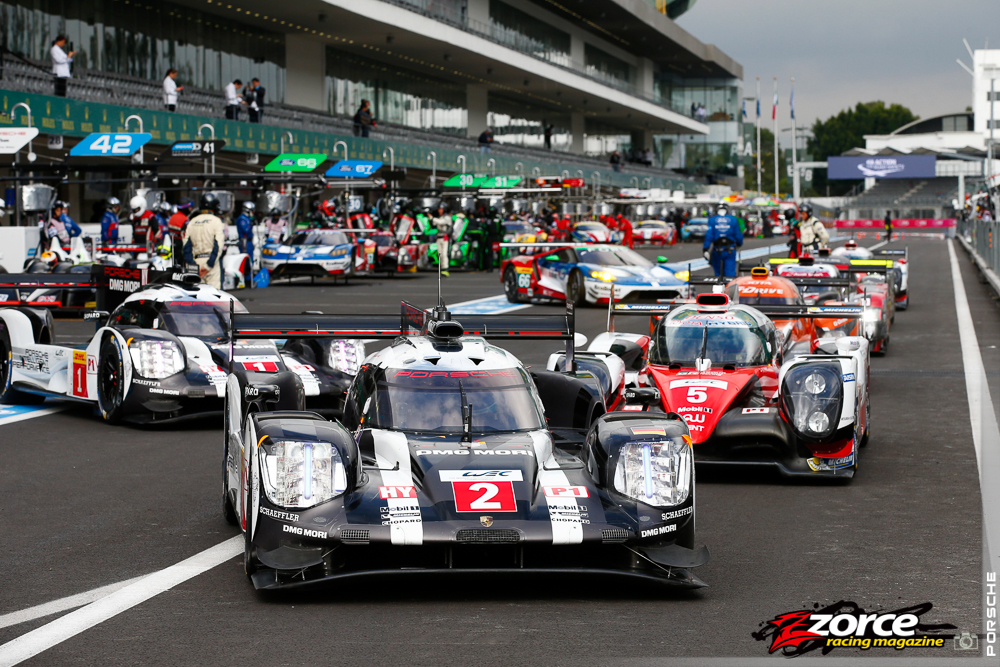 The FIA's WEC or World Endurance Championship, is open to Le Mans Prototypes and grand tourer-style racing cars meeting the requirements of four ACO categories– LMP1, LMP2, LMGTE Pro and LMGTE Am.
This video gives some insight into the LMP1 Hybrid class:
For the first time ever, Mexico's Hermanos Rodriguez racetrack is now officially on the WEC destination list. We had the privilege of driving the newest generation of Porsche 911 at close to racing pace on this very track last February (See AVENTURA MEXICANA: NEW PORSCHE 911). I can assure you the 4.3km course is unlike any other in the world.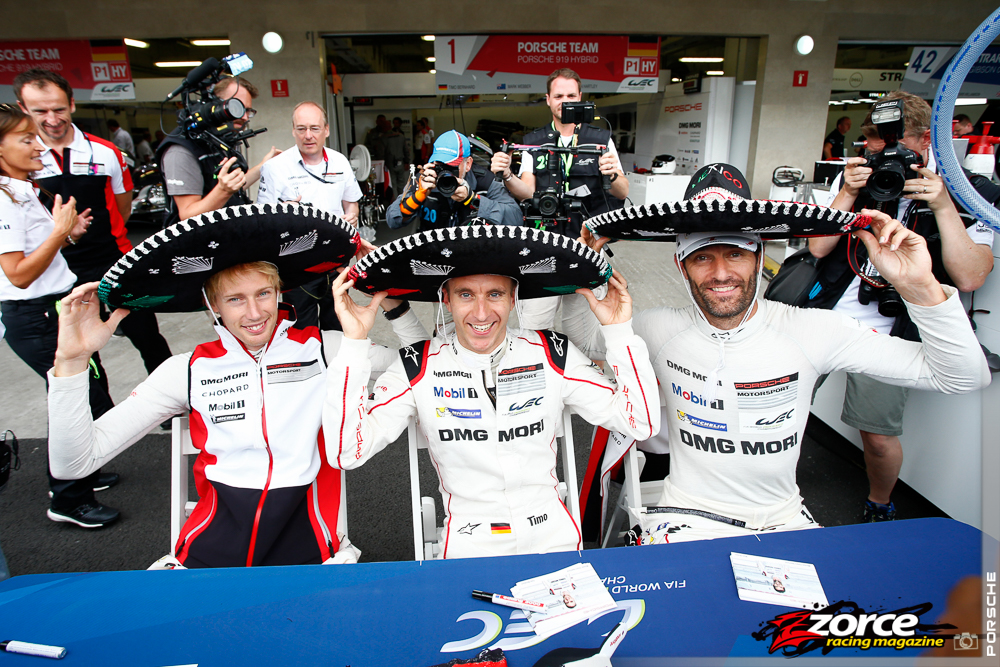 Porsche factory driver Timo Bernhard put it this way: "…the track is something between a city circuit and a permanent race track. It has some tricky parts. Especially in traffic, a lot of patience is required. We are still improving the aerodynamic balance, as the low air density at this high altitude influences the entire car." The straights are long and the corners are very tricky as most of them are multiple turns strung together. The facility is so large that it easily houses a baseball stadium in one section of the track.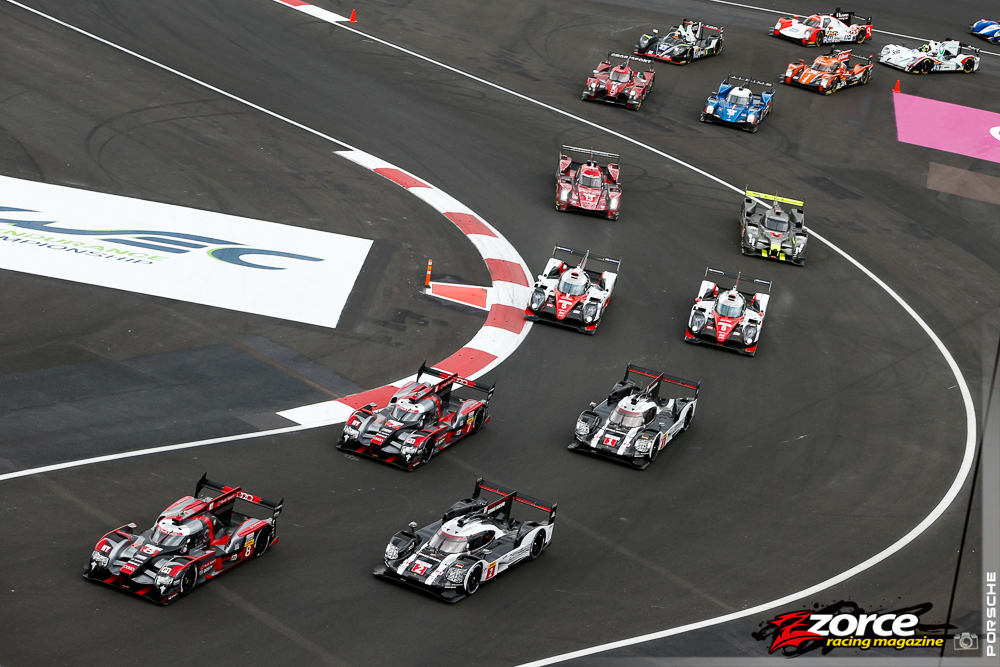 After setting the fastest time in free practice, the Friday qualifying session did not go exactly as planned for Porsche, with Audi taking pole position by a few hundredths of a second (Di Grassi/Duval/Jarvis (Audi R18) in 1m 25.069s) on a warm, dry track. In the WEC, a team's qualifying grid position is determined using the average of the fastest laps of each team's best two drivers. Porsche's Jani/Lieb (Porsche 919 Hybrid #2, position 2, 1:25.111 minutes) and Hartley/Webber (Porsche 919 Hybrid #1, position 4, 1:25.400 minutes) were the qualifying drivers.
Raceday on Saturday bristled with energy as we toured the paddock during the team autograph sessions, and did the grid walk to meet the teams and drivers, right next to the cars, which were lined up before the race. The scale and level of event organization was like nothing I'd ever seen before, anywhere, period. This was on par with an F1 meet, to me at least. As the cars roared past at the start of the race the TV commentator remarked that the race started late by a whole 34 seconds– this spoke volumes. It's absolutely NOT island time at events like these.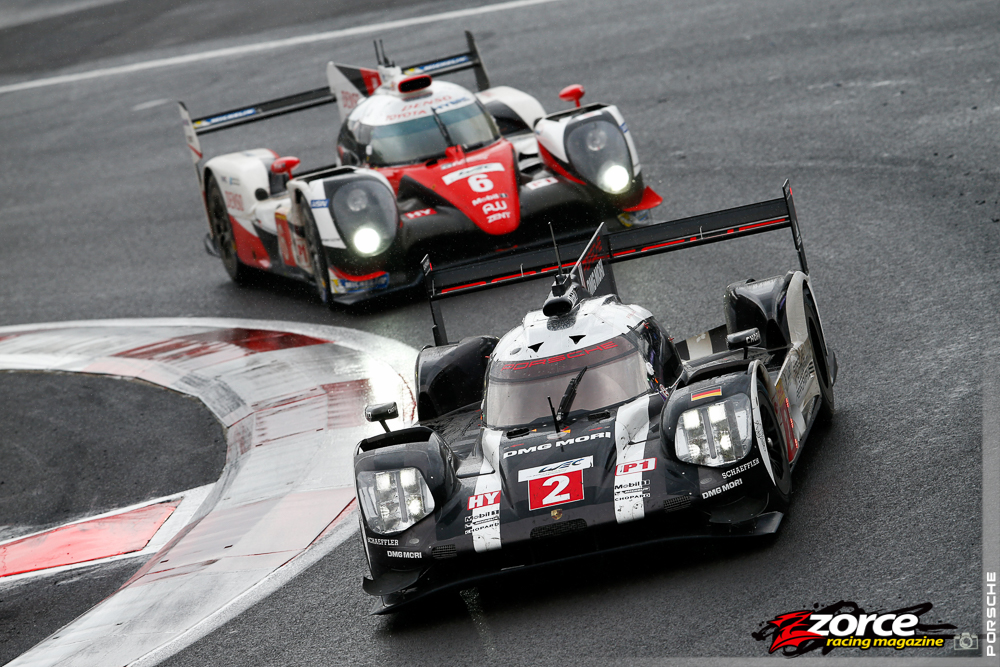 Naturally, the LMP1 cars with their new-generation Hybrid technology (electric drivetrains were unaffected by Mexico's altitude) easily blew past the field on the main straight and at corner exits. Lap traffic gave top drivers the opportunity to set up a decisive pass in the corners and/or widen the gap between their next rivals.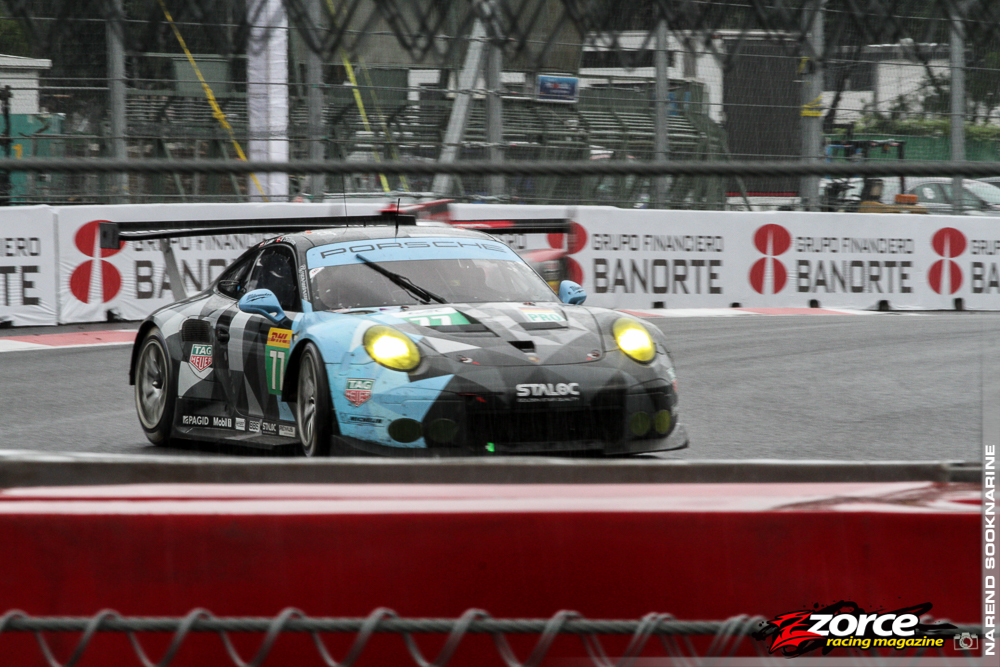 And of course, there was some race attrition, due to unavoidable contact, mechanical and heat-related problems or slippery conditions due to intermittent rain in various parts of the racetrack.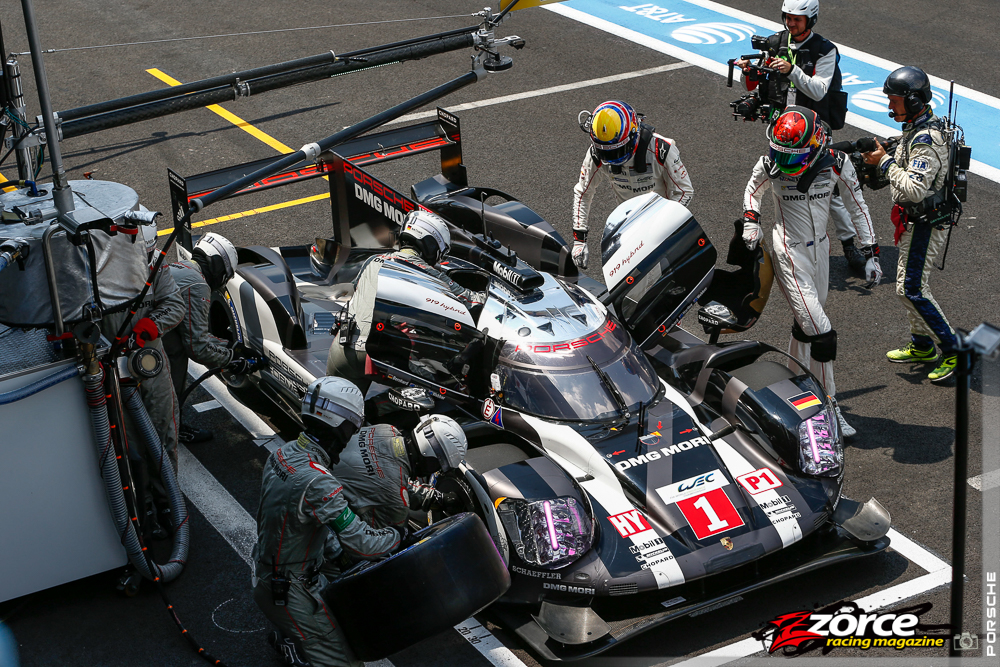 Despite a costly 20-second runoff in the last 15 minutes of the race, Porsche was able to hold off the hard-charging Audis to take the first (Porsche 919 #1 - Timo Bernhard (DE), Brendon Hartley (NZ) and Mark Webber (AU)) and fourth positions (Porsche 919 #2 - Romain Dumas (FR), Neel Jani (CH) and Marc Lieb (DE)), extending their lead in the drivers' and manufacturers' Championships.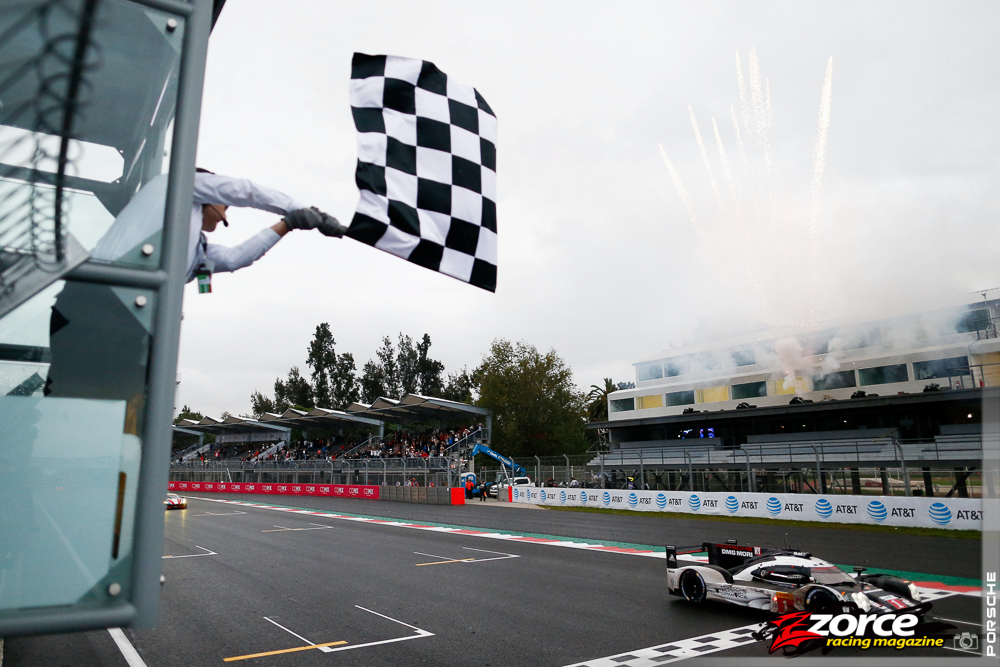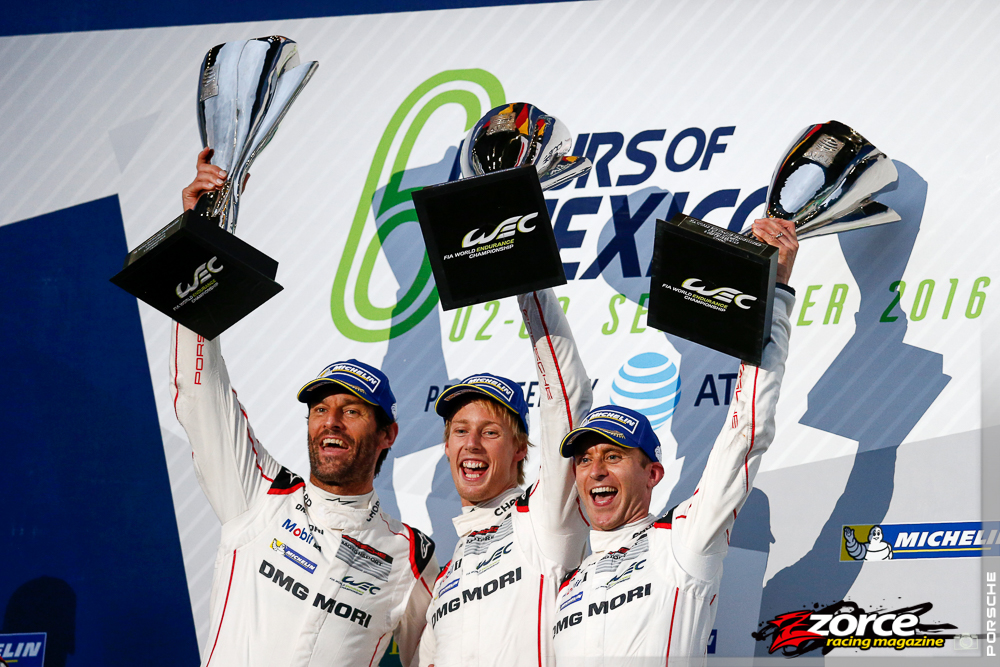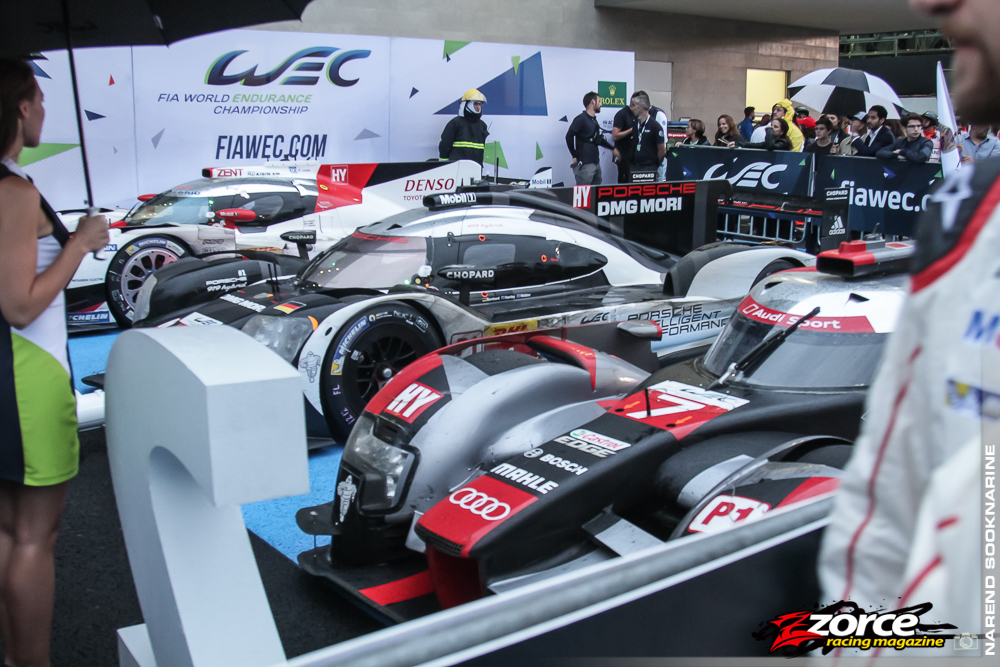 Audi had to settle for 2nd (Marcel Fässler and André Lotterer in the #7 Audi R18) and 27th (Lucas di Grassi/Loïc Duval/Oliver Jarvis in the R18 #8) due to a technical defect that resulted in a crash.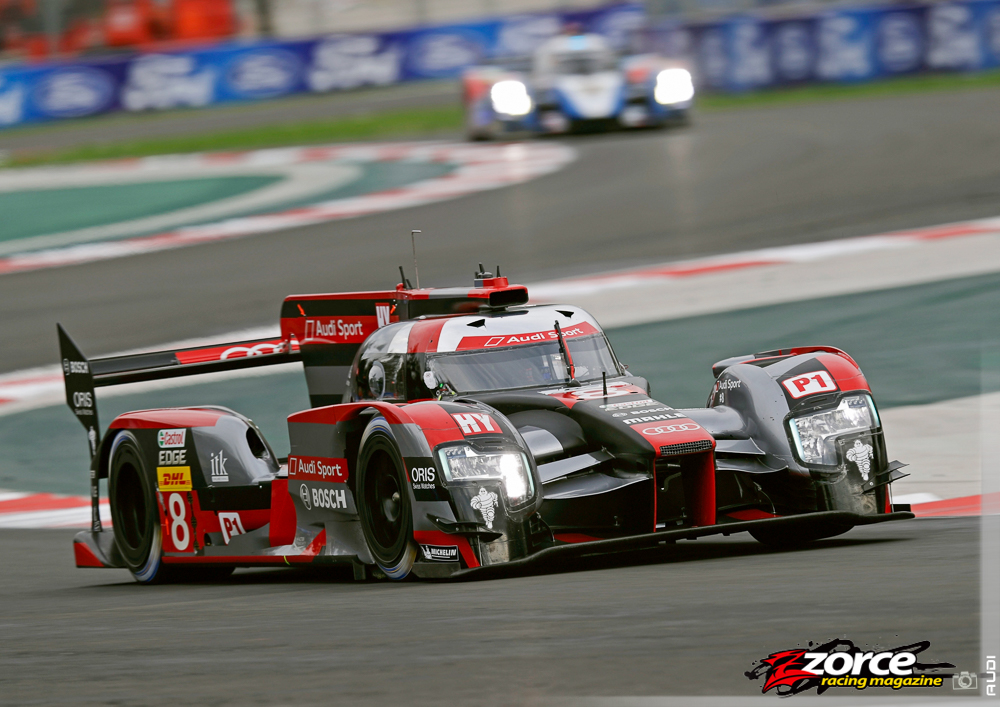 Rounding out the podium was Toyota, with Stéphane Sarrazin, Mike Conway and Kamui Kobayashi in the #6 TS050 Hybrid overcoming a difficult start to the event, which saw them miss Thursday practice due to an accident, to finish third. Toyota's #5 car retired during the race.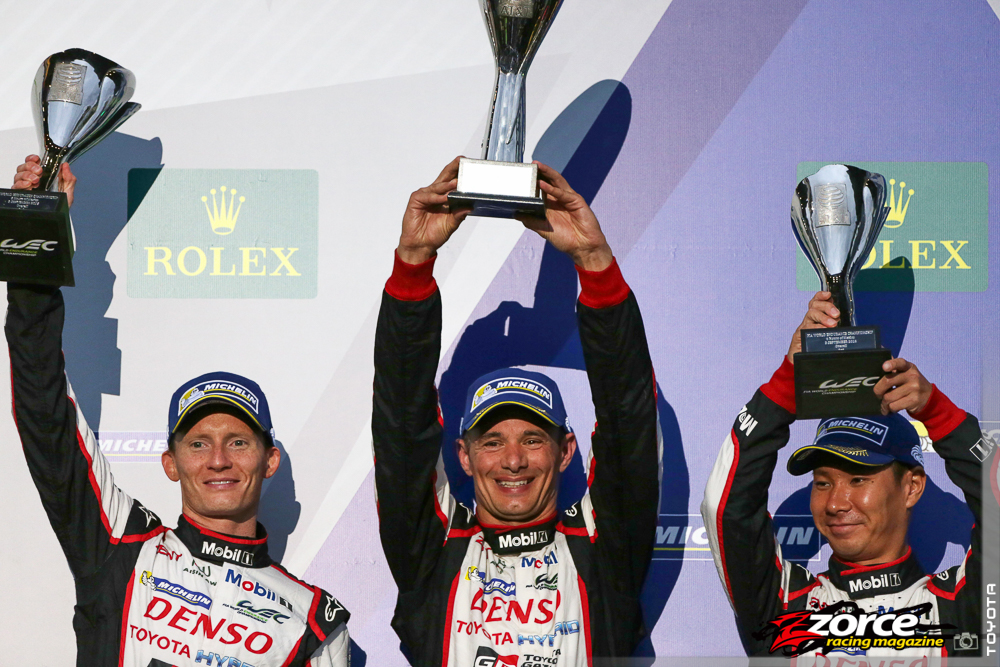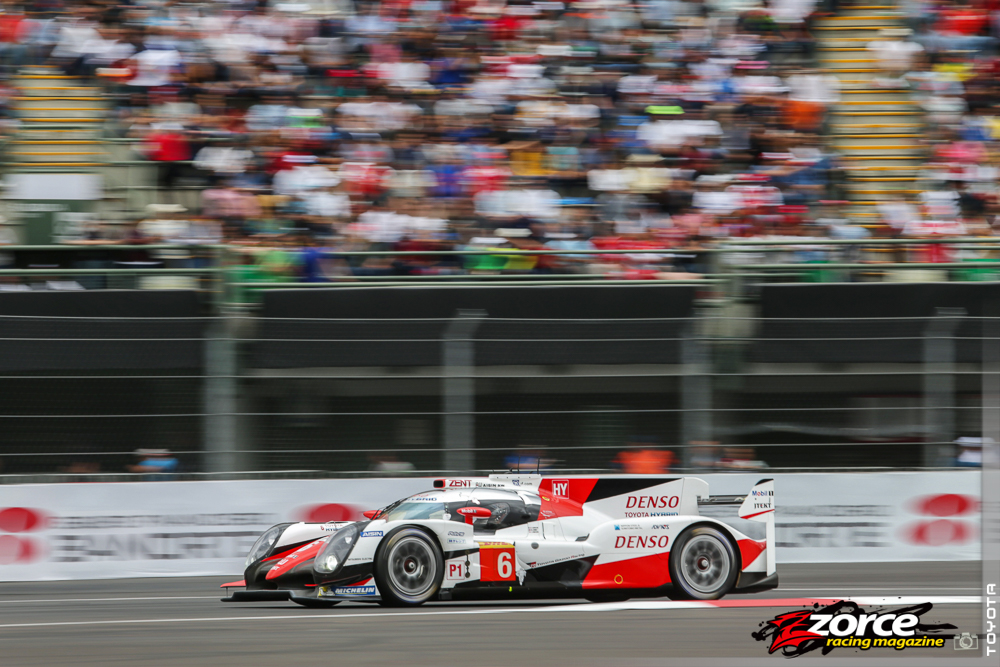 Porsche also enjoyed success in the GTE-Am class with a win for the Abu-Dhabi Proton Racing team, driving a Porsche 911 RSR with the team of Porsche's works driver Patrick Long (USA), Khaled Al Qubaisi (Abu Dhabi) and David Heinemeier Hansson (Denmark) at the wheel.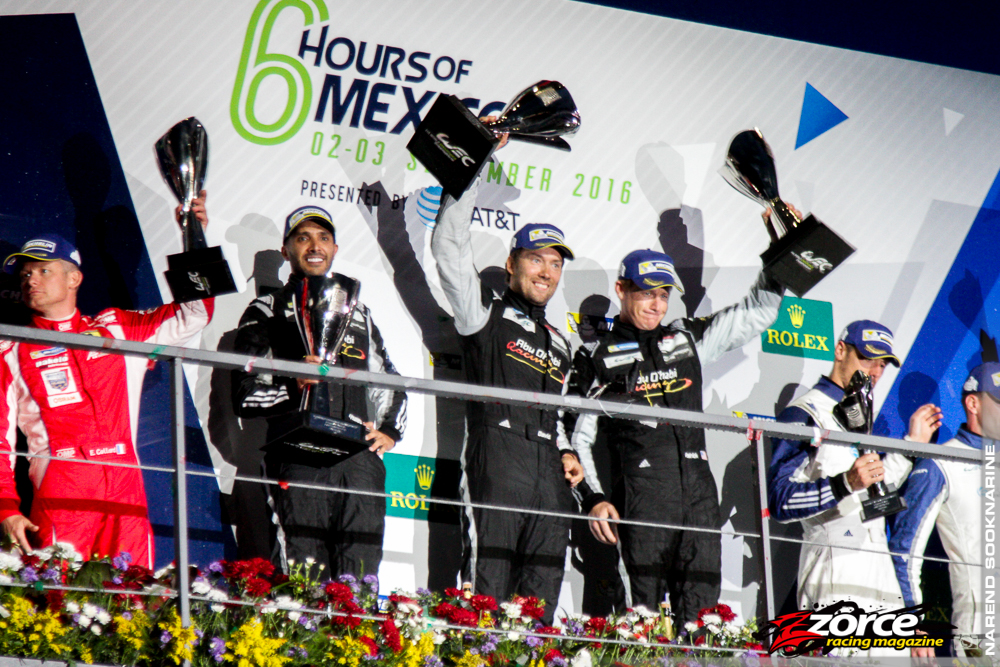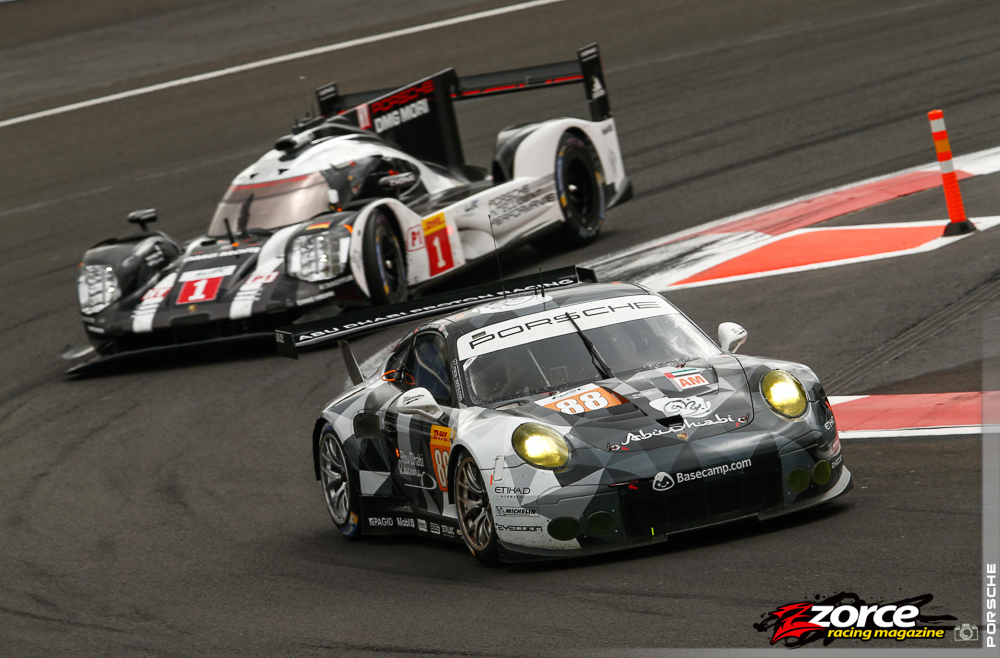 The KCMG squad with Porsche factory pilot Wolf Henzler (Germany), Christian Ried (Germany) and Joel Camathias (Switzerland) secured the third podium spot after a gripping six-hour race in another Porsche 911 RSR.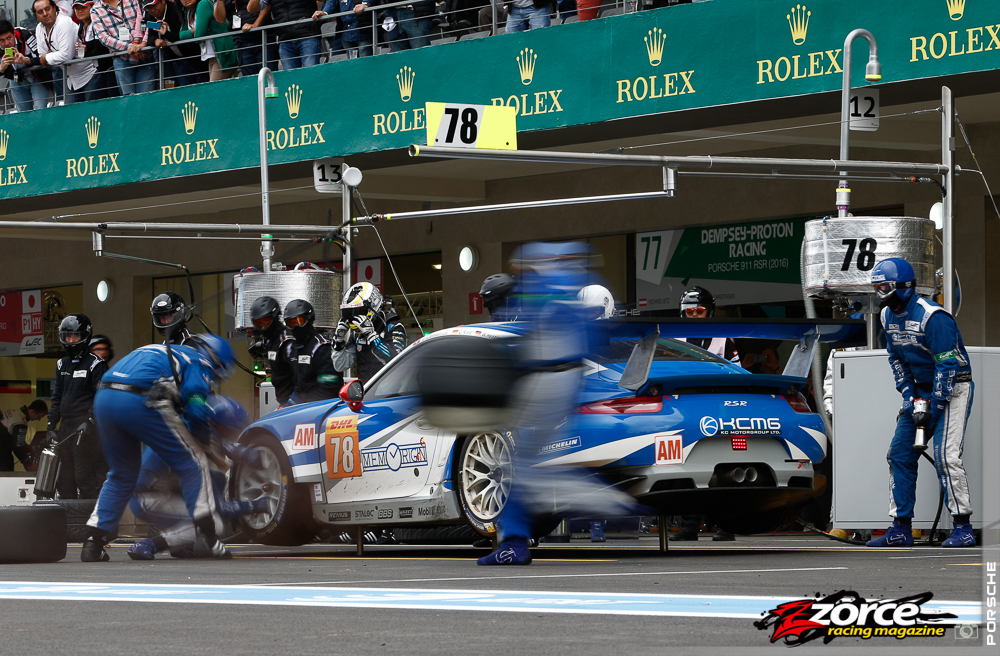 WEC action continues on September 17th in Texas, USA then on to Fiji Japan on the 16th of October. China and Bahrain round out the final two race destinations on November 6th and 19th and by then the overall champions will be crowned. Although racing in the Caribbean and has made a lot of progress, being exposed to this FIA WEC race weekend in Mexico was certainly an eye-opener for where our long term sights should be set in a myriad of respects.
Stay tuned for a full feature in the upcoming Zorce #28. 

In the meantime you can enjoy these videos:
FIA WEC Season Review Pre-Mexico report
FIA WEC 6 Hours of Mexico race report
Porsche Highlights