Isa's star shines bright at CMRC inaugural Radical Caribbean Cup races!
Written by Narend Sooknarine
Published in Circuit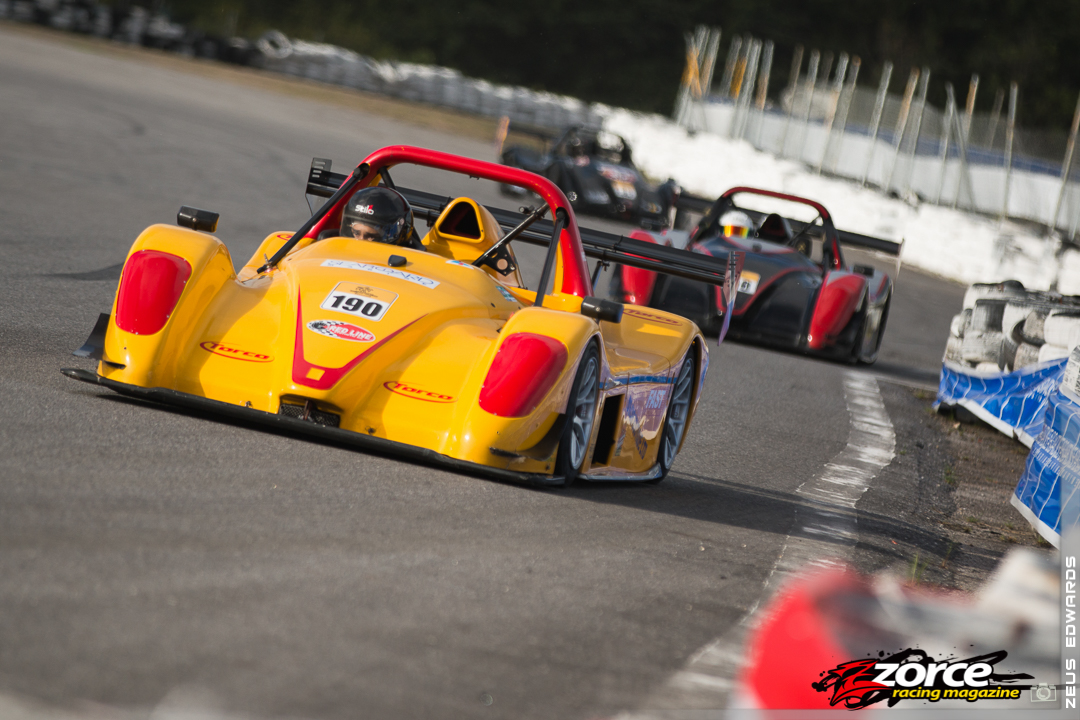 It was Day Two of the 2018 edition of the Caribbean Motor Racing Championship (CMRC). The air and grounds were damp and I was just polishing off a hot, tasty piece of fried chicken from Bar-B-Que Boyz at the back of the stands on the pit side of the track. Just then, I heard the announcement of the final Radical Caribbean Cup (RCC) race of the day!
With my feet in slippery terrain mode, I made my way back to the front of the stands. For once, everyone under my purview had collected their media passes and I was able to avoid interruption and actually enjoy a race! Racing fans were still making their way to their seats in the stands, while some found the optimum place to stand near the fence. The air was bristling with anticipation as they had just witnessed a fantastic battle between David Lyons, Ronald Wortman, William Campbell and Paul Vieira in CMRC Group3, and Aqeeb Ali and Aslim Ali in CMRC Group 1.
Now the newest racing machines at this year's CMRC– the Radical SR3s in RS trim– were making their way out of the pits, ready for their final battle of the weekend. After the two tyre warm up laps, the lone yellow Radical driven by Trinidad and Tobago's 15-year-old Isa Deen, was positioned third on the grid with the four other Radicals of brothers Stuart, Mark and Sean Maloney, along with Suleman Esuf, all from Barbados. Missing from this race was Guyana's Mark Vieira, who opted out of Day Two's RCC races to give full focus to CMRC Group 4 and his 20B rotary-powered RX-8 racecar.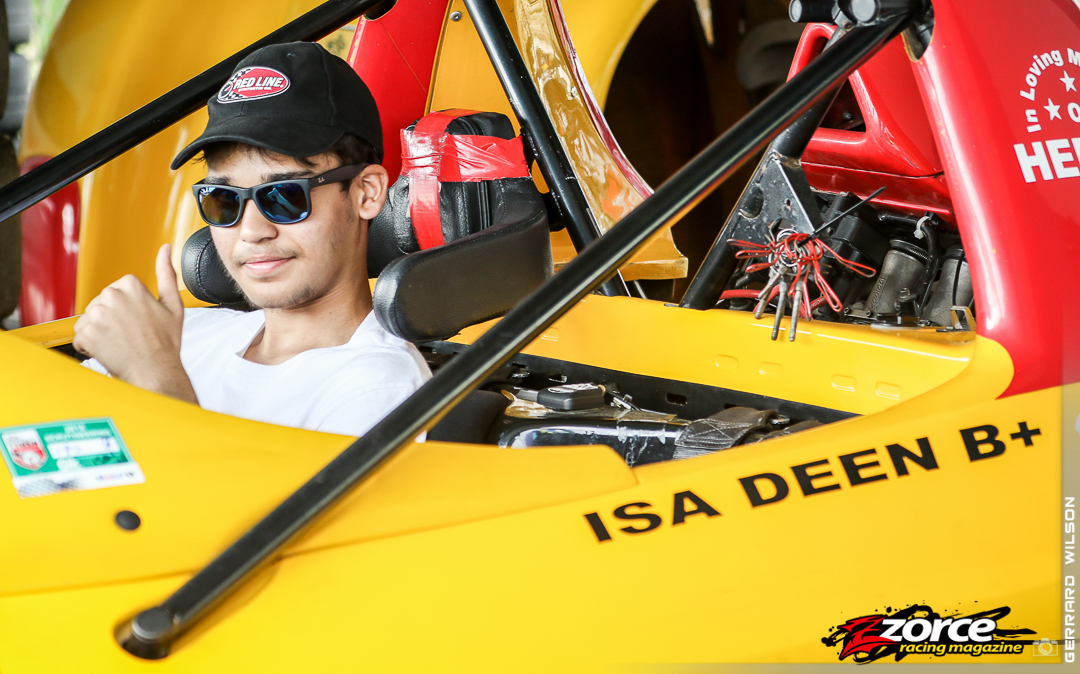 The track was wet, with patches of standing water from the day's downpours and constant drizzles. Humidity was high with continuous rain and the air was cool, for Trinidad at least. A light haze was constantly forming on the track as water steamed off from its residual heat. The track marshals indicated five seconds to the race start. On the race director's (Vishnu Mangalsingh) order, the start lights illuminated and the green flag waved!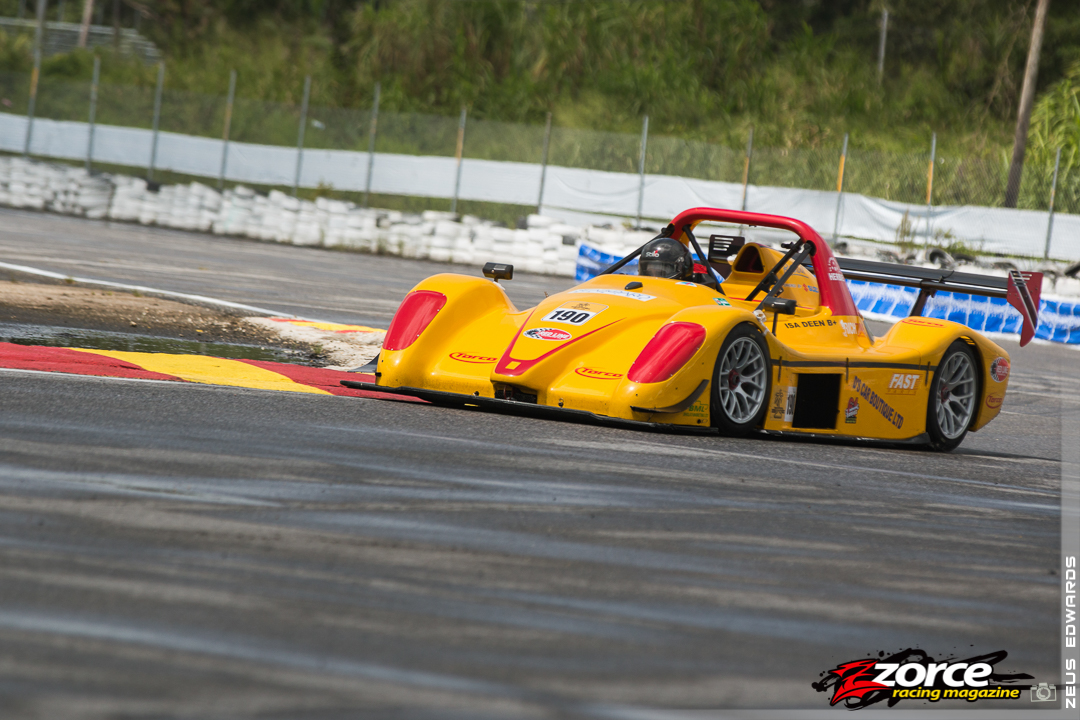 But this time, there was no roar from Isa's Radical-tuned 1.4-litre version of the Suzuki Hyabusa's engine. Instead, he heard a muted burp as his car stalled and the field ran past him on the line! They hurtled towards the apex of the Tom Miller top corner: "Unfortunately, I stalled on the start, which resulted in everyone leaving me back." After quickly paddle shifting back to neutral, he restarted, engaged first gear and launched his 252hp, 1,518lb carbon-body #190 Radical SR3 RS back into the race. It was time to go! "I then had to get my head back into the game," Isa remarked.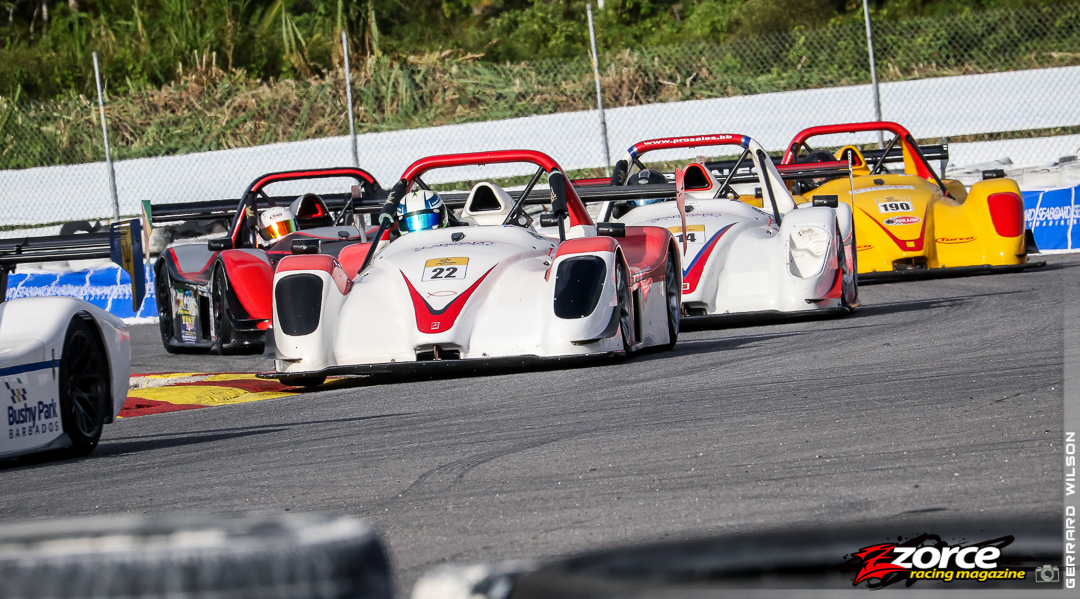 The weekend had already been a tough one where he initially qualified fifth on the grid out of six RCC cars. During Race 1, Isa rose as high as third position but slid to last place after some contact at the hairpin corner resulted in a spin. Chasing the field, he set the fastest RCC competition lap of the meet– clocking a 37.964-second time around Wallerfield. Of note also was Suleman Esuf's 37.886-second run in practice on Day One, and Mark Maloney's 37.855, clocked in the meet's first Group 5 race. During the second RCC race on Day Two, Isa secured second position, and while he was able to catch race leader Mark Maloney, he was not able to pass. 
Back in the moment of Race 3, Isa was a few hundred metres behind the pack when things went wrong for Sean Maloney. "I wear glasses to be able to see and as soon as I left the line the glasses fogged up, so I had no choice but to take them off and when I took them off, I couldn't see. So, if you're not on this limit– especially against this young boy, that y'all got growing up here in Trinidad, [he] put down an awesome drive– if you're losing a couple tenths of a second every lap, you're wasting time being out there. So, I couldn't see the markers which I could see when I had the glasses on, and I decided to come in."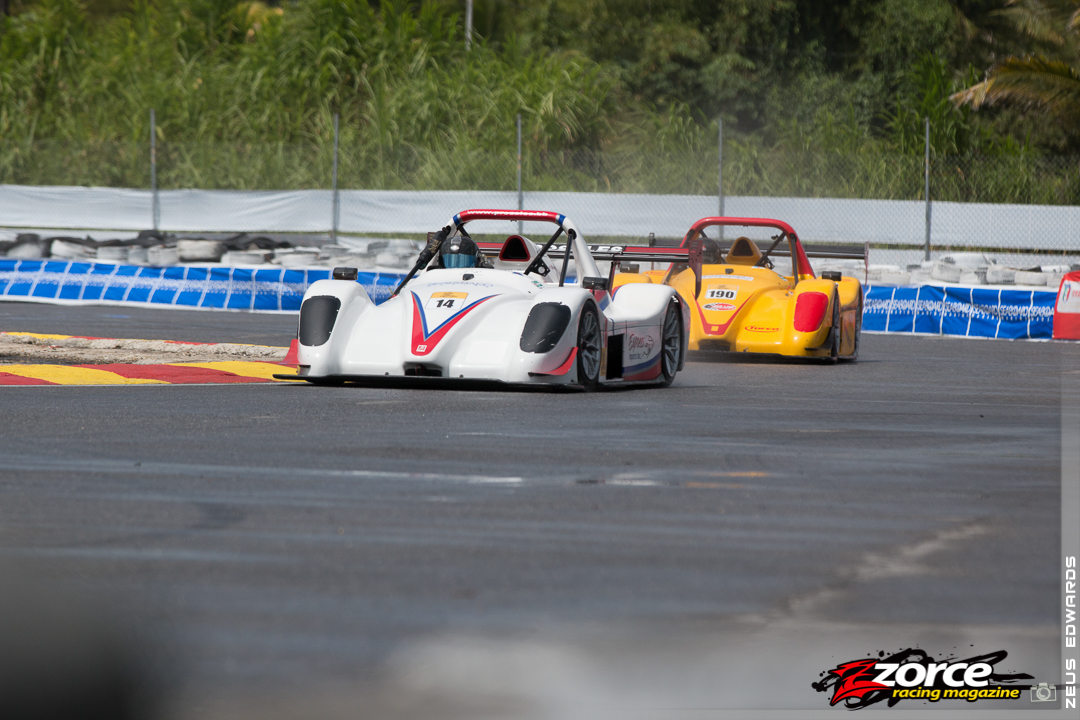 Isa caught up to the field after the first lap, just in time to pass #14 Suleman Esuf, and #22 Sean Maloney as he was retiring with visibility issues. This instantly put Isa in third position! The crowd was immediately appreciative and a massive, collective roar rose from the stands as Isa made the pass! Everyone was astounded and hopeful that he would be able to maintain a quick, albeit slithering pace in the wet! In just one corner, the whole outlook of this race had changed for T&T's Soca Racers. 
With everyone on the edge of their seats, with many shouting and jumping with joy, third place would ordinarily have been safe for most seasoned drivers who would not risk a spin at the expense of country points. But not for Isa– with his mind made up, he was just getting started. Earlier in the day he enjoyed chasing in Groups 1 and 2 and scoring valuable points for team T&T in the process: "In Group 1 I started last and made my way up to first place, and for the other two races, I got first place. Group 2, I started last, made my way up to fifth in the first race, and then the other two races, I got third place."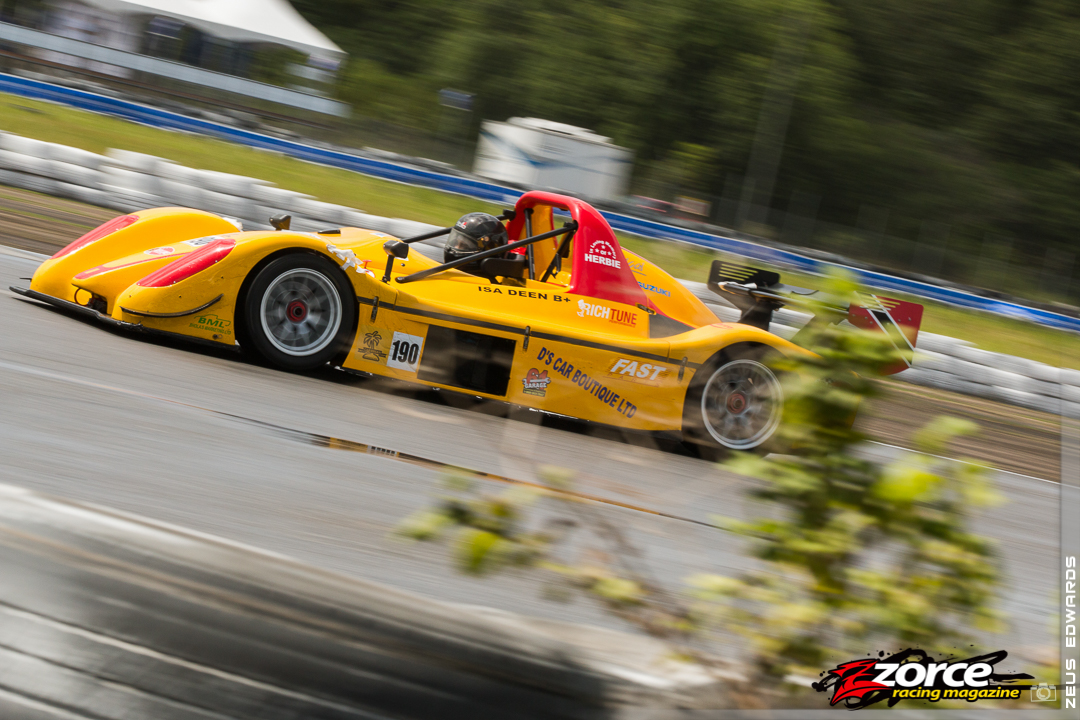 The track was still waterlogged but Isa remained focused. Through the DaCosta Jones chicanes, Isa was consistently gaining ground. As he drove past the pit-side stands, we could see the front wheels doing quick, precise corrections, multiple times per second. Through the high-speed back section en route to the kink, Isa was short-shifting– making the engine's torque more manageable in order to accelerate through the turns. Every other competitor was fighting between maintaining top rpm and applying corrective braking– as evidenced by their telltale rear lights– but Isa's remained unlit. Arriving at the hairpin quicker, and sliding his car through at more extreme angles, Isa's on-track composure was good enough to close the gap even more.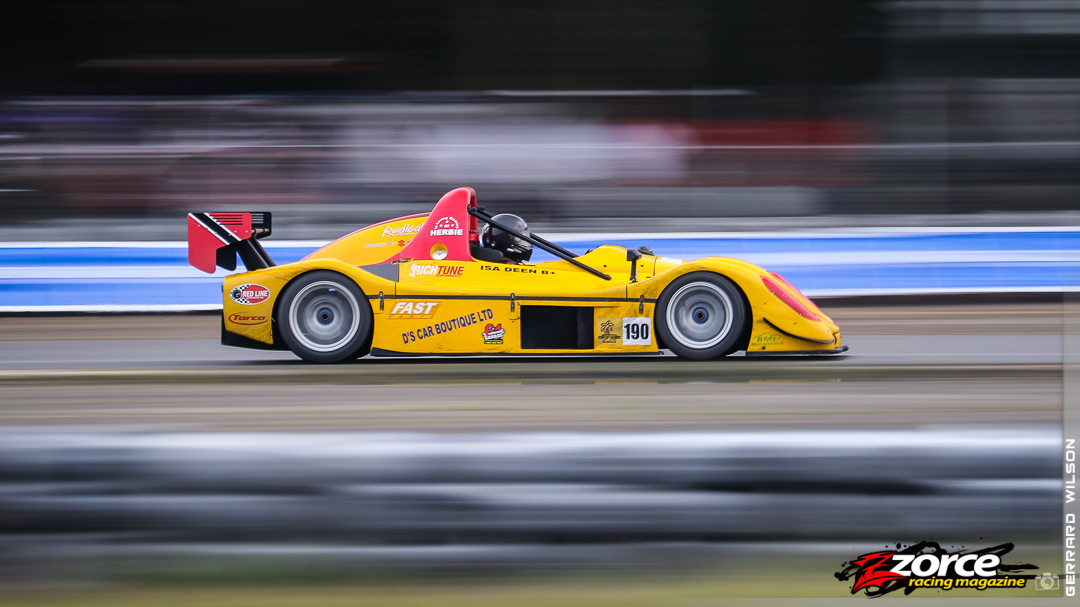 On the main straightaway, however, the two leading Bajans– #16 Stuart Maloney and #86 Mark Maloney pulled away ever so slightly and even more so, when they handsomely out-braked Isa into the top corner, undoing his advantages gained from the rest of the track. "As I challenged for positions, the Bajans didn't make it easy at all!"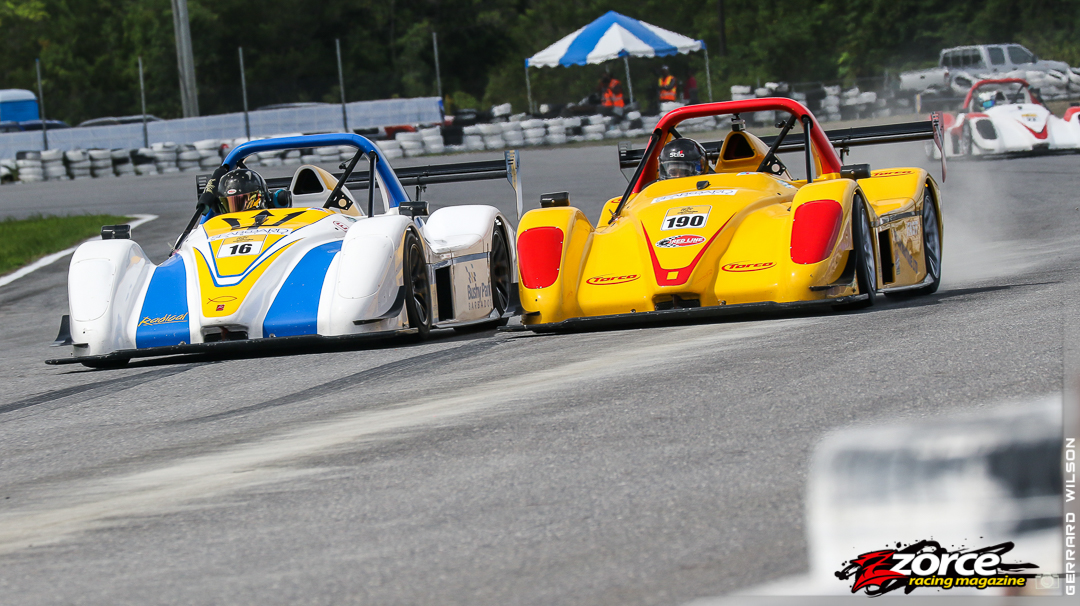 Isa remained calm, and remembered the encouragement of his late uncle Herbie Deen: "During the race, my mind was a bit on him; he had a lot to play in my racing career last year, but unfortunately he passed in November." For the next few laps, Isa carefully observed Mark's masterful late-braking executions, while delving deeper into the braking zones himself. He was simultaneously perfecting his techniques in the other areas of the track where he was already strong.
With Isa in tow, Mark was also putting the pressure on Stuart, who eventually cracked over the next three laps during lap five with a mistake that cost him the lead! The pair of Isa and Mark slipped past, handing Isa second place, and sending the home crowd into a veritable frenzy! Isa was also encouraged: "Getting up to second place motivated me [to try] for first". 
The task of taking the lead, however, would prove harder than all the rest. Mark held first position over the next three laps, but the difference through the back section and hairpin ensured that Isa was closer to him every time. By now Isa had assimilated Mark's late-braking techniques and was almost able to mimic them perfectly. With each lap, the gap grew smaller until there was none, and at the end of the straighaway Isa finally found his way around the decades of Bajan driving experience that constituted Mark Maloney.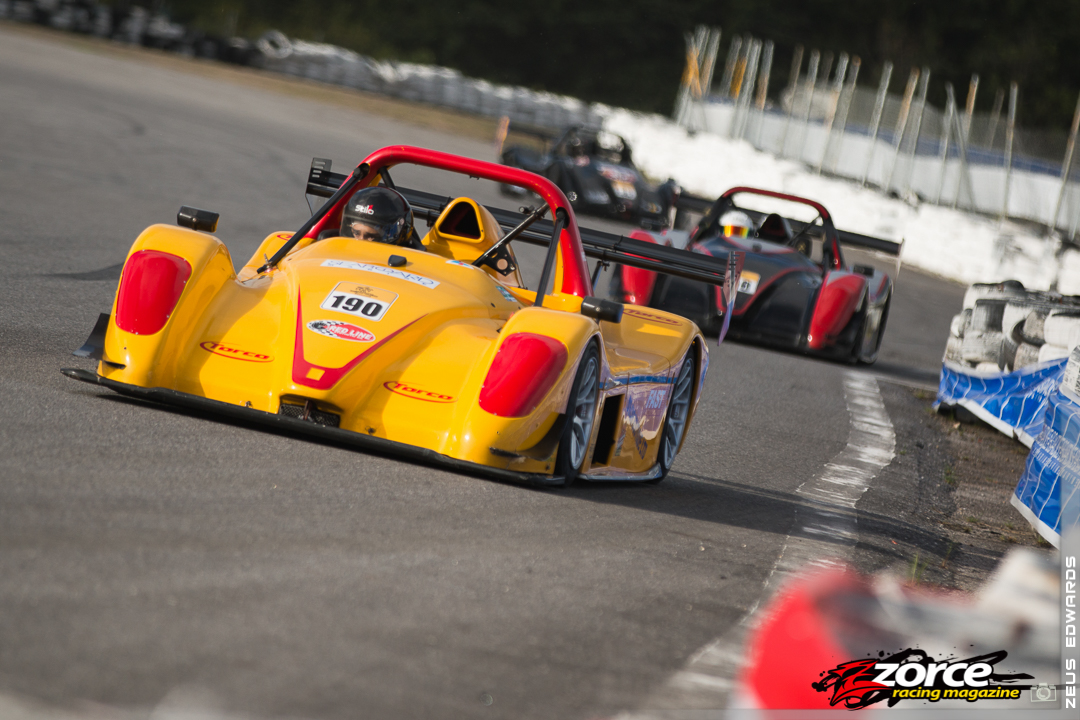 Isa passed Mark on lap nine and never looked back– he just kept getting faster and faster. Mentally, he was 'in the zone': "The last race was one that I will never forget and one I will never get over as I drove my heart out for team T&T." While the remaining drivers all peaked during lap 12, with a 41.776, 42.153 and 42.299 for Suleman, Mark and Stuart, respectively, Isa nailed his best time on lap 14 with a 41.307 in the wet!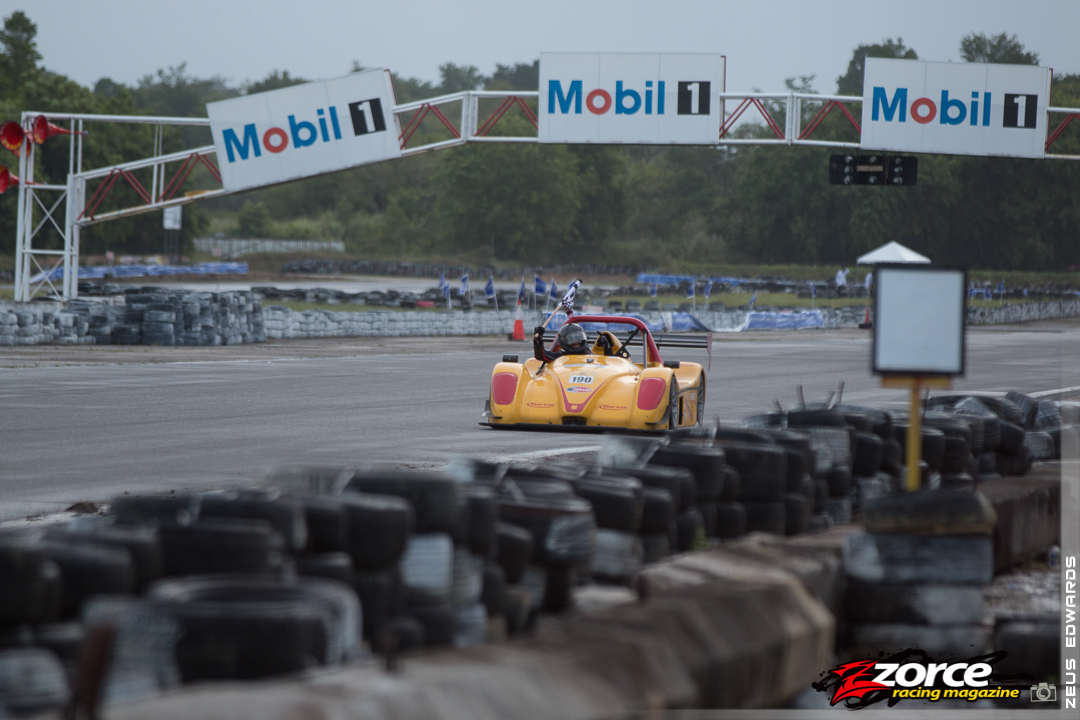 By the drop of the chequered flag, Isa was over seven seconds ahead of Mark Maloney, or roughly half of the main straightaway ahead. Isa had conquered not only the race, but more triumphantly, almost all of the Caribbean's top Radical RS3 drivers in the rain and wet with an open-cockpit car– a true display of raw driving talent! According to announcer Ramesh Bhola: "Remember there is no windscreen in this car….Your windscreen is your helmet and your wiper is your hand."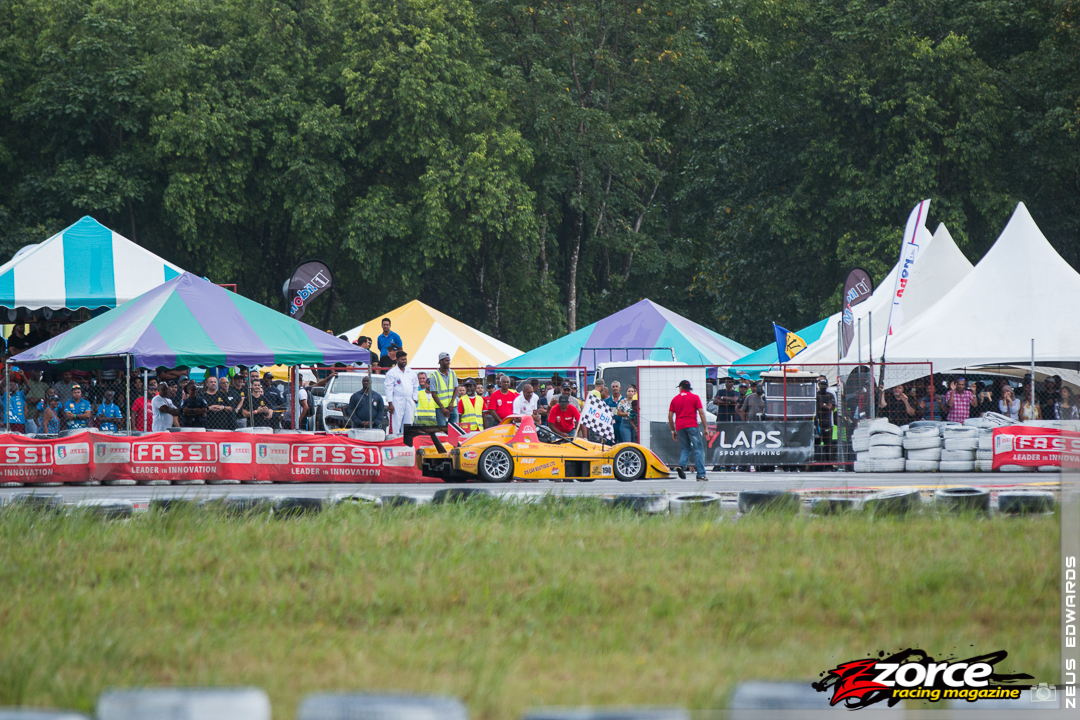 After the races, we caught up with Isa, who had this to share. "At first I thought all hope was lost, but it just shows that you should always be confident in yourself, and you should never give up during a race cause anything can happen, and I think we saw that today, cause I was able to get out from last to first place.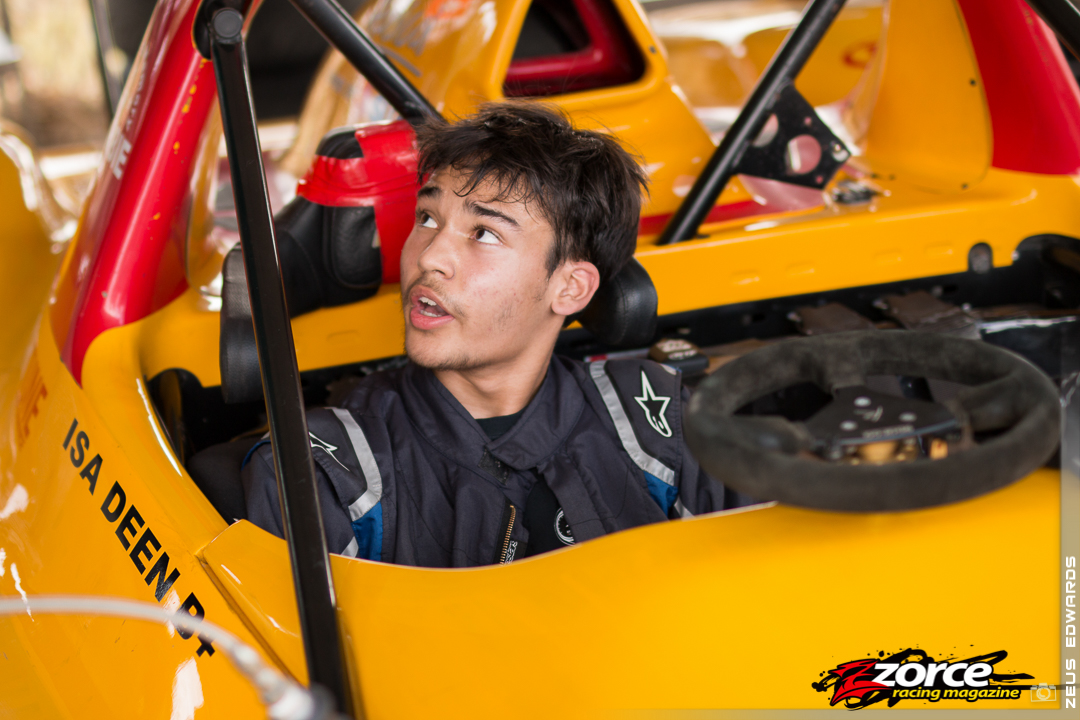 "It was really slippery out there. The back of the car was just fishtailing everywhere. It was just crazy. It was a bit sketchy sometimes. Felt like closing my eyes sometimes, actually. "I didn't…But it was really fun and I think I learnt some of my limits today in the wet and I'm sure there's a bit more pace to come....It was an unbelievable feeling when I saw that chequered flag drop in front of me!
 "I'm really happy that I had this opportunity today to race this Radical, and I'll send this win off to my [late] uncle [Herbie Deen]... "I would like to thank everyone that supported me on the weekend. I would like to thank my team for their hard work in order to prep the cars, and lastly I would like to thank TTASA for their hard work and their efforts put into this amazing, fast-paced CMRC event!"
Isa has been participating in competitive driving for the last nine years. At the age of six, Isa won his first Trinidad & Tobago Karting Association (TTKA) junior kart race and moved up through the karting ranks, demonstrating strong natural talent and honing his skills.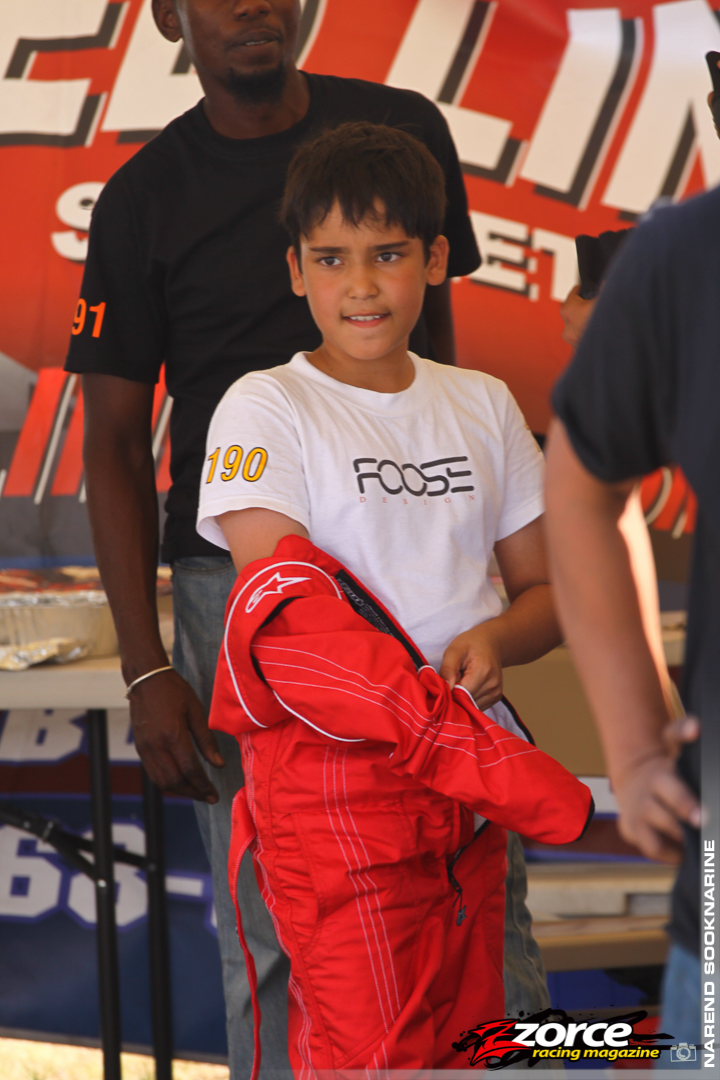 At the ARC Carpark, and occasionally at a short course configuration at Wallerfield, Isa learned to race in both wet and dry conditions, working his way up from the 50cc Cadet class, into Rotax Minimax and 125cc Rotax International classes.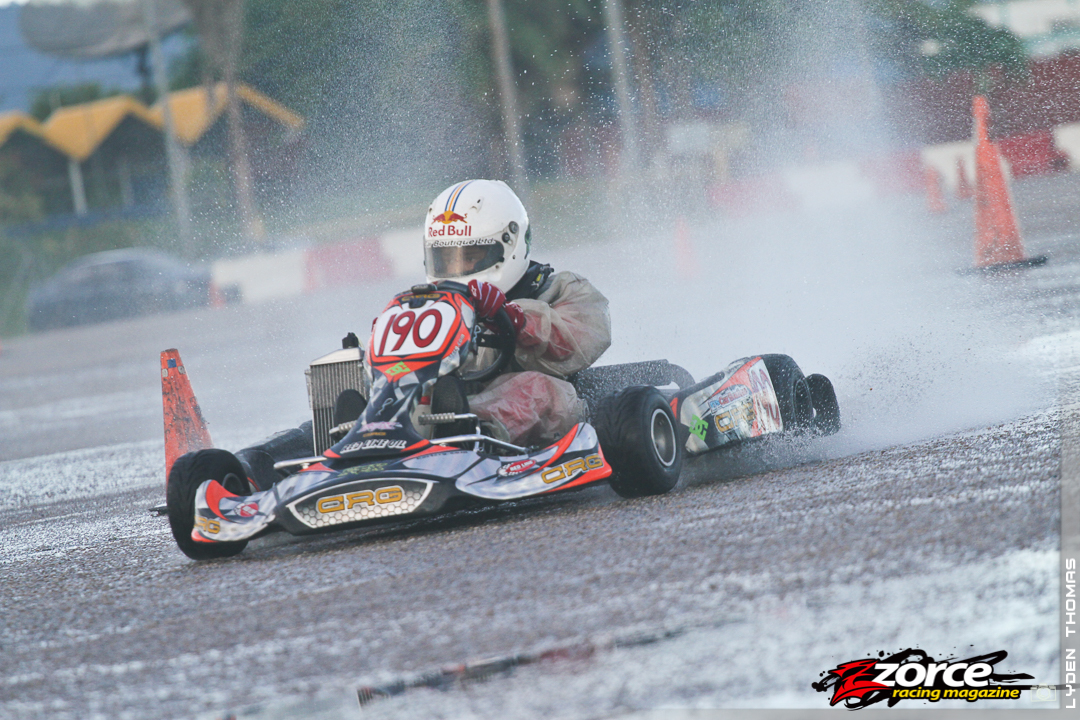 At the end of 2017, he won the TTASA local Group 1 Championship at age 14 driving his Honda Civic in such dominant fashion that many began to question his car's setup and validity, but after this weekend, those fears were put to rest.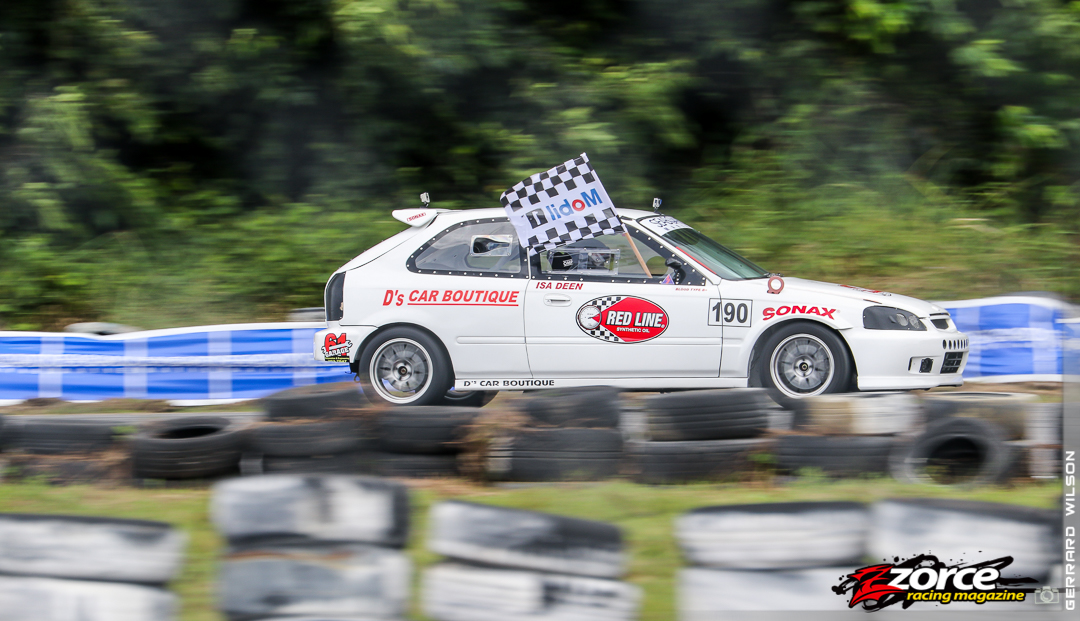 Within the same year, Isa also participated in the one-make, UK-based Ginetta Junior Championship, open to drivers ages 14-17. The 100hp, 930kg Ginetta G40 used in the series provides an ideal middle ground for making the transition from karts to racing cars.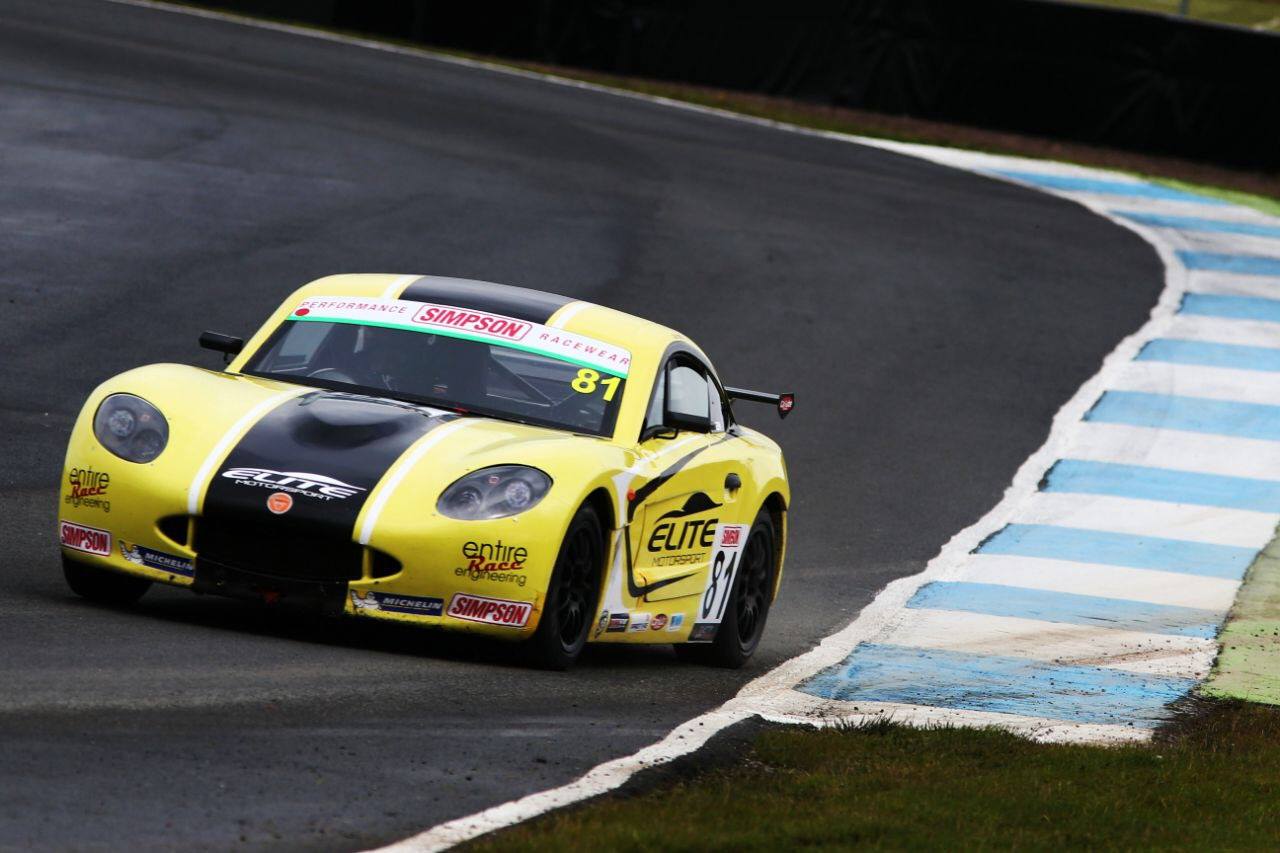 Isa finished all eight races with a best placing of 11th among 20 regular competitors on three challenging British circuits– Knockhill, Rockingham and Snetterton.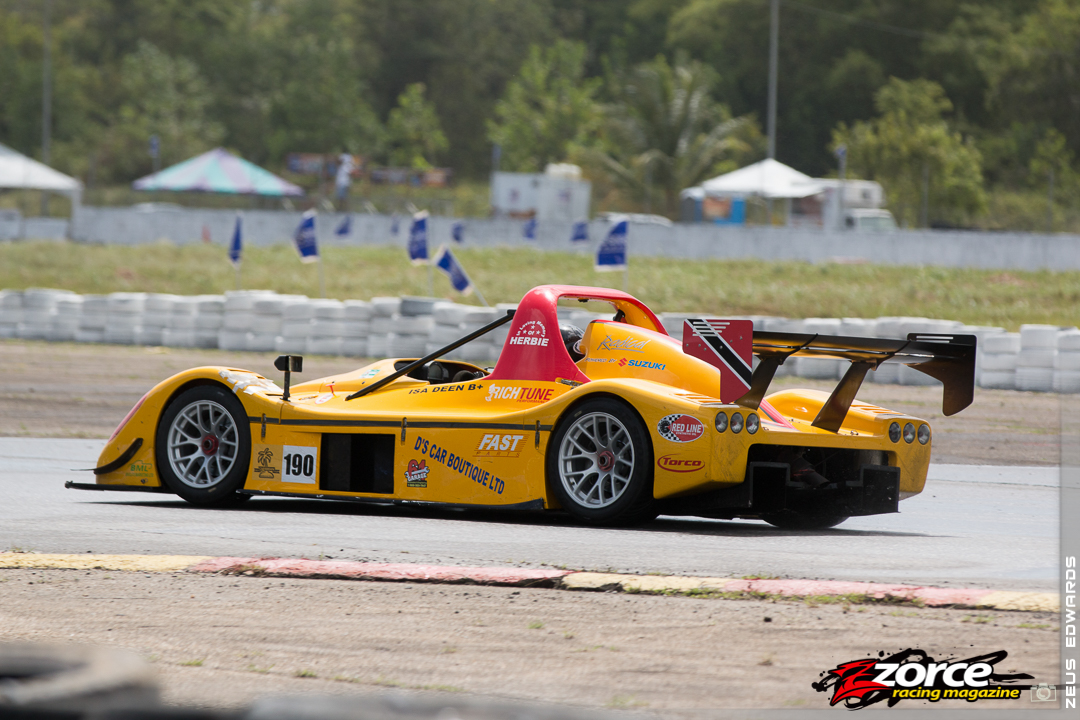 Apart from his fast, smooth, methodical driving and talent at the limit, his ability to assimilate new information on the track and implement it all into the very next lap was equally astonishing. Local star driver Kristian Boodoosingh had this to say: "I spoke to him the day before, I saw where he was going wrong, and I just gave him some tips and the man just adjusted to the car! He adapted fast, boy! And he took the rain in his stride and he just got into a groove and went! He made them fellas look like novices!"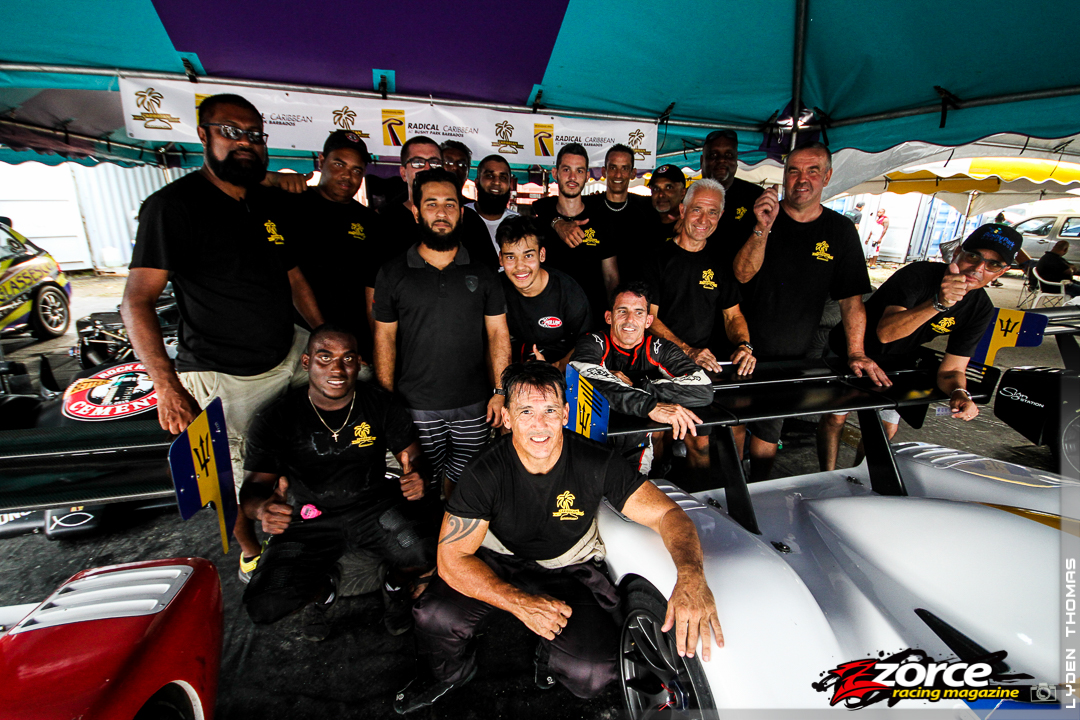 Stuart Maloney acknowledged Isa's stellar performance, jokingly saying to him: "In the second race, you had me on my toes and just now, you had me on my face!" He also added: "This is the man for Trinidad. He's the up-and-coming Trinidad star."
Later, addressing Isa's father, Stuart said, "George, you got a young star on your hands. Put the effort into it. He's good. He's good. There's no two ways about it though, you've got a good boy on your hands."
Mark Maloney also added: "It was an awesome weekend. We qualified in the wet– makes it all the more interesting. It's great to have Isa in the sport. Young lad, saw him karting – amazing karting– he came to Barbados...My son Joshua and him are very competitive. 
"Great to have him in. You could see he won the last race hands down. A fantastic driver. If we could get more youngsters like him coming up in the sport from karting…. We're happy that we started the round with the SR3 Caribbean Cup here in Trinidad. Looking forward to Barbados and then Guyana. With the series you can see how all the cars are the same. The only difference is the driver and the setup. Ultra competitive and ultra reliable." 
Impressed by his raw talent, the Maloneys offered Isa Deen sponsorship on the spot from Rock Hard Cement. Isa's father agreed and the sticker was immediately placed on his Radical SR3 RS racecar. His father George also ensures that his education at the British Academy in Port of Spain, Trinidad, is also given high priority, despite his racing aspirations.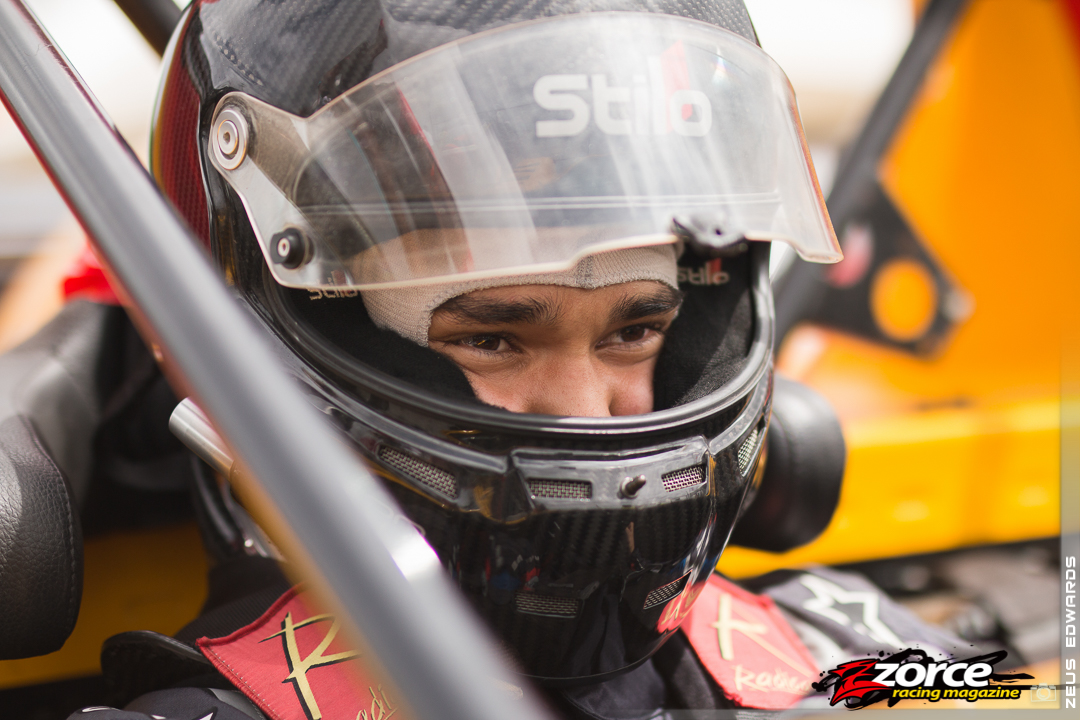 "Isa started driving the Radical on Friday evening. His exams at school– he's in Form 4– started on Thursday. Friday, as soon as he finished exams in school, he came up to Wallerfield, drove the car for the first time. Then Saturday, he qualified with the car. On Sunday, he did extremely well....So, it was a phenomenal day for him at Wallerfield.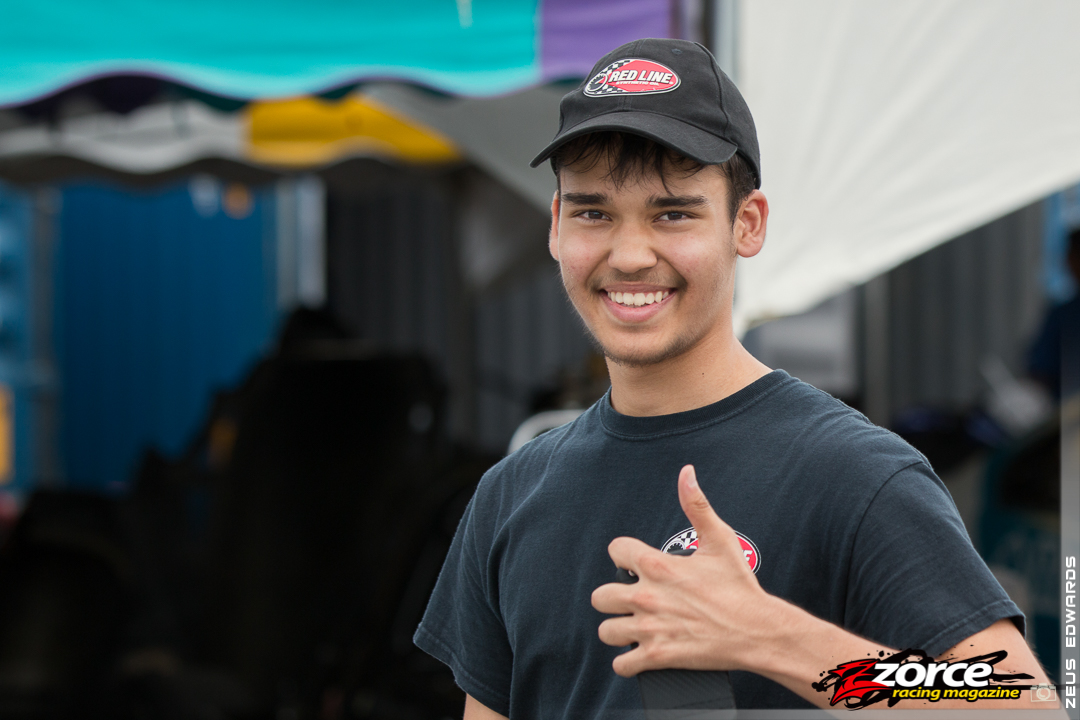 "But the Trini people…we love motor racing, we love our culture…we are united. The kind of support he got from other Trinis was awesome. And this is what this young, bright, shining star needs. He needs the full support of the Trini people. They have been behind him all the time and it helps him."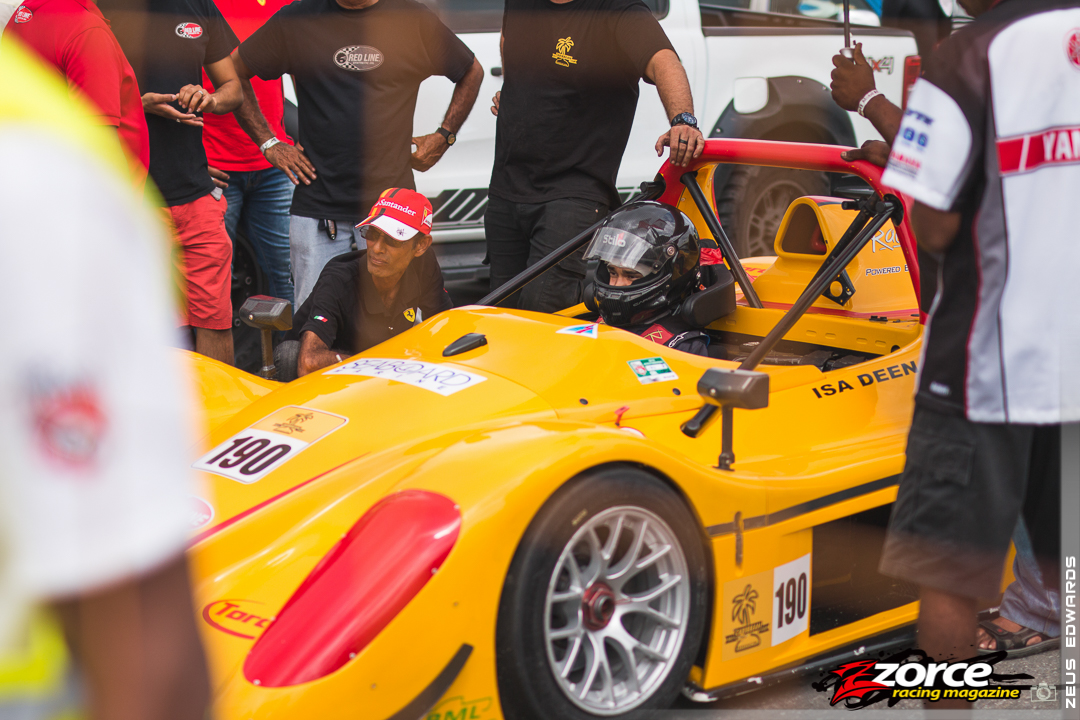 In the end, Isa now stands at second overall in the Radical Caribbean Championship but first in the hearts of the crowd and regional motorsports communities. Like everyone who witnessed the final RCC race of CMRC Trinidad (us included), veteran circuit racer and racing instructor Gordon Gonsalves gave a glowing review of Isa's performance. 
"For the past couple of local race meetings at Wallerfield, my eyes were caught by a young man driving a Group 1 Honda Civic. Not only was he going so fast that people were questioning the legality of his car (myself included), but I could not help but notice his excellent race craft and impeccable, unflustered driving.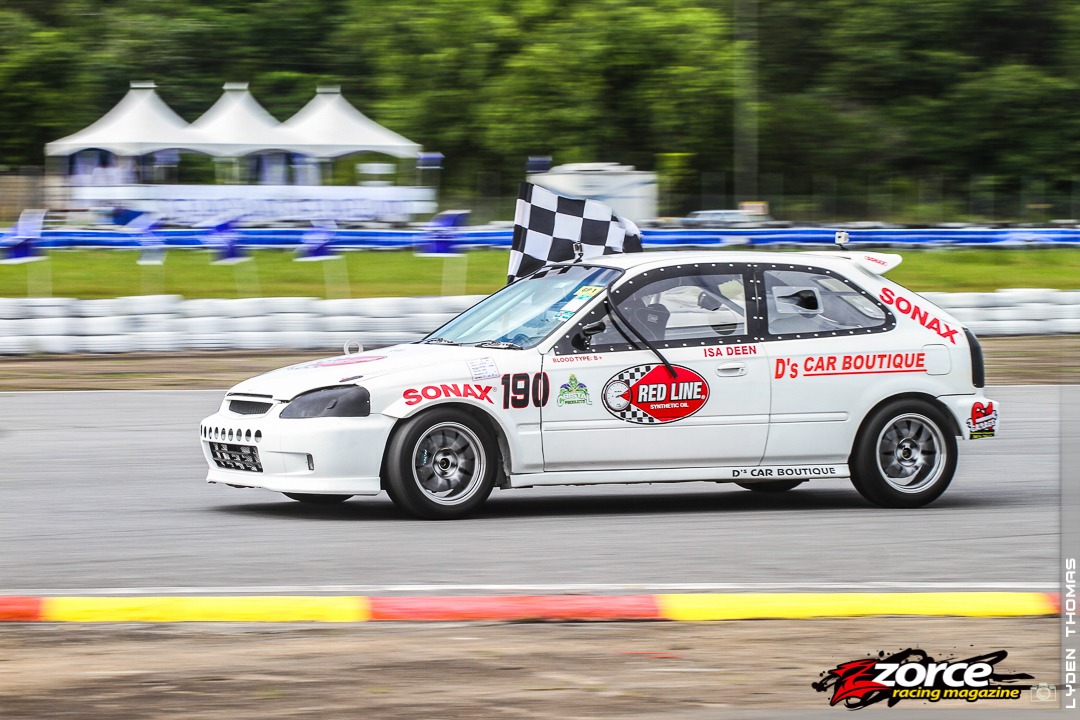 "At [the] T&T round of CMRC 2018, my conviction of his special talent was cemented during the final Radical SR3 race of the day. The rain had left a layer of water on the track surface not long before the start and despite my already formed opinion of his ability, I figured he'd do well to just keep up with the very experienced competition or even to not spin in the conditions. After all, the only car I was aware of that he ever raced was the front-wheel-drive Civic. The Radical was a very different animal, with rear-wheel drive and a much better power-to-weight ratio.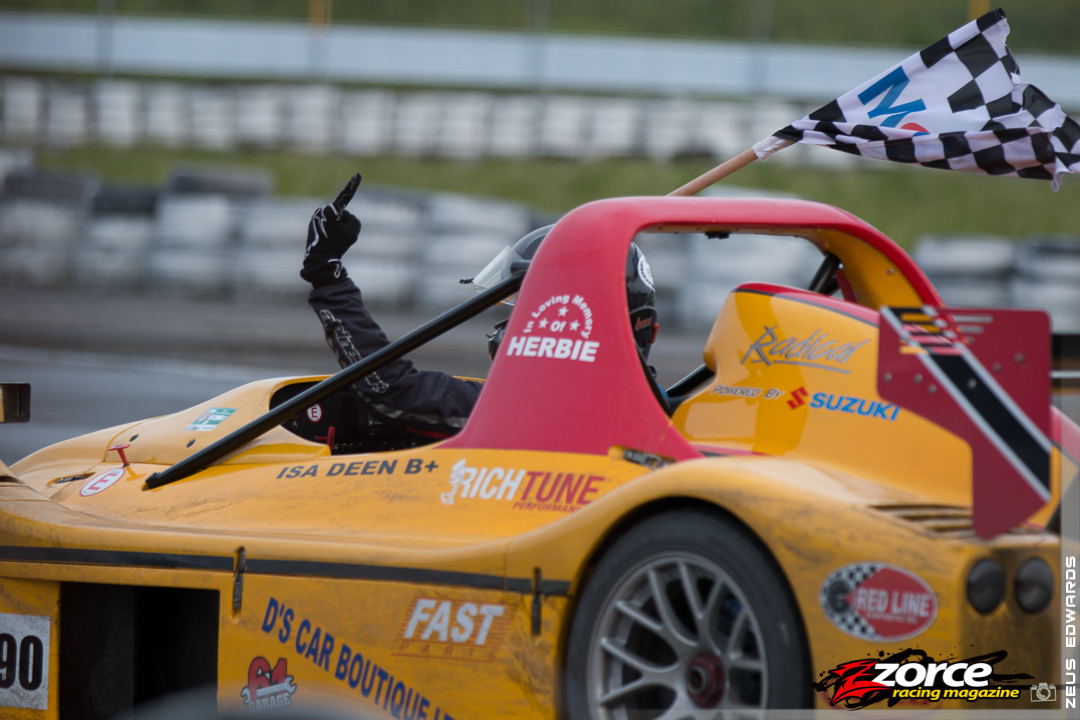 "It was a magnificent drive and total domination– this, in his first weekend of racing a Radical. This young man has a bright future as a racing driver." (Click here to read Gordon's full comment.)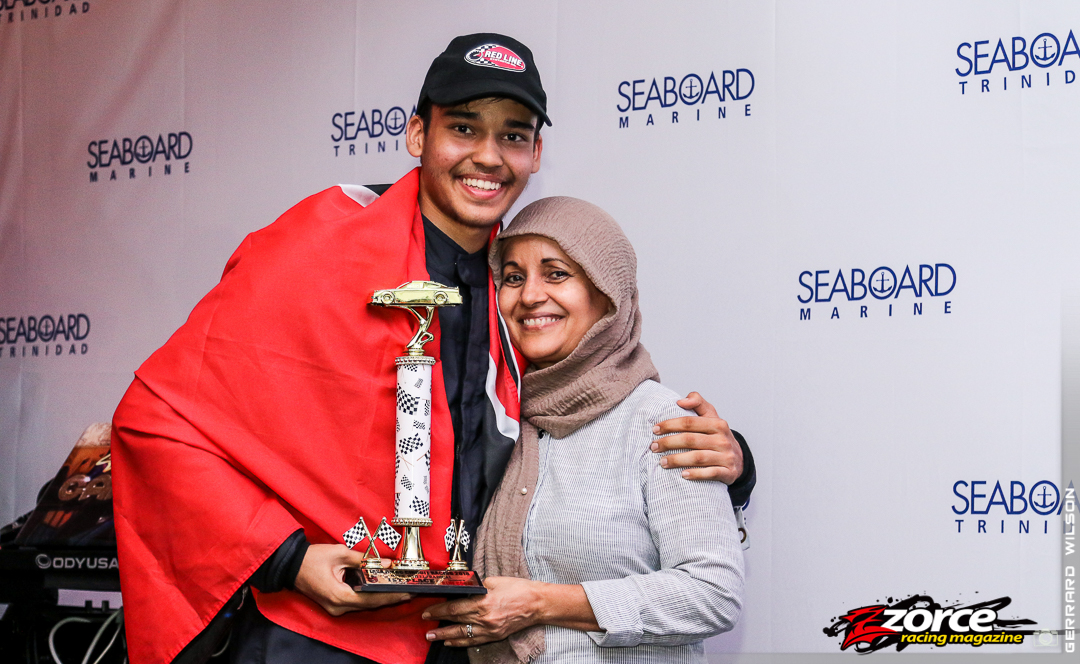 Follow CMRC updates on Zorce.com and on Instagram (@ZorceMagazine) and Twitter (@NarendZORCE) and like our Facebook page (Facebook.com/@ZorceMagazine) to keep up to date with everything Isa Deen at the upcoming CMRC Round 3 in Barbados (September 1-2) and CMRC Round 4 in Guyana (November 10-11).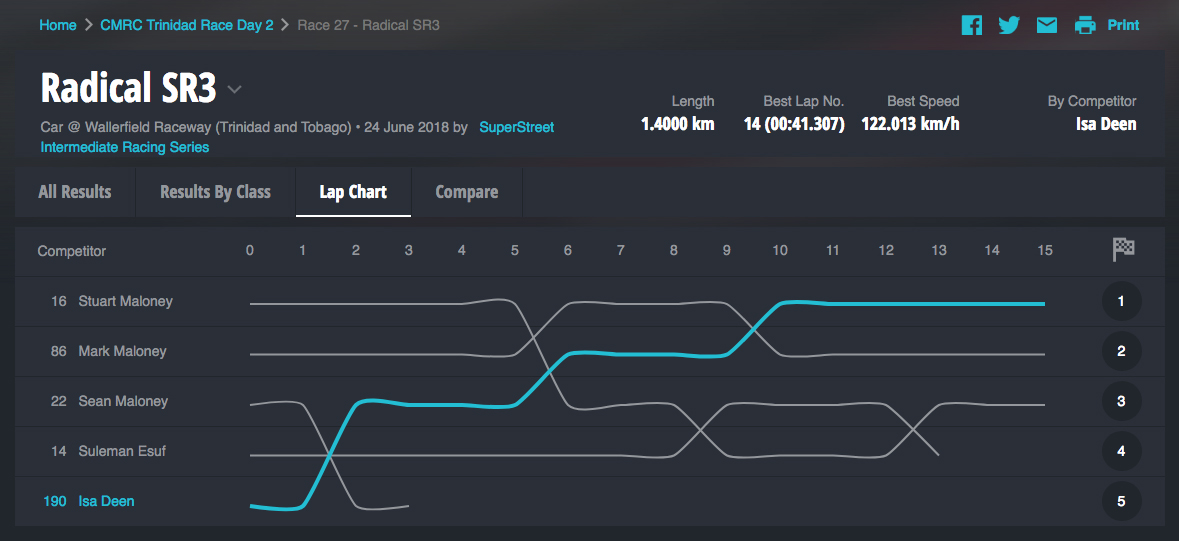 Thinking about a career, getting involved or becoming a sponsor in motor racing? 
TTASA: https://www.facebook.com/TTASA868/ • https://www.facebook.com/WallerfieldInternationalRaceway/
TTKA: https://www.facebook.com/TTkarting/