Ford Mustang now available in T&T, in RHD!
Written by Narend Sooknarine
Published in Auto News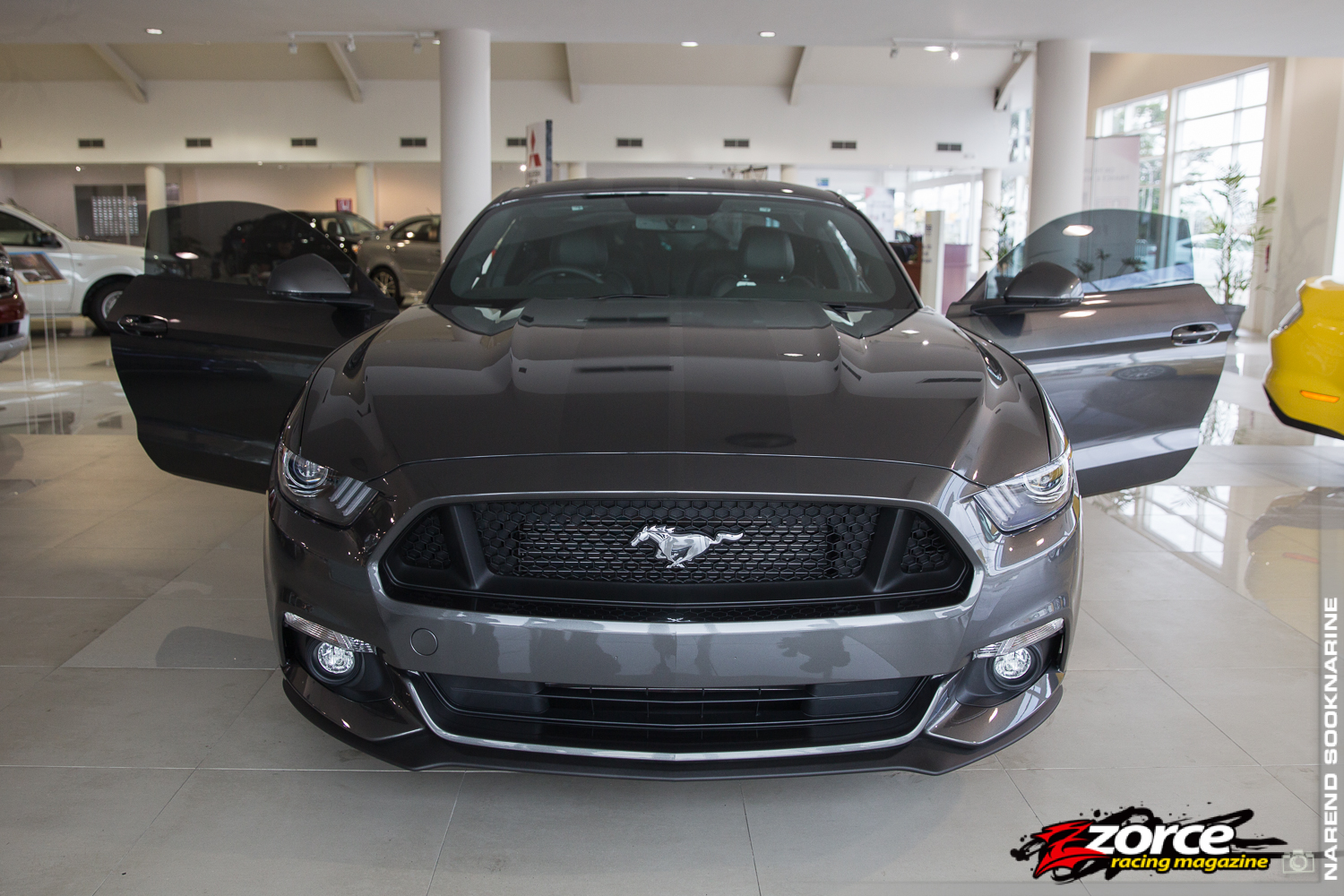 We've waited years to type these words– the Ford Mustang is now available in Trinidad and Tobago. No, not a left-hand drive or an RHD conversion unit that a returning resident imported for love of this icon, but a legitimate, dealer-imported, right-hand drive car with a warranty from ANSA Motors!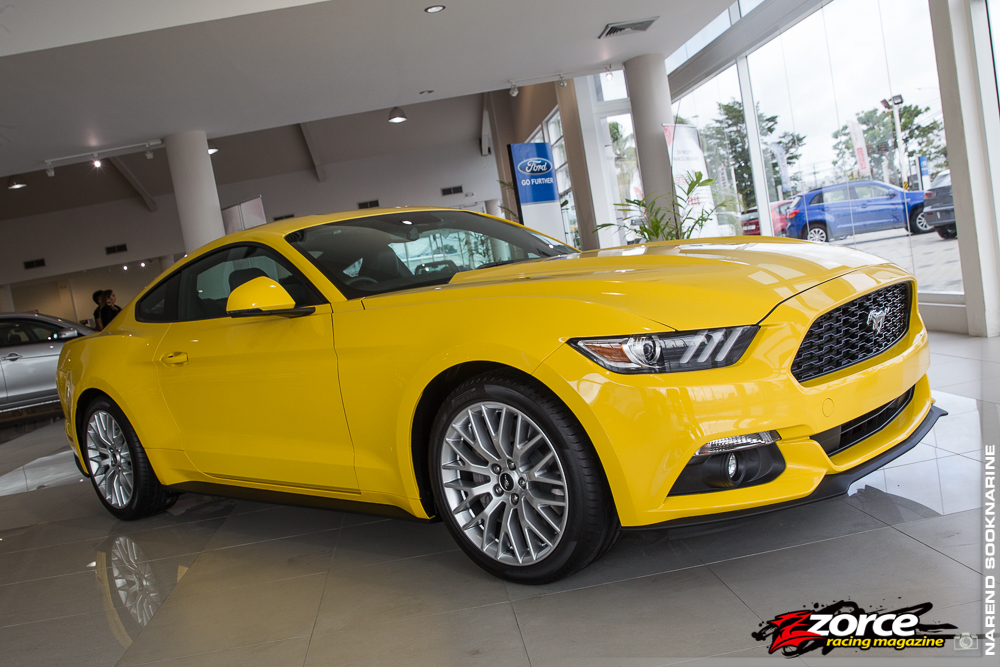 While other US-based automakers are still making up their minds, Ford has taken the initiative to share its star car with the rest of the world. In addition to T&T, offering right-hand drive versions from the factory has opened the market doors of the UK, New Zealand, Australia and Japan. And thanks to the high demand worldwide, all of five units were able to make it thus far into our local dealership from Ford's factory in Flat Rock, Michigan, USA.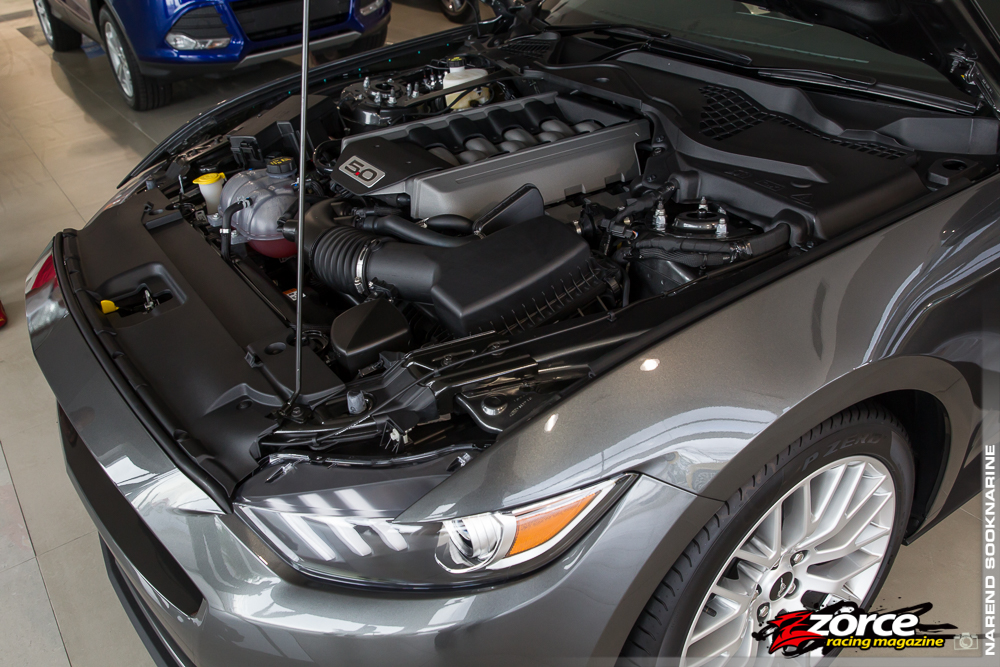 Two engine options have been deemed the most prudent for our market, given the taxation structures– the ever-popular 5.0-litre V8 which makes 435hp@6500rpm and a stonking 400ft-lb@4250rpm, and the 2.3-litre EcoBoost engine– which puts out a robust 310hp@5500rpm and 320ft-lb@2500-4500rpm. Given that the 3.7-litre engine will fall in the high tax bracket and the fact that it makes less power and torque than the EcoBoost option, it seems the least attractive. For now, it's off the table.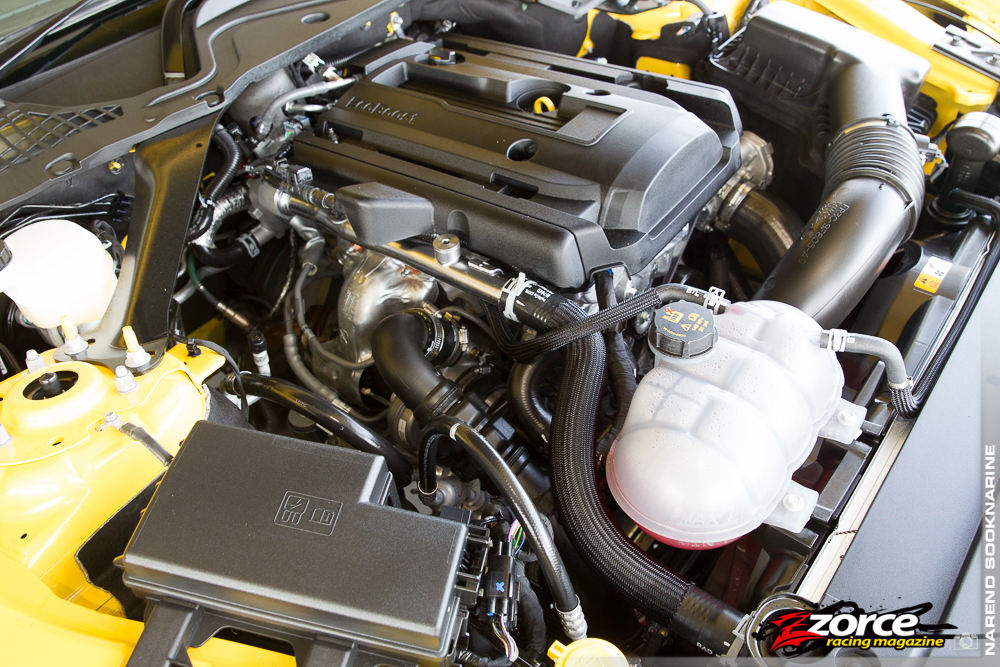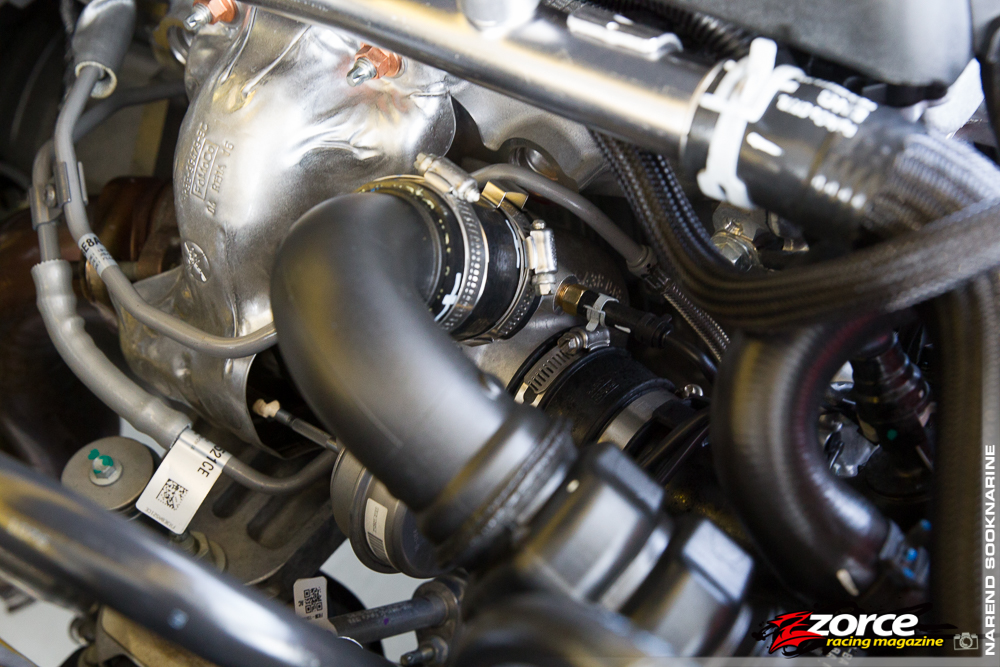 Both engines are capable of running on 87 octane minimum fuel, which makes them perfect for our market. I am vastly curious however, about the 2.3-litre EcoBoost's potential when tuned. After all, the new Ford GT Le Mans Racer also relies on EcoBoost power in 3.5-litre V6 twin-turbo guise with 500-plus hp - taking the best of both engine genres and combining it with a carbon fibre chassis and insane aero to create the ultimate LM GTE race car.  See here for more details: Ford GT Le Mans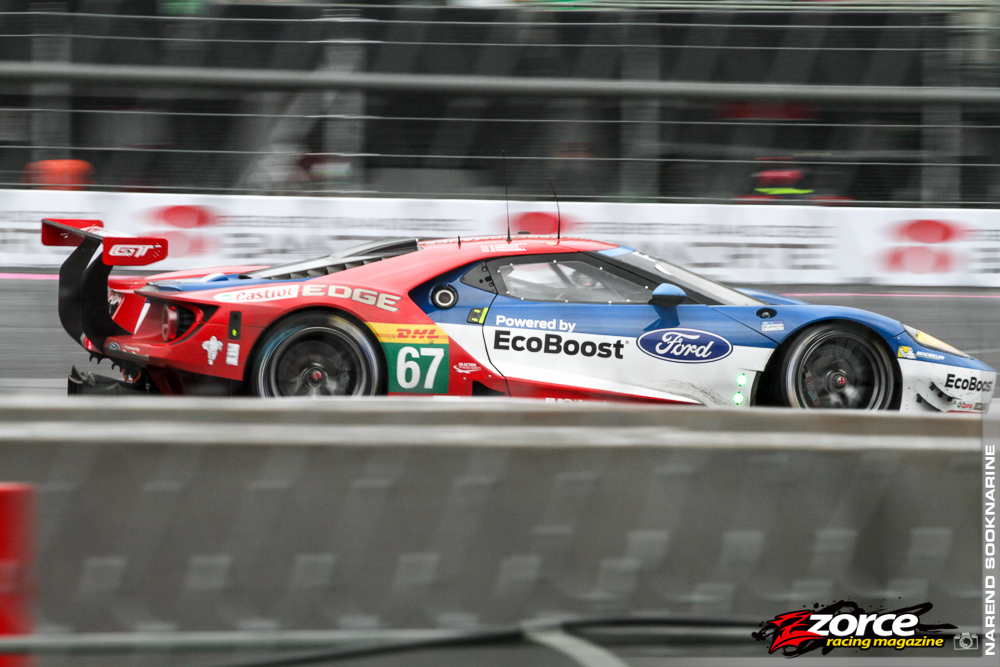 That aside, for the proper muscle car experience, I expect one would want to have that throaty V8 for the sound and brawny torque delivery.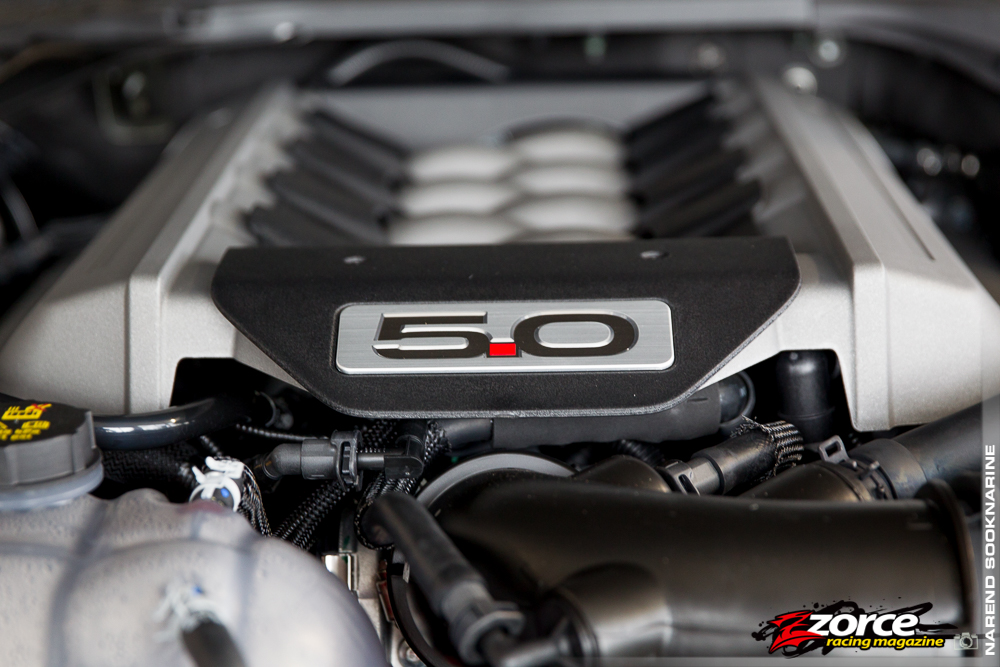 Transmission options include a six-speed manual with hill start assist (San Fernando will be thankful) or six-speed automatic with paddle shifters.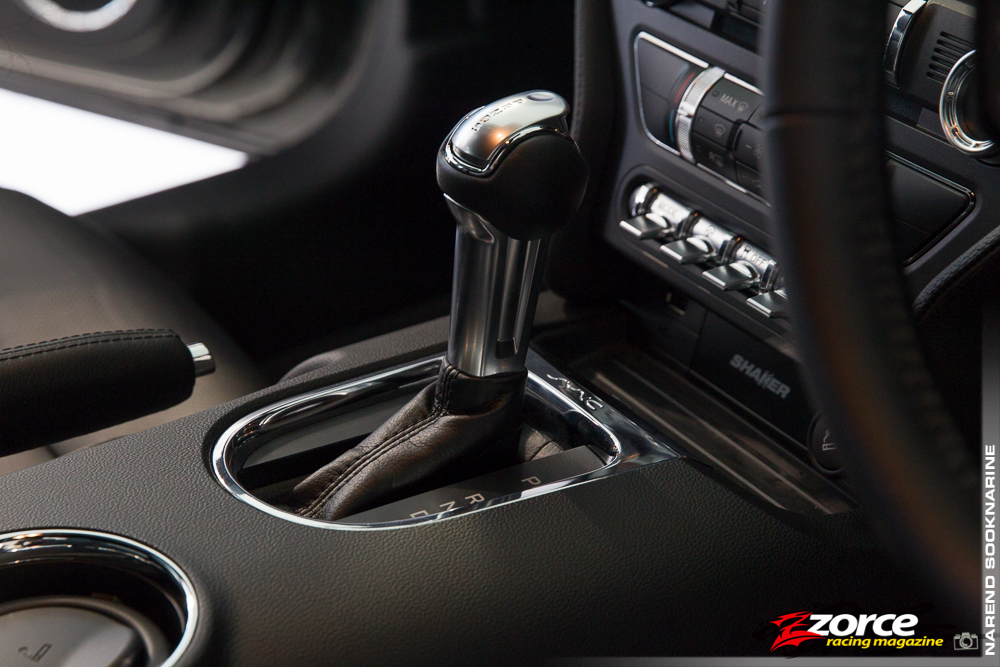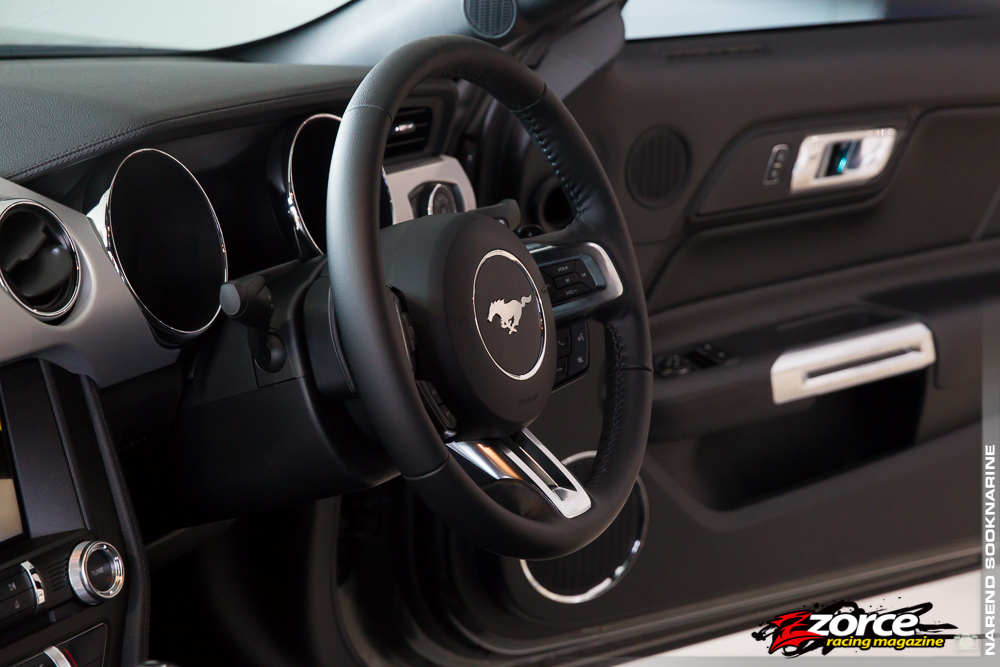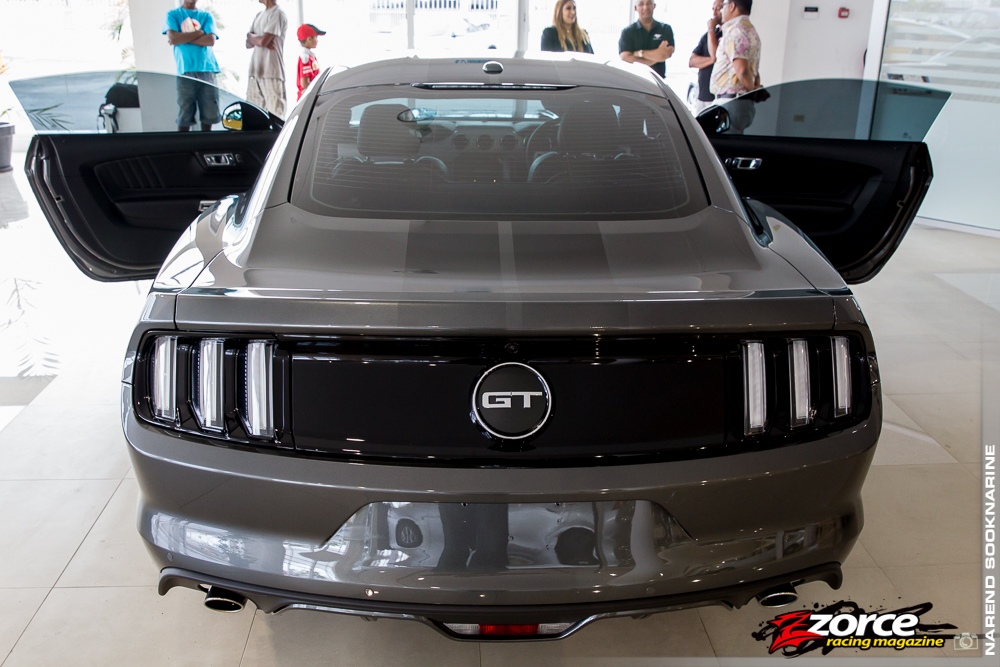 The first five cars to arrive all came with the optional automatic– a single, charcoal grey V8 with racing stripes and four EcoBoost models in various colours, of which the racetrack yellow is probably my favourite so far.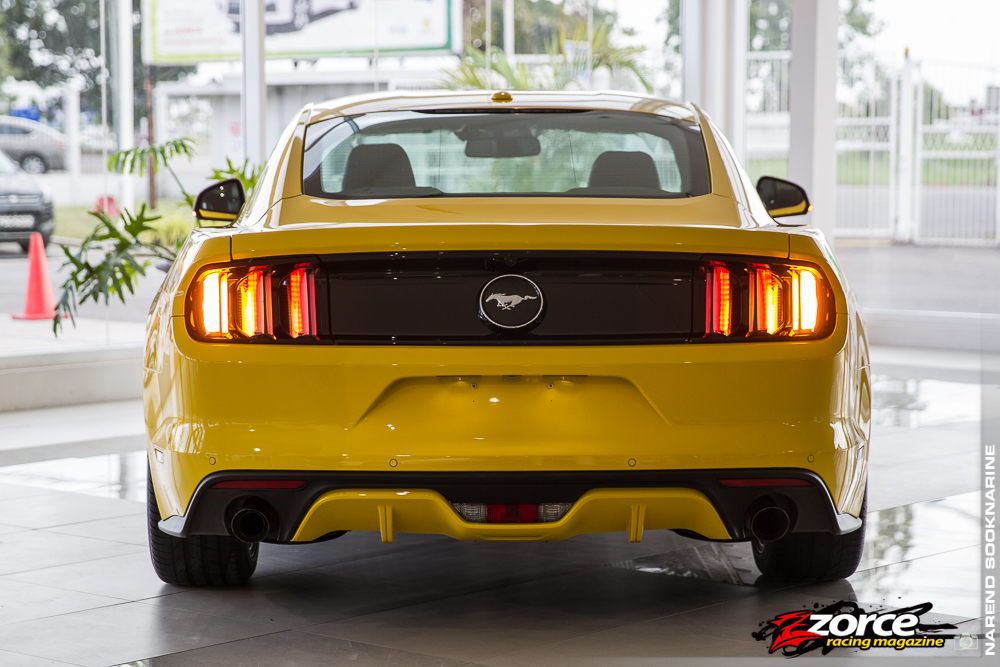 Something also needs to be said of the interior, which is now of a much higher quality than ever before. Given that the after-tax asking prices rival those of many premium brands, I'm relieved and impressed that there are a number of special touches and the liberal use of high-grade materials. There is also a high degree of technological integration in terms of connectivity and a fairly large multifunction touch screen.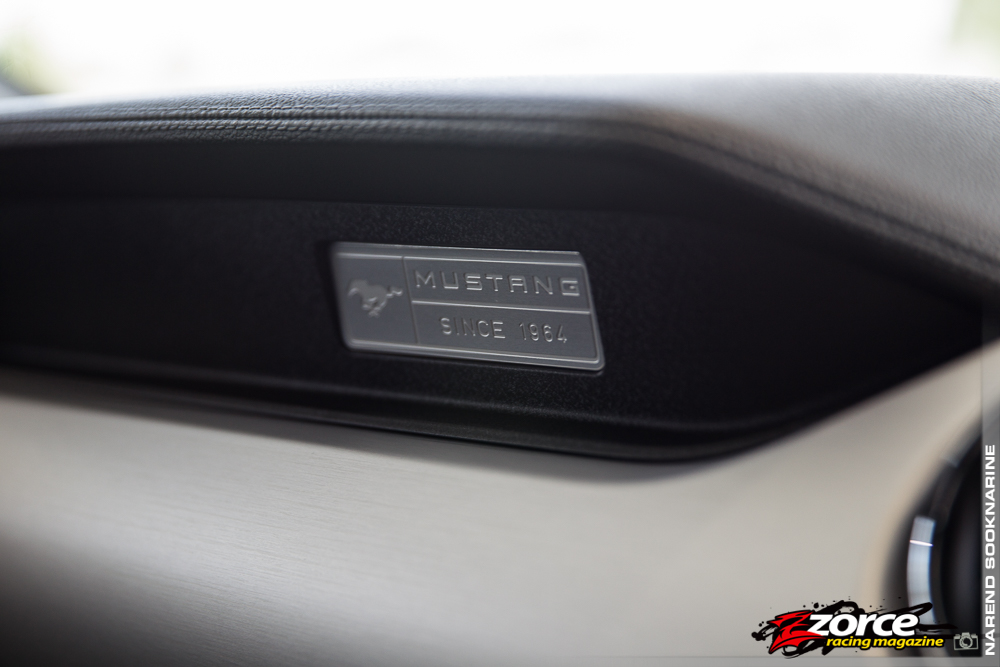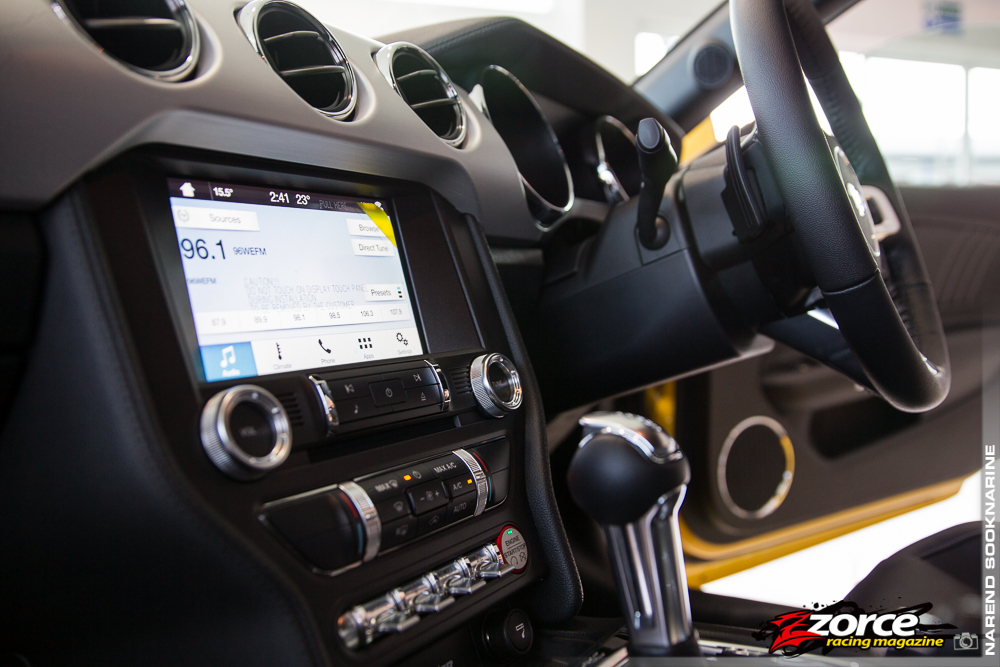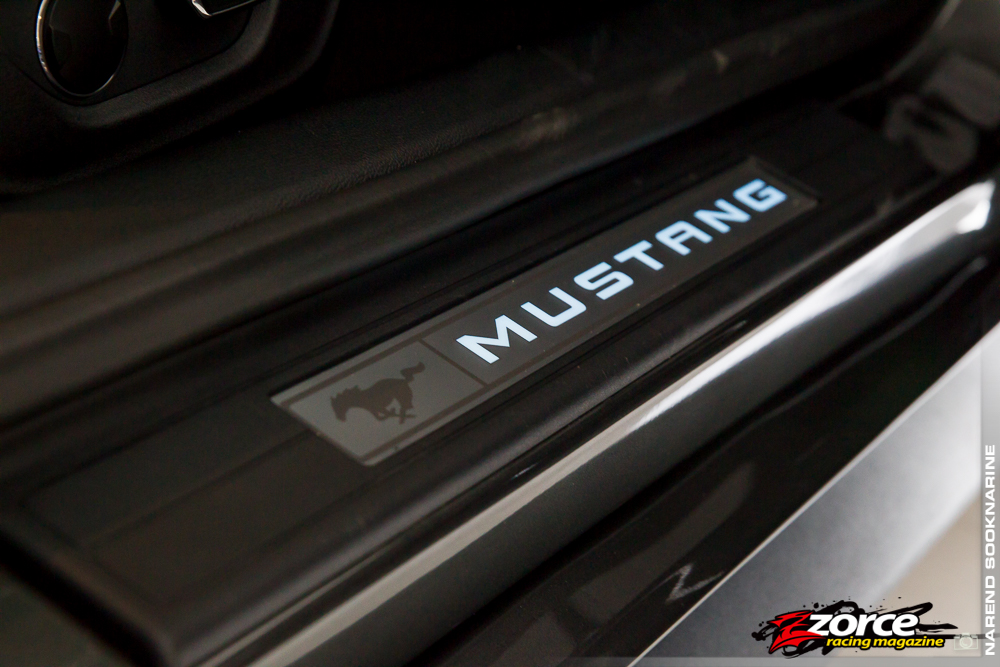 When you sit in the new Mustang, there is now a definite a sense of occasion, except probably in the back seat, where things might get a bit cramped for adults, as is standard for cars of this type.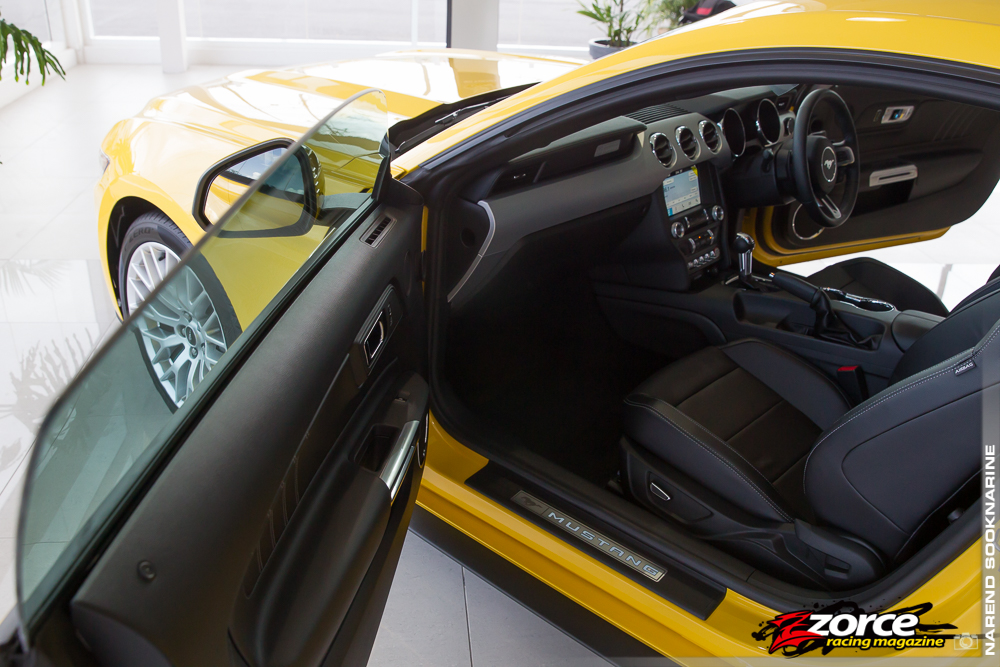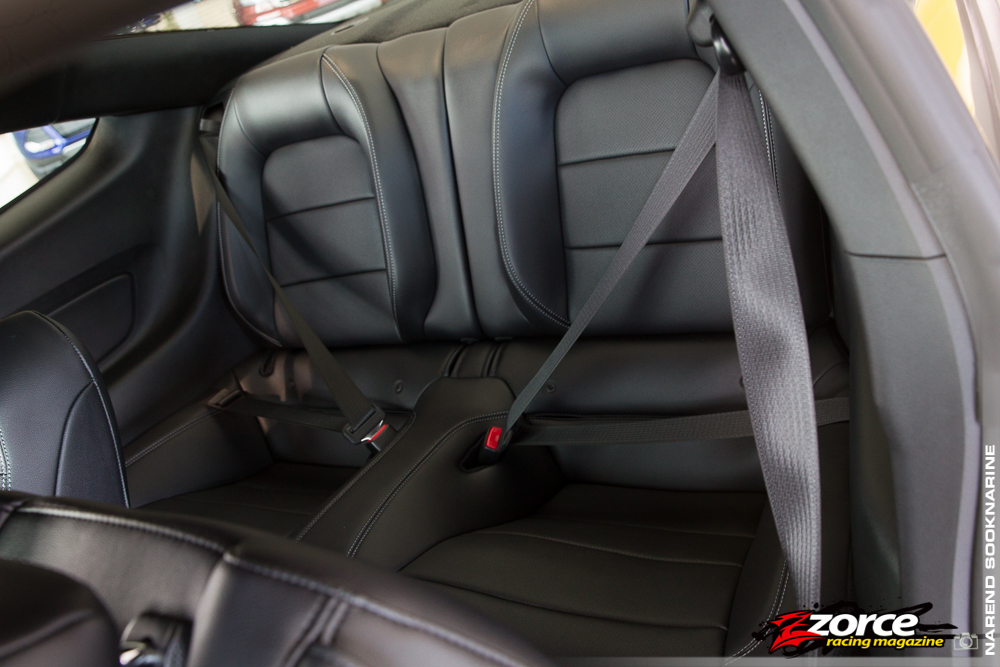 But then again, there are even more special features like the puddle lights which are positioned under the mirrors and shine a Mustang logo unto the floor (we're used to seeing these on brands like Jaguar and Land Rover), and the well-integrated subwoofer in the trunk, which manages to take up very little space.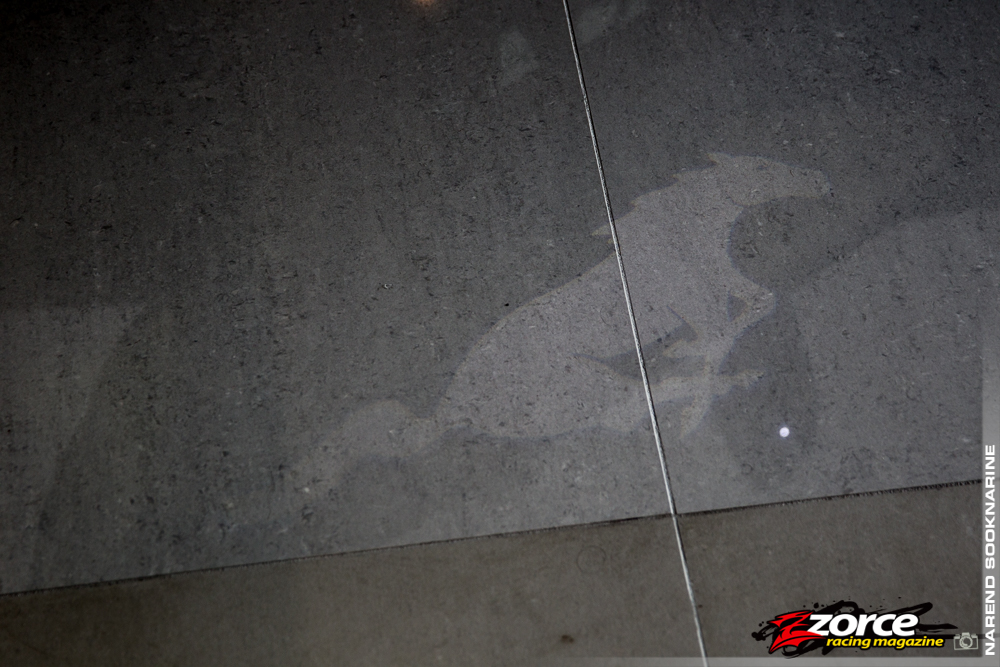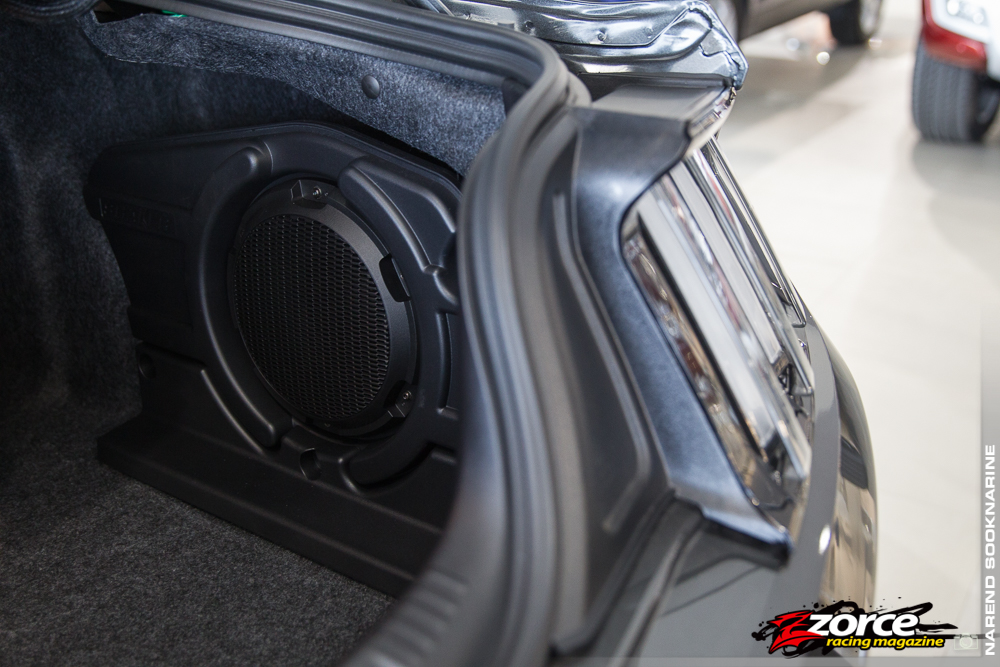 Both models use double ball joint, independent MacPherson struts and stabiliser bars up front, and independent integral link rear suspension with coil springs and a solid stabiliser bar and either twin- or mono-tube dampers. We also noticed integrated strut tower braces in the engine bay.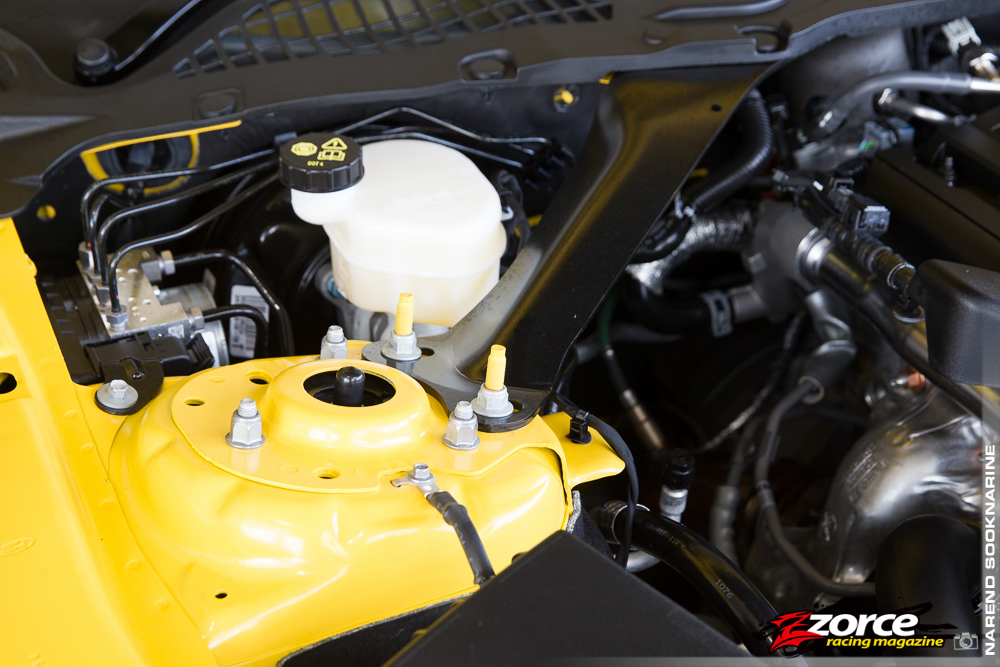 Brakes are 320x30 mm/320x12 mm vented discs front and rear on the EcoBoost model, while the V8s get larger 352x32 mm/330x25 mm units or the optional Brembo six-piston 380x34 mm front brake upgrade, as fitted to the first 5.0-litre V8 sold.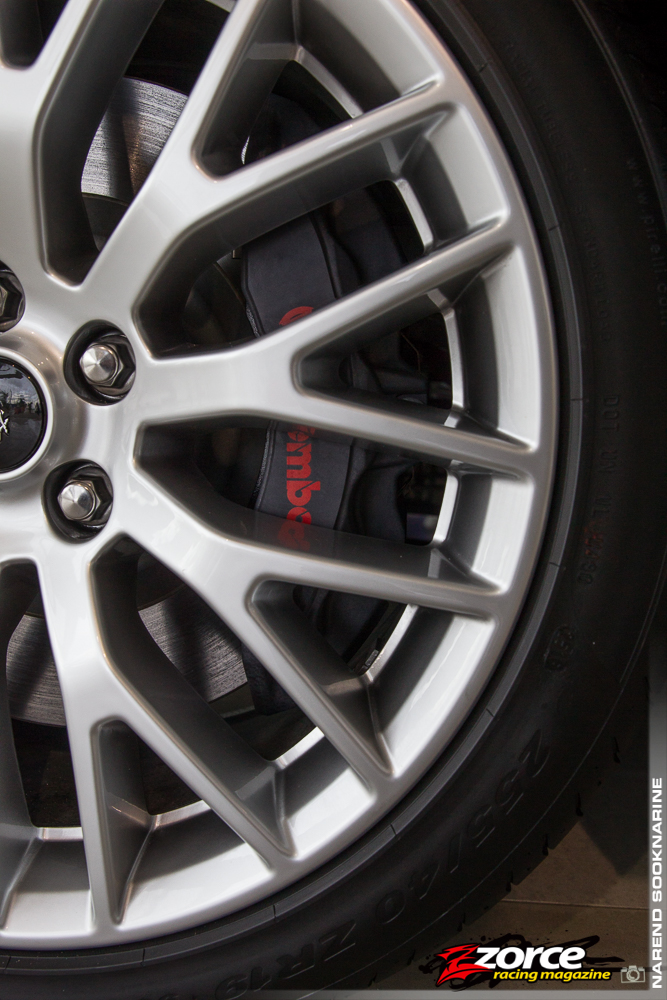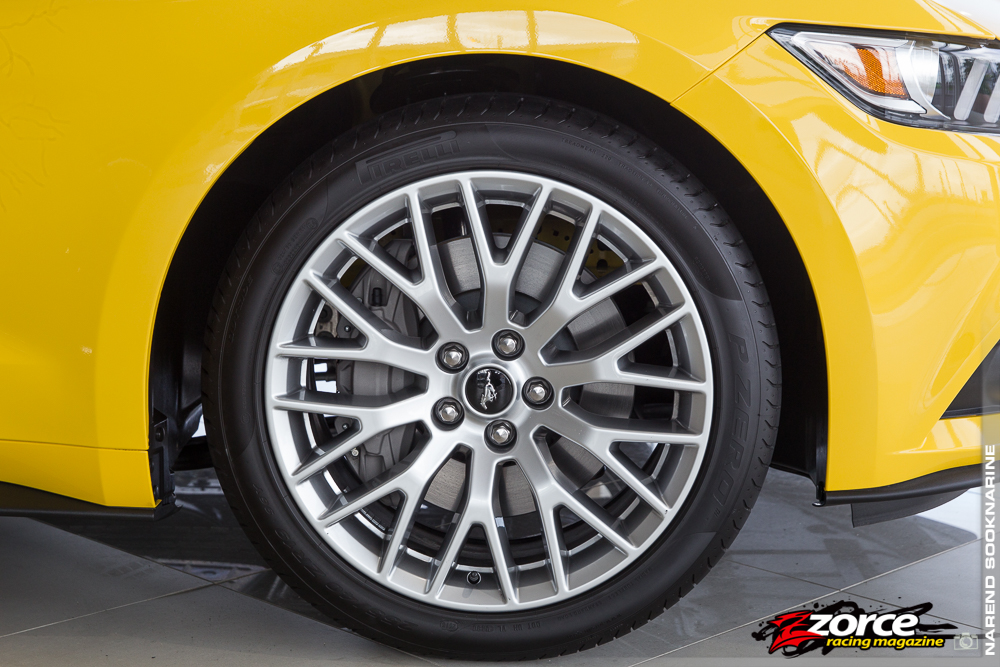 Base wheel packages are 17 inches but both the Eco-Boost and V8 models can be fitted with 18, 19 or 20-inch wheels and 235, 255, 265 or 275-width tyres, depending. Of course ABS and electronic stability control is standard.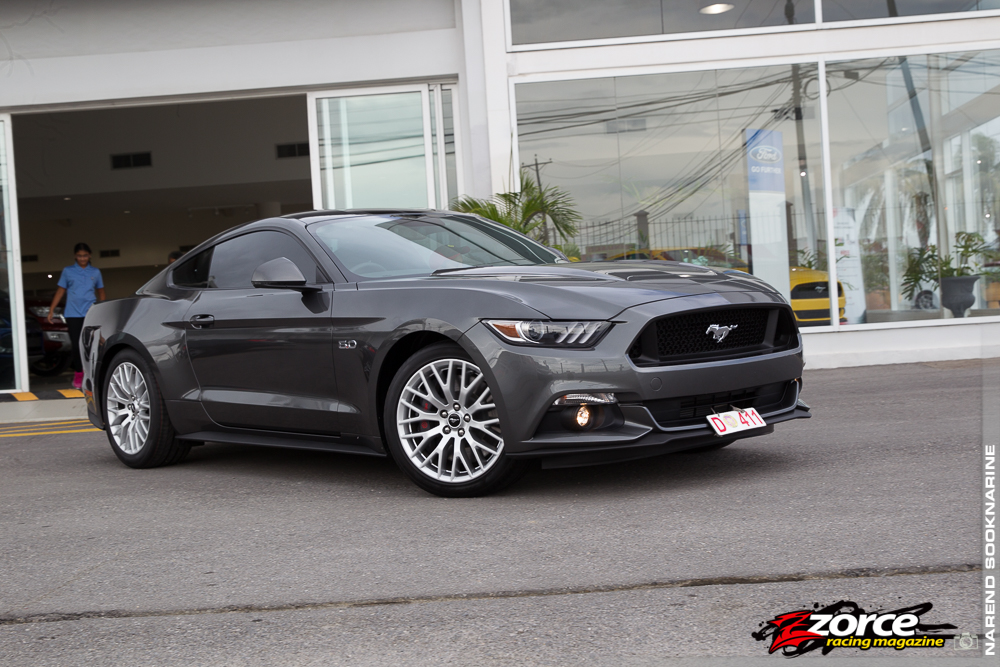 Although we have yet to drive the car to give you feedback on steering feel, the Mustang uses an electrically assisted rack-and-pinion system with a 16:1 ratio.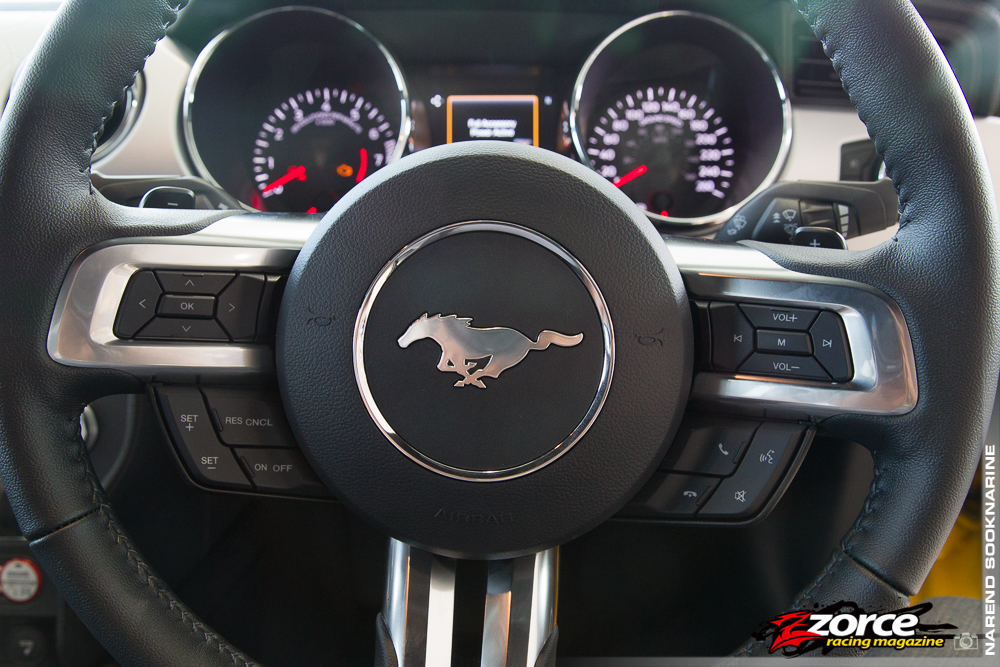 The car is physically very large and as such the turning circle is around 37-40ft, depending on the specified wheel size.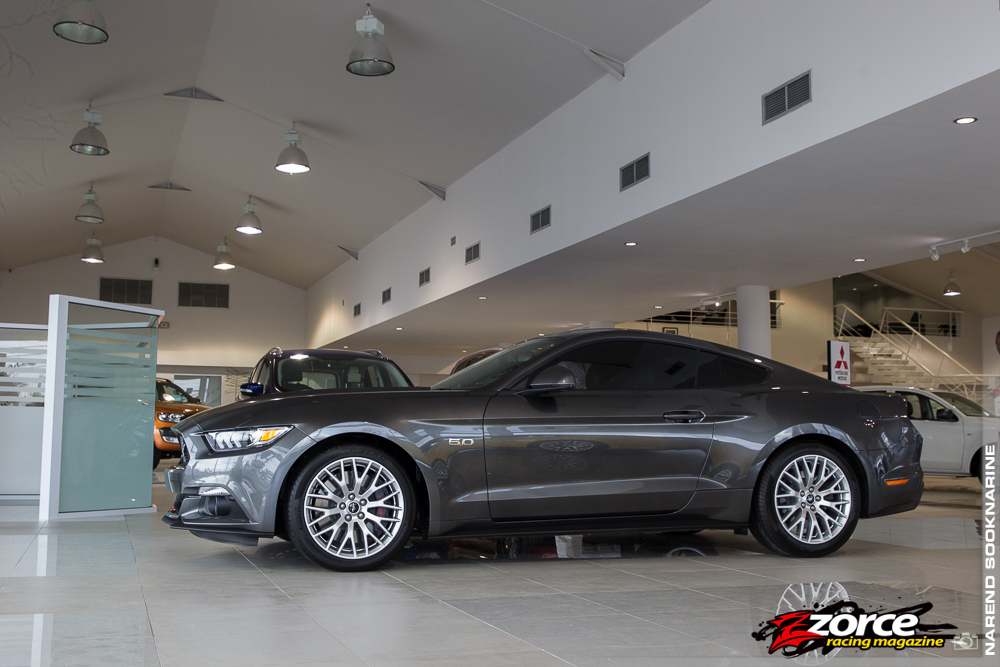 When you see the car for the first time, it's a lot larger than you would expect it to be, yet the V8 is capable of launching this car to 60mph in a scant 4.3s, according to the US-based Car & Driver magazine, which also lists the car's quarter-mile time as 12.9s@112mph. In the corners they observed 0.94g on the skidpad and while on the brakes they hunkered down from 70mph (113km/h) in just 156 feet. Fuel range is in the region of 320 miles (514km) on a tank of petrol, assuming you're trying to drive sensibly.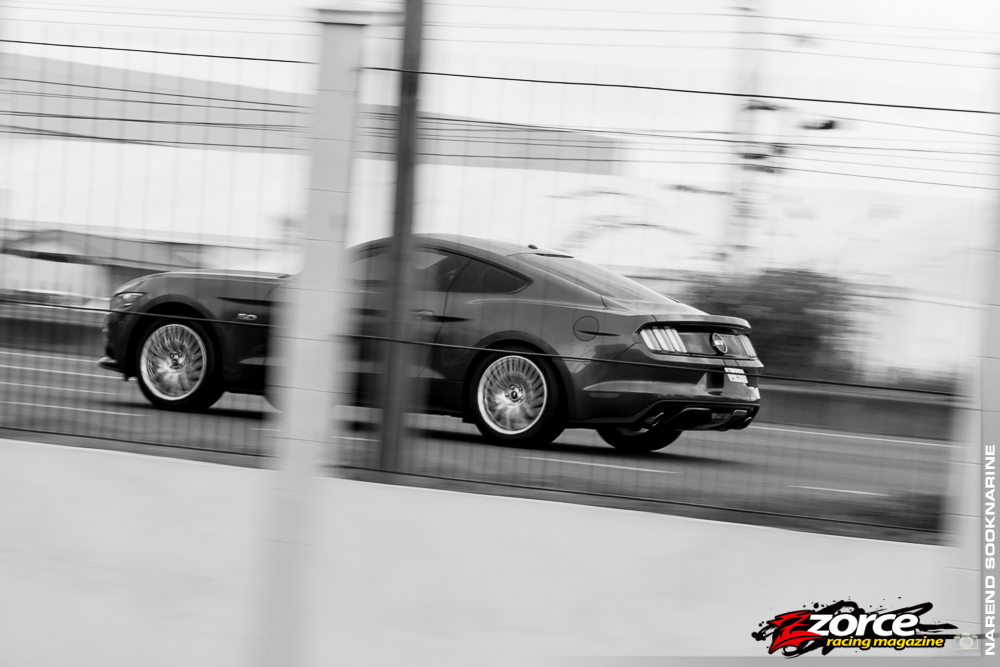 While these numbers paint an impressive picture, we would love to take both the EcoBoost and V8 models to the Frankie Boodram Wallerfield International Raceway, strap in our test driver and see which one is faster around the circuit. Having tested a sporty coupe and a sporty sedan from other car dealers, it would be nice to test a real muscle car now refined with sports car manners.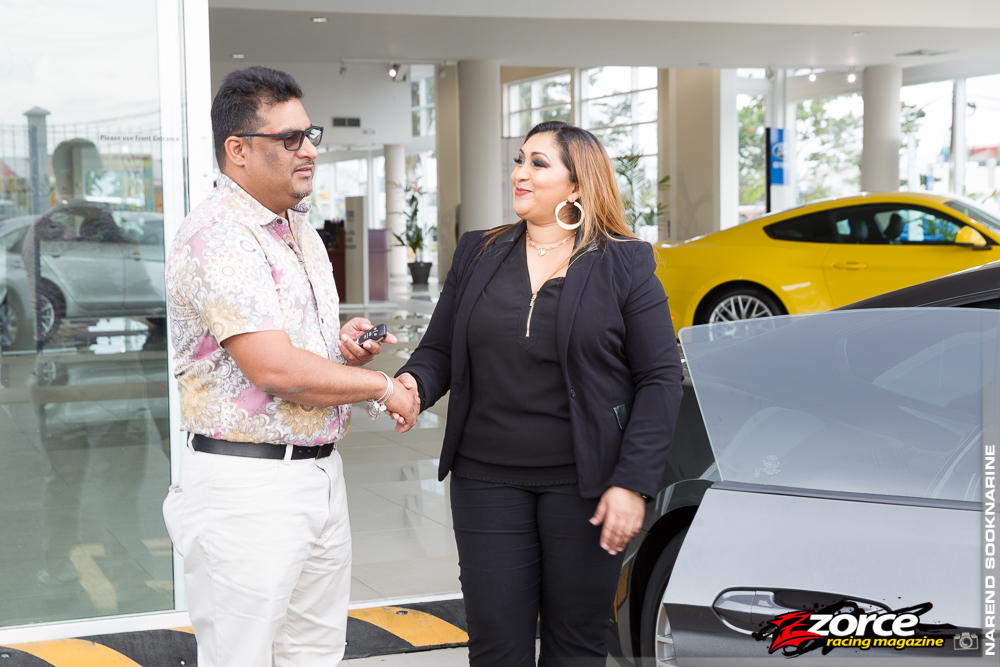 If you happen to meet any owners, put in a good word for us...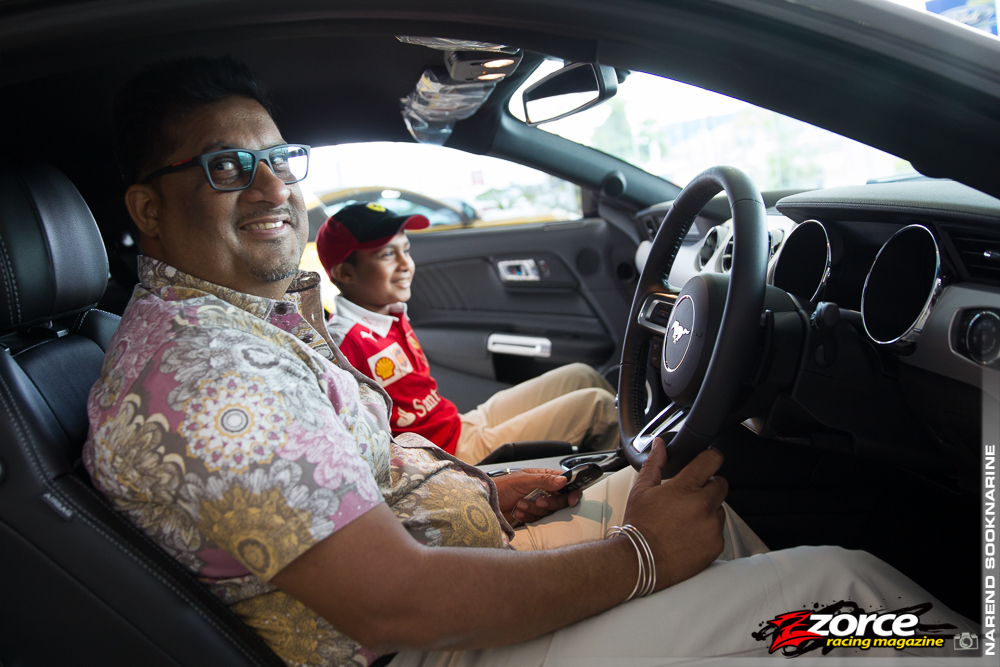 And yes, in case you were wondering, I did purchase a Lotto ticket before writing this, because the 2.3 litre turbocharged EcoBoost Mustang comes in at around TT$695K, while the 5.0 V8 Mustang GT will lighten your bank account by a cool TT$1.145M.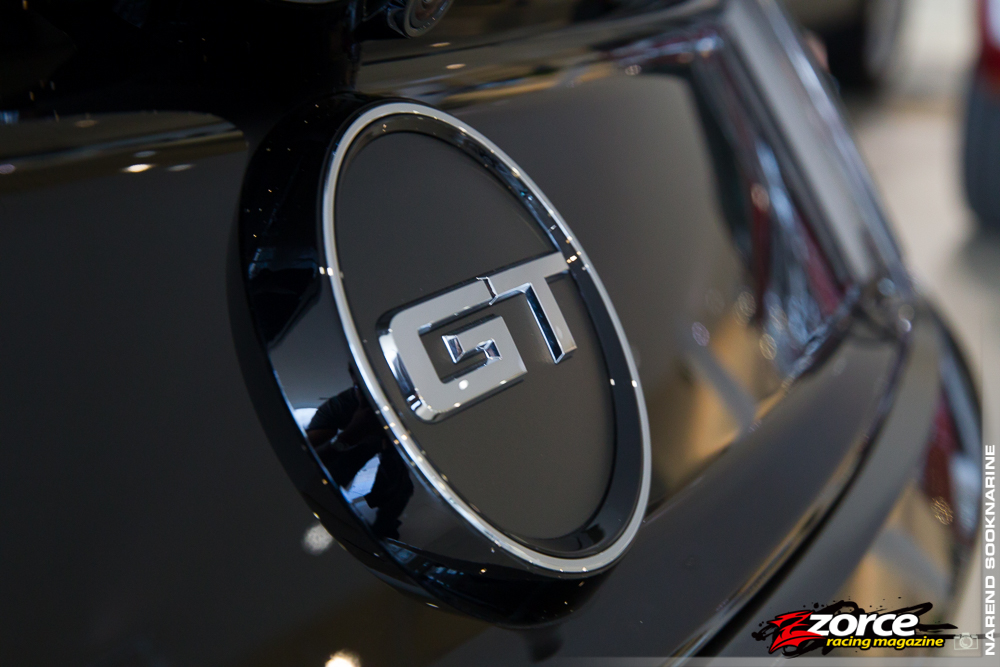 | | | |
| --- | --- | --- |
| Technical Specifications:  | Mustang GT 5.0 | Mustang Ecoboost 2.3T |
| Engine Power | 435hp@6500rpm | 310hp@5500rpm |
| Engine Torque | 400ft-lb@4250rpm | 320ft-lb@2500-4500rpm |
| Engine Displacement/Type | 4951cc/V8 DOHC | 2261cc/4-cyl. Turbo |
| Max. Engine Speed | 7000rpm | 6600rpm |
| Fuel Type | Regular 87 Octane | Regular 87 Octane |
| Available Transmissions | 6-sp. man / 6-sp. Auto | 6-sp. man / 6-sp. Auto |
| 0-60mph | 4.3s (manual) | 5.5s (manual) |
| 0-100mph | 10.3s (manual) | 13.3s (manual) |
| Top Speed | 155mph/249km/h (manual, elec. gov.) | 145mph/233km/h (manual, elec. gov.) |
| 1/4-mile, standing start  | 12.9s@112mph (manual) | 13.9s@102mph (manual) |
| Est. Fuel Consumption Combined/City/Highway | 20/15/25mpg | 27/22/31mpg |
| Roadholding 300ft. Skidpad | 0.94g | 0.98g |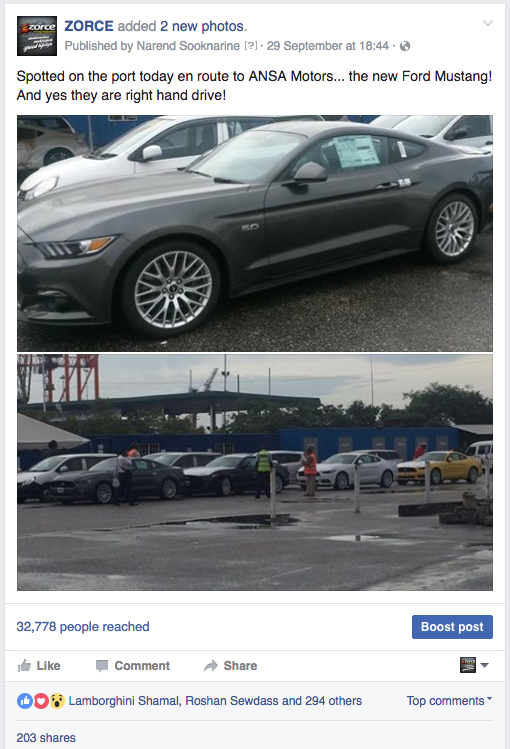 According to our ZORCE facebook fan page, a lot of people in T&T seem to be interested in this car!
Join the discussion here: Zorce on Facebook

Want to learn about other Mustangs? See here: MORE Mustangs