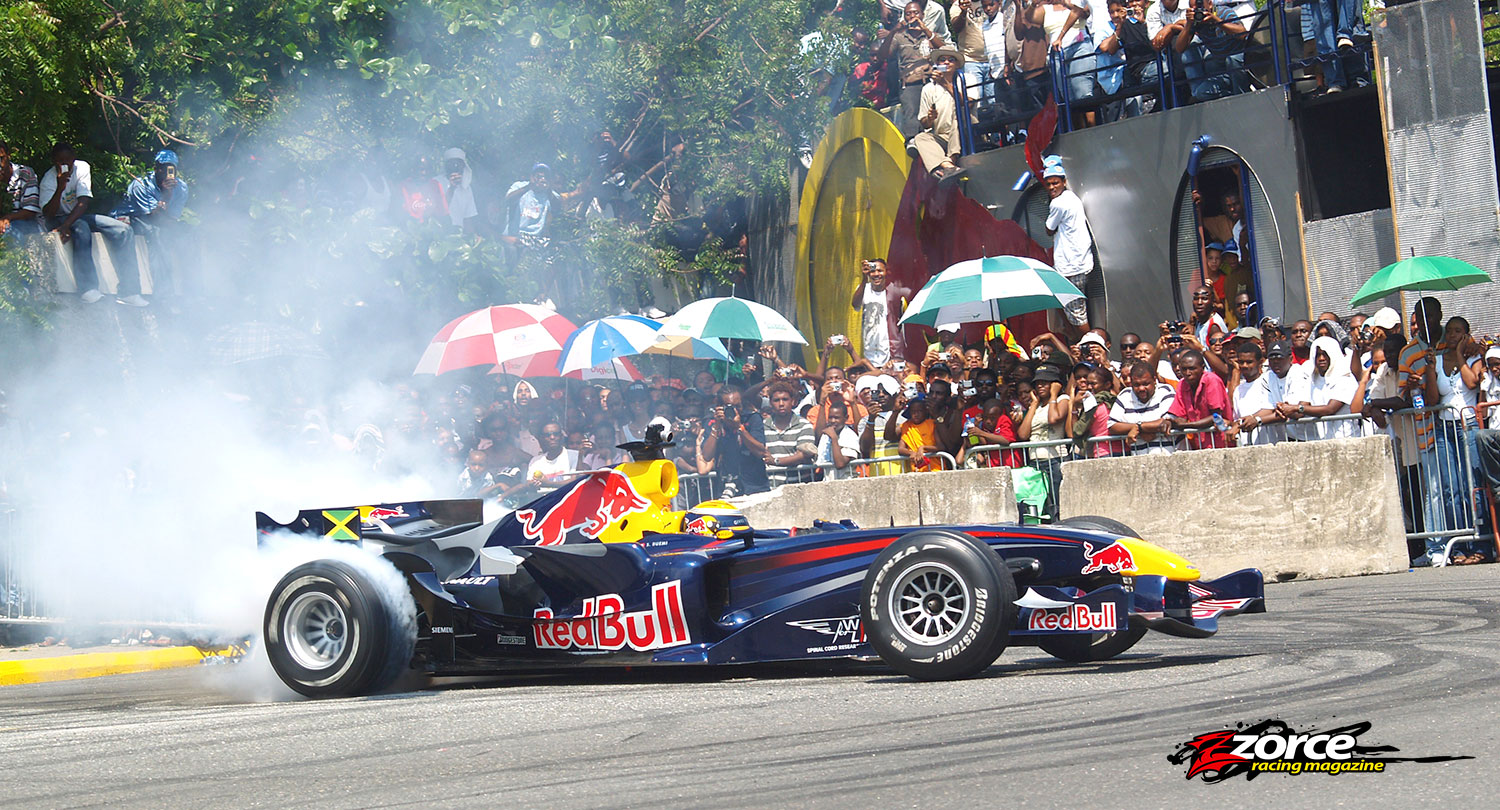 Formula 1 is the most advanced and expensive forms of motorsport on the planet. In every aspect of this type of racing the very best research, building methods, materials and expertise are employed to give each car and driver the greatest possible advantage from qualifying all the way to the finish line. We in the Caribbean have never had direct contact and until now, our degree of involvement was largely limited to seeing it on television and other forms of media.
Then around 2006 the changes started coming. Red Bull hosted an all expenses paid Q&A session at the popular 51 degrees nightclub in Trinidad & Tobago with Team mechanic Steve Nevey on May 24th. The response from the local racing community was tremendous. Internationally, they had just purchased the Jaguar Racing Team and Team Minardi and renamed them as Red Bull Racing and Scuderia Torro Rosso respectively. Attendees were given loads of facts and figures about running an F1 team, driving the car and the effects on the driver. They even brought an actual Formula1 Red Bull Racing steering wheel, which carried the price tag of a brand new Lexus. Steve also treated the session with full-volume soundtracks of the V12 and V10 engines used by both teams at the time– a proper test of the 51 degrees sound system.
Around the same time 21-year old racing prodigy Lewis Hamilton was nearing the end of his formative years. At age 10, Hamilton approached McLaren team principal Ron Dennis and was signed into their Young Driver Support Programme. He then topped the Formula Renault, F3 Euroseries and GP2 championships. Lewis came from Grenadian lineage but was born in Britain and is of mixed race. He is often labeled as F1's first black driver. In 2006 the news finally came that Lewis would drive officially for Vodafone McLaren Mercedes and on September 13th, 2006 he tested the team's 2007 F1 car for the first time at the Silverstone racing circuit.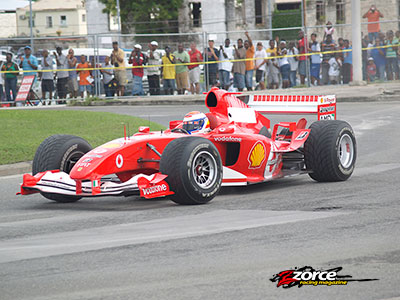 Also in 2006, Sol Petroleum of Barbados and partners Shell wanted to introduce their new Shell V-power fuel. And although it was ultimately a marketing exercise, the net effect was infinitely more profound. Internationally, Shell and Ferrari have been partners for decades and what better way was there to introduce Barbados to the new fuel than to have it power the Ferrari F2005 car on public road. The preparation required was immense– the proposed road course had to be inspected by the team and every imperfection over 2cm was corrected. When the 3.0-litre V10 was fired up by test driver Marc Gené the crowd was sent into ecstasy as the car revved, drove out of the Shell Warrens gas station, around the roundabout and up the hill at full speed, reaching 7th gear in the process. The sound was absolutely glorious. And now for the first time, the people in a Caribbean country had a proper sense of perspective.
Some time later in 2008 Red Bull found an opportunity for a public display with their car en route to Brazil. They first offered to Trinidad & Tobago but then Prime Minister Patrick Manning's office deemed it too encouraging for the local drivers. Jamaica however was not so myopic. Over the next few days the F1 car at the hands of test driver Sébastien Buémi woke up a few rural neighbourhoods, drove on the Palisadoes Karting track and finally spent a full day in Kingston lighting up the roads with other display cars from the local Racing community. Again, the crowd response was extraordinary, and to capture the true feeling of the average Jamaican in this environment will probably challenge the boys at Oxford.
Conversations on racing in the Caribbean have now officially changed. Alongside their local favorites, people now have a favorite F1 team and driver. Children who dream of racing share the same passion and we will one day have a local driver represented on the F1 stage. For now, there is a new retail outlet store called The Privilegio that can help you display your passion proudly. Located in Movie Towne, Port of Spain, they stock authentic F1 gear from Vodafone McLaren Mercedes, Ferrari, Red Bull to other brands like BP Ford from World Rally Championship (WRC). So now, just like the football fans, motorsport enthusiasts and have their kit and wear it too.
Now we move to the recent visit of Two-time F1 Champion Mika Häkkinen who came to Trinidad & Tobago to spread the word about Johnny Walker's "Join the Pact" campaign against drinking and driving.
At the popular lounge Aura, Häkkinen was joined by Minister of Sport, Anil Roberts who welcomed Mika, endorsed the campaign and gave a brief update on the current position on a home for motorsport that could possibly support FIA-sanctioned Formula3 races. They remarked that alcohol consumption typically is meant for celebration. The real enemy was irresponsible consumption and by extension drinking and driving where people's lives are put at risk. Sir Viv Richards and Sir Richard Branson are also among the advocates who have publicly given their support to "Join the Pact" against drinking and driving.
After the formalities we were able to chat with Mika and found out a bit more about what motivates him. Regarding his accident at Adelaide, Australia in 1995 where he was critically injured and required a trackside tracheotomy to survive, Mika stuck to chasing his goal of wining the F1 Championship (which he did twice, years later), but it did make him think a lot about safety. While he had the benefit of trackside assistance, it is unfortunate that many road car drivers do not have such immediate facilities when they drink and drive. In terms of things he does for fun, however, Mika cited racing and F1 as his greatest passions. He was definitely living his dream.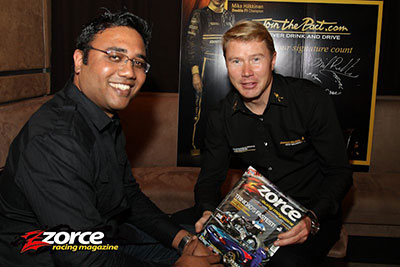 Mika is also a family man. They have two kids and one more on the way. Mika believes that racing drivers are made and not necessarily born but they do need to possess certain qualities. Parents should take the time to observe their children and provide the opportunities to harness their talents, as was the case when he was growing up. For him, racing was not just about jumping in a car and driving but about teamwork, competition, discipline and managing emotions since the sport can be filled with disappointment. The step to DTM (touring car racing) he said was not one in which he achieved his goal of winning the championship but that he enjoyed the experience tremendously. He has now moved away from driving and is into logistics, team advising and being an advocate for positive initiatives.
After our chat, the party was relocated via shuttle to a Solodex-style course at the Queen's Park Savannah where Brian Lara graciously allowed Mika to take a few rounds in his Mercedes SL55AMG Kompressor. Of course Minister Anil Roberts and Brian Lara were taken for their drives along with a few other special guests who all emerged amazed. Mika effortlessly performed full course drifts and we were lucky enough to go along for a ride by having our card pulled randomly from a fish bowl! So, that's two down on the proverbial bucket list– meeting a Champion F1 driver and all-out driving with one in a road car. Although they seem simple, with each of these milestones, the Caribbean is more connected to the pinnacle of motorsport and the World it belongs to.