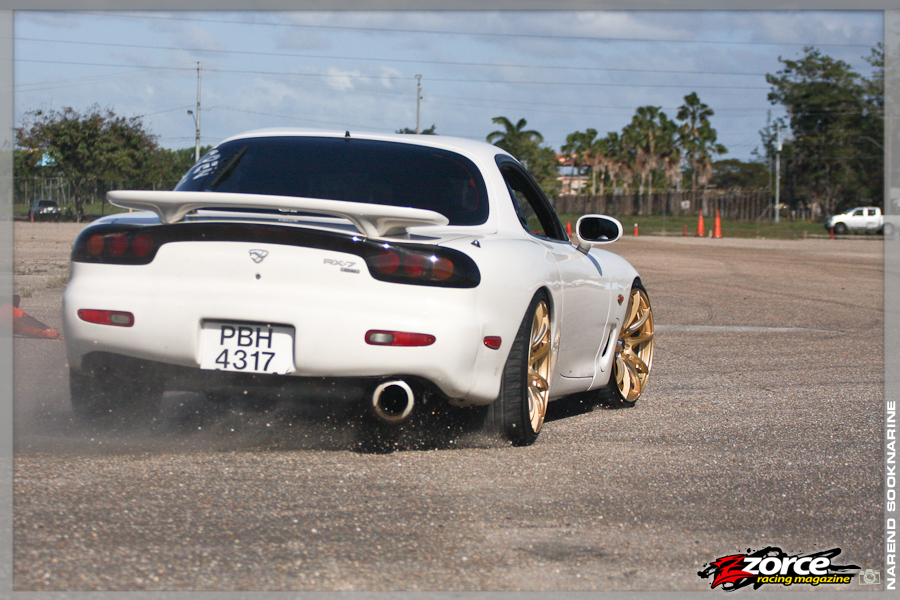 CARS kicked off its first competition event for 2015 on March 8th at the Arima Race Club car park with the kind assistance of sponsor TriniTuner.com.
Head of Autocross, Trevor Van Sluytman, opted for a twist to the familiar old karting course. This time the course was run in reverse in an attempt to level the playing field for the rookies now entering the heat of competition. They had an excellent opportunity to observe their lap times and further hone their newly acquired skills, especially under mixed track conditions with varying grip levels.

Given that the course would have been more familiar to the veteran drivers, any embarassing errors would come at the expense of their pride and bragging rights. This year, we've seen some of the seasoned competitors taking bumps into higher classes, which has heightened the already stiff competition.

Alister Rahamut, an experienced competitor in his Mitsubishi Lancer Evolution 5 took the fastest time of the day and first place in the Open class with a blistering run of 43.981 seconds. The second-fastest time of the day and second place in OPEN went to Amir Hosein in his Evo 6 with 44.508 seconds, roughly half-second behind Alister. Surprisingly, the Open class turned out to be the largest class that day with eight strong competitors vying for top position.

Also at the top of their respective classes were Olatunji Rudder in EP with a Subaru TS/WRX followed closely by Akash Maharaj driving the RB7 and still getting accustomed to a newly installed LSD, brand new (as opposed to foreign used) rubber and oddly, less power. Once more, this pair was separated by a small half-second margin– a narrower gap than ever and a virtual delicacy for the 2WD drivers who relish the idea of chasing 4WD times.

Christopher Ragobar won 1st place in SS with his RB-powered Nissan Cefiro narrowly beating Dwayne Caberrea in his Suzuki Swift Sport by 0.3 seconds, showing that the seemingly mismatched cars were equal when the many corners and shorts straights were tallied. This particular battle was also one of kerb weights– heavy FR (front-engined, rear wheel drive) vs lightweight FF (front-engined, front wheel drive). In this case the Cerifo's power was controllable enough, thanks to newly installed coilover suspension and meaty rear tyres, to eke out a class-winning 47.015-second run.

The ESP class saw the FF battle of the 4AGE Toyota Corollas as Ramon Rabathaly was barely a half-second ahead of rookie driver Anton Wei Lung Chung who was driving very well in his first competition event. Some say this one was ketchup vs. mustard.

Adrian Persad again proved that the often-overlooked VTEC-less Hondas can be one of the best machines for autocross, posting a 47.614-second run as he was pressured by Kristopher Lucky who was nipping at his heels in a showroom-spec Kia Cerato. Persad led ES by a fairly comfortable 0.7-second margin, while Lucky was less than 0.3 ahead of veteran driver Gary Bennett, in the same Kia. Special mention must be made of the first 2014 Ford Fiesta seen in competition at the hands of Adesh Ramdeen, who seemed to familiarising himself with the car and posted a respectable 49.065-second run to take 4th. Will more pace be found for the Fiesta? Only time will tell.

Autocross 1 also saw the return of the HS class as Kevin Lala in his B13 Nissan Sentra fought all day to keep ahead of Cathy-Jo Winchester driving her Mitsubishi Lancer. They posted 49.517 and 50.464-second runs respectively. HS is always an interesting class for observing and perfecting the art of driving with momentum, rather than raw power.

This event saw a total of 28 competitors, seven of which were rookies competing for the first time. Two rookies stepped into the Open class while three joined EP. The SS and ESP classes gained one rookie each.

The club's next event is Autocross 2 which will be held on April 19th 2015 at the ARC. It is rumoured that the course will be tight– possibly favouring the lightweight short-wheelbase cars. As always it will be a battle of the drivers– intense and action packed, so don't miss it. Bring your coolers and come enjoy the day with CARS.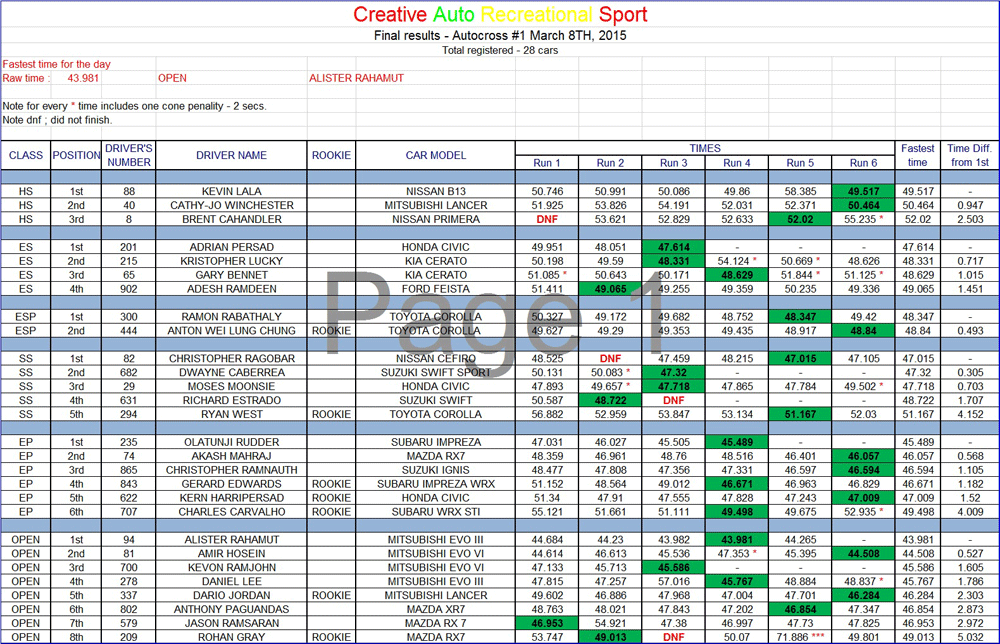 View this photo set on Flickr