St.Lucia DragWars 2013 - Retribution - Day 2- Friday
Written by Narend Sooknarine
Published in Drags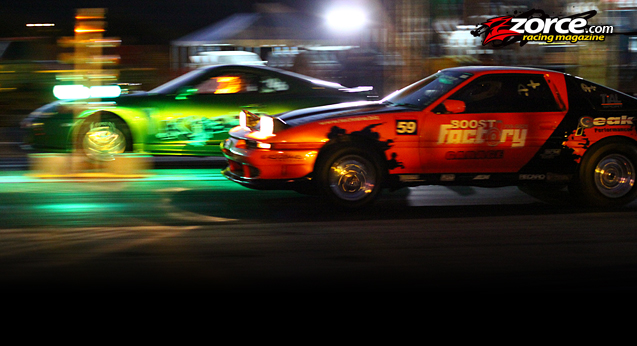 Article Index
Page 2 of 4
Day 2: Friday 26 April
On Friday morning, excitement had got the better of us. Before heading to the racetrack, we had a small window of opportunity to do some touring and snap a few shots of Christine, our gorgeous Drag Wars model from Trinidad and Tobago. Neil made a phone call and our tour minibus was there to whisk us away to the town of Soufrière, the original capital of the island. We passed a few historical landmarks along the way, like the first church and school built in St. Lucia, dating back to the 1800s. We also browsed the handcrafted local souvenirs and purchased a bottle filled with roots, plant material and a red, rum-based liquid, curiously labelled St. Lucian Viagra. After seeing the smoke on the volcanic Pitons up close, we headed back to Sugar Bay for some fantastic photos and a round of cold beers. After, we popped into the famous Ladera Resort and enjoyed a wonderful lunch with a singularly spectacular view of the Pitons and Sugar Bay at the base. Had we known there was this much to see and do, we would have planned a few additional days for extended touring.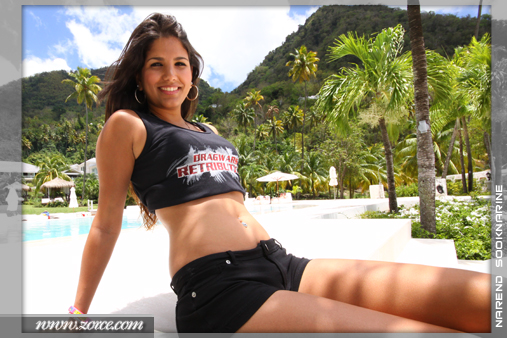 By the time we arrived at the Michael Molinero International Raceway at Vieux Fort, cars were already into the practice and tuning session. Also known locally as the "Caca Beff" thanks tofor the regular deposits made by resident cattle when the track was inactive, this auxiliary airstrip is conveniently smooth and made of unpaved concrete. The first 330 feet were coated with track bite compound, while the first 100 feet had additional treatment for added grip. Large digital scoreboards were placed on either side of the racetrack, as per US-style layout for each lane. Save for a dip-turned-bump after the finish line on the right lane, there is little to find fault in as basic racetracks go. The rains, however, had been pouring for more than a week before this meet's window of sunshine and this took away the St. Lucian home tuning advantage. The northern Caribbean islands, i.e.that is, Antiguan, BVI and other racers were unable to attend due to logistical and cost problems with their shared shipping plans.
The track's excellent preparation was proving to be extremely effective and as the front-wheel drive cars rejoiced, the Trinis were among the first casualties. The popular Boost Factory 2JZ-powered Silvia driven by Wazeer Khan sustained engine damage in practice but not before dropping a 9.4s run, while Richard Gardner's 4WD SR20-powered Pulsar suffered an engine failure. Later on, Omar's Evo III, which produced a best time of 11.2s also broke, Jody Ali's Supra suffered catastrophic engine failure, while Everard Bowen's B14 Sentra and Kerron Garraway's SR20-powered Lada Riva Wagon, both suffered mechanical failures. The cars that survived put down some serious passes like Kenny's MK III Supra, which ran a 9.3; Fazad's Charmant, which ran a 10.0; and Hemchan 'Sparky' Ramoutar's 120Y, which wheelied into a 10.2. Gary Smith also locked in a successful 10ten-second run. By all accounts, the times were at least 0.5s faster than at the Camden airstrip in Trinidad, a most promising opportunity for the 22 cars and 3 motorcycles representing Team team T&T.
Team St. Vincent was proving to be the most resilient, despite their cars being developed on an island without a racetrack or a straight piece of road longer than an eighth of a mile. A few of the cars from this camp were tuned by T&T's Prentice Ali of Peak Performance. Their star performers consisted of mainly 4WD cars like an assortment of Imprezas and Evolutions, Jason Moussa's Nissan Pulsar and an Evo III that put down consistent 10.3s, plus a few FWD machines, including a formidable CRX and a Suzuki Hayabusa bike. In all, they fielded 16 entrants, among them the Olliviere brothers, relatives of Steve Olliviere who is a regular racer at Rally Trinidad. Team Grenada consisted of two cars, namely Alan McIntyre in his Ford Mustang and Joshua Lewis in his Lancer Evolution Lancer. St. Lucia also had a few good runs in practice with their V8-powered Supra known as Khaos, despite a few electrical gremlins that were preventing the correct operation of their nitrous system. Team St. Lucia was by far the largest with 39 cars entered, despite many cars not being ready due to the inclement weather during the week prior. As their Skylines, Starlets, Evos, Civics, Levins and even a Corvette got their practice runs done, teams were working feverishly to ensure they could qualify for their intended racing brackets on Saturday.
View this photo set on Flickr