Import Face Off, Bradenton, FL
Written by Andrew Nicholson & Kavita S. Fonseca. Photography: Kavita
Published in Drags
Article Index
Page 1 of 5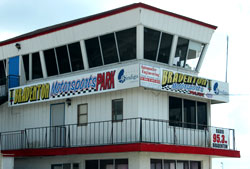 It was a great day for racing! Clear skies and bright sunshine... Well perhaps some clouds could have helped the intense heat. But can't complain as the usual Florida afternoon rains held off till after the event. We got to the track just about first round qualifying. Southeast Florida performance shops, Big Daddy Performance Center/ Vijay Ramkissoon  with his new Supra Mk4, ASAP Performance with their street EVO 8, Central Florida Turbo with their Galant VR4 & TD Autowerkes in their Civic, all dominated the day with their presence and consistent runs.

It was a pretty smooth Sunday morning ride to Bradenton Motorsports Park, Bradenton Florida. Located about 45mins south of Tampa, we had a 3 hour journey down there, heading from Daytona Beach. Picked up our rental for the day, a Jeep Liberty V6, packed up the cooler (of course!), stacks of cds, courtesy our co-pilot Andrew, and we were one our way.

We got there around mid-day, just about an hour after the event started. It was a blazing 95 degrees F. Cars were already lined up on display for the car show and qualifying had just started on the 1/4mile track.  As we approached the entrance for the track we could hear some synchronized shifting down the quarter mile. Some falling short with apparent Turbo lag which at that heat index is understandable.

Apart from all the wonderful showcased cars, stood a lone classic Rotary Rx3. This bright green machine caught my eye immediately. Very clean and beautifully kept. In line for qualifying, we met up with Chris from ASAP Performance and his street EVO 8 machine. This car ran 9.53 @ 150 previously at Palm Beach Raceway with full interior. ASAP Performance is based out of Davie, FL (east coast) and has really put out some impressive work and they have shown to have a very methodical approach to their racing & tuning. As we approached pit area, who could be next to ASAP's tent, than Vijay Ramkissoon & Big Daddy Performance Center crew. Big Daddy had come with their big and junior guns armed. Their stunning  8 second Supra Mk4 and his son, Jason's 10 second Nissan 240 show ride were both show stoppers. And the best part, watching the Supra leave! Oh what sexiness!

We literally had to hold back our friend Andrew from jumping off the stands. He had not been to a drag event in years and was amazed at how fast all the cars are! He couldn't believe that the norm is now 10 & 11 seconds, unlike previously for street cars of 14 & 15 seconds.

As the day progressed, there were thankfully there were no incidents on the track. Chris/ASAP pulled off a win in his category with a best time of 9.86 @ 148. Central Florida Turbo (CFT) of Orlando, FL was another big winner at the event with their VR4 Galant running a 10.13 and a Virgin Islands Civic. Definitely have to pass on props to the V.I. massive crew as the night before could have been a nightmare. As Andrew had put it, they moved like a NASCAR pit crew they had apparently had a broken and valve the night before. They removed the head which was damaged, they replaced it and fixed the piston involved in the collision - while Dyno testing at CFT! They got it fixed and were at the track to show their boost!! Vijay had some issues but still managed to put down a nice pass at the end. One of his passes left us with a brief intermission due to cloud cover. To put it another way, the race could not start as the Supra burn reduced track visibility to zero for a few seconds. Considering this was one of the first outings in his the new Supra, he did really good. Thanks to Spark Tech for getting us down there, the ASAP EVO powered by a Spark Tech Ignition really was an impressive beast - and that was not even their drag car. We loved every carbon smoke filled, alcohol fuming, spool deafening second of the day and can't wait for the next event!
 Photos/CDs available please contact admin [click here]