Powell and Fennell Get Their Feet Wet at WRC Rally de España 2012
Written by Article: Rodney Granado • Photos: Narend Sooknarine
Published in Rally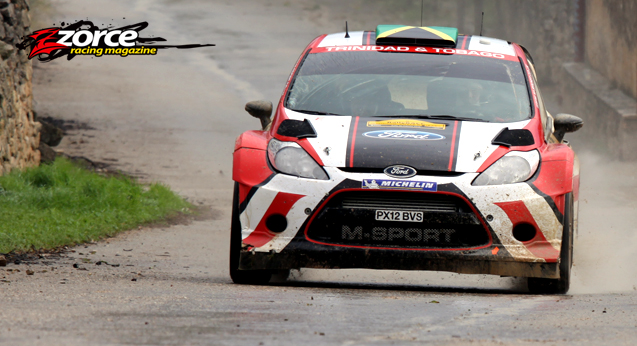 Caribbean Rally Duo Debuts at WRC Spain This Week
Despite temperatures below 6°C, the coastal city of Salou in Catalunya, Spain will be the historic location for the Caribbean duo, team T&T's John Powell and fellow Jamaican national Michael Fennell Jr. in WRC's Rally de España from November 8-11, 2012.
"We are in good spirits and will be coming off the ramp first on Thursday morning. The weather is fine because it is not raining, so it should be a good day. We did some pace notes and feel confident to put in a good show," Fennell was happy to report before the qualifying stage. The World Rally Championship has run 12 events for 2012, with driver Sébastien Loeb of Citroën Total WRT leading the standings with 244 points, and his team with 413 points.
Rally Catalunya is held over closed road special stages, i.e. actual public roads closed for the rally. The stages comprise a combination of tarmac and gravel. Salou, renowned as a holiday resort locale, is seen as an excellent base for WRC to close off an unforgettable World Rally Championship season 2012. Both Powell and Fennell Jr. are eager to drive the Ford Fiesta RS for the M-Sport Ford Rally Team, one of the biggest names in the sport.
Caribbean Rally Team to Begin WRC Shakedown
After a hectic morning of qualifying stages in Salou, both WRC driver Powell and co-driver Fennell Jr. are ready for the shakedown stages. With Thursday's session permitting two complete passes of free practice and one complete pass in an attempt to set the fastest time possible in championship order, Powell/Fennell Jr. churned up a reasonable time 12 seconds behind leaders Loeb/Elena. The qualifying stage was a fantastic display of team spirit and professional sportsmanship between driving team and service crew.
"We had some struggles in feeling out the car today. There was a difference of shifting which came at about 8000rpm but we are still confident for Friday's shakedown on the gravel. The reception is great from all the WRC racers and we have grown accustomed to the difference in time, which is roughly six hours ahead of the Caribbean. John and I have made the qualification and we are excited," Fennell Jr. said.
Later in the evening, team T&T was present at the meet-and-greet event for all WRC teams held at the steps of the breathtaking Catedral de la Santa Cruz y Santa Eulalia, or Barcelona Cathedral, as it is commonly known in English. Standing on a ramp over the steps, the Mayor of Barcelona officially commenced Rally de España 2012 amidst loud cheers from Spanish rally fans. Rows of international photographers snapped the WRC drivers and co-drivers, who then got in their rally cars and paraded down the ramp, disappearing into the streets.
Powell Falls Ill on Day 1; Retires from Day 2
Day 1 on Friday seemed hopeful for Powell and Fennell Jr. as they headed out to the gravel stages at Gandesa, Pessels and Terra Alta in the morning from Port Aventura. Lunch would not be long, as teams were afforded only 30 minutes and then resumed to a mixture of gravel and asphalt stages. However, these stages are much longer than those in the Caribbean and proved challenging for the newest members of the M-Sport Ford Rally Team.
Rally de España is the last event on the WRC agenda for 2012 and has generated large crowds. The packed four-day schedule concludes on Sunday with a Special Stage.
Powell/Fennell Jr. had their first full-fledged experience on the Gandesa, Pesells 1 and Terra Alta 1 WRC stages. Zorce and other T&T media crews were positioned at the start of the first stage and observed the team in fine form and more confident than the previous day. Continuous rains gave the drivers an extra challenge in the early Gandesa gravel stage and carried on towards mid-afternoon. A common problem with most drivers was combating the frosted glass from the combined colder outside temperature and warmer car interior. Temperatures varied between 6-11°C earlier in the day with heavy fog blanketing the Gandesa stage but most of the drivers, including Powell managed a safe finish.
Fast-forward to Stage 3 where Powell experienced some dizzy spells during a pass due to extreme exhaustion. According to the M-Sport Ford Rally Team press release today, Powell said,
"Wow. It looks easy on TV but it is definitely not! It was very challenging. It took a while to acclimatise to the new car on the first stage [SS1]. Then on the second one [SS2] I felt as though we were getting into it a little bit better until we saw so many cars scattered all over the road. The third stage [SS3] I think was the most difficult stage of my life and I will not be embarrassed to tell you that I had to stop – I had to stop for maybe 30 seconds, just to catch my breath. It is so challenging mentally and physically. I actually had to go and shake Sébastien's [Loeb] hand. He told me it was difficult for him too but somehow I don't quite believe him."
Having had to retire on Day 1 on doctor's orders, Powell hoped to be well enough to compete on Day 2 (Saturday 10), however, it was not to be. Team T&T has retired for all of Day 2 and will return to the gravel on the third and final day (Sunday 11).
Day 1 - Top Three in the Standings
1.    M. HIRVONEN 2:35 mins
2.    O. TANAK 2:36 mins
3.    J. LATVALA 2:40 mins