Nissan Juke 1.6T: A Funky New Remix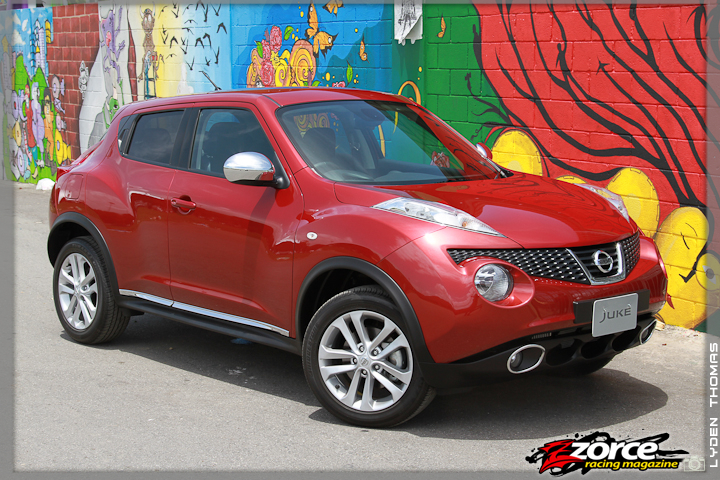 Few car companies approach the level of design bravado achieved by the Nissan Juke. Nissan's engineers and designers have captured the essence of what makes each popular vehicle desirable and recoded them into one vehicle using Nissan DNA. In the Nissan stables, there are worthy building blocks to execute this idea, like the 370Z, the X-TRAIL, the QashQai and the GT-R. And so, the core ideas of a dynamic sports coupé, a memorable hatchback and a useful offroad/utility vehicle are blended into a brand new flavour of crossover that feels something like a MINI Countryman or a miniature BMW X6.
Meeting the Juke for the first time will be an exercise in tolerance for some, but pure styling joy for others. If you like action and sci-fi movies you'll probably see hints of alien physiology up front (especially with the three decks of lights), but it's very 370Z at the rear. The flares and haunches also borrow a page from the Z's curves while the slab sides, a GT-R feature, temper the design exuberance. The rear passenger door handle is easy to miss, we suspect on purpose to allow the Juke to have a sportier two-door appearance. With the rear seats folded down and the hatch open wide, you could probably fit a dentist's chair in the cargo area. Airport runs won't be a problem and even if you don't find the Juke handsome, you can at least find it handy– just like the popular X-TRAIL.
While there is also an available 1.6-litre turbocharged 4WD CVT version with torque vectoring like the GT-R and an upcoming NISMO version in some markets, we were going to test the manual front-wheel drive Juke with the turbo engine. The MR16DDT inline four-cylinder features a 9.5:1 compression ratio, direct injection, variable intake and exhaust valve timing, four valves per cylinder and a small single turbocharger (as its DIG Turbo engine cover suggests) to provide [email protected] and a very usable 177ft-lb of torque, spread from 2000-5200rpm. Redline is set at 6500rpm. In front-wheel drive guise only, this is mated to a 6-speed manual gearbox with reverse lockout. In our vehicle, power is directed to the front wheels only but this is balanced out by stability (VDC) and traction control (TCS), which are standard features. Fuel economy is estimated at 28mpg city and 37mpg highway for our test vehicle.
We made a short blast on the highway to have an idea of the Juke turbo's acceleration. Using the on-ramp, we were also able to probe the cornering limits of the Juke. It also features variable assist speed-sensitive steering and drive-by-wire throttle control. While the front relies on an independent strut suspension, the Juke uses a torsion beam rear suspension setup on all front-wheel drive versions. As is expected with front-wheel drive, a higher centre of gravity and standard tyres, cornering was good, but not in the league of the modern sports car, with mild understeer when closing in on the above-average limit. Body roll was present but well mitigated and overall the Juke still felt very sporty. Top-heavy vehicles are not usually great in the corners. The Juke is much closer in handling to a standard car, despite its obvious height– a fact we were starting to enjoy.
In a straight line the Juke leapt out like a feisty little frog. It scrubbed tyres on the launch, chirped the 1-2 shift, and rocketed through the gears. We hit 60mph in just about 8 seconds flat and touched 200km/h just as we shifted into sixth and continued to climb. We have no doubt that it will be able to achieve its 215km/h top speed. Next, we headed to the Lady Young Road with its hills and corners. The Juke easily thrust up the hill when the time came to overtake a few slower cars, leaving a late-model Hilux owner very confused as to why he could not keep up. Around the corners we were confident as the Juke maintained its composure.
We took a quick spin around the Queen's Park Savannah and made a stop to reflect on the Juke's unique looks. While there, with NAPA's modern architecture, and colourful Emancipation Day murals as a backdrop, the Juke was finally starting to find its niche, in our minds at least. We think its styling evokes the ideas of fun and independence while delivering utility, practicality and excellent real-world performance to those who can extract the joys of a manual gearbox. We imagine that the naturally aspirated 1.6-litre CVT version would probably be comparable to the local-spec Nissan QashQai in terms of performance. Our vehicle also came with optional exterior chrome extras on the doors and around the fog lamps for those who appreciate a touch of bling.
The Juke's interior is also a very interesting place to be. The central I-CON (integrated control) display borrows a few tricks from the GTR and has a central screen that displays torque output, boost level or economy level depending on if you are in Sport or Economy mode. It can also display cornering G-Force, Mileage and Fuel Economy Record information. What is unique is that when you push the Climate button, all of the controls around the screen switch from white driving-related words to red climate-related icons even though they are not part of the digital screen itself. It's surprisingly nifty and efficient once you get used to it.
The central housing for the gear shifter, handbrake and cup holders is finished in metallic paint and resembles a motorcycle tank, emphasising the Juke's sportiness, along with red stitching and perforations on the seats. The dashboard dials are also deeply recessed, much like the 370Z with a unique shade that is treated like a separate design element. The stereo is USB/MP3-friendly and you can connect your iPod via the auxiliary input jack to enjoy your own rolling jukebox. The Juke packs a six-speaker audio system that was quite capable of playing any type of music we found on the local radio stations. Unless you are an audiophile, it's more than enough to get the job done with minimal distortion at higher volume levels and a decent tonal range.
On the way back to the dealership, we tried taking the traction control system off and the Juke easily roasted its front tyres through most of first gear and in the tighter corners displayed some understeer, as was expected in this configuration. In short, it's best to leave the system on for optimum, everyday driving. In our stability control test where we simulate accident avoidance and sudden lane changes, also known as our "60-wiggle test" we could feel the individual wheels being braked to mitigate oversteer and maintain heading during our exercise, even without touching the pedal or handbrakes. The Juke also did very well in our sixty-to-zero panic-stop test, thanks to the 11.7" and 11.5" front and rear disc brakes. Safety equipment includes seatbelts, six airbags, tyre pressure monitors, ABS, EBD, brake assist, stability and traction control. The Juke rides on standard 17" wheels fitted with 215/55R17 all-season tyres.
As our test drive came to a close we concluded that this Nissan Juke was no joke but a well executed remix on the idea of the sporty crossover. You get four-door hatchback practicality, SUV ground clearance, sporty handling, enough power to satisfy your inner enthusiast, good fuel economy when you need it and outstanding style that will be noticed from almost any angle. For those who can do without the punchy acceleration, the automatic CVT version starts at just TT$215K, while the turbocharged manual version starts at TT$239K. Our verdict? If you like sports cars but really need a small SUV in this price range, then the 6-speed manual Juke turbo is the ride for you.

View this photo set on Flickr