EvoLovin on Valentines Day
Written by Narend Sooknarine
Published in Big Lime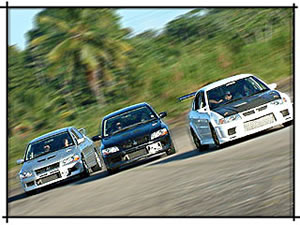 Duane:
St. Valentine must be turning in his grave!!!
Last Saturday, albeit Valentines day, we convinced our significant other that if we were going to subject ourselves to a romantic evening of extreme mushiness then we at least deserve the opportunity to redeem our masculinity by spending a day on the track. Well some of us just plain begged and pleaded, but never the less, we made it to Wallerfield (significant other riding shotgun).
Three Evo's, two cameras and a partridge in a pear treeeee!!!!
So as usual I reached late, this had nothing to do with having the only stock car in the group. Nebert (Sasman) and Sean (PearlZ aka Porn Star) were already up there on the drag strip duking it out on the quartermile. I opted for spectator status keeping my transfercase safe and sound. A few runs later Narend (Zorce) pulled in and loaded up the cameras. We moved over to the circuit track to begin the festivities. And what a time it was. Narend's dad came up a little while later with his yellow 300Z, made a few laps with us and shared some of his racing experience.
Narend:
It seems to me that women by nature, especially on Valentine's Day's will lap up just about as much good treatment as you can throw at them. We men however, (typically more prone to car-craziness) were less anxious to receive v-day foreplay and got straight to the action of making our own laps!
Duane:
It was a complete BLAST!!! Never had so much fun with my car. I've driven around the circuit track a few times before, but actually racing with some friends in their cars made it feel like real life Gran Turismo. My Evo7 making good use of the yaw control system at the hairpin, I actually got some oversteer, which is rare in any Evo. With Nebert at the wheel, the Evo6 laid down the law on the straights but PearlZ's Silver Evo7 was being pushed hard in the corners and managed to keep up despite this. After driving the Evo6 myself though I have no doubt that the potential is there, Apexi N1 suspension et'al.
Narend:
Getting into the car I actually wondered if this would be a hair-raising, sideways getting, madness making experience. I honestly didn't know what to expect from the Evo6. Having driven a few 7s I expected it to be similar. Off boost in the corners the Evo6 exhibited mild understeer but I expect that given enough seat time, off-boost would be a fairly rare occasion. Once the power kicks in though neutral handling can be coaxed into catchable oversteer. Speaking of power that part is great! The brakes are excellent, fade-free and really throw out the anchor minus the grabbing. They were so smooth and powerful I was actually able to back down from 190kph on the main straight to enter the top corner at around 110kph.
Taking it easy for the DaCosta proved prudent as I was able to hit 4th gear before exiting the chicane and braking for the hairpin. This was the part of the track where PearlZ (PornStar) in the passenger seat was making all the woo-hoos!
I even had PearlZ making noise like a PornStar, well up until lap 3, he got a bit quiet and asked to be let out!
Sean:
That was only so I could get into MY Evo and run you down! All in all it was great. Woooooooooooohoooooooooooo!!!
Nebert: I had fun with my good friends on Valentine's. What could be better. Thanks Sean, Narend and Duane
Duane: No problemo, it was great, just keep in mind that next time its business!!