Machel wins at Wallerfield
Written by Narend Sooknarine
Published in Big Lime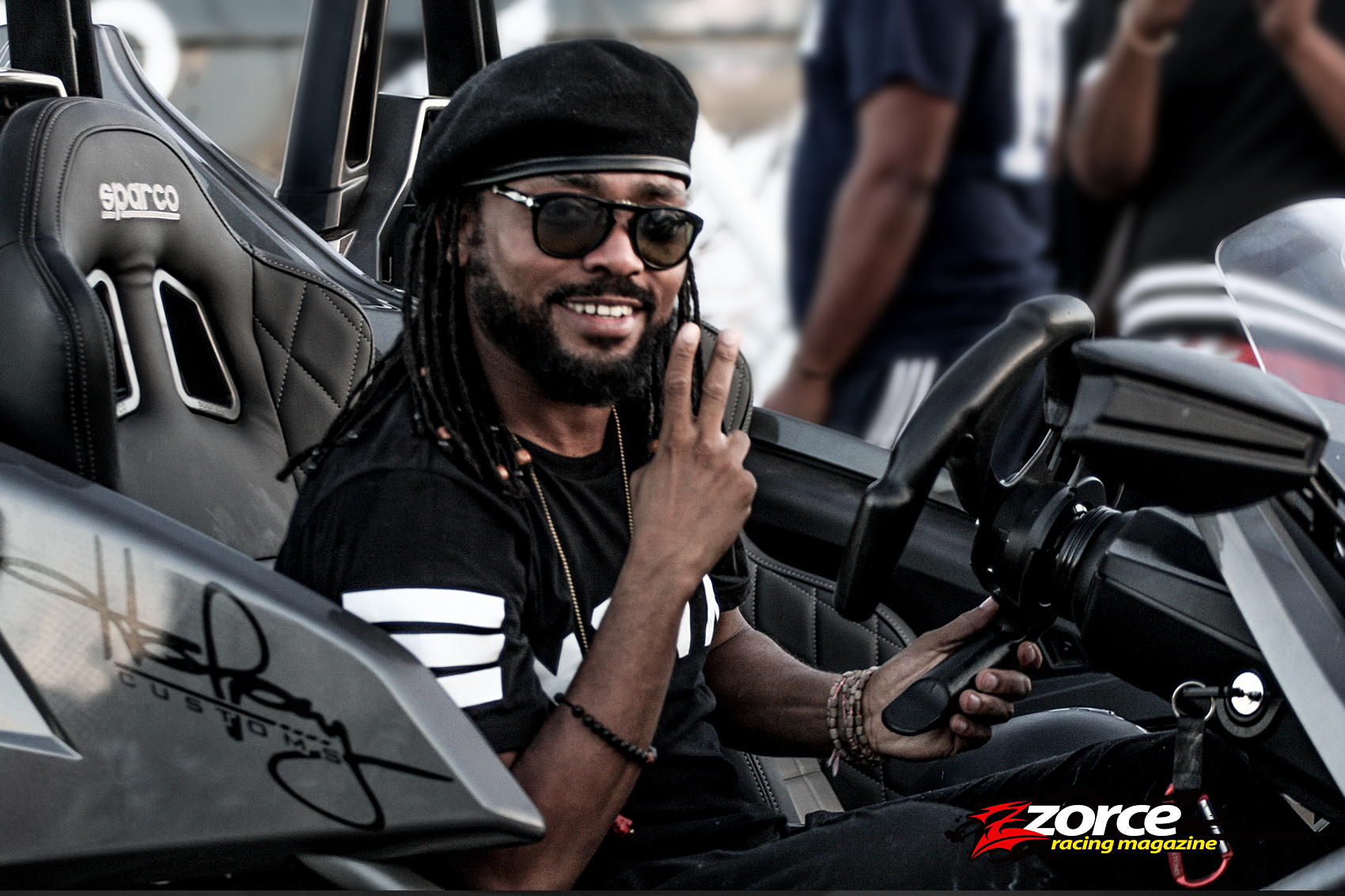 Article & Photos: Narend Sooknarine
A fusion of motorsport and music is heating up the Wallerfield International Raceway. Machel Montano recorded the video for his latest power soca hit Waiting On The Stage ft. Badjohn Republic at the home of motorsport in Trinidad and Tobago. This comes following two strong years of development at the venue and according to TTASA Vice President Jameer Ali, "There are only bigger and better things to come."
The video made its public debut at the massive Machel Monday concert in Port of Spain on Monday 1 February 2016 of Carnival week, and was also released on YouTube and social media on the same day. The video's concept, as it pertains to the Wallerfield venue, came together in just one week as a result of discussions held between Consulting Producer Alexa Bailey, Executive Producer Ché Kothari, Machel and Jameer Ali. Ché and Machel were so pleased after their site visit on Saturday 23rd that load in and setup activities began that very afternoon for shooting the next day on Sunday 24th at 6.00 a.m.
Logically, if you are shooting a music video for Machel, you need big sounds. This was provided by the Junior Sammy Group and their International CXT Music Truck. This machine is packed to the gills with speakers– the windshield opens, to allow sound pressure to escape, the bumper lowers to reveal a bank of massive subs. It is virtually a fete on wheels! In our years of shooting Carnival on the road, this truck has also proven to be a high-endurance build, capable of providing massive music for hours on end, in our hot, humid T&T climate. There was no problem when it came to filling the entire car park with music!

With each scene, a different segment of music was cued up as the production crew captured the action on the temporary stage, which was built on-site for the video."People came in from a number of different countries and this thing really came together within the last two days", said Machel. There was also an explosion of exciting local characters on stage besides Machel and his team of international dancers, including Capoeira martial artists, stick fighters, drummers, moko jumbies, blue devils, the midnight robber and other traditional carnival characters, as well as Peter Minshall characters, and a Chinese dragon. The Carnival music video was made complete with ultra-hot masqueraders (from the band Fantasy) in full carnival Tuesday costume.

Organised by racing legend Frankie Boodram, members of the Ford Club of Trinidad & Tobago and the V8 Boys made themselves and their cars available as extras in the video. The Mad Max motorcycle group was also present, led by Max himself who happily entertained with a few stunts between takes. Not to be outdone, Machel arrived with his tour bus, AMG-tuned Mercedes-Benz E-class and his now-famous Monk Mobile, a two-seater custom trike. In the video he uses it to win in a staged race with Franklyn Boodram in his Renault Mégane Trophy V6 racing car. Naturally, Franklyn came to the track with his full racing team and used the opportunity to get a few practice laps, while shooting was in progress in the south-western car park, safely away from the circuit. It was quite thrilling to hear the piercing shriek of this Euro-spec racing machine between takes.

"We have big plans to collaborate with you next year," said an enthusiastic Kothari to TTASA VP Jameer Ali. Is this a hint that the venue will be considered for Machel Monday? We shall see in the months leading up to Carnival 2017. A few things are definitely in favour with highway access all the way into the Wallerfield area, multiple routes with auxiliary access via Cumuto, the nearby Arima Hospital, fire and police services, an organised fenced facility with different available sections, lots of room for parking, the racetrack and a sheer abundance of space for other activities. At the very least, we hear that Machel plans to attend a few of the signature events– including CMRC 2016 Trinidad and an International Drag Racing Meet in May. And will we ever see Machel Montano competing in a real-life full-fledged racecar? When asked, he simply said, "Huuy! Heh-haaaaahhh!" 

Enjoy out our exclusive behind-the-scenes photos and click the link to see the finished product:
View this photo set on Flickr

https://www.youtube.com/watch?v=fe6onk98K0w&feature=youtu.be