The Ferrari 458 Italia: Ciao, Bella!-Hello, Beautiful!
Written by Editor-in-chief
Published in Features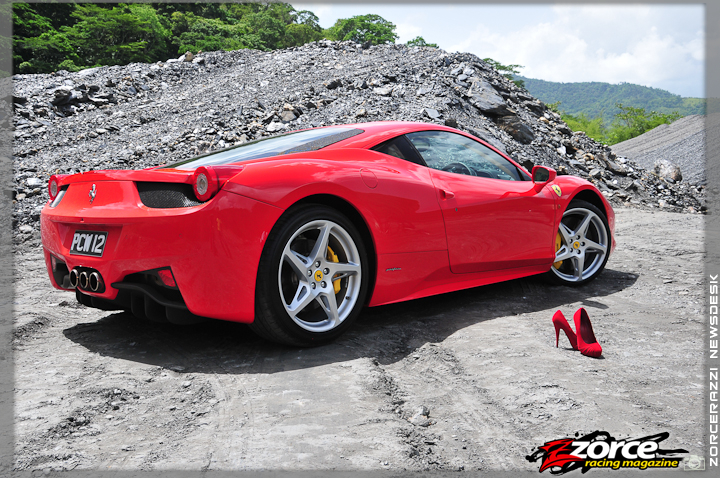 The prancing horse has always been a symbol of a more refined idea of horsepower. Compared to the simple workhorse, they were capable of much more than pulling a cart or carrying people around. Their true strengths are shown in their all-round abilities to jump, hold various positions, perform pirouettes and maintain correct momentum through advanced courses. Similarly, you can purchase a virtual driving appliance to take you from point A to point B. Beyond this idea are a number of ways in which the actual journey can be even more remarkable than your origin or destination.
 There are just a handful of cars on the planet that can truly excite your senses to their fullest and this gorgeous new Ferrari 458 Italia is one of them. Since the advent of the Honda NSX, every supercar manufacturer has gone to great lengths to master drivability, a high-quality cabin with reasonably comfortable seating and great ergonomics, and excellent build quality. For Ferrari this meant not only building faster, more reliable cars but building an entirely new facility that would allow them to easily and efficiently do so, bringing us cars like the F430, 612 and 599 in relatively quick succession. The name Italia, homeland of Ferrari was chosen since this new 458 represents the style, creative flair and technology of a nation passionate about cars and racing. In principle, the 458 is a direct descendent of the mid-engine 348, 360 Modena and F430 but is a radical departure from the older generations of cars in terms of its engine, design, aerodynamics, handling, instrumentation, ergonomics and more.

The new 458 Italia is powered by a Ferrari/Maserati-derived 4.5-litre 90˚ V8 engine making 570hp (including a 5hp boost via ram air) at a lofty 9000rpm and 398ft-lb of torque at 6000rpm– that's 127hp and 88.5ft-lb of torque per litre. The fact that 80 per cent of peak torque is available at 3250rpm means that it has a broad, usable power band. It features direct fuel injection, a flat-plane crankshaft, a 12.5:1 compression ratio along with low friction internals for better fuel economy. The engine is mated to a Getrag-sourced 7-speed DSG gearbox that is also used in the Mercedes SLS. Interestingly, there is no manual option, making this the first mainstream model not to offer Ferrari's trademark aluminium-gated shifter. The gear ratios have been matched to the engine's power and torque delivery curves to allow higher torque at lower engine speeds. The car achieves its top speed flat out in seventh gear. Weight is kept to a minimum at 3042lbs dry, with 58 per cent distributed over the rear wheels, allowing the 458 Italia to rip to 62mph (100km/h) in just 3.4s then charge all the way to 202mph (325km/h). The engine's soundtrack is typical Ferrari with an excitingly powerful, racing-inspired growl through the triple exhaust pipes.

The dashboard and steering wheel have had major input from F1 Champion Michael Schumacher, who was involved from the start of the 458 Italia project to ensure that even racing drivers felt very comfortable in this two-seater Berlinetta that is almost as happy to trundle around town as it is to scream around a racetrack. The 458 Italia benefits hugely from Ferrari's Formula 1 experience in terms of emotion, technology transfer and the relationship between the driver and the car. As a result, the steering wheel is similar to an F1 car, with Ferrari's famous mattinetto switch that offers five modes of driving, including wet, sport, race and partially or completely unrestricted modes. There are two large magnesium paddles located behind the steering wheel and the centre console features launch control, racing and auto modes at the push of a button. There are small, aero-elastic, sports winglets in the front fascia that generate downforce and as speed rises, deform to reduce the section of the radiator inlets and cut drag. The underbody is flat and the functional rear diffuser keeps the rear planted at speed.

E-Diff (third generation) and F1-Trac are now fully integrated systems with more extensive mappings and faster grip level calculations to allow some 32 per cent more acceleration out of corners, improving handling and making the Italia easier to control at the limit. The same ECU also controls the advanced ABS system, allowing braking to also be an active part of the computers' understanding of the car's situation at any given time. The massive brakes now apply a pre-fill function where the pistons move the pads into contact with the discs when the accelerator pedal is released to minimise brake delays. The 458 Italia is capable of stopping from 100km/h in just 107ft. Large 235/35ZR20 tyres on 8.5-inch wide wheels are fitted up front, while the rear features massive 295/35ZR20 rubber on 10.5-inch wide wheels. Despite all the performance-oriented technology, emissions have been reduced and fuel economy is a respectable 18mpg in the combined cycle– not bad for a 200mph car.
When we first met the owner of this Ferrari, he recounted how he came to purchase it. He saw it on a trip to England and asked his son what kind of car it was. Soon after an order was placed but the waiting list was fairly long and it would be some two to three years before the car would be ready. As fate would have it, a sheikh who had placed an order at the same dealership had a change of heart. A few phone calls later and the owner was back on a plane to England. He met the sheikh and after their business was concluded, the dealership was happy to sell the car to him well ahead of the original schedule. Naturally, he thought it would be best to experience the car first in England where the first 1500-odd miles would be enjoyed on the long open highways, en route to visiting various friends and family. This way when he returned to Trinidad he would be intimately familiar with the car's size and capabilities.

The car was then shipped as a brand new car with all taxes and duties paid. Because of the foreign licence plates, there was some online speculation that it was a foreign-used or roll-on/roll-off Ferrari, ignoring the little-known fact that the car was actually bought brand new. It was not until the car was licenced locally and a few pictures surfaced with its new registration number PCW 12 that it began to look like a brand new car to the public. Like most sensible buyers, the owner ensured that he and his son took the time to learn to drive the car. They are no strangers to high-performance machinery with a Porsche and other premium brand vehicles in the stables. A few US, UK and European track day training sessions are planned. Until then, exploration of the limit is a very careful and conservative affair. The owner is also aware of the fact that the passion for such a vehicle is shared with every enthusiast in the country, making it precious to a number of like-minded people. As such there are no plans to have it come to any harm whatsoever– insurers rejoice!

From almost any angle this car is picture perfect, which made it all the more difficult to find a unique shot that we could call our favourite. With that in mind, we discussed it with Antony Scully, lead photographer and opted to try a few locations at different times of day to see if the scenery would affect the way we felt about it. At the quarry, every movement of the car required the arsenal of products, application tools and detailing skills of Karim Khan to keep the car, and even our model's suede shoes, picture perfect. We also gained an appreciation for the 458's adjustable suspension that raises the front of the car to clear any large humps or difficult driveways. The National Academy for the Performing Arts South Campus provided a backdrop of modern architecture to match the car's high degree of technological advancement, and there is nothing that can compare to the sound of the 458 Italia barking at the top of San Fernando Hill at sunrise.

We had an extraordinary time on our shoot with this jewel of an exotic car that is now a treasured part of our local automotive landscape. Just being around it can send people into rapture. In the flesh, there is much more than the cerebral joy of seeing it on the internet as the 458 Italia really does excite a number of senses. Sight is pleasured with stunning, functionally brilliant design, the bright Ferrari red and the massive wheels and brakes; hearing with the engine's idle, roar and the rapid gearshifts. You enjoy touch as you grip the Schumacher-inspired steering wheel, flick the paddle shifters or run your hands along the bodylines that allow air to be artfully compressed into each vent that feeds various important cooling systems. The light smell of exhaust fumes and the leather and alcantara interior let you know that this is no ordinary machine. The only one left is taste and if you can appreciate and understand this car, you obviously have good taste. We certainly hope you enjoy these gorgeous pictures as much as we enjoyed taking them. Che bella macchina!

View this photo set on Flickr