Sailun RaceTrac Car Show Trinity College 2012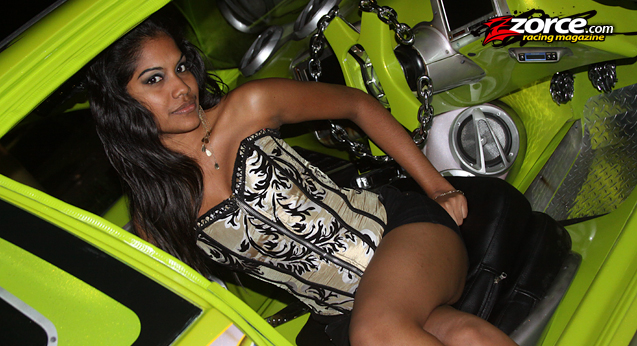 Now in its second consecutive year, the Car Craft and Chop Shop-organised Sailun Tires/RaceTrac Wheels Trinity College Car Show in Trincity enjoyed an even stronger competitor turnout. Just in time for school holidays, this show kept the cars organised in genres including stance and performance cars, restorations, customised and special paint cars and the audio competitors.
This year Valvoline Lubricants, Meguiar's Car Care Products, Seecharan's Auto, Street Concepts, Central Neon, Gibo Wheels, Bosch/Sookhai's Diesel, GPS Teft Retrieval and title sponsors Sailun Tires/RaceTrac Wheels had their displays both outside and inside the school's hall, bringing a new experience to the mainstream car show scene. The indoor area also housed a full-sized bouncy castle, inflatable slides and video game consoles. At the central hall entrance the Car Craft Civic was on show along with strongly represented car show crews like Chop Shop, Barely Legal, Big Bytes, Tint Boys and Experts Customz to name just a few. We also noticed a few rare gems like a fully restored white Ford Cortina, an SR20-powered 3rd generation RX7 and a Golf Cart on some massive 26" rims. But don't worry there were so many other great rides present that we just can't mention them all. We can however, let you check out the pictures on the hunt for your favorites
Following the recent Meguiar's Car Crazy Show a few of the top 10 finalists showed up like the Magenta Civic, the Matt Satin Silver BMW 5-series, the Audi A4s and the winner, the Range Rover Sport. This year we saw quite a few late model cars joining the custom ranks like the new Hyundai Elantra and Tucson and a stronger contingent of modified and customised Euros like the black CL63AMG V8 Turbo. On the audio side of things, competition was excellent, showcasing one of the Caribbean's loudest vehicles, the Race Trac-sponsored Predator, based on a VW Panel Van who along with the "Full Clip" Panel Van, thoroughly entertained the crowd although both vehicles played for exhibition purposes only. It seems that this annual show is growing and each year brings new improvements, we look forward to the next show at Trinity College, Trincity.

View this photo set on Flickr