Hamilton, Block & Other Stars Thrill Fans at Top Gear Festival Barbados 2014/Red Bull Global Rallycross Round 1 Double Header!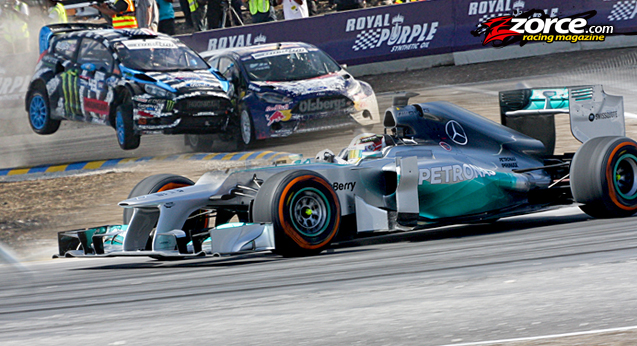 Article: Robin Bradford, Narend Sooknarine • Photos: Gerrard Wilson, Lyden Thomas, Kevin and Karen Singh, Chelsi Ali, Zorce Vader, James Harris
Top Gear Festival Barbados thrilled petrol-heads everywhere who were treated to two days of high-octane motoring action. Hosts Jeremy Clarkson, James May and Richard Hammond, together with guest presenters Eddie Jordan, Lee McKenzie and Tiff Needell, were on hand to dole out a non-stop schedule of motoring antics and visitors witnessed The Stig and key members of the Top Gear Live Stunt Driving Team take to the track in a series of stunts, races, and challenges. The action didn't stop there and patrons were awed by 2008 Formula One World Champion Lewis Hamilton demonstrating his skills in the Mercedes AMG Petronas Formula One car, and legendary drivers from Red Bull Global Rallycross, including Ken Block, Nelson Piquet Jr, and Tanner Foust, competing in the first round of their 2014 season– an historic debut in the Caribbean for GRC.
After an opening ceremony that included addresses by the Minister of Tourism and International Transport, the Hon. Richard Sealy, Mr Mark Maloney, and a blessing by Rev. Dr Von E. Watson, the Top Gear team absolutely delivered. From drift cars to a Group B revival race that featured a Lancia Type 37 and the Metro 6R4, to the piercing cry of the Ferrari Enzo, or the bellowing roar of the Ford GT40 Le Mans racecar, fans had lots to experience live at the first Top Gear Festival show in the western hemisphere.

Lewis Hamilton, at the wheel of his Mercedes AMG Petronas Formula One car, took on Ken Block in his Red Bull Global Rallycross car on the Bushy Park Circuit and rallycross course. The question on everyone's lips as the engines started up was who would come out on top in a full three-lap race? Head-to-head, which was actually faster? A rally car or an F1 car? The answer may have seemed obvious, but when the race began between two of the best drivers in the world with the rally car on a shorter rally track, it really was anyone's guess. The crowds were not disappointed. It was world-class entertainment from the start, with the two racing superstars swapping positions going around the track. It was a nail-biting run, and in the end, there was nothing between the two cars as they crossed the start/finish line in style, with a sequence of donuts to create the perfect photo finish. Scan the QR-coded link above to see the official Top Gear video.

Lewis Hamilton: "I've got a huge amount of respect for Ken Block as a driver so I jumped at the chance to go head-to-head against him in our cars at Top Gear Festival Barbados. Racing Ken is something I've wanted to do for a long time; he's such an exciting driver and is always pushing the boundaries with the cool stunts he does with his car! It was awesome racing against him and I can't wait to do it again..."
Ken Block: "I had a ton of fun racing around with Lewis during the Top Gear Festival Barbados. I never thought I'd find myself racing an F1 car with my Ford Fiesta racecar, and I'm super stoked with how it performed– especially off the line! I'm looking forward to getting out there with Lewis again..."

With FIFA World Cup excitement in the air, the folks at Top Gear decided on each day to stage a match between England and Barbados. Clarkson, Hammond and May would represent the Brits, while former F1 driver Tiff Needell, current F1 driver Lewis Hamilton, and the entity known as The Stig would drive for the Bajans. While this seemed like a recipe for decimation, the boys put up a good fight with Jeremy disembarking from his car in one instance and kicking the ball himself while trying not to get run over.

Although many fans opted to attend just one day, those who were able to attend both days also enjoyed the full weekend of Red Bull Global Rallycross racing, with preliminary rounds on Saturday and the final race on Sunday. Barbados provided an epic start to the season with Ken Block, Tanner Foust, and Scott Speed winning their qualifying rounds. In Sunday's race, Block ran wide in a corner, giving up his spot to rookie Joni Wiman. In an attempt to reclaim his place on the following turn, Ken clipped the kerb and bizarrely, launched into the air, clipping Wiman's Ford Focus then barrel-rolling into the concrete barrier. Officials and safety crew quickly extracted an unhurt Block and eventually removed his car. They then added a few extra rows of tyres to the wall. This kind of action proved that rallycross might well be one of the leading forms of motorsport in the years to come. When the race was restarted, fans saw massive jumps and tandem drifting as Scott Speed in his Andretti Motorsports VW Polo pulled away from the pack and emerged victorious.

Early on day one we spoke to the founder of Apex Circuit Design Limited, Clive Bowen. Apex was invited to witness a race meet at Bushy Park by Ralph 'Bizzy' Williams in 2005. They were officially commissioned in 2010 to establish an engineered solution and master plan to upgrade Bushy Park to a 2.0-km FIA Grade-3 circuit, with a commercially sustainable surrounding development. He commented on the new racing facility: "When you're working with a small space as we have here, we needed to make sure that we could have a safe operation– the average speed is relatively low, the corners are quite tight but we have created something that we think will create overtaking. Normally, when you build a new track, you do adjust things like kerbs… this is the very first time it's being used. There is a 1/8-mile drag strip but it's not NHRA-spec. It's intended for run-what-you-bring events, not for any kind of top-spec dragsters. It's for street cars; it's not a formal drag strip."
After the dizzying array of car-related items was finally exhausted and the Red Bull Global Rallycross competition runs completed, live entertainment incorporating Carnival-spec music trucks filled each evening of the Top Gear Festival Barbados weekend. On Saturday, the crowds were treated to Bunji Garlin, Biggie Irie, and Edwin Yearwood, and on Sunday, the evening drew to a close with Nexcyx, NJ30, and Mikey. The Red Bull Global Rallycross jump served as a makeshift stage for the Caribbean performers.


View this photo set on Flickr