UD Trucks launches new Quester and Croner!
Written by Narend Sooknarine
Published in Launches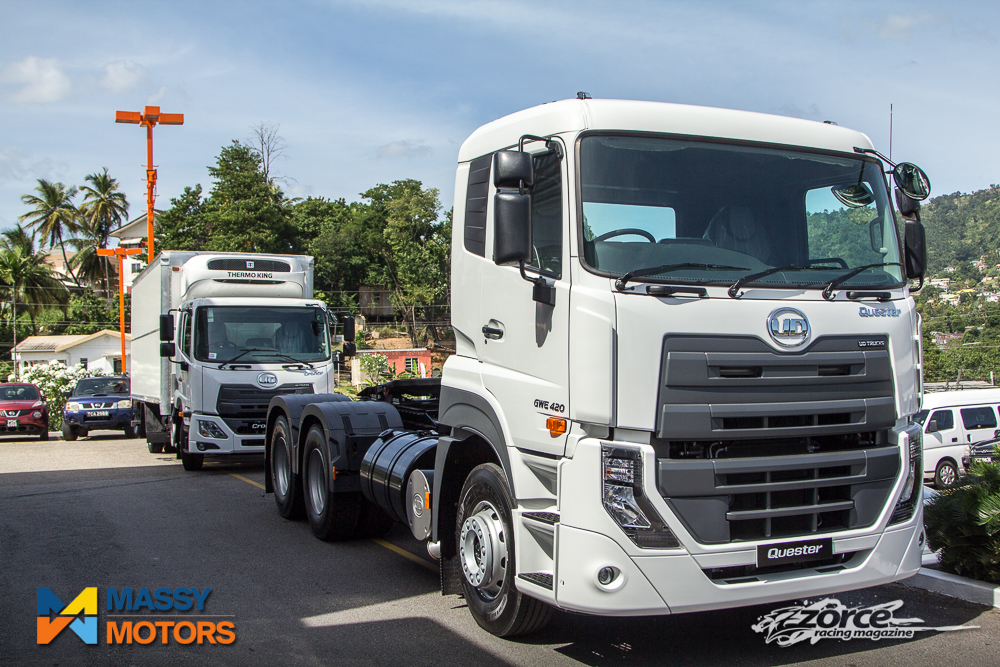 Last Friday, the Massy Motors showroom was filled with two unusual sights– the gargantuan UD Quester and the medium-duty UD Croner. Both trucks are available in a number of configurations and with customisable specifications to meet the myriad needs of today's busy commercial vehicle fleet companies. These new-model lineups represent the first major debuts in some 15 years. Great strides have been made in terms of productivity, fuel efficiency, driver comfort and efficiency, safety, uptime, and maintenance and service. Many changes were made to the trucks' base configurations specifically to suit our market conditions– such as a higher frequency of starts and stops, hilly and twisting roads and hotter climate.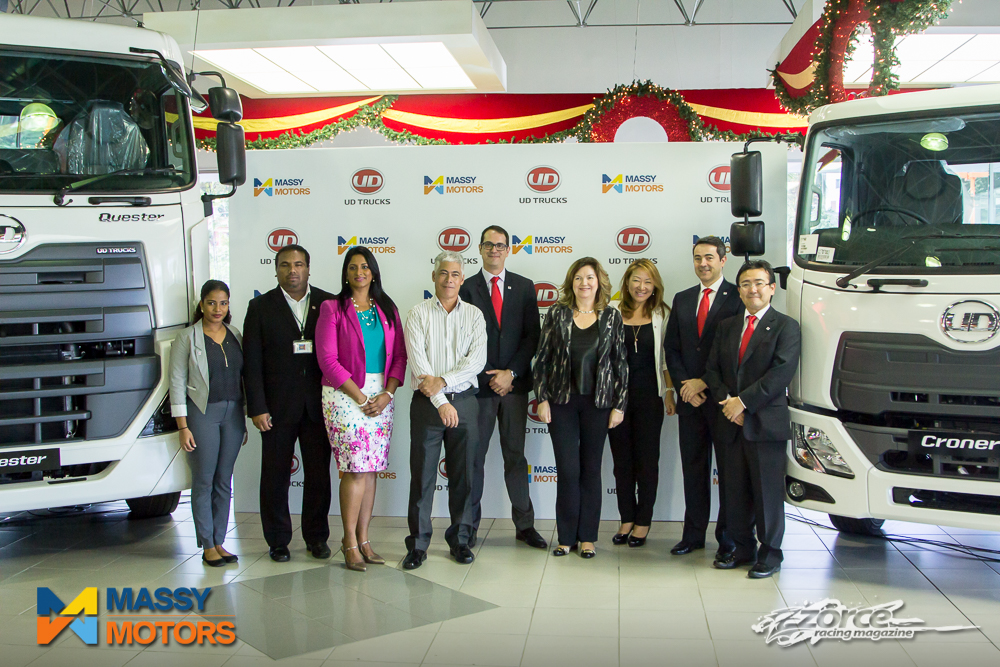 In case you didn't realise, the UD name, which stands for Ultimate Dependability, has replaced the familiar Nissan Diesel brand we grew up seeing on trucks that populated T&T's roadways, ports and job sites. During my school days, I seem to remember wondering about the mud flaps carrying the UD logo– now we all know.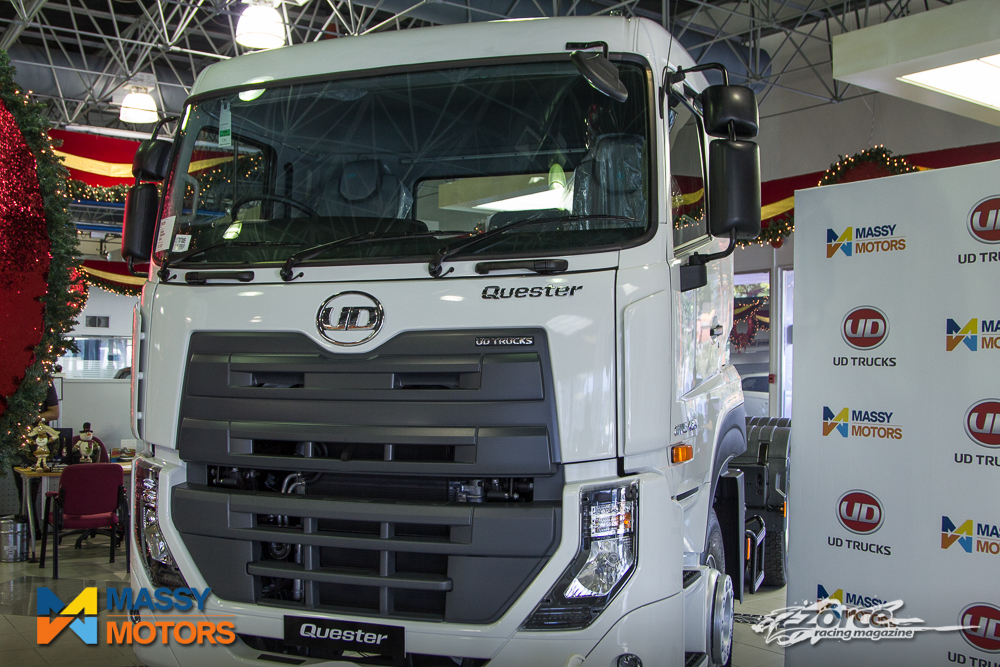 The Quester replaces the UD Quon in our market, which itself replaced the largest earlier legacy trucks under the Nissan Diesel brand. The Quester name is quite easy to understand as "one going on a quest, or mission of importance." After looking at the promotional video played at the media launch (see below), the Quester took on an almost Optimus Prime persona in my mind and if ever anything managed to endear a truck to people around the world, the Transformers series of movies did. I imagine this occurs organically between drivers and trucks at a workplace even without the help of the movies, except I can't imagine anyone calling their new Quester 'Betsy' as they probably would have with an old Bedford.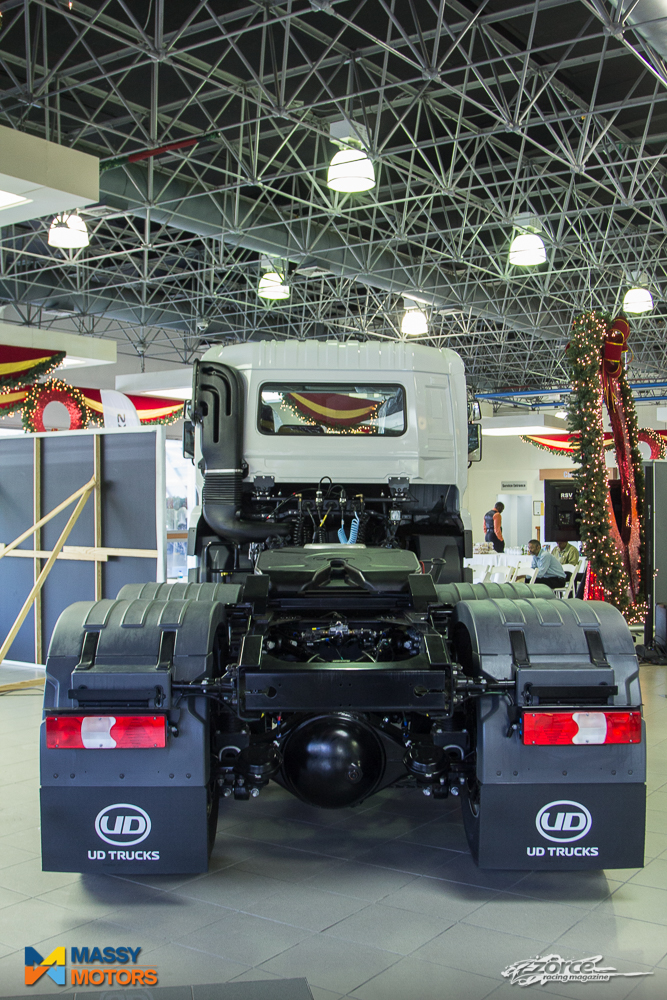 You can have your Quester in many configurations, tractor (the kind that pulls 20ft and 40ft shipping containers mounted on a trailer), dump or cement mixer.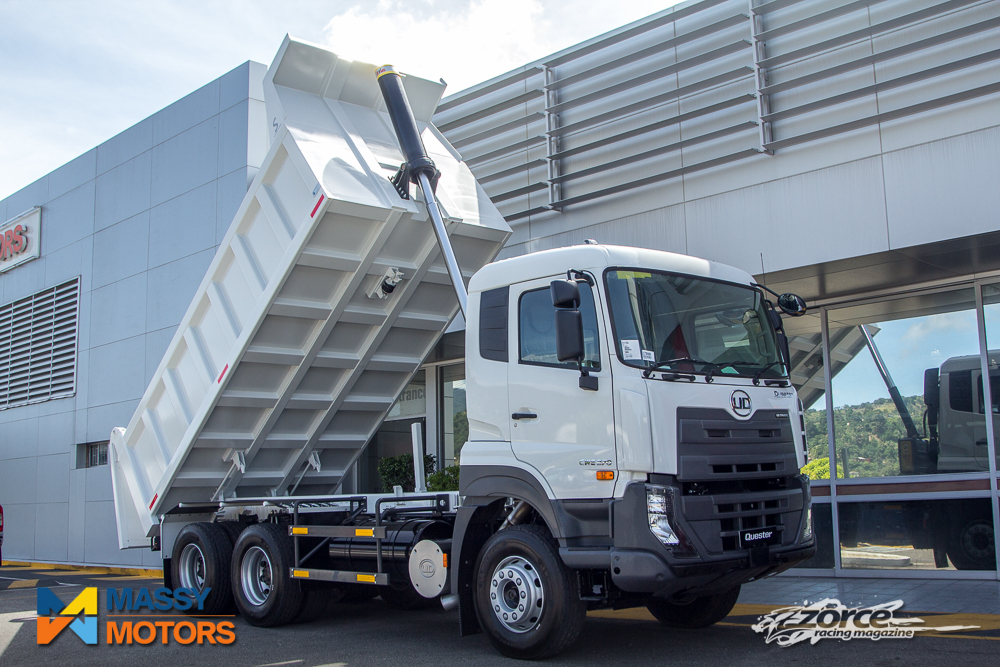 They can also be offered as a plain chassis where a flatbed tray, refrigerated storage or basic cargo hold can be installed and outfitted locally by qualified engineering firms and custom unit builders. There are also multiple configurations of the number of axles, drive wheels (with or without lifting bogey axles) and chassis lengths, based on specific customer requirements.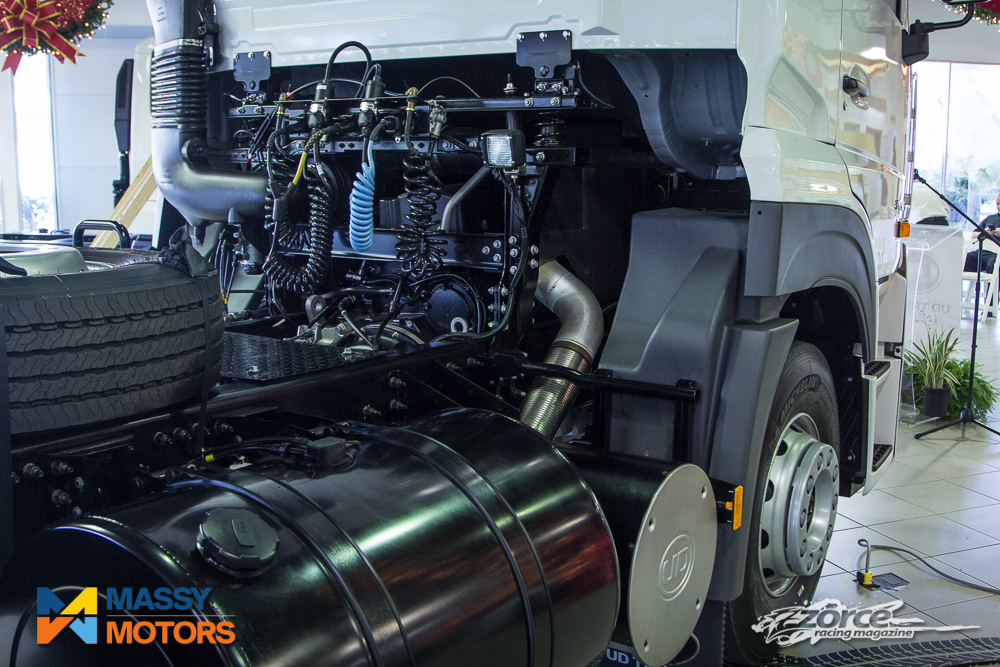 Engines can be specified in 220, 250, 280, 330, 370, 390 and 420 horsepower versions, although, as with all diesel engines, the available torque figures are far greater than you would expect, making them better suited to carrying heavier loads. On enquiry, 370hp and 420hp versions were currently available in our market. For the 11-litre engine, you have a choice of 9- or 12-speed. For the 8-litre engine you can have 6- or 9-speed manual transmission. The fuel tank size can also be changed to maximise range, efficiency and effective load. Evidently, getting a quotation for a truck is nowhere near as simple as getting one for a car or van. You really need to know what you want, although there are times when the variables can change along the way, especially if you are purchasing to meet the requirements of a tender or contract.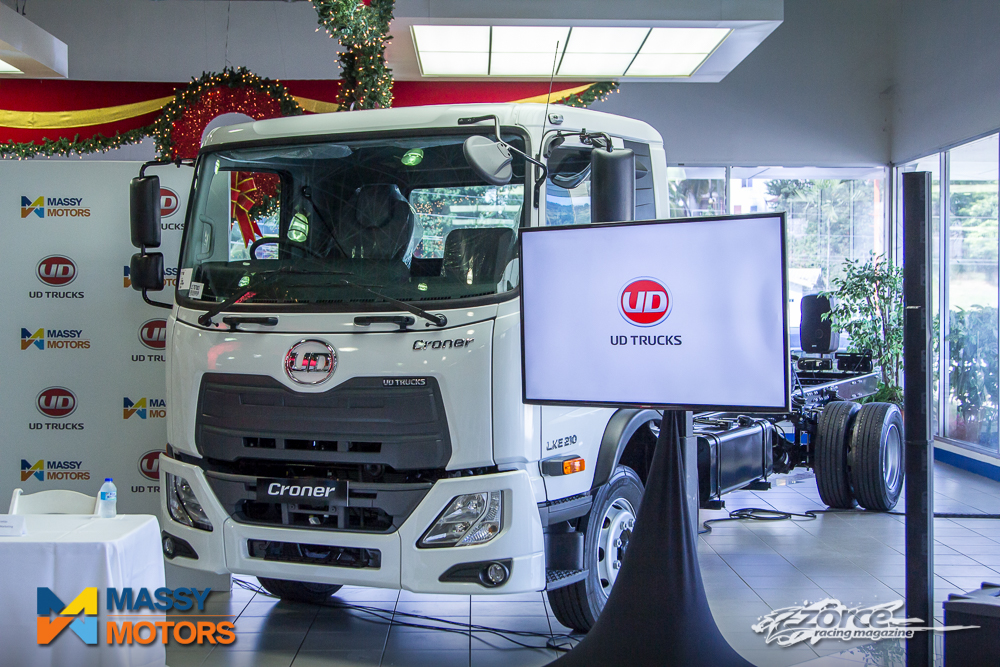 Kenzo Adachi, the founder of UD, had a vision to build "the truck the world needs today". The Croner, UD's medium-duty truck, seeks to maximise efficiency, dependability and uptime to make every moment count. In fact, the name Croner is inspired by Chronos, the mythological Greek god of time. Similarly, manufacturers of fancy watches categorise some of their timepieces as chronographs. UD's hope is that the Cronos will be able to make your business logistics run like clockwork– in the background making things happen, on time, every time. With a truck that works well, your business can develop an excellent reputation and build goodwill in today's competitive marketplaces. 
With a truck that works well, your business can develop an excellent reputation and build goodwill in today's competitive marketplaces. The Cronos is also available is many medium-duty configurations such as cargo, dump or (garbage) compactor and can be specified with 180, 210, 240, 250 and 280 horsepower engines. For the first time ever in our region, the Croner is available with a fully automatic Allison transmission, offering push-button convenience to drivers and ultimate reliability and uptime to fleet owners.
UD Trucks Trinidad & Tobago understands that its customers are also its business partners. UD is well prepared with these class-leading new models and a history of competitive pricing, reliability and durability in our market– give any seasoned truck driver their pick of the fleet and see what happens.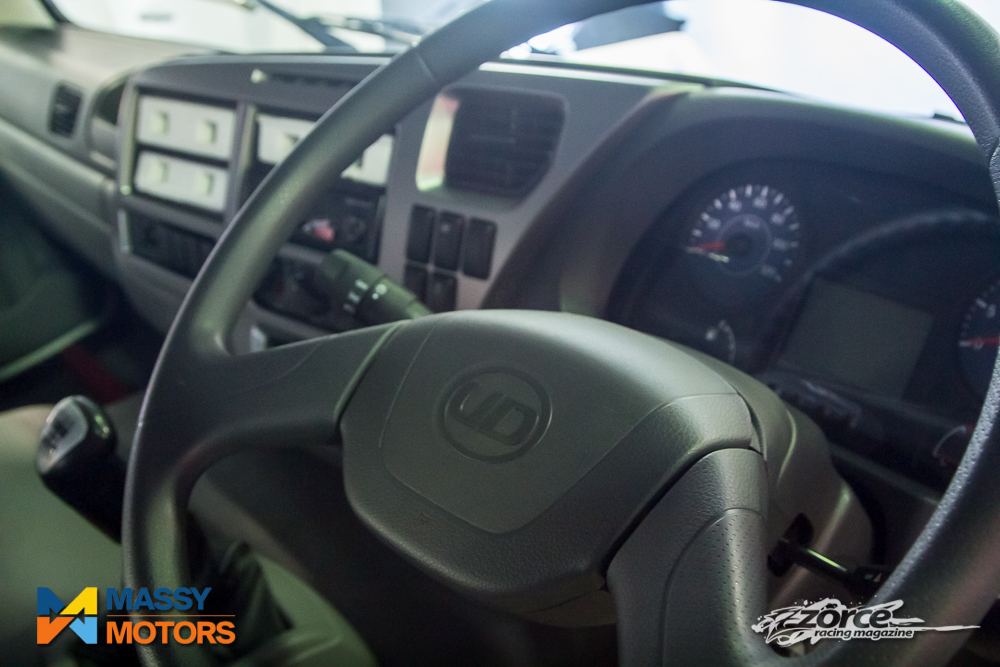 For more information call UD Trucks Trinidad & Tobago at Massy Motors or visit UD Trucks Trinidad & Tobago on facebook.