DataDot and Zorce at MovieTowne
Written by Narend Sooknarine
Published in Promotions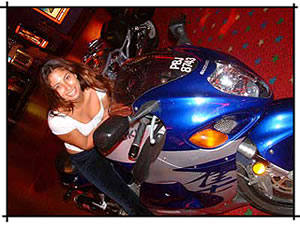 DataDot Security and Zorce Racing Magazine infiltrate previously uncovered territory... We can now say been there, done that in reference to the MovieTowne 10-Cinema Multiplex.
Armed with a DataDot protected, wet black (dark purple actually) R34 Skyline GTR, a modified Suzuki Hayabusa and a 100th Anniversary 2003 Harley Davidson V-Rod we set out to capture the attention of moviegoers and Rupee fans. Yes you read right– Rupee fans. Definitely a crowd puller, Rupee put on an scintillating performance that guaranteed us a bigger than usual crowd to interact with. Guess what... we actually found lots of people who had never seen or heard of DataDots or Zorce. Like wow... we felt the rush all over again and set out to enlighten the masses, Pinky and the Brain style.
Of course, we ran out of DataDot brochures, Zorce Haybusa Posters and our small stock of Zorce5 magazines and Autocannon T-Shirts. Aww shucks, you wanted one huh? You'll have to wait till next time. The staff of MovieTowne must be complimented for their warmth and helpful nature. According to Mr. Chin, "through the MovieTowne experience we change people from the inside out... it doesn't matter what you've seen or experienced out there... You WILL have a nice time at MovieTowne." That we did, who wouldn't with hot vehicles, beautiful women, 10 movies to choose from and Shakers Bar on the side? We even saw some fellas making 'rounds' to different movies with different clothes and ahem, different girls... but THAT is another story!
So, until our next promotion comes around, stay tuned to Zorce.com