Bikini Car Wash 2005
Written by Narend Sooknarine
Published in Promotions
Page 1 of 9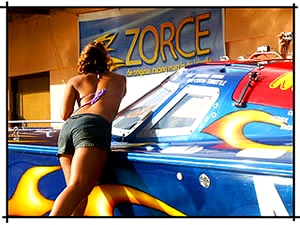 Bikini Car Wash @ Club7
West Point Hotel, Chaguaramas. Co-Sponsored by Zorce & Trinituner.com
Photography by Duane Boodasingh of Trinituner and Narend Sooknarine
AH YES, Scantily clad girls covered in soap suds massaging your car while you sip on a few brewskis! The exhiliration of it all...The owners of Club7 Chaguaramas decided to take full advantage of the busy motorsport weekend in the West as they threw one hell of a carwash!
It hadn't been done for a long time in Trinidad & Tobago... we supect it was because everyone had grown accustomed to the rainy season's constant downpours that usually render car washing pointless. It certainly could not have been due to lack of willing and able talent, after all we live in Trinidad & Tobago, a place that so many beautiful people call home. And yes they do like to keep their cars clean.
We figured given that on Sunday 20th March there was going to be the CARS RallyDex event (for which we have separate coverage), it was likely that cars were going ot get a bit dirty... we were spot on (no pun intended). That and the fact that the good fellows @ Club 7 were willing to sponsor a case of beers for the winner of RallyDex made the Bikini Car Wash a pretty good idea...What's that? You couldn't make it? That's ok, we know you're all closet Voyeurs anyway!
The girls worked really hard and thanks to a great atmosphere and Simon on the mike with his crazy antics, they were kept in good spirits for most of the evening. A especially big thank you goes out to all 10 lovely ladies for their valiant carwash efforts and skill that put most men to shame. They worked so hard that eventually we began to feel guilty that we weren't helping and instead just standing around taking photos. But then again that's why they are all at home relaxing while we're here at the office at strange hours putting this stuff online.
Sigh... it's a tough job, but somebody's gotta do it.