The Red Bull Formula One Urban Run
Written by Narend Sooknarine
Published in Promotions
Article Index
Page 1 of 2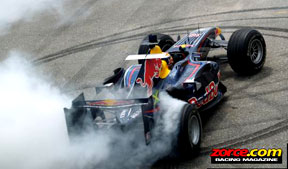 Saturday May 3rd, 2008:
Red Bull unleashed its 2006 F1 car driven by Sebastien Beumi for a private demonstration run for members and friends of the Jamaica Karting Club at the Palisados Karting Track in Jamaica.
Sunday May 4th, 2008, 10am-4pm @ Trafalgar Road, New Kingston, Jamaica:
The city came alive with the piercing shriek of exhilaration that is unique to Formula 1. Red Bull's Renault-powered 2006 F1 car blasted through the gears and laid down enough rubber to send the crowd into an F1-frenzy. This was a life-changing experience to most Jamaicans as it was indeed the first time F1 had come to the island paradise.