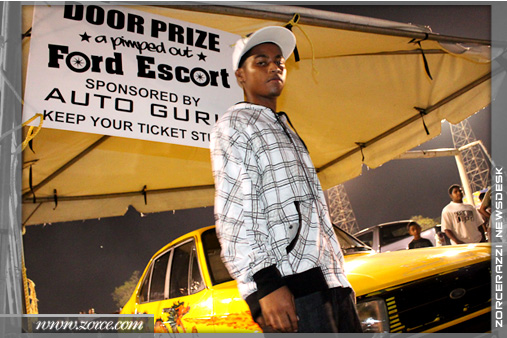 It was just 3years ago that 3 friends Nolan Benjamin, Francis Paul & Clifford Tardieu, started hanging out  at Movie Town POS. Due to the constant attention their Classic Cars got they just kept on going back. The 3 grew into 5 then 14 then 30, and then they became a really good group of friends from different backgrounds with different views. The one thing that brought them together is a mutual respect for all things old school and the way things used to be.
The objective was simple– to engender the love & respect for everything old school, especially cars, and to show the younger generations that these cars were responsible for the ones they admire and idolize today. TTV8CC's motto is "WE and not ALL YUH" And that without these cars and most importantly, their owners who bought them, the car as we know it today would never exist. 
In Oct 09 Trinidad & Tobago V8 Car Club or TTV8CC held their 1st mini-show. They cleaned and cooked 700 pieces of chicken,made several bowls of salad, bought several cases of T&T's finest brews & held their first ever BBQ event. They made enough for T-shirts, registration fee and had a little left over to hold our next show. It was the beginning of something good and positive despite all the chaos & trouble of the year 2009. With thousands of flyers, a few phone calls and the generosity and trust of the Bhagwansingh family, the 1st Annual TTV8CC Grand Auto Show was born with no official sponsors. They made very little but had fun anyway! It was felt that people wanted more and they wanted it down south. So to Skinner Park they went for the 2nd Annual Event– this time with a few sponsors and showed what true Old School vibes was all about. With the help of Auto Guru, Sikkens, Dean Wheels and AC Delco, TTV8CC even gave away a classic car, a "pimped-out" Ford Escort as a door prize! We hear that next year it'll be a modified American Muscle Car! 
And so the hope is that people see the positives in what TTV8CC has been able to do in 4 short months since their first show. It was not and never will be a "money thing" but rather to encourage those with classics to bring them out of their garages, tombs and hiding places and SHARE them with the present generation.