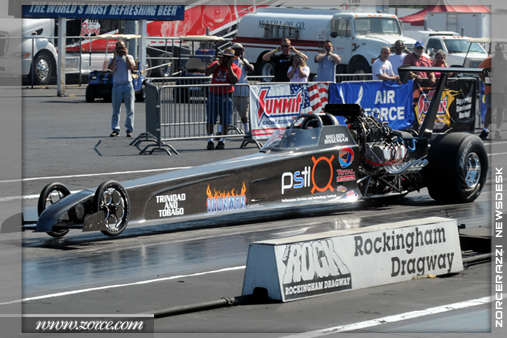 Sheldon Bissessar has done it again!
The Top Dragster Elite 8 competition was again taken by storm despite the hot weather which in fact was responsible for everyone's times dropping off.
The Trinidad Rocket managed to secure the number two position after three rounds of qualifying just hundreths of a second off Eddie Carrecia's pacesetting run of 5.94 vs. Bissessar's 5.96. They were the only two Top Dragsters to qualify in the five-second range. Carrecia's luck ran out however as he continued into the first elimination round with a 6.20 pass against a dial in time 5.85, breaking a valve in the process. Sheldon however decimated the competition including Carrecia with an astounding 5.88 pass against a dial of 5.82! The run would stand as the fastest Top Dragster time of the meet as track temperatures soared to 135 degrees while ambient temps approached the 100 degree mark.
Day two would see Sheldon entering the Elite 8 competition in the number one spot taking the win in round one against James Leo who did not make it to the start line. Sheldon still ran a This email address is being protected from spambots. You need JavaScript enabled to view it. and headed into round two against Burwell Kendrick who put up a reasonable fight given the conditions with a pass of This email address is being protected from spambots. You need JavaScript enabled to view it. vs Bissessar's This email address is being protected from spambots. You need JavaScript enabled to view it. . The Top Dragster Elite 8 final Round saw Bissessar line up against Rob McKinley. Mc Kinley got the jump with slightly better reaction time but it was all over by 60ft mark as Bissessar rocketed away to take the win at Rockingham with a This email address is being protected from spambots. You need JavaScript enabled to view it. vs. Mc Kinley's This email address is being protected from spambots. You need JavaScript enabled to view it. . The announcer remarked "...that is one stout Top Dragster!". This win makes it three consecutive wins for Sheldon as he took the Elite 8 competition in Palm Beach, Baton Rouge and now at Rockingham.
So why not run in the Top Dragster dial-up competition?
"Because we don't get to run all-out". says Bissessar.

ROCKINGHAM, N.C. - SUMMIT FastNews -
Final order after one round of qualifying in Elite 8 Top Dragster at the 2010 Nitro Jam Series, IHRA Spring Nitro Jam (May 1st - May 2nd, 2010):

 
  Psn   Driver                Vehicle                       ET    Speed
 
    1. Sheldon Bissessar    Sipple                          5.960  225.75
    2. Rob McKinley         Massey                          6.165  214.55
    3. Burwell Kendrick     Horton                          6.311  217.25
    4. Jody Stroud          Spitzer                         6.424  214.35
    5. James Leo            Page                            6.575  202.52
    6. Scott Duggins        RaceTech                        6.776  186.77
    7. Travis Blalock       RaceTech                        6.861  198.88
    8. Vince Musolino       Miller                          6.863  188.12
 
Written by Editor in Chief | Narend Sooknarine
Category: Auto News