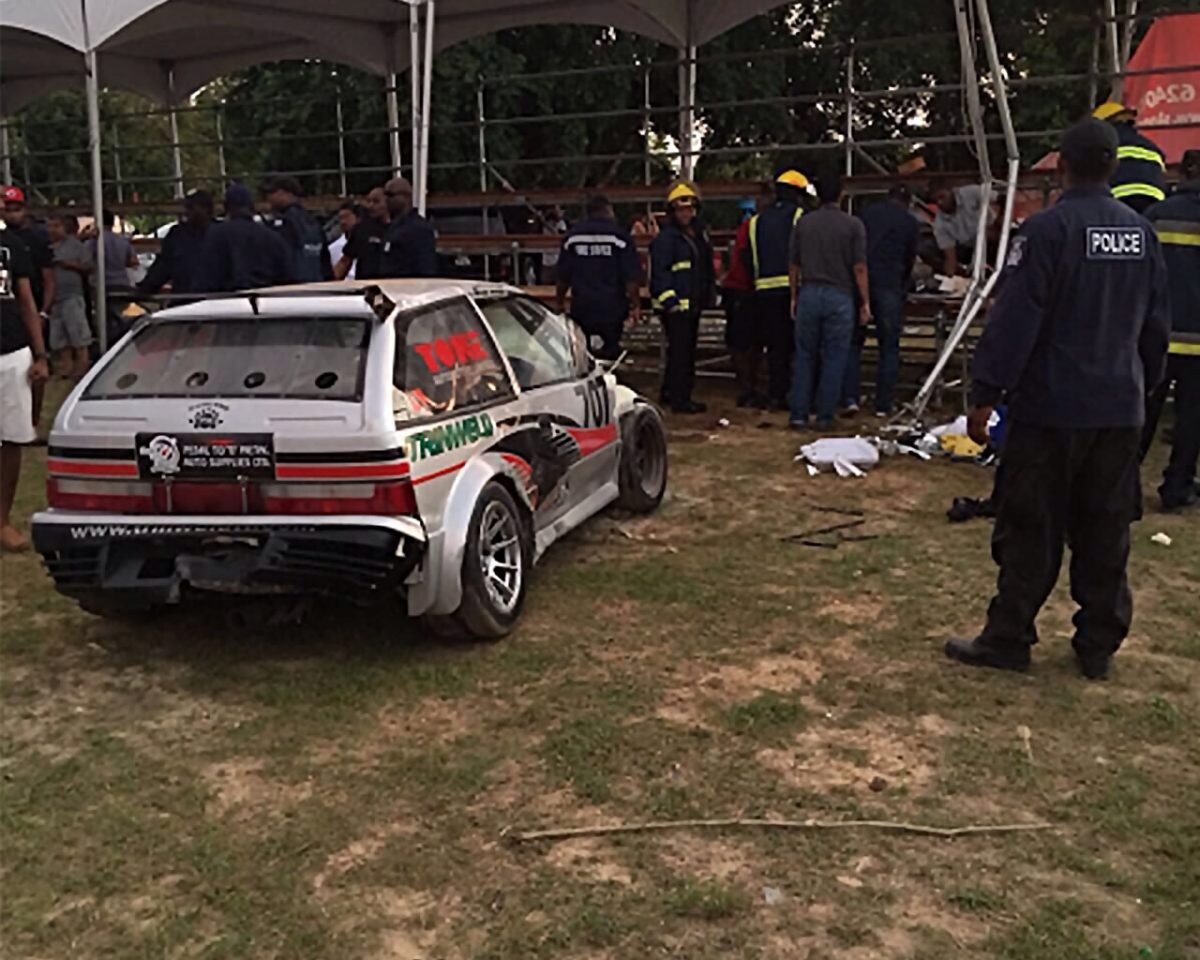 MEDIA RELEASE from CMRC Event Management Team 2016 and the Trinidad & Tobago Automobile Sports Association (TTASA).
An accident took place on Sunday 24th July, 2016, under racing conditions on the last corner of the last lap of the final race of the CMRC 2016 event. A racecar became airborne and collided with the stands and spectators at the hairpin turn. Four persons, three females and one male were injured and hospitalised. An incident of this kind is highly unusual and has not been seen at Wallerfield before and all aspects of the crash are still currently under investigation.
Members of the CMRC event team and TTASA club officials remained at the hospital throughout Sunday night to ensure that the injured persons received proper treatment and care. A report from H.E.R.O.E.S. emergency response services has been received and indicates that all necessary spinal and other precautions were taken by emergency response personal for transport to the Arima Health Facility in two ambulance units. All patients were alert and conscious by this time. The injured persons were Kavesh Sookhan, Jynelle Maharaj, Amrika Armstrong and Tricia Persad. So far, Jynelle Maharaj has been discharged from Mt. Hope Hospital. The other patients remain warded in stable condition with serious injuries.
TTASA's primary concern is for the people involved, including spectators and drivers. Local racing driver involved in the incident, David Lyons, was taken to Gulf View Medical and was heavily sedated and is traumatized by the incident.
The CMRC event team and TTASA wish to thank all first responders, ambulance, fire and police for their immediate response on site along with the local team of FIA-trained marshals from the Ford Club of T&T and patrons who ably assisted and complied with all instructions from the authorities. In the meantime, our officials will be closely monitoring the medical condition of those injured and affected.