AVENTURA MEXICANA: NEW PORSCHE 911
For most Trinbagonians who are young and young at heart, the Carnival season is a must in terms of participation. As per the last decade or so, I would normally be raring to go with my fellow photographers who enjoy seeing all the masquerader bands and Kings and Queens over Carnival Monday and Tuesday. Customarily, we would be up in the wee hours of the morning making sure our equipment was in order. I prepped the same way this Carnival Tuesday, except this time I was up at 3.00 a.m. because I was on my way to Mexico for a bucket-list test drive– the new Porsche 911.
CHAPTER 1:
Learning about the new
Porsche 911 in Mexico City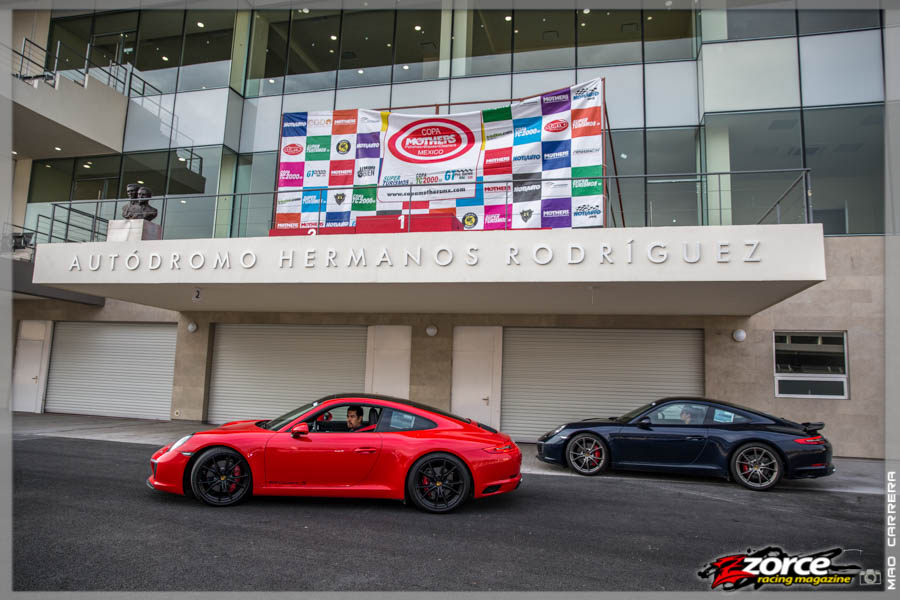 We would be driving the 911 Carrera and Carrera S on this occasion, a good place to start since the Turbo, Turbo S and other special models like the GT2 and GT3 are a considerably faster. Porsche's PASM active suspension control system is now standard on all models (making them 10mm lower) and we were going to unleash them on the Autódromo Hermanos Rodríguez, which is the same facility that now hosts the F1 Mexican Grand Prix. With F1 top speeds easily surpassing 200mph, it is touted as the fastest circuit after Monza. Needless to say, I was hugely excited. That was the dealmaker for me, since this was the perfect environment in which to experience the 911's considerable capabilities in relative safety. The Porsche 911 has a long history of motorsport successes in various genres, mixed with some notoriety for being difficult to drive quickly but keenly rewarding when you get everything right. Would this new version be challenging? There was only one way to find out.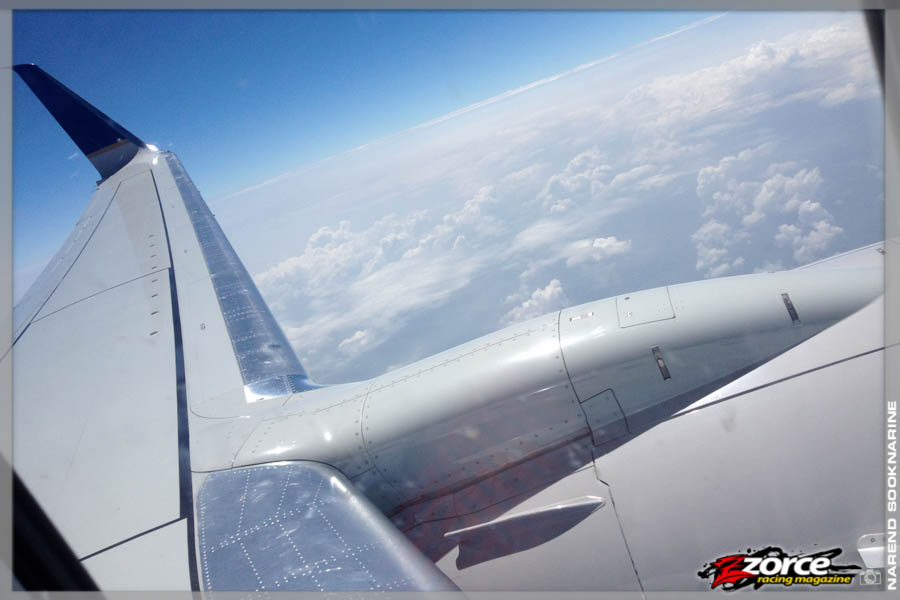 After a comfortable flight via Copa Airlines through Panama, we freshened up, got some lunch, and then had our first media session to learn about the updates on this seventh-generation Porsche 911– known internally as the 991 II. The biggest news for this iteration is the new turbocharged engines. In both the Carrera and Carrera S models, they have been reduced to a 3.0-litre displacement and given twin variable geometry turbochargers. While both versions feature a 45mm turbine, the compressor on the Carrera S is slightly larger at 51mm versus the Carrera's 49mm sizing with a maximum boost pressure setting of 16psi and 13psi, respectively, along with differences in fuel mapping and delivery. The intercoolers also have their own exhaust vents at the rear of the car that aid aerodynamics, and of course, cooling. Just in case you were wondering (as I was), the 911 Turbo and Turbo S will continue on with the same names despite the fact that the 911 GT3 and GT3 RS are now the only non-turbo 991s left.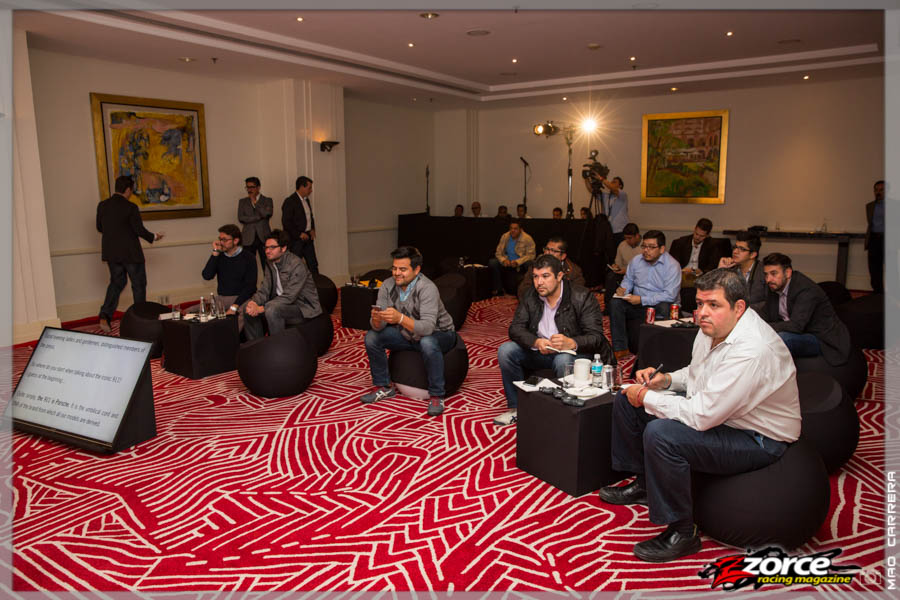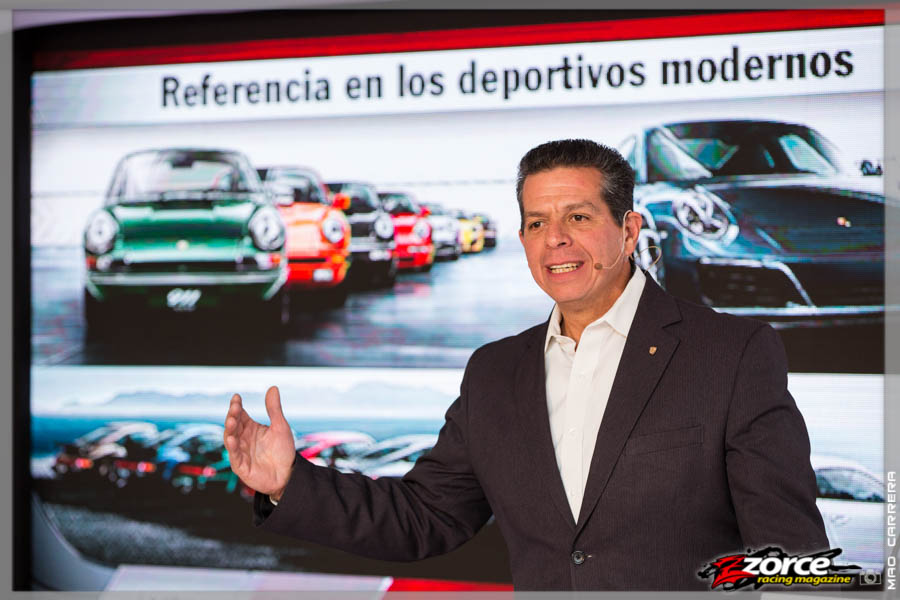 Peak torque in the Carrera S version is a healthy 369ft-lb (500Nm) generously spread from just 1750 all the way up to 5000rpm. The Carrera isn't far behind, peaking at 450Nm or 332ft-lb in similar fashion. The horsepower specifications don't disappoint either with the S version coming in at [email protected], while the Carrera delivers a very respectable 370hp. Engine redlines are set at 7500rpm on both cars. In either version, that's not far from the specifications of the 911 Turbos of recent vintage. Zero-100km/h (62mph) times are conservatively estimated at 3.9s and 4.2s, respectively, while giving you an average of 30mpg and 32mpg apiece. The last 1.5-litre five-FWD Ford Laser econobox I drove didn't have 370-420 horses to play with while getting that kind of mileage. This is some seriously evolved engineering.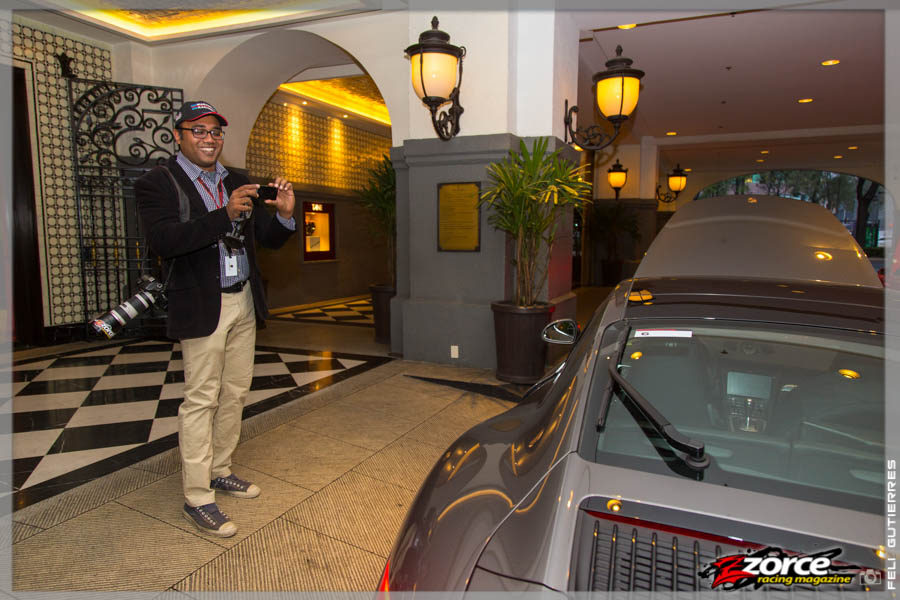 The next day, I was up at 6.00 a.m. and had found some F1 Mexico track videos on YouTube, which I spent 30 minutes or so memorising before breakfast. Unfortunately, I ran out of time for a proper meal, so I just gobbled down a platter of fruit and took my coffee to go. A 7.30 a.m. start was planned in anticipation of the famous Mexico City traffic. There was an array of 911s to choose from (even one with roof racks), and my fellow journalist test driver from Guadeloupe, Eric Gruszka and I settled on a bright red Porsche 911 Carrera. We figured it would be a good idea to get acquainted with the 370hp version with the standard brakes before jumping into the more frenetic Carrera S. One of the cars in the lineup even sported roof rails, giving it a purposeful practical look to complement the inherent sportiness. All of the 911s in our group featured Porsche's PDK dual-clutch gearbox. I took the first stint.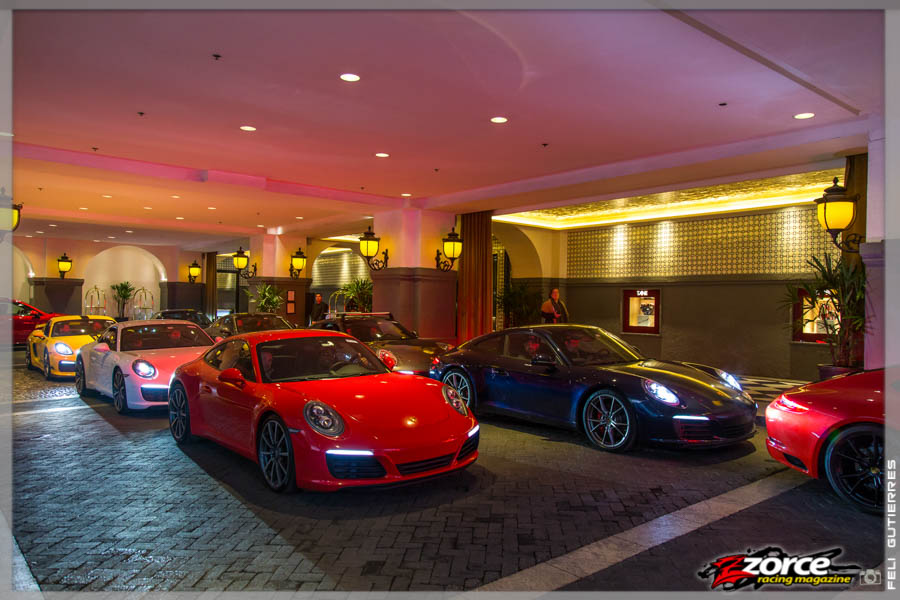 As we drove out of the Four Seasons Hotel México, it was easy to appreciate that the 911 is one of world's most iconic cars– with each new update and generation there is no mistaking it for anything else. Updates have been made, however. Larger active vents on the front present a more aggressive look while retaining the function of opening when cooling is required and closing to improve aerodynamics. The headlights and taillights now feature the Porsche's quad lamp signature treatment on all versions. The rear engine cover has been updated with vertical fins for the main engine vent and a long LED auxiliary brake light that spans its width. When the built-in spoiler lifts (either manually via switch, or automatically at speed or for cooling), it also has a built-in supplemental LED brake lamp. The Porsche Carrera model has standard dual exhaust tips, while the S version gets quad pipes. Optional on both models is Porsche's new Sport Exhaust system, with centrally-mounted dual exhaust pipes for improved sound and increased performance– controlled via a sport exhaust button that allows a heavier idle tone and louder, raspier wail at full throttle.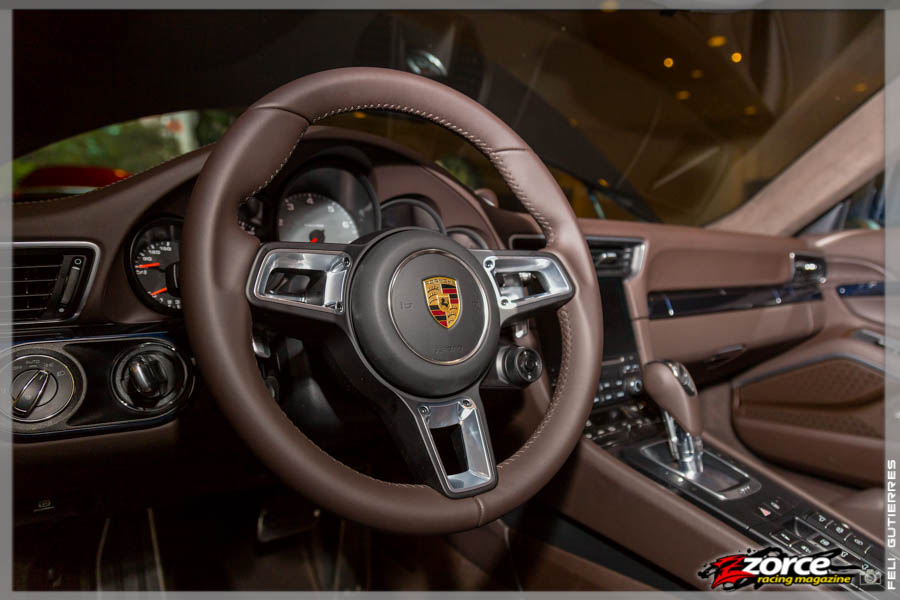 The interior is typical Porsche: lots of high-quality materials, including fine leathers, high-quality plastics, soft-touch surfaces, aluminium, veneer and Alcantara. Everything feels quite solid and built to last. As with other models, dual cupholders slide out from a hidden compartment, while the glove box features USB connectivity and auxiliary sound input. The steering wheel feels meaty and communicative, at least in terms of feedback. Most would argue that steering feel is also much better than previous electric power steering-equipped cars. I was able to detect the road's various imperfections as small vibrations on the wheel itself. A smaller diameter GT sport steering wheel (360mm versus 375mm) is also optional. All the cars in our test group also featured Porsche's new mode switch (comes with Sport Chrono Package), a steering-mounted rotary dial that starts out in normal mode but allows you to select the Sport, Sport Plus and Individual modes à la Porsche 918 Spyder.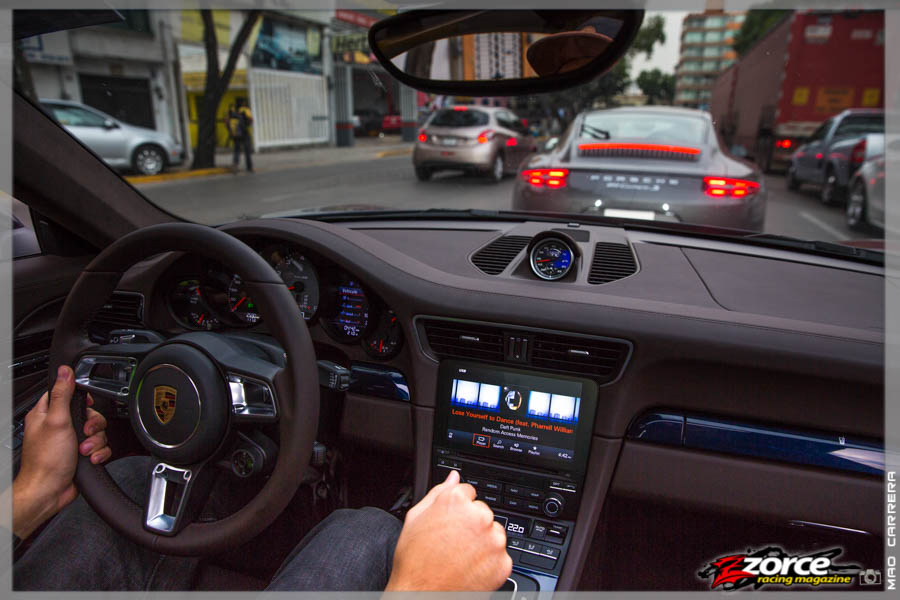 Driving through Mexico City's narrow, crowded lanes and streets was a challenge given the 911's considerable width. Some time after, I became acclimatised to the vehicle's dimensions and initial control responses. Gingerly, we made our way through the city, especially anxious when buses and trucks with protruding steps and rails were nearby. Luckily for us, Porsche arranged a police motorcycle escort, which allowed the dozen or so vehicles in our convoy to remain together. Soon we were out on the highways and roads that led away from the city to the racetrack where driving was easier, except for certain sections that were stripped for repaving and/or under repair. It almost felt planned as this provided us with a real-world appreciation of just how compliant the 911's newly updated shock absorbers were.
View this photo set on Flickr

CONTINUE TO CHAPTER 2  >>
CHAPTER 2:
Getting acquainted with the
Hermanos Rodriguez F1 Track
in the Porsche 911 Carrera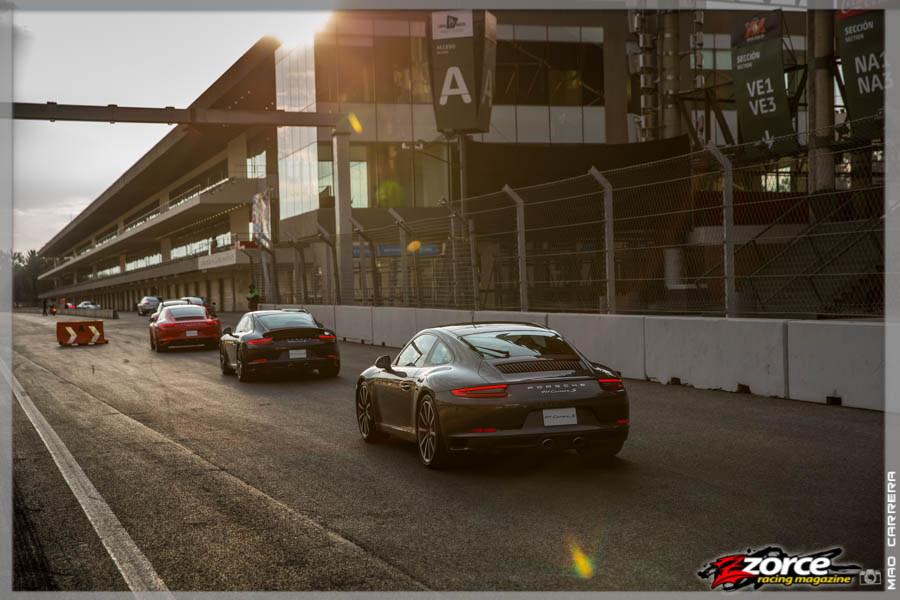 Finally, we arrived at Autódromo Hermanos Rodríguez. By Caribbean standards, the facility is huge with 4.304km (2.674mi) of tarmac. The circuit got its name shortly after it opened when Ricardo Rodríguez died in practice for the non-Championship 1962 Mexican Grand Prix. Ricardo's brother Pedro also lost his life behind the wheel nine years later. The circuit remained part of the F1 calendar through 1970, but spectator overcrowding caused unsafe conditions. When the track reopened in 1986, the circuit boasted a new pit complex, as well as improved safety all round. In 2001, a complete redesign and upgrade of the circuit saw a record crowd of 402,413 people attend a round of the CART Championship. Last year, F1 made a welcome return and "Mercedes' Nico Rosberg won the Formula One Gran Premio de México 2015 after a superbly measured drive saw him defeat teammate Lewis Hamilton by 1.9s. Valtteri Bottas took third for Williams," according to www.formula1.com.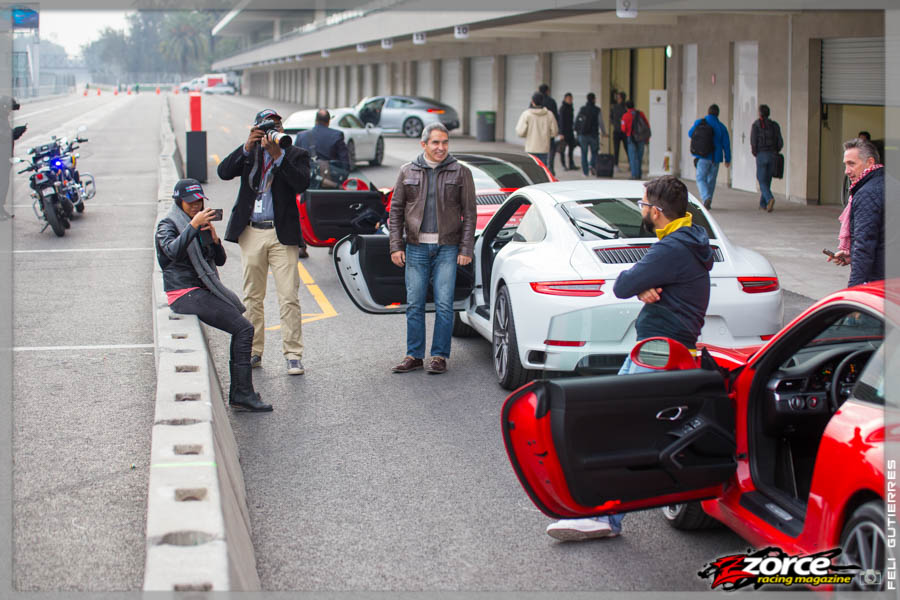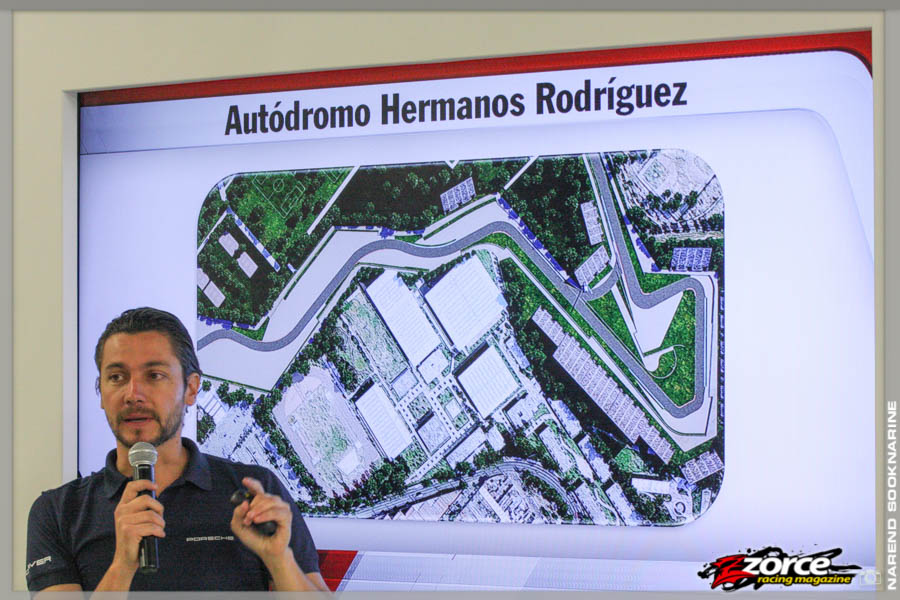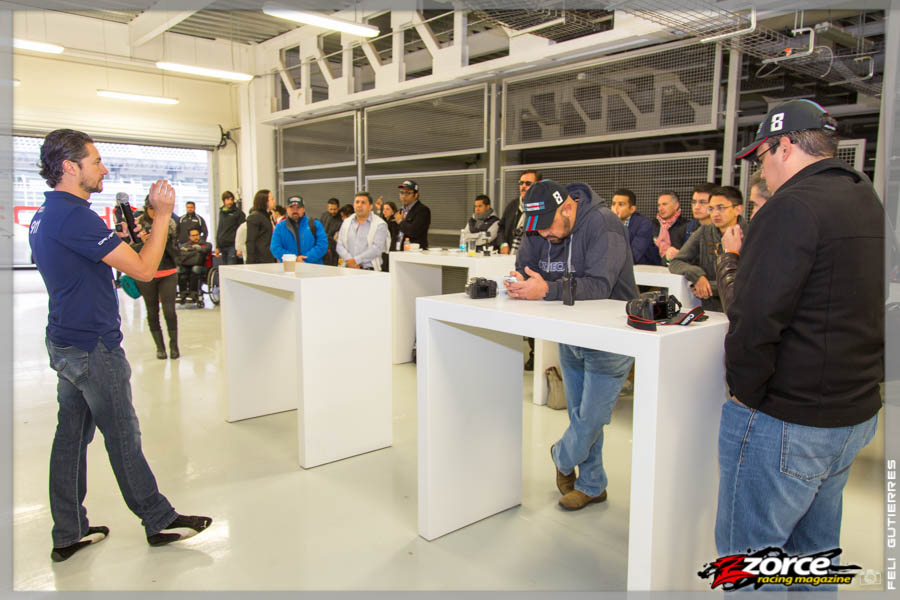 As with most turbocharged cars, the new 911s were mostly unaffected by Mexico City's altitude (2,240m or 7,350ft above sea level) but the beautiful, yellow Cayman GT4 that was on-site was down on power because of this. After the necessary track registration, we were all ready for our orientation session. We were given some effective, easily memorised principles for driving and studied overhead shots of the most challenging sections of the track. We would be practising on these three sections first, then be allowed to do full laps at pace. We were told not to brake too late or else, "We would have one less Porsche 911…" and were encouraged to try the different driving modes. It was also specified that we leave the traction control systems engaged. The cars were already lined up in groups of three and we jumped into our trusty red Carrera and set off to the back of our pack.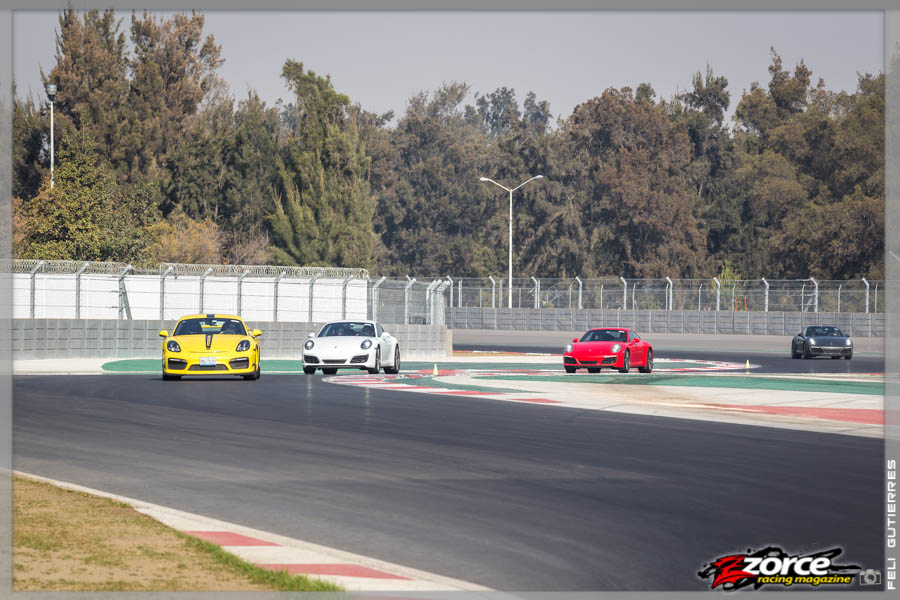 Our first sector would be the high-speed section of corners, roughly from turns seven to eleven. We drove through them to get acquainted with the lines then returned to the start. By the second round, everyone was familiar and we were ready to go at pace. Eric drove the first four laps then we switched, and I was allowed to enjoy four laps as well. The 911 loves good racing lines and proper weight transfer. In our training session, the instructor demonstrated the principle well with a table– once you press down on it, it is harder to move it laterally. My takeaway from this section was to be patient in the early part of a series of corners and to be mindful of loading the tyres.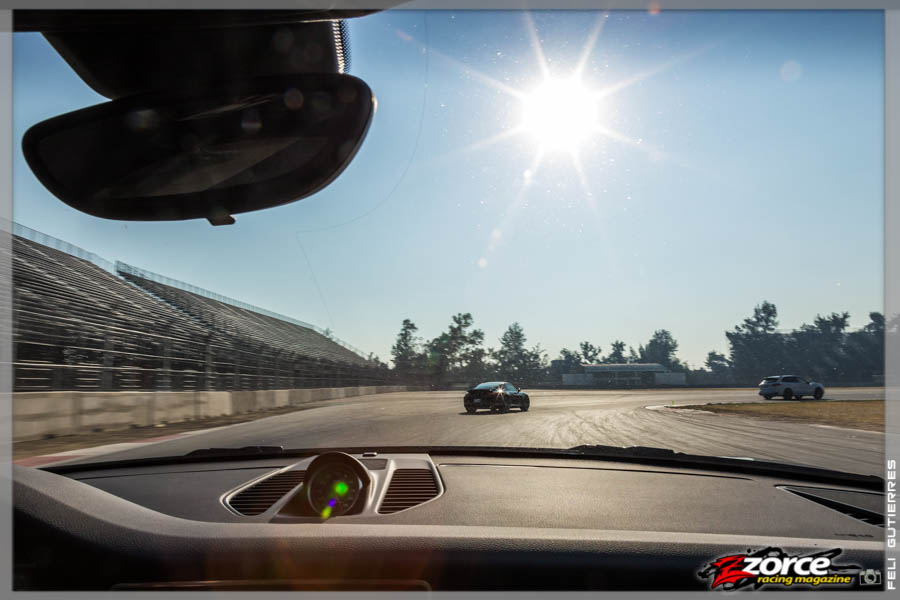 Our next sector was past the pits, comprising of turns one to three. We repeated the procedure of two orientation runs, then four gradually faster laps for each driver. Here we drove down a portion of the main straight then braked at the cone for turn one, a 90-degree right turn followed by a similar left, then immediately after, another similar right. In this section I noted that the 911 was capable of turning during braking– a trait that rear-engine cars are well known for– and put it in my mental plan for the full lap.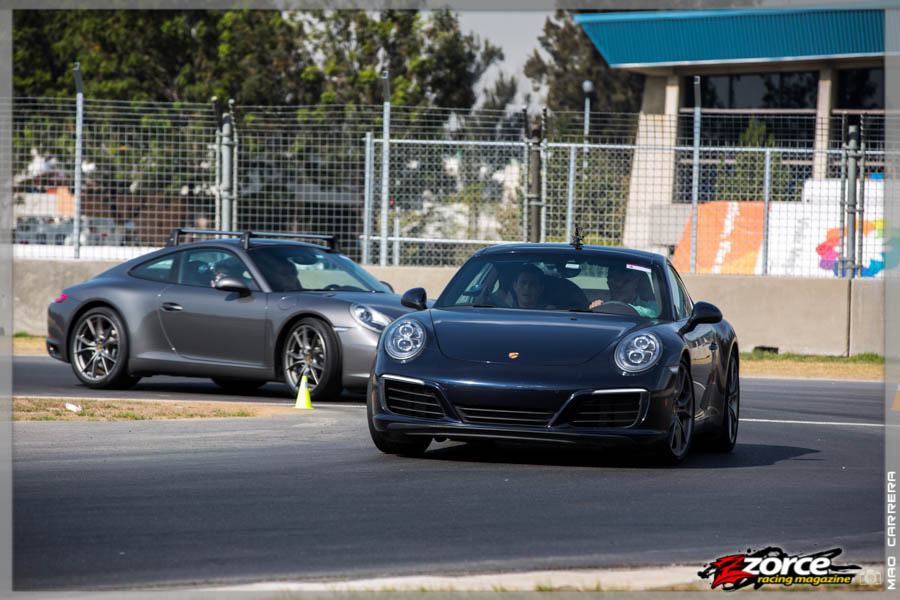 For our final round of practice, we headed to turns four through six, which were all right-handers. The tarmac link between turns six and seven allowed us our own little loop. Eric was driving again for the start this segment. By the second fast lap, he complained of an upset stomach as the G-forces in this section were more pronounced with the sharper turns. We were also in Sport Plus mode, which offered up rifle-bolt shifts that were harsher but faster. As it turned out, despite minor discomfort myself, my small breakfast and coffee on the run was a blessing in disguise! Eric remarked that he should have known better, especially since refreshments were also provided on the track, and opted to exit while I did my laps.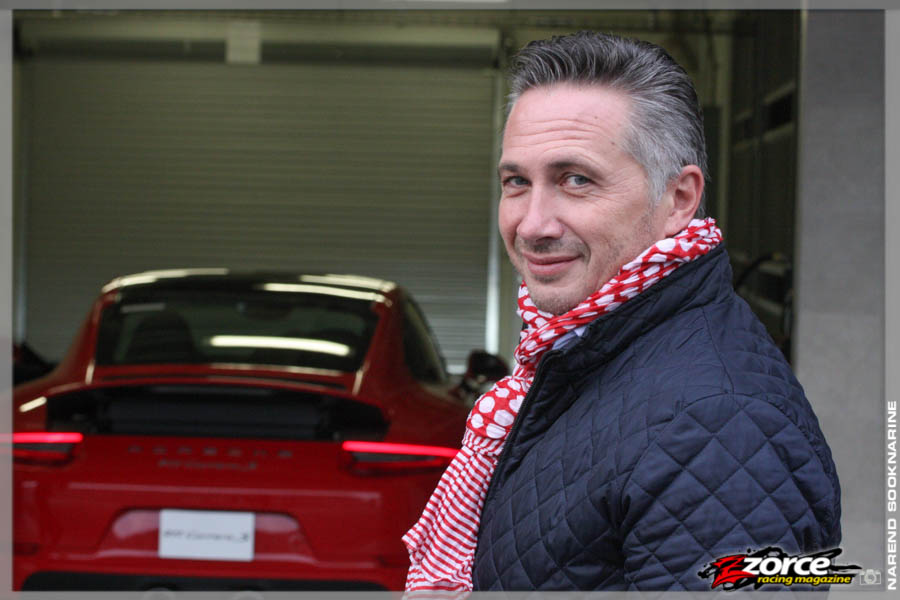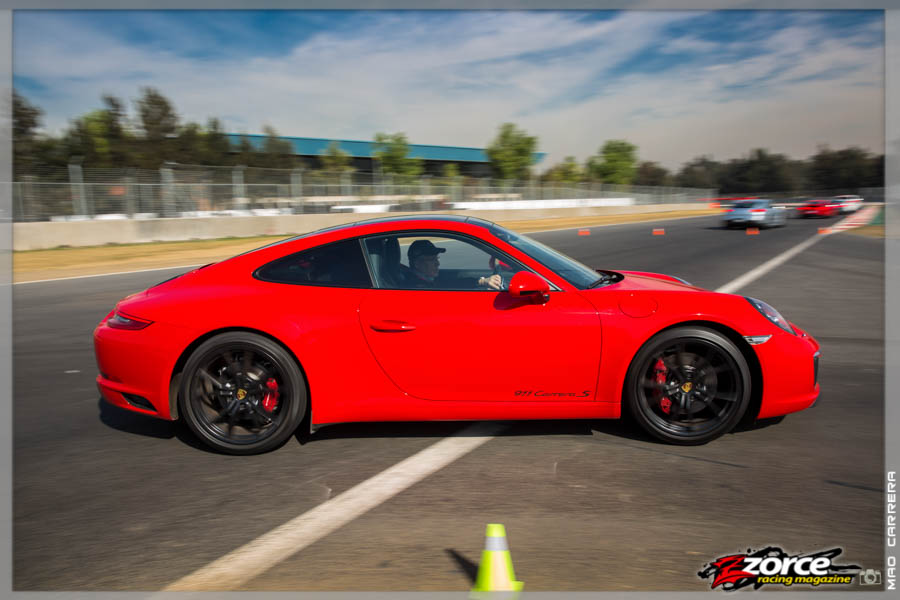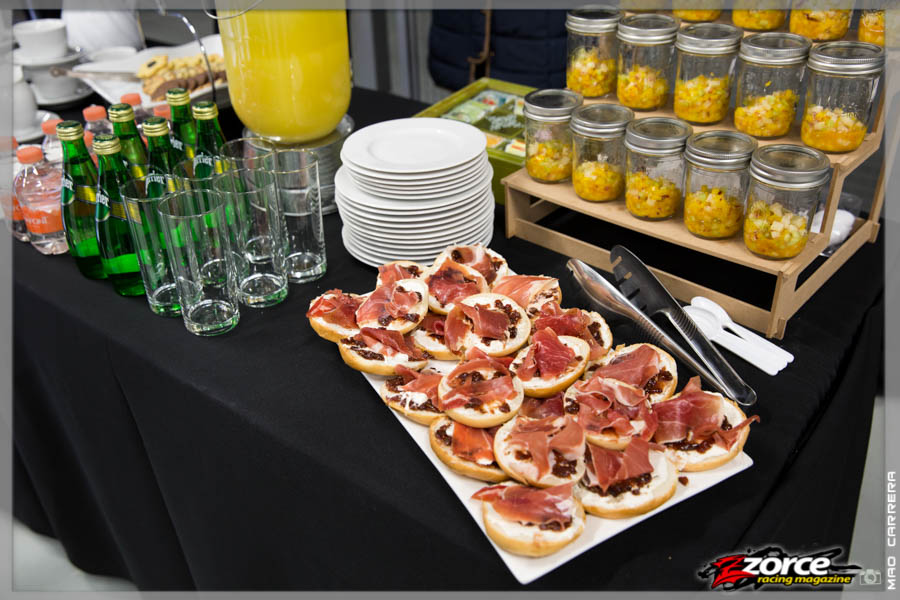 With the car now lighter, I was able to extract more momentum from the little red Carrera and was catching the cars ahead. On a few occasions in this sector, I experienced moderate oversteer that actually helped the car make the corner. In Sport Plus mode, the systems actually allow 1.5 seconds of slip before intervention. I was really beginning to enjoy this car! On the way back to the pits, I turned the steering-mounted dial back to the buttery-smooth normal mode and let Eric drive in an effort to keep his stomach settled.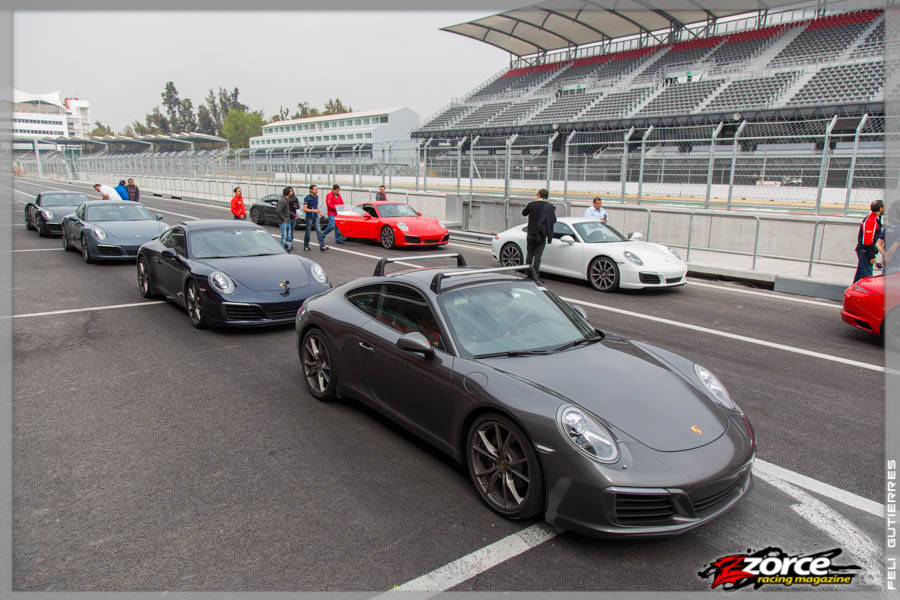 After a short break, we were given a choice of two groups: the "fast driving group" or the "very, very fast driving group". Naturally, I chose to be part of the latter. This time I opted to drive a black 911 Carrera S, as I was now comfortable with the Carrera's pace. Eric stayed behind and another journalist took his place. During our first few laps, one of the drivers ahead overcooked two corners, causing his 911 to oversteer into our path, but after the second time it happened, we passed him on one of the shorter straights. We pitted at the end of the second lap. Each time our group went out with the Cayenne GTS they allowed us to pass, presumably so the film crew could capture footage. Passing was in fact allowed for our group, once there was room. Now it was my turn to drive.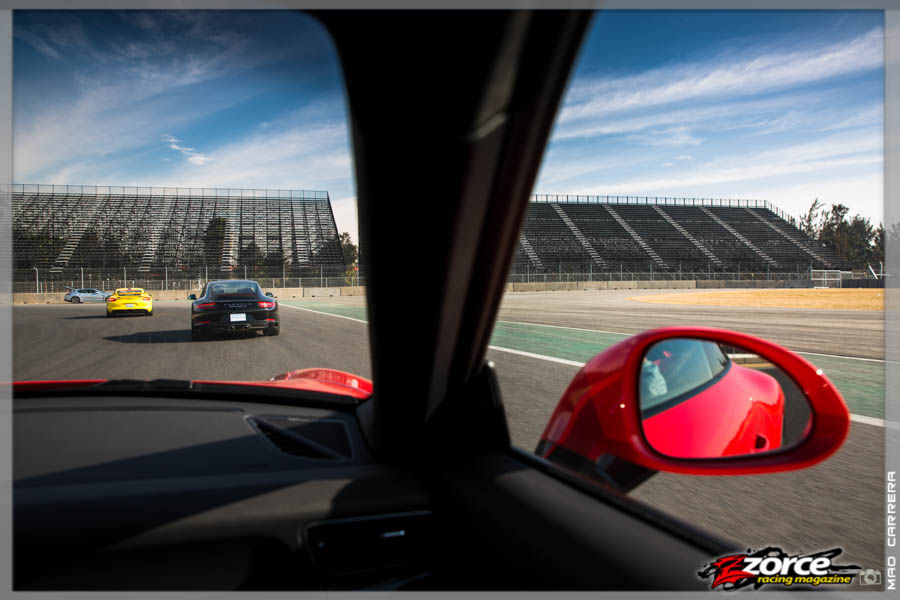 View this photo set on Flickr

CONTINUE TO CHAPTER 3 >>
CHAPTER 3:
Very, Very Fast Laps 
in the 911 Carrera S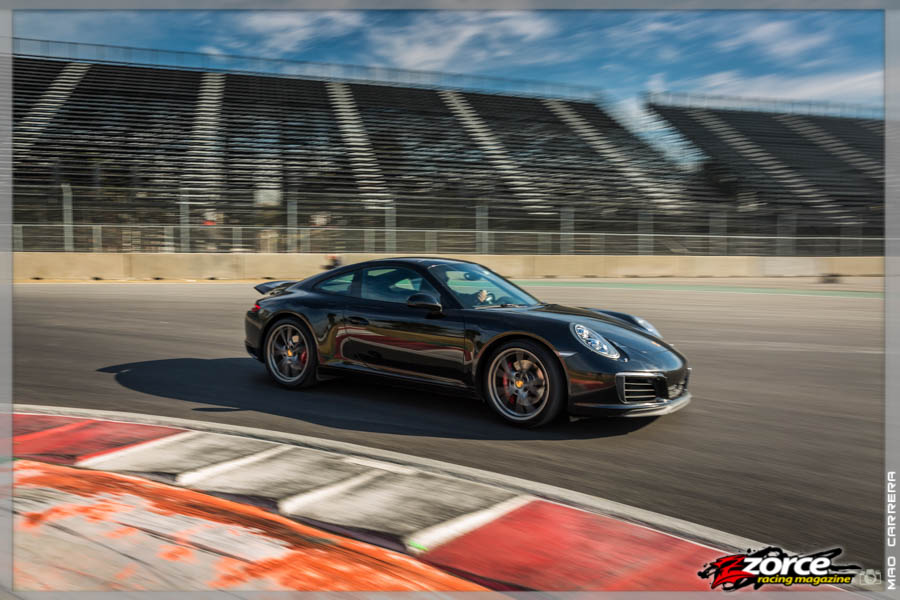 While my new driving partner didn't quite get the hang of activating launch control, it was easy for me. You just step fully on the brake, then fully on the accelerator, then the engine will rev to around 6000rpm and hold there. Then you lift off the brake for a great start. It's a wonderful moment to enjoy and a full lap goes something like this: I rocket out of the pits and then fall into formation with the other cars. We blast down the remaining main straightaway, then hard on the brakes into turn one, a sharp right. As in practice, I brake at the large cone, positioned just 100ft from the corner, then turn in while still braking. The car wraps the 90-degree corner, easily steering as the weight begins to transfer from the front to the rear taking us past turn two. A quick dab of brakes to keep things tidy for turn three unravels into a full throttle exit that takes us down the next straight and into triple-digit speeds. There is a lot of grip at the rear thanks to 0.5-inch wider rear wheels on both models (now up to 11.5in.), and wider 305mm (up from 295mm) tyres on the Carrera S. Rear-wheel steering is now an option on the Carrera S.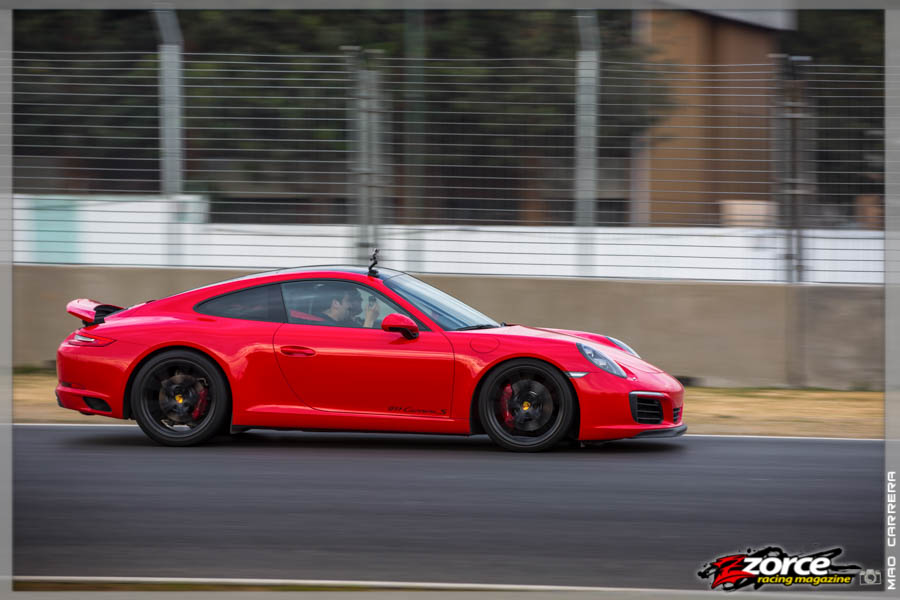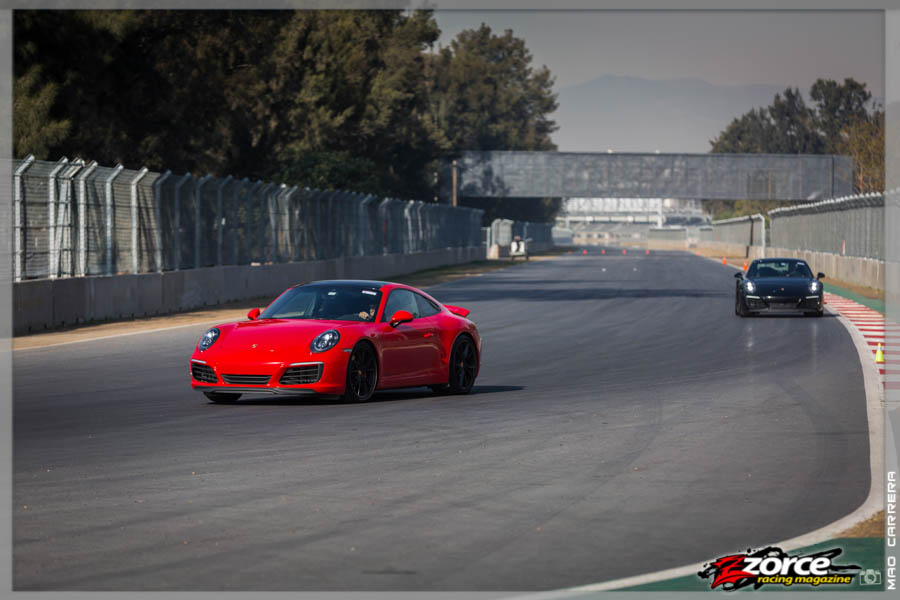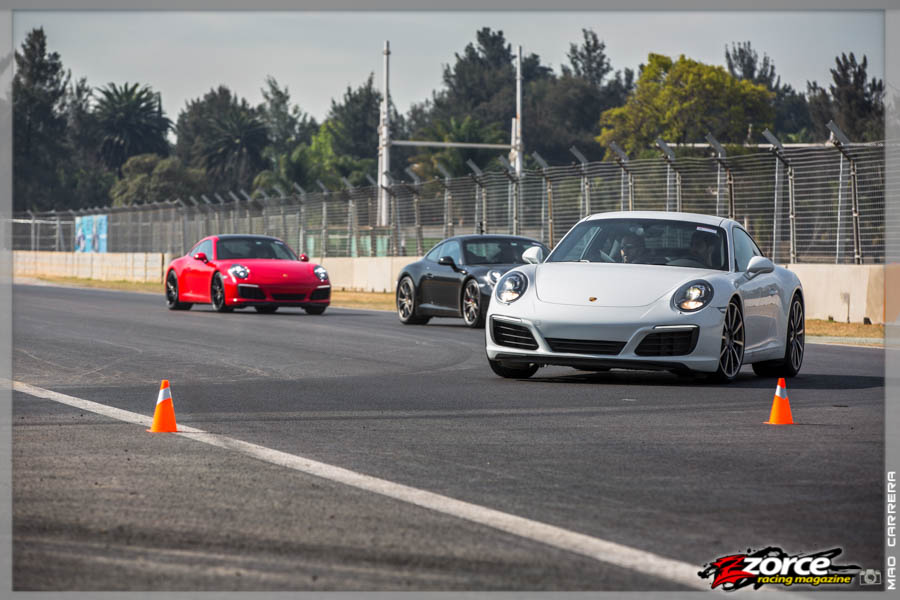 Turn four comes up a few PDK gear changes later, and once more I lean hard into the brakes, this time into the sharp left-hander, followed by the sharp right of turn five. I late apex turn six in order to soften the exit line and charge up the straight, taking the right side to prepare for turn seven. As with most strings of chicane-like corners, sacrificing the usual lines and some entry speed at the beginning results in better lines at the end, and higher corner exit speeds. I try to increase the pace without overcooking the lines for turns eight and nine. Mid-corner left-foot braking helps tighten the line slightly. It's more difficult here, as you need to keep the car neutral, and there is less weight on the front tyres. You also have to use your lines to keep the weight on the outer tyres for maximum grip– just like what our instructor was saying about the table.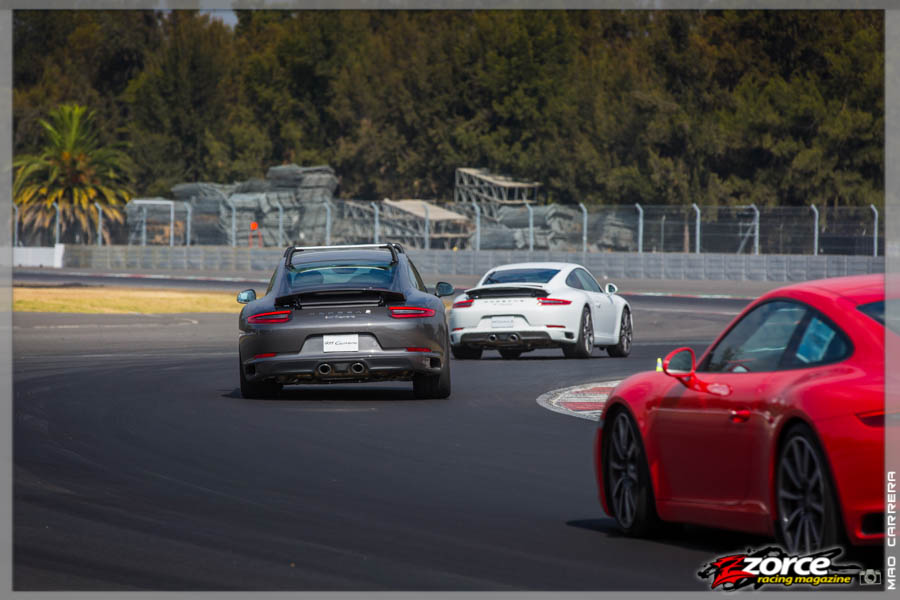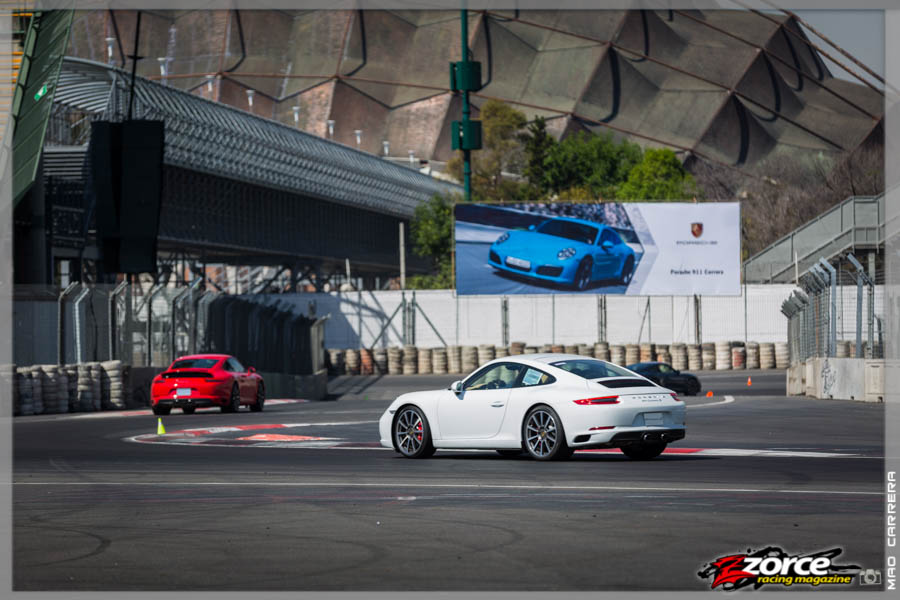 The next section has a slight left curve but it can be taken flat out. We hit about 200km/h here, as it comes after the faster series of corners. At this speed, turn 12 comes very quickly. It's another sharp right turn and the track is wide, which allows for passing and braking room. We sail over to the right to set up for the very tight turn 13, which feels like a 135-degree kink that needs some left-foot braking to keep things tidy. Turn 14 begs restraint as I approach the stadium wall. By turn 15, I'm thinking the main straight is coming up soon! Turn 16 is worth cutting, then I widen my line into turn 17, trying to hold speed while rocketing up the main straightaway. One-sixty, 180, 200, 220, 230, 240, 250, 252, 254km/h, and then I'm looking at the back of another 911. After that, I pump hard on the brakes and hurtle into turn one all over again. Just for reference, top speeds are around 293km/h and 306km/h for the PDK-equipped Carrera and Carrera S versions, respectively.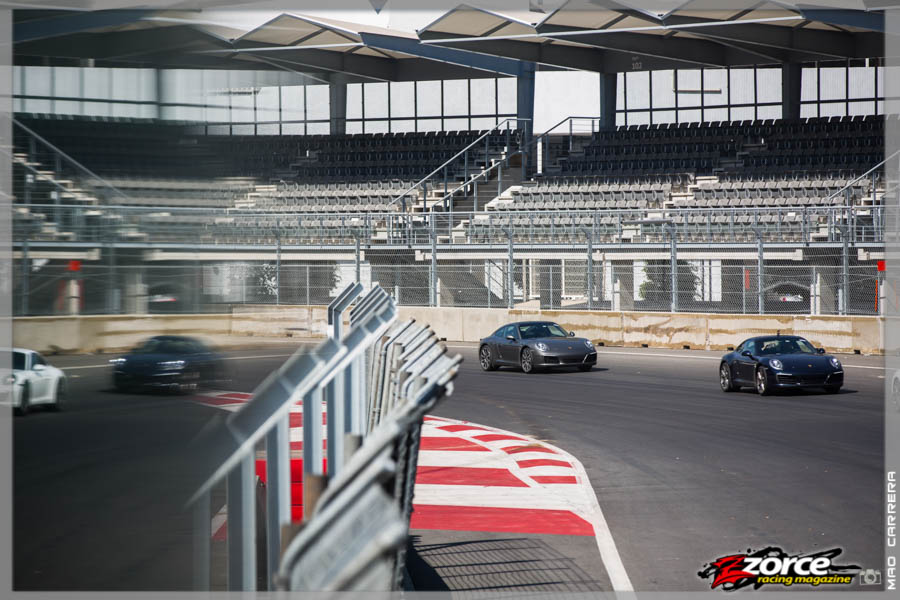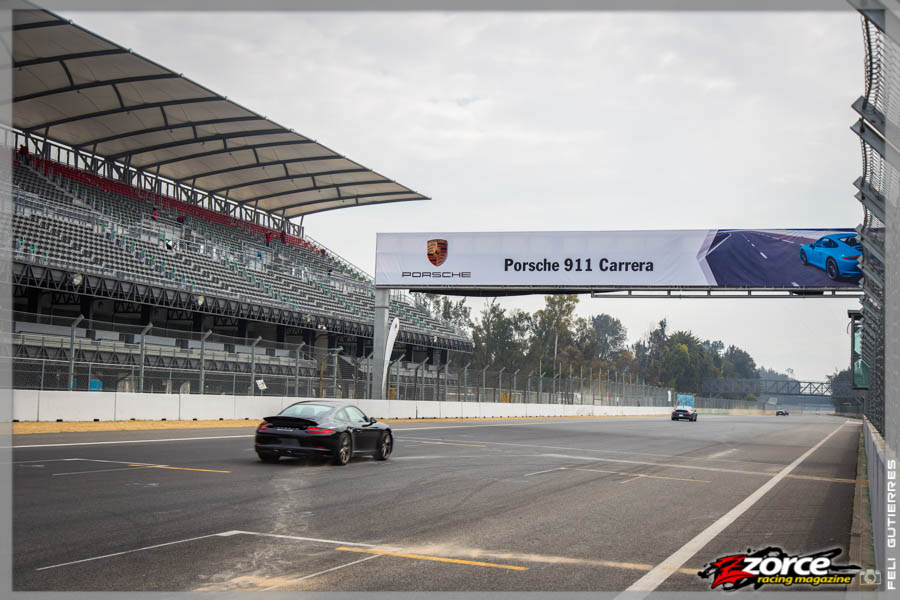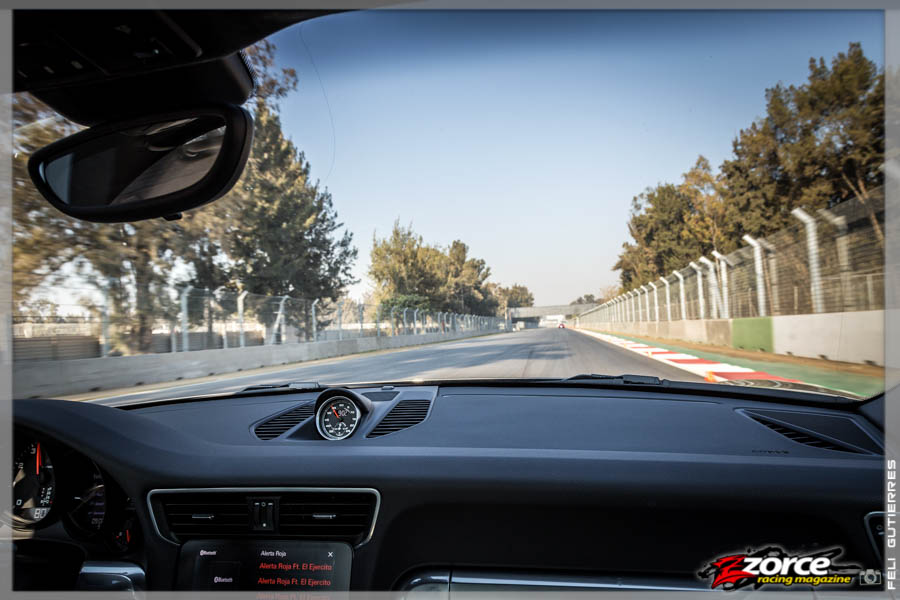 At the end of the second lap, we pit and my brakes are smoking, but they cool off in a few short minutes. These are of course the larger six-piston 350mm front brakes of the 911 Carrera S and I am left amazed at their capabilities. The Carrera features four-piston brake calipers, which grip larger brake discs (330mm x 34mm, or 6mm thicker) using brake pads that are 17 per cent larger. The optional ceramic brake system (PCCB) includes massive brake discs (front: 410mm x 36mm, rear: 390mm x 32mm), and matching brake calipers as found on the 911 Turbo. We repeated this until each driver had about six to eight laps completed. It was amazing to see the kind of punishment the 911 endured without missing a beat. While the cars felt huge and cumbersome on the tiny Mexican city lanes, they became toys on the circuit.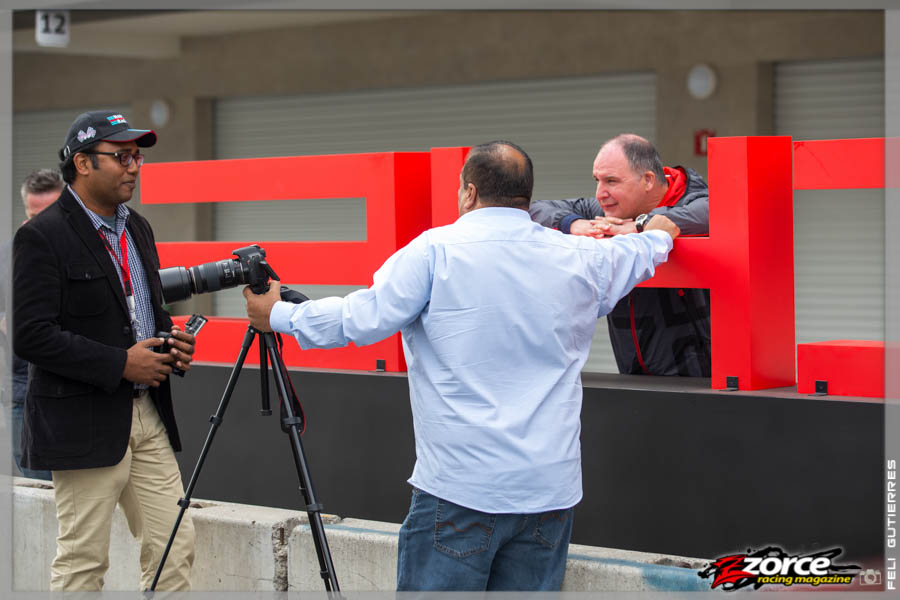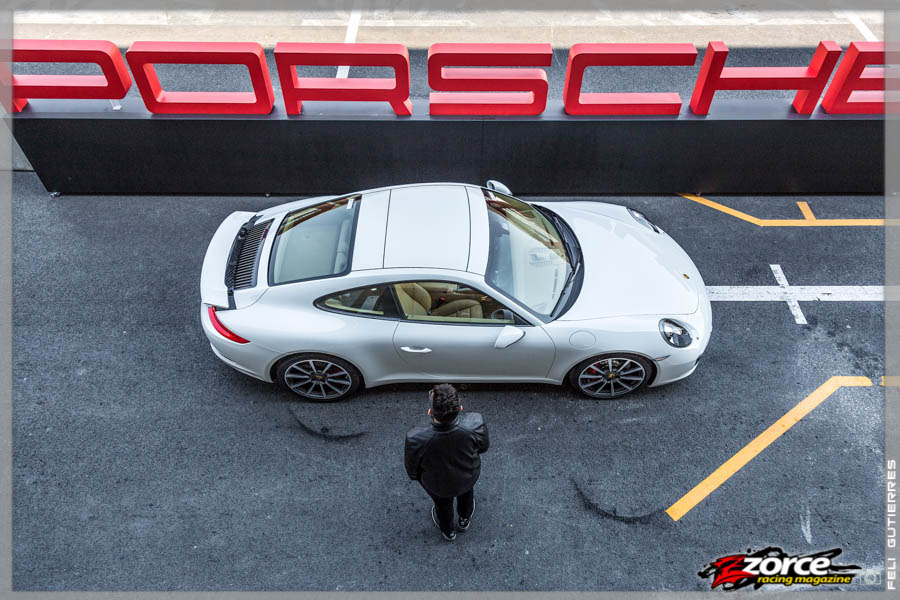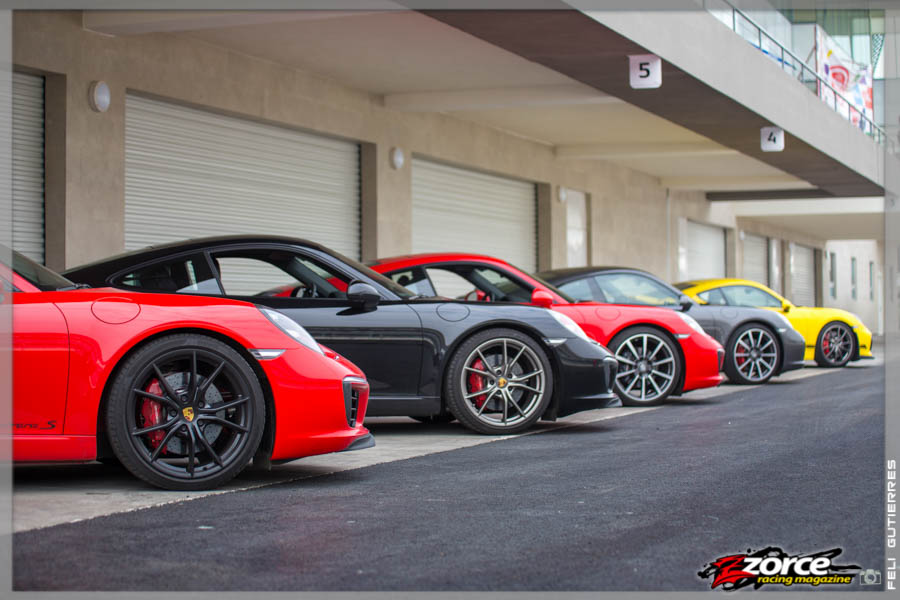 View this photo set on Flickr

CONTINUE TO CHAPTER 4 >>
CHAPTER 4:
Off to the Countryside
for Lunch and an
Extended Drive
I had hoped to touch the magical 260km/h on the straightaway, but soon it was time to leave for the second portion of our drive. At least Eric was back to normal and resumed driving for this leg of our journey. This time we took a dark bluish-grey Carrera S with brown and blue interior. Since I was a passenger, I tried connecting my iPhone to the infotainment system in order to play Trini music, but not for long, because we had to keep the volume low enough to hear updates through our walkie-talkie. Integration was seamless and the system even automatically switched from Bluetooth to iPod inputs when we connected my charging cable. If you have an iPhone 5 or higher, you can also use Apple CarPlay.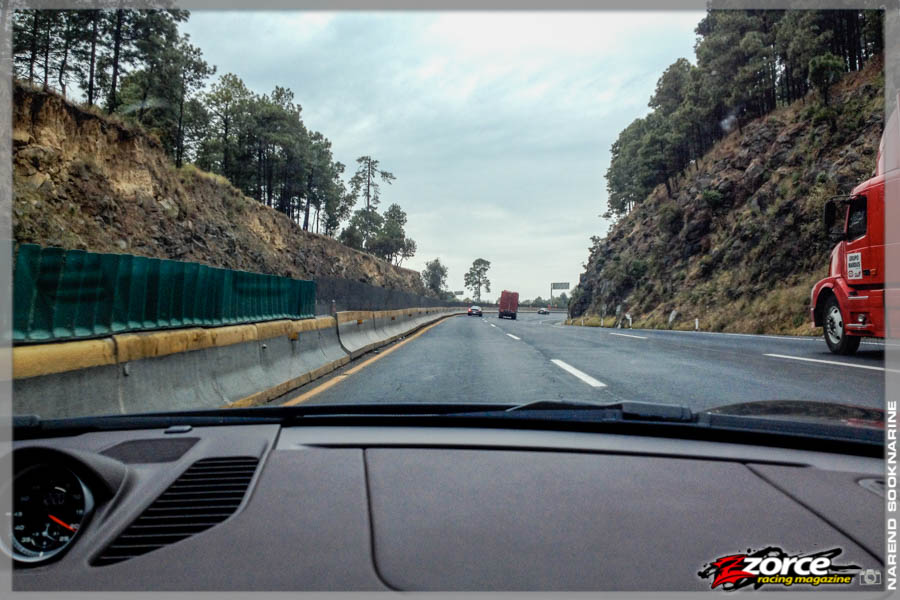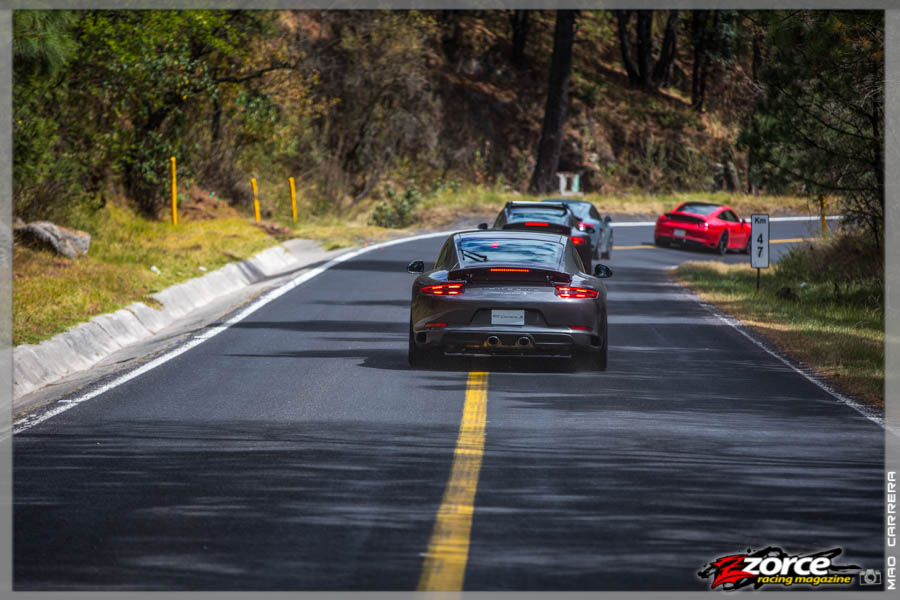 This leg took us through some hilly, winding roads towards Puebla where VW's Mexico factory is located. Here, the 911s felt at home. Once again, we had a chance to admire the car's beautiful lines, details, dynamics and sounds. On that note, although Porsche pipes the engine's induction sound into the cabin, it isn't digitally altered in any way. We continued driving until the convoy made a stop for a driver change and a few quick photos.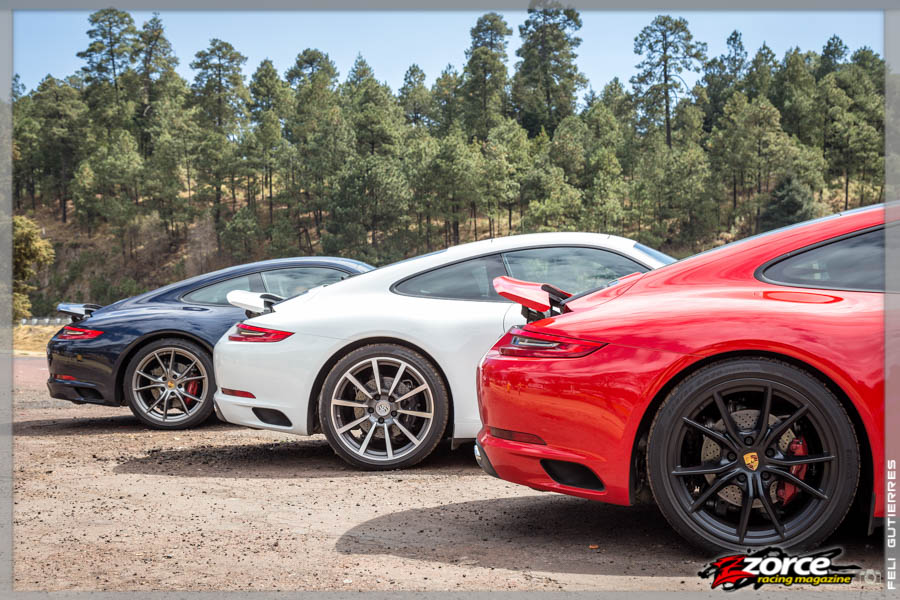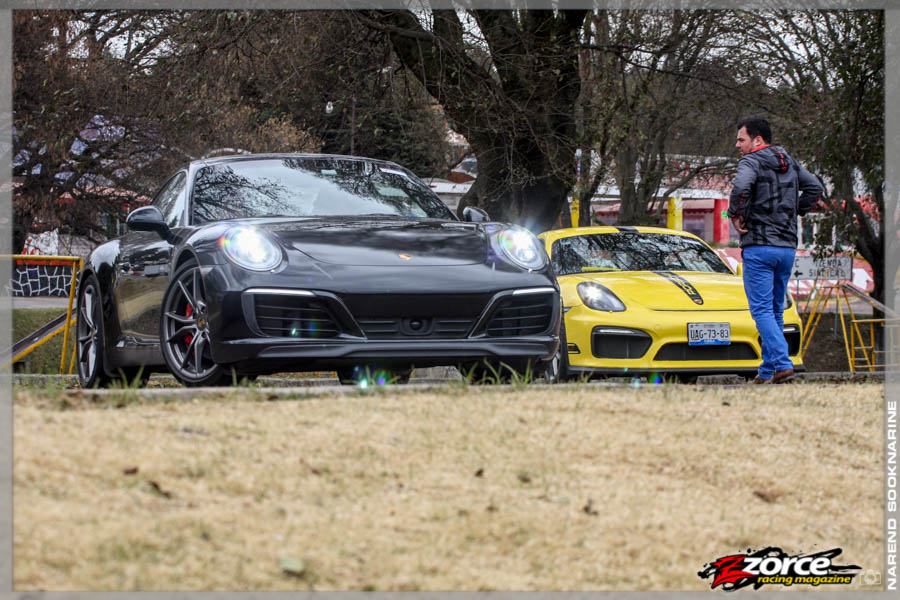 Our destination was Val'Quirico, located 1.5km down the Xoxtla exit off of the Autopista Puebla in Nativitas, Tlaxcala for our lunch stop. This stunning celebration of old-world Spanish-style architecture is outfitted with modern amenities and nestled in the quiet countryside. Just one year old, the facility has been created as a village centre for a larger system of planned housing. It features restaurants, a boutique hotel, smaller shops and a main courtyard. We drove our 991s onto the narrow streets leading inward, with one corner requiring the use of the reversing camera and parking sensors. Eventually I was parked and able to open the door safely. By the time we were out, three 911s had been cleaned and nicely arranged in the courtyard.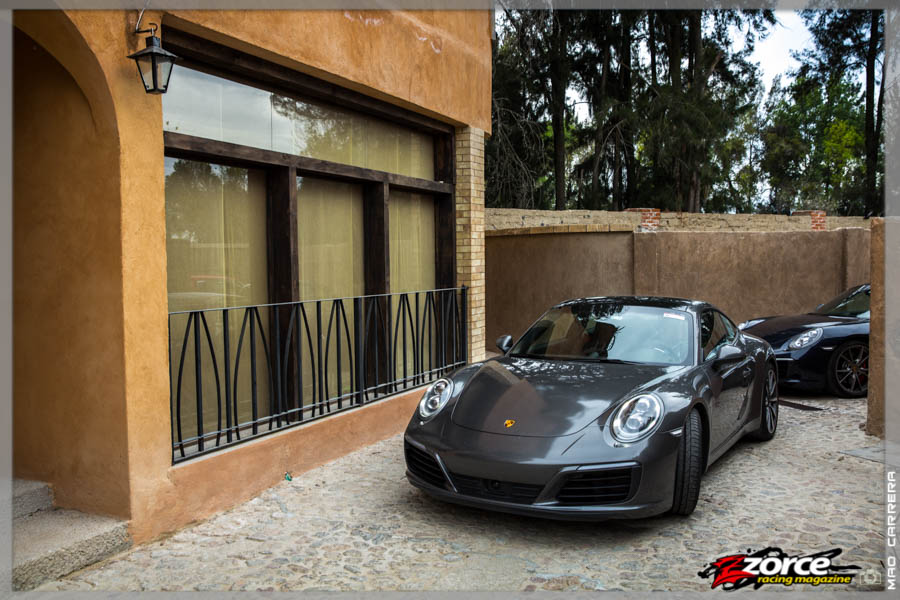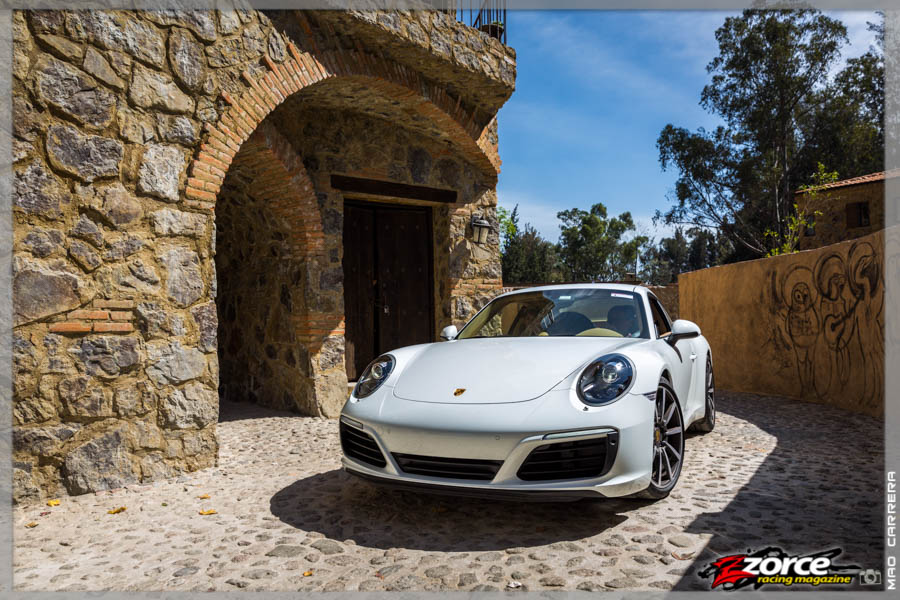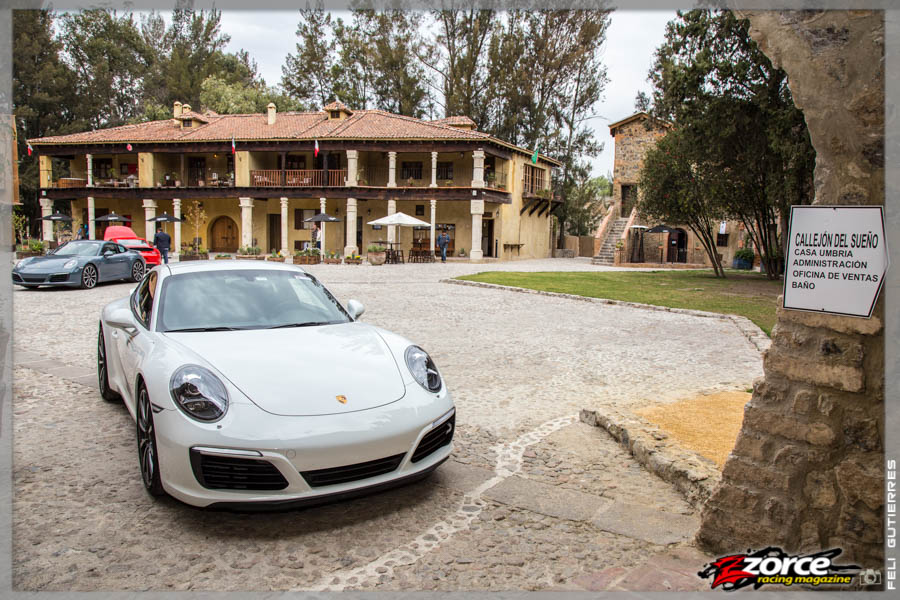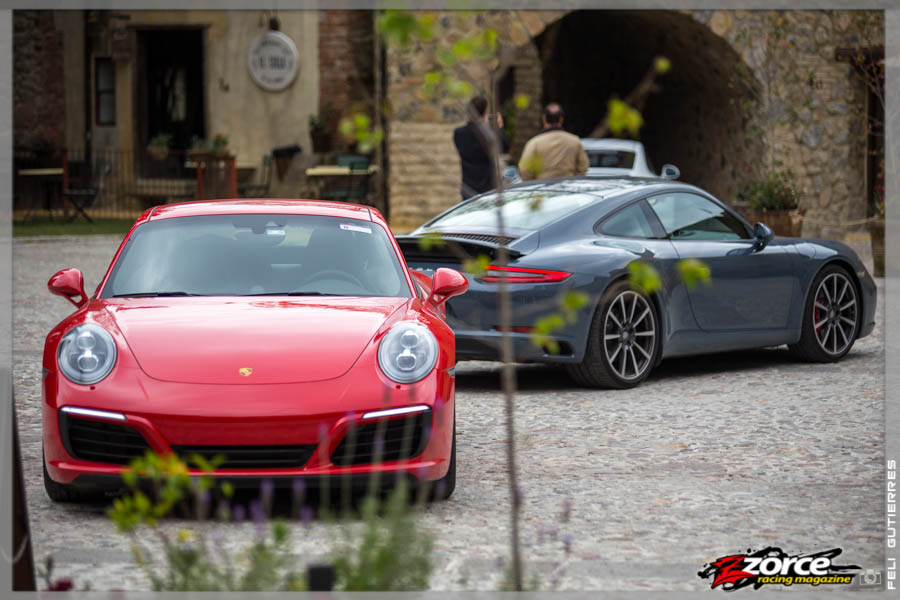 Our appetizers at La Catrina del Zócalo restaurant were thin single tortillas topped with shredded beef or pork and a hot sauce that reminded me of a Trinidad doubles. The flavours were wonderful. The main course consisted of chicken breast in a dark, slightly sweet, slightly tart mole (pronounced mo-lay) sauce with two types of rice and some onions on the side. For dessert we enjoyed a soft dark chocolate cake drizzled with white and dark chocolate, which was just heavenly. Val'Quirico's staff was also friendly and accommodating. After lunch I couldn't help but take a few shots of the 911s in the picturesque courtyard, even though Porsche had their own photographer on duty.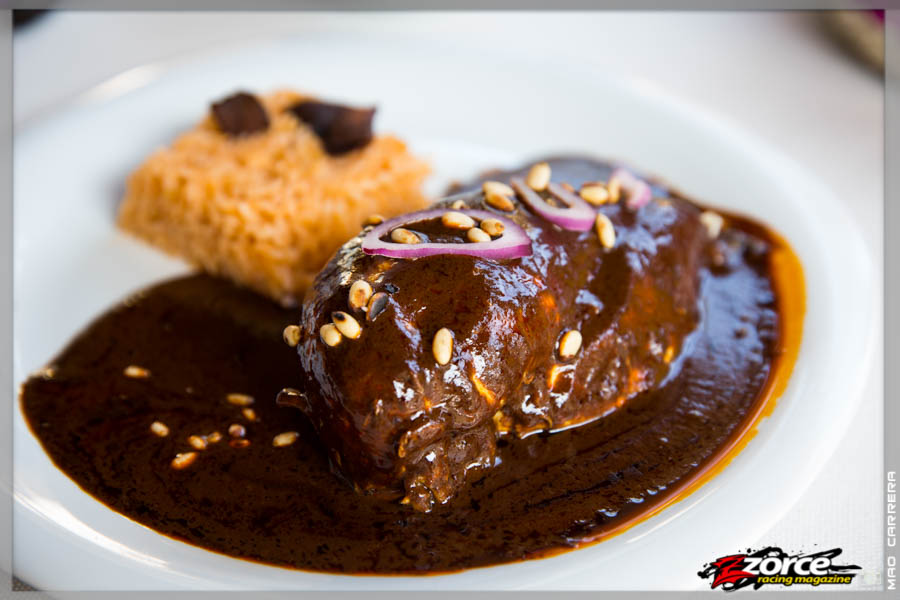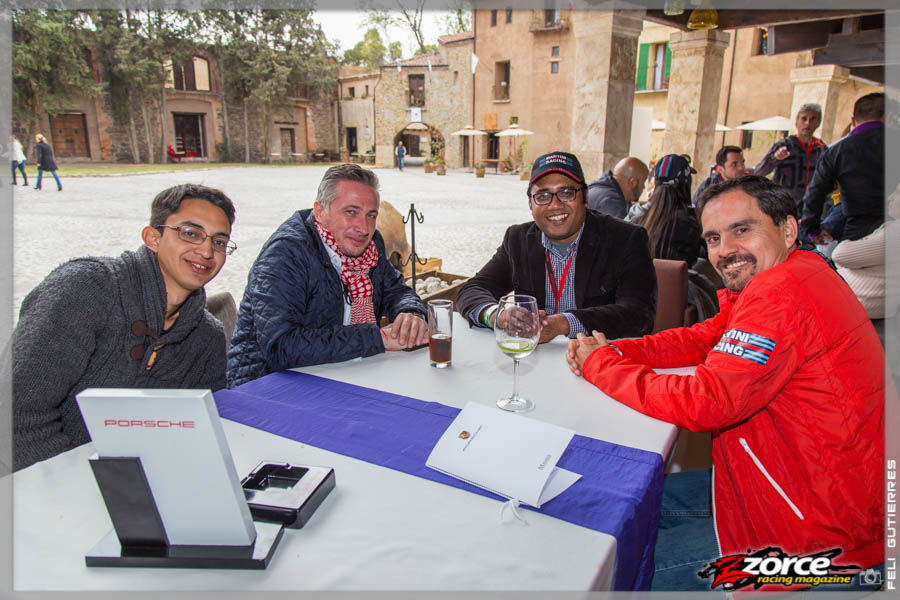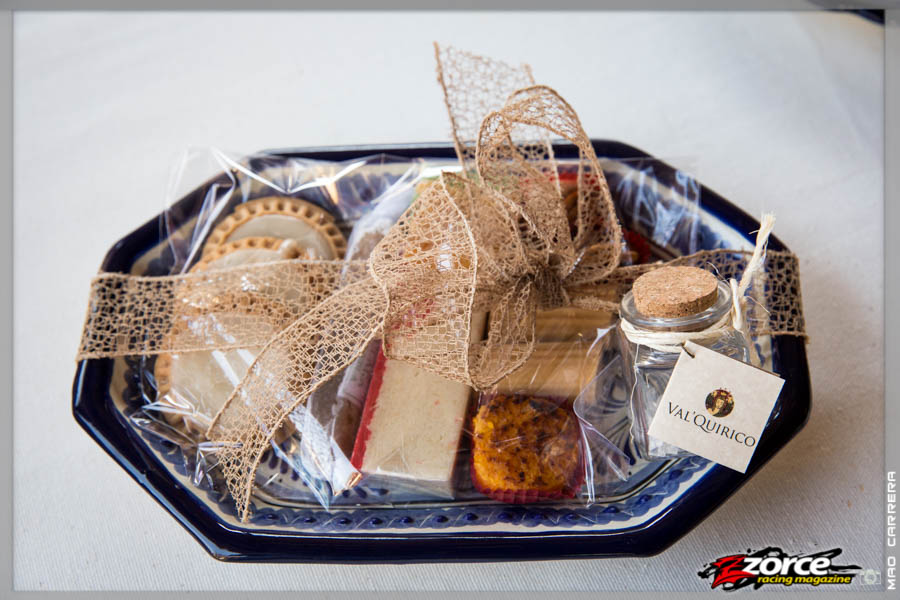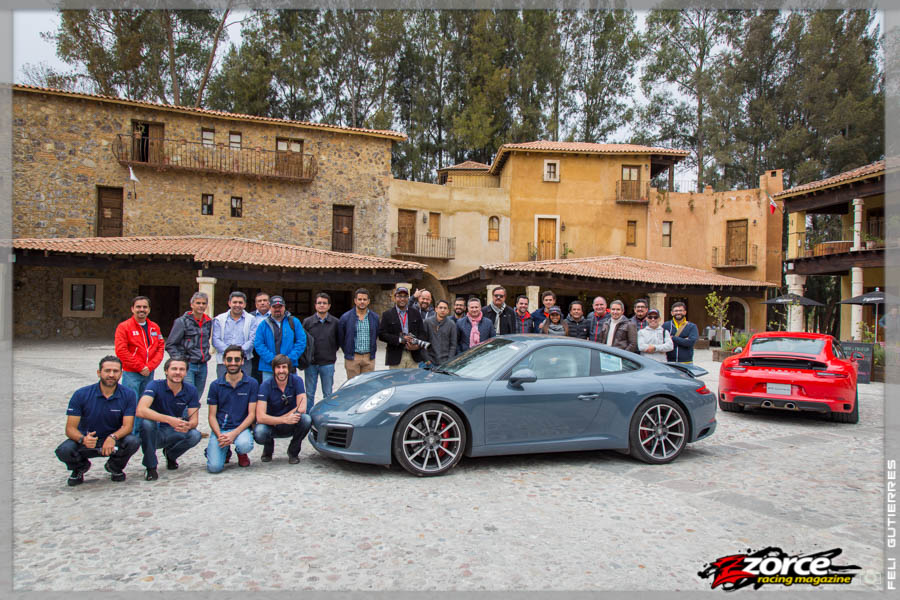 After a quick espresso (I didn't have room for much else) it was time to say 'adiós'. The owner of the Val'Quirico development presented us each with hand-made Mexican ceramic platters filled with an assortment of local sweets and a small bottle of quartz, which is believed by the locals to project positive energy. All the cars had already been parked at the exit. Eric left directly for the airport with the VW shuttle, and the Porsche photographer became my next passenger.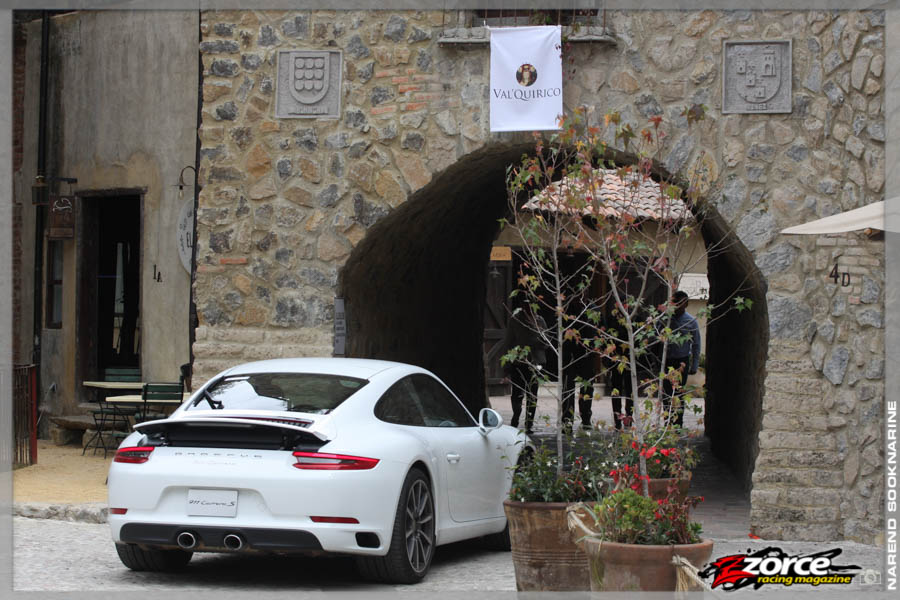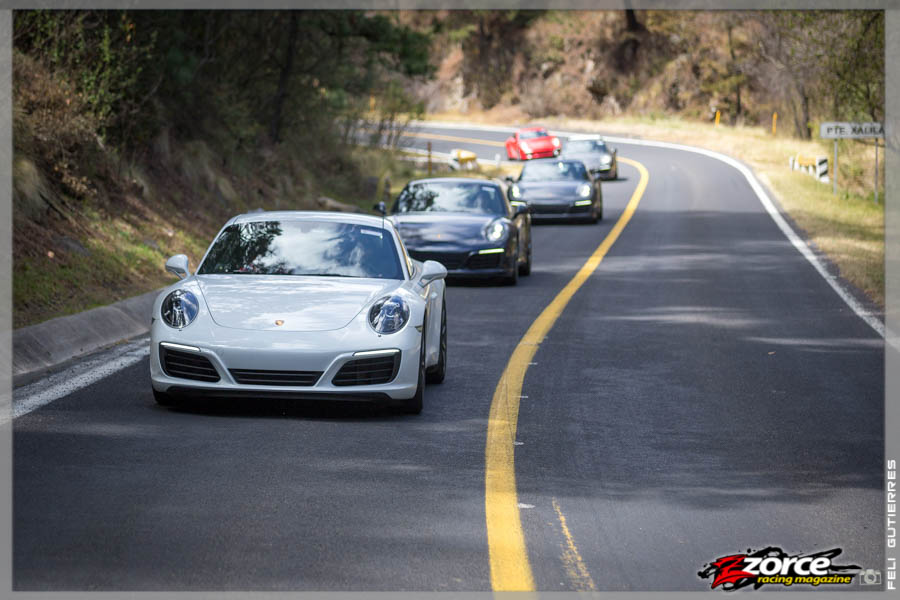 The highways on our route had significant portions that were undulating, uneven or under repair. Even at speeds approaching 150-200km/h, the 911s were not unduly affected, aided in part by rebound buffer springs at all four corners (in addition to the regular springs and dampers). We were able to corner, brake and change lanes easily and thrust into spaces with relative ease, even with undulations and/or mid-corner bumps. The Sport Response button, located in the centre of the new rotary ring mode selector mentioned earlier, allows maximum performance and the sportiest vehicle dynamics for a 20-second burst. It can be toggled on and off and be used any number of times. It proved its worth when I was alongside a truck with a container in tow and needed to pass before the gap closed. At a traffic light, this mode grants you instant access to launch control, ahem, hypothetically speaking, of course.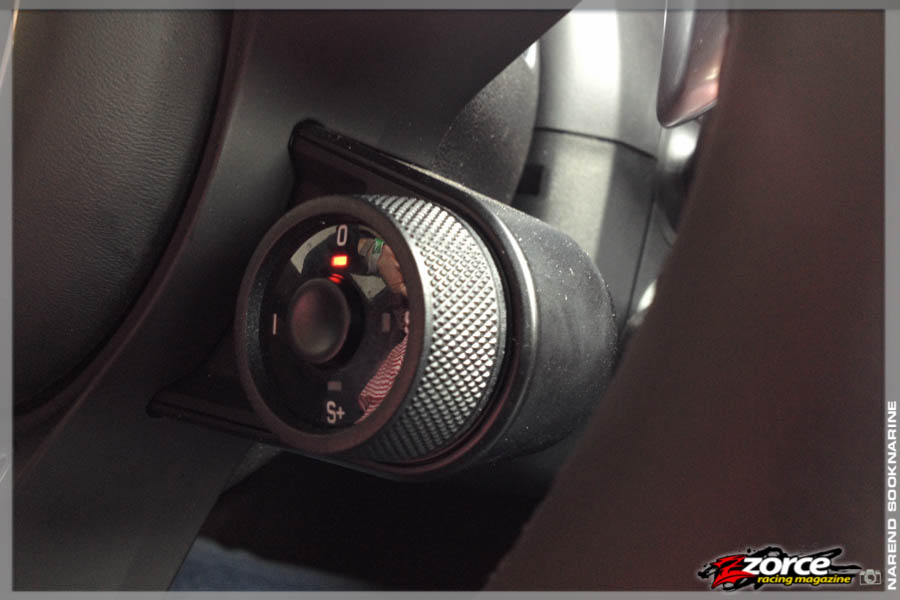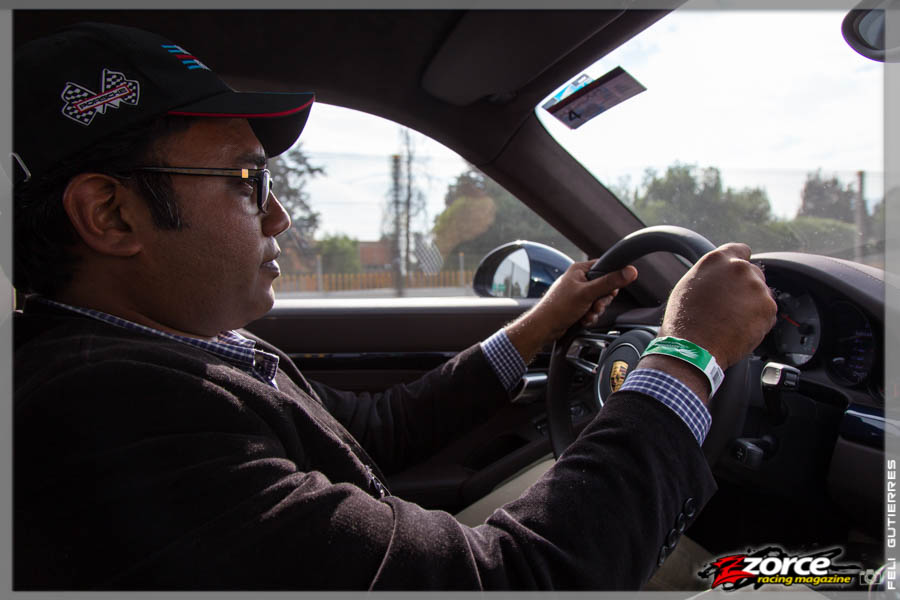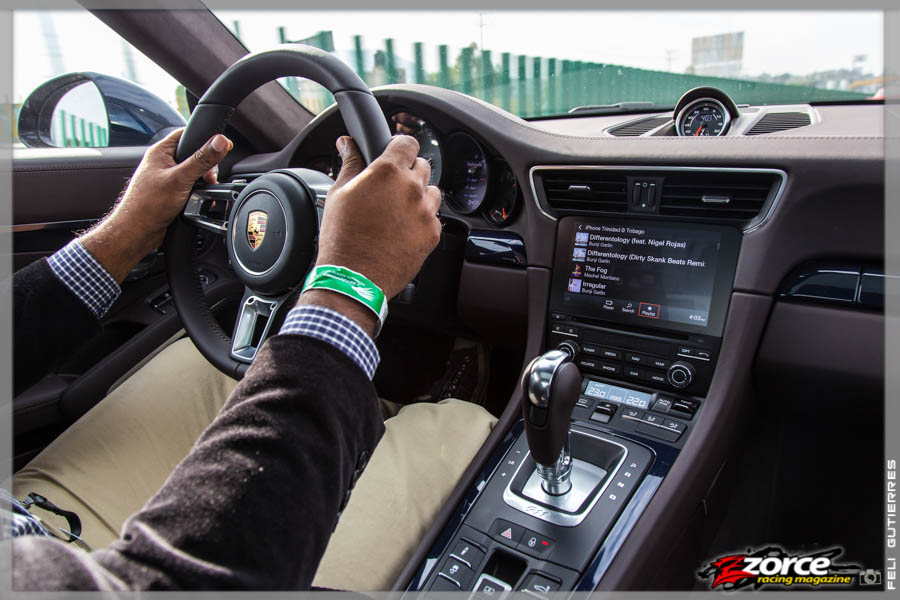 View this photo set on Flickr

CONTINUE TO CHAPTER 5 >>
CHAPTER 5:
Back to the City
Soon we were within the city limits and the traffic became thick again. Drivers were changing lanes at a moment's notice and using the smallest available spaces. This meant driving very closely together to maintain the convoy. Idling along in traffic, I left the sport exhaust button on, just to enjoy the collective exhaust rumble. Surprisingly, I was able to inch forward (even in sport mode) using small throttle inputs or stepping off the brake without any jerking or bucking whatsoever from the PDK. At this, along with the imperceptible gearshifts in normal mode, I was in great awe.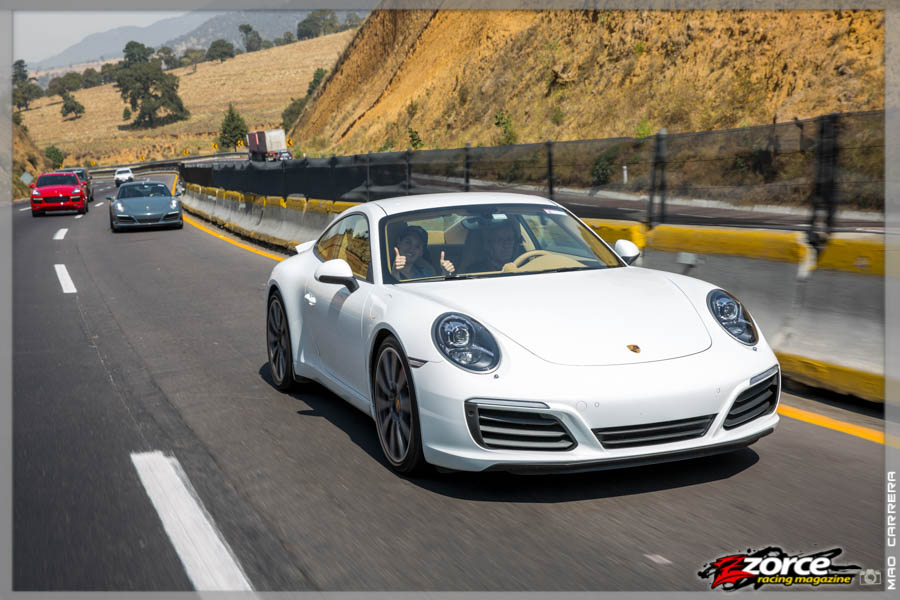 It was only later that night at dinner that I would find out that Porsche began developing the PDK gearbox in its racing programme, during the mid 80s with Derek Bell at the helm. Who knew Porsche had been testing this technology for so long? I also found out that a 7-speed manual is available worldwide, although out local dealers, Lifestyle Motors, may spec the cars with the PDK, unless a special order is made.

And speaking of technology, Porsche Dynamic Chassis Control (PDCC), Adaptive Cruise Control (ACC) with coasting function, and lane departure warning assistant with blind spot monitoring are available features, while post-collision braking is now standard as an additional safety feature. To make it easy to drive in parking structures or garages with steep ramps, Porsche offers an optional hydraulic lift system, which at the push of a button increases ground clearance at the front spoiler lip by 40mm within five seconds. It can be manually deactivated or will automatically return to normal position when the vehicle reaches a speed of 30 km/h. Porsche also has a Car Connect system that enables monitoring and control of certain features from your smartphone, and can track the car in 44 countries if stolen.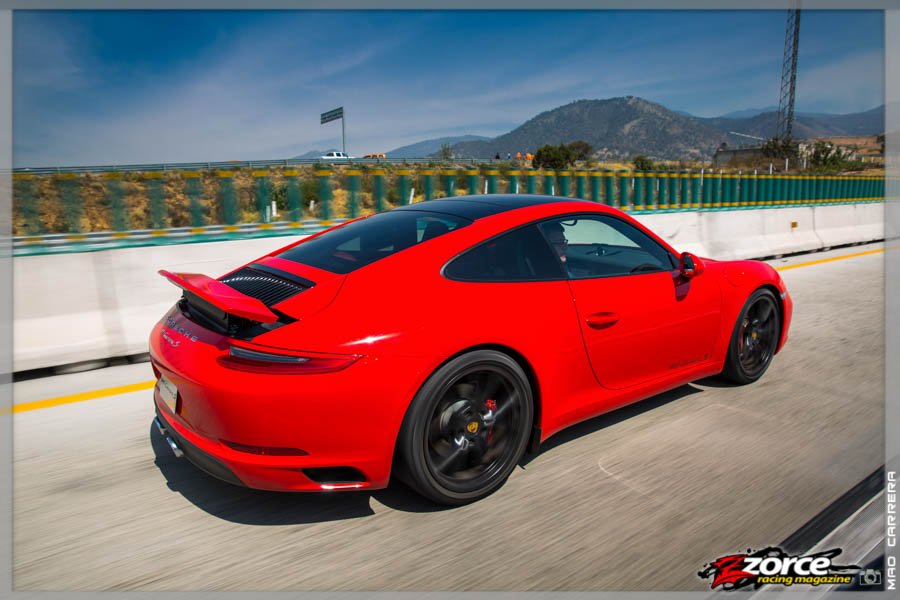 In the moment though, we forgot about the technical stuff and enjoyed basking in the fact that everyone wanted to be alongside the Porsches, taking pictures and giving thumbs up hand signals. I decided to have some additional fun by slipping into manual mode just before entering the short tunnel at traffic crawl speed. The tunnel walls amplified the ensuing throttle blip, and as the gear engaged, I gave a short burst before slowing for the car ahead. Through some tunnels I accelerated before in order to hear all the snaps, crackles and pops of the sport exhaust system.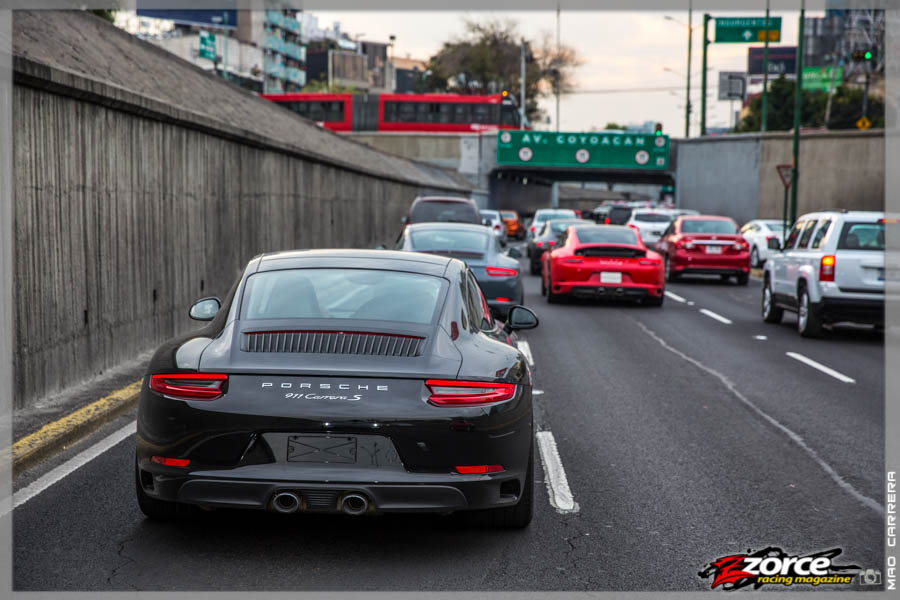 Even the policeman on his motorcycle approved. Although hired for only the morning period, he happily went above and beyond the line of duty by assisting us through the evening traffic as well, which helped things tremendously. The last nugget of 911 noises came when we put the windows down– the whoosh of the turbos, which spooled with every prod of the accelerator. How could you not love this? I felt like Santa Claus– able to bring a smile to everyone's faces just by driving the 911 and sharing the moment. This is also an integral part of the sports car experience in my  opinion.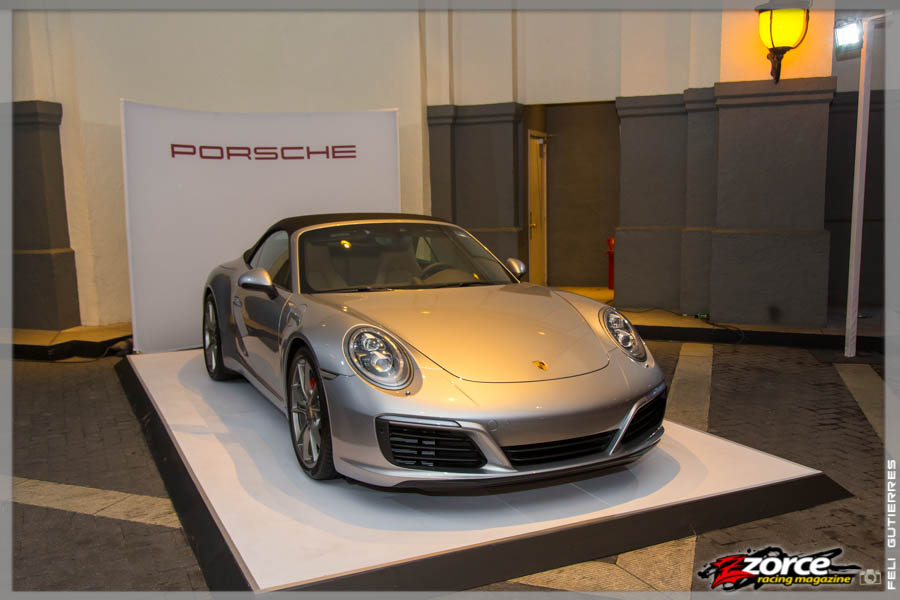 Soon our bucket list day was at an end and it was time to park the Porsches at the Four Seasons Hotel México where we had started. The fourth round of journalists, 60 in total, would be there to do it all again the next day. I was told the maintenance needs of the 911s during the week's exercises (apart from a punctured tyre) consisted of nothing but washing. This to me spoke volumes, as I remembered a statistic from the first day's presentation: close to a million Porsche 911s have been sold thus far, and more than 80 per cent of them are still running.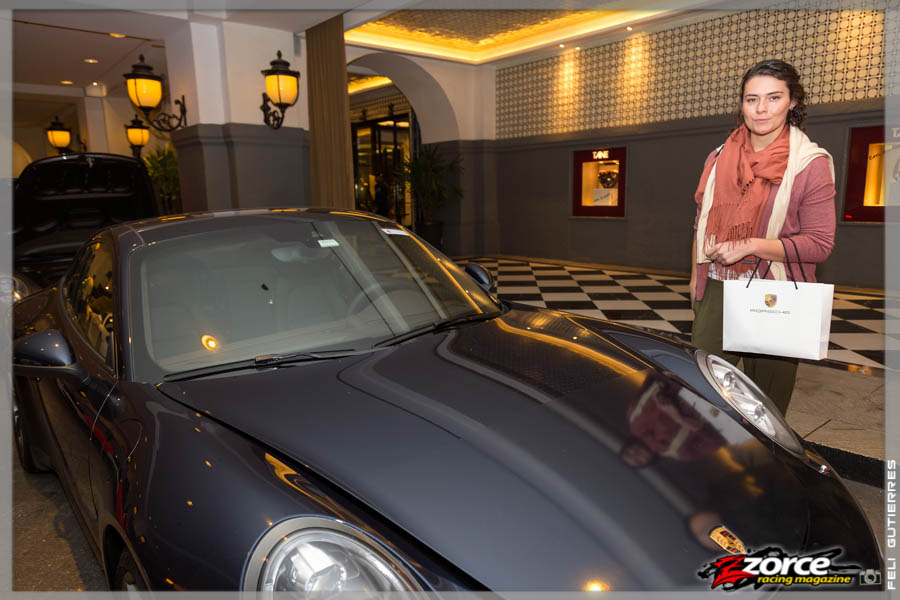 If you are interested in one of these magnificent machines that are often overlooked and taken for granted in our market, contact Lifestyle Motors in Trinidad and Tobago. Slated for arrival here in the near future, the Porsche 911 Carrera and Carrera S models are radically capable, reliable, and can be used on a daily basis, if you wanted. Plus, I've got a few friends at our local racetrack who can make it available for safe driving enjoyment. I can see this car easily handling a 7-10 lap stint at a Wallerfield, Bushy Park, JamWest or South Dakota track day.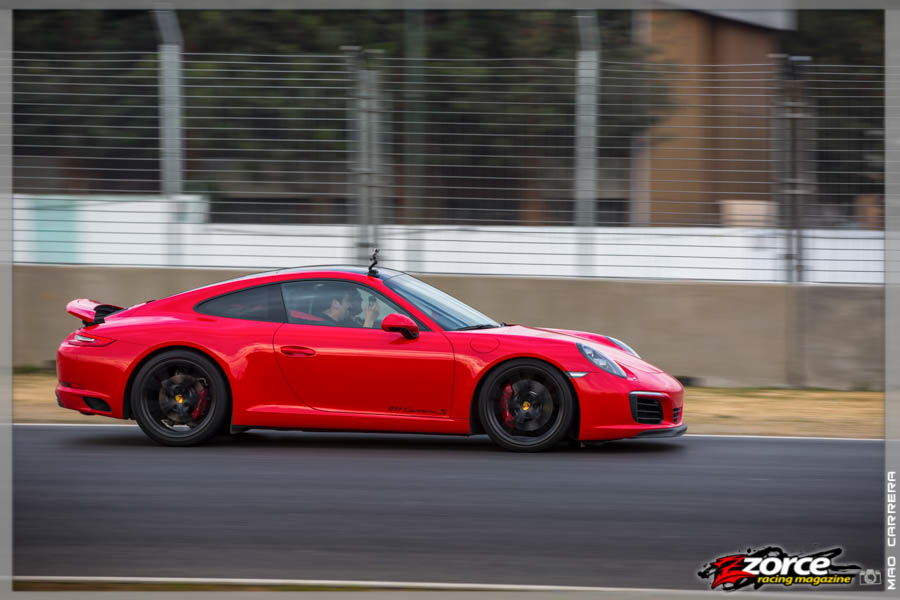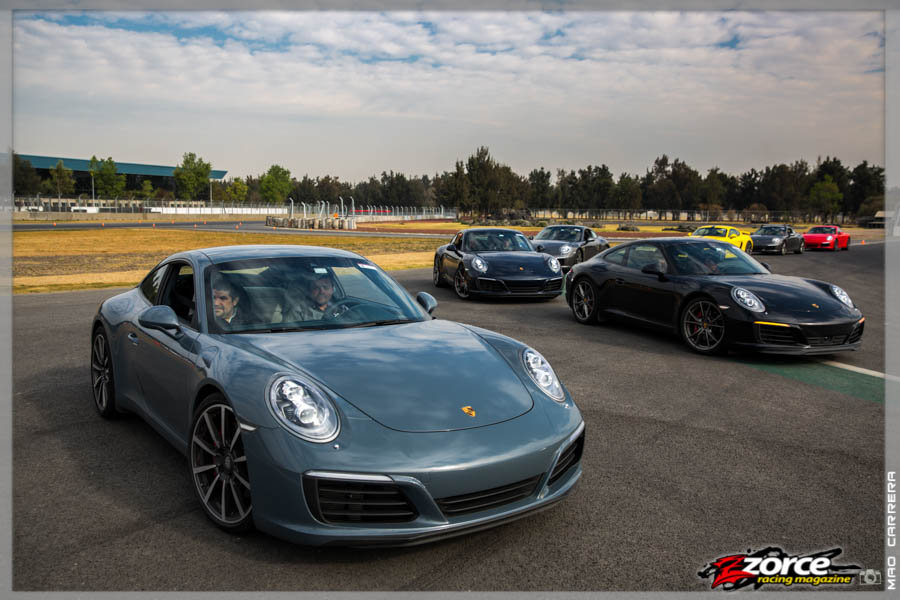 Porsche's engineering wizardry makes average drivers look like good drivers and good drivers look like heroes. If only for reasons of nostalgia, I'd love a nice bright red Carrera S. Then again, there's the upcoming 500hp/339ft-lb Porsche 911 R (4.0-litre), which weighs less than a GT3 RS (1370kg with a full tank) thanks to its 6-speed manual gearbox and lighter components. With its adjustable suspension, Cup tyres and carbon brakes, the 911 R promises the purest driving exhilaration! Only 991 will be made. Now who's got those winning lotto numbers?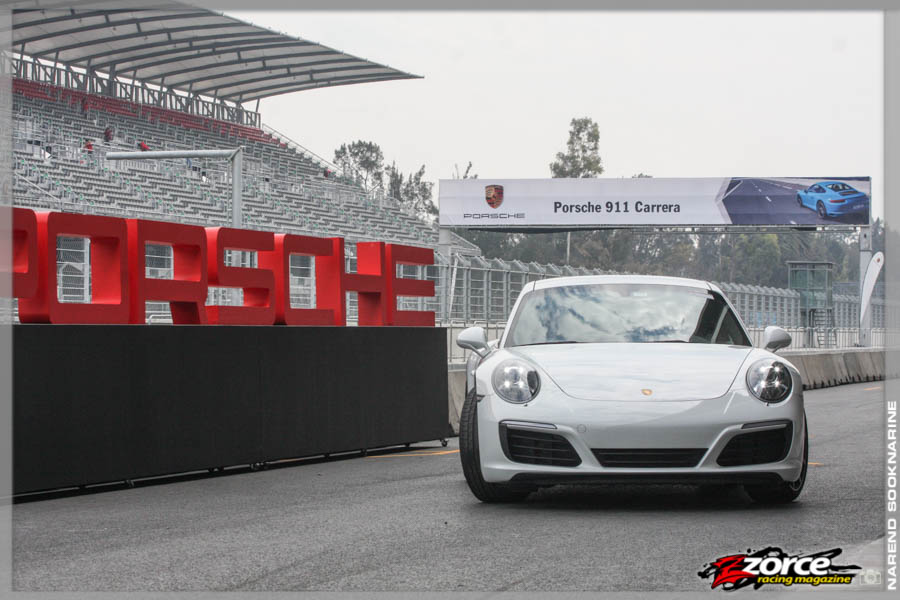 View this photo set on Flickr

Photos: Mao Carrera, Feli Gutiérres (www.maocarrera.com)/Porsche Latin America, Inc. and Narend Sooknarine