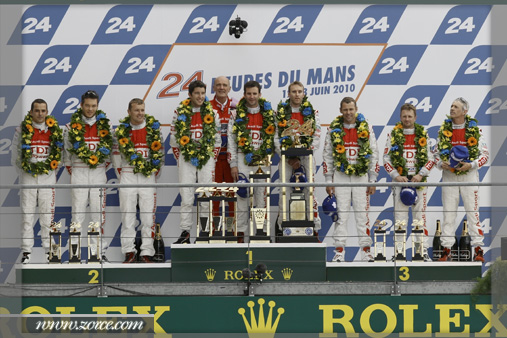 Audi achieves record victory at Le Mans with new technology  
Ingolstadt/Le Mans, June 13, 2010 - For the ninth time Audi has won the legendary 24 Hours of Le Mans and thus equalized Ferrari's position in the roll of honor in the French endurance classic. Only Porsche's track record reflects more victories. 
At the 78th edition of the race, efficiency and reliability were the decisive factors yet again - both are special fortes of the Audi brand which has a reputation of developing highly efficient automobiles. The three Audi R15 TDI cars of Audi Sport Team Joest ran without the slightest technical problems over the entire distance and occupied the top three places after the fastest Le Mans race of all time. After 2000, 2002 and 2004, Audi thus managed to achieve a one-two-three triumph at Le Mans for the fourth time. 
Written by Narend Sooknarine
Category: Circuit