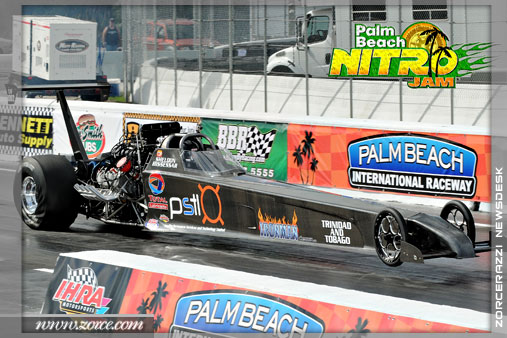 The Trinidad Rocket Sheldon Bissessar starts 2010 setting more drag racing records!
Palm Beach International Raceway, Florida -
Sheldon's first qualifying pass of the day was a prelude to an amazing night at the Nitro Jam IHRA event at the Palm Beach Raceway. With a run of [email protected] he set the stage for a new IHRA Top Dragster World Record.
He later backed up this record officially in the 3rd round of qualifying, after an amazing transmission rebuild which was finished with only minutes to spare. After some fast pit work by Crew Chief Aaron Sipple and support from racers Eddie Careccia and a most generous sportsman, Larry Clarke who let the team use parts from his spare transmission, Sheldon posted a time [email protected] This made the new IHRA World record official.
Later on the same night, Sheldon ran the 1st round of eliminations, with a rocking pass of This email address is being protected from spambots. You need JavaScript enabled to view it. lowering the World Record even further! Sheldon Bissessar's record is not a simple one as in fact he broke the Top Dragster track record, posted the fastest ever MPH, qualified number one and advanced into the Elite 8. 
The following night Bissessar wowed the sold-out stands with consistent five-second passes to advance to the finals against Edward "Fast Eddie" Careccia. Careccia, in an effort to take every extra millisecond tripped the lights early as Bissessar rocketed through a [email protected] run to take the win and the Elite 8 trophy! IHRA officials were definitely taking notice of the outlaw-looking machine and its consistent pilot and even the President of IHRA himself, Aaron Polburn came down to have a word with Sheldon, expressing his congratulations and inviting him to race with the IHRA again throughout the coming year.
Written by Kavita
Category: Drags